Hassan Gets Gold #1 in Quest for Historic Triple at Tokyo Olympics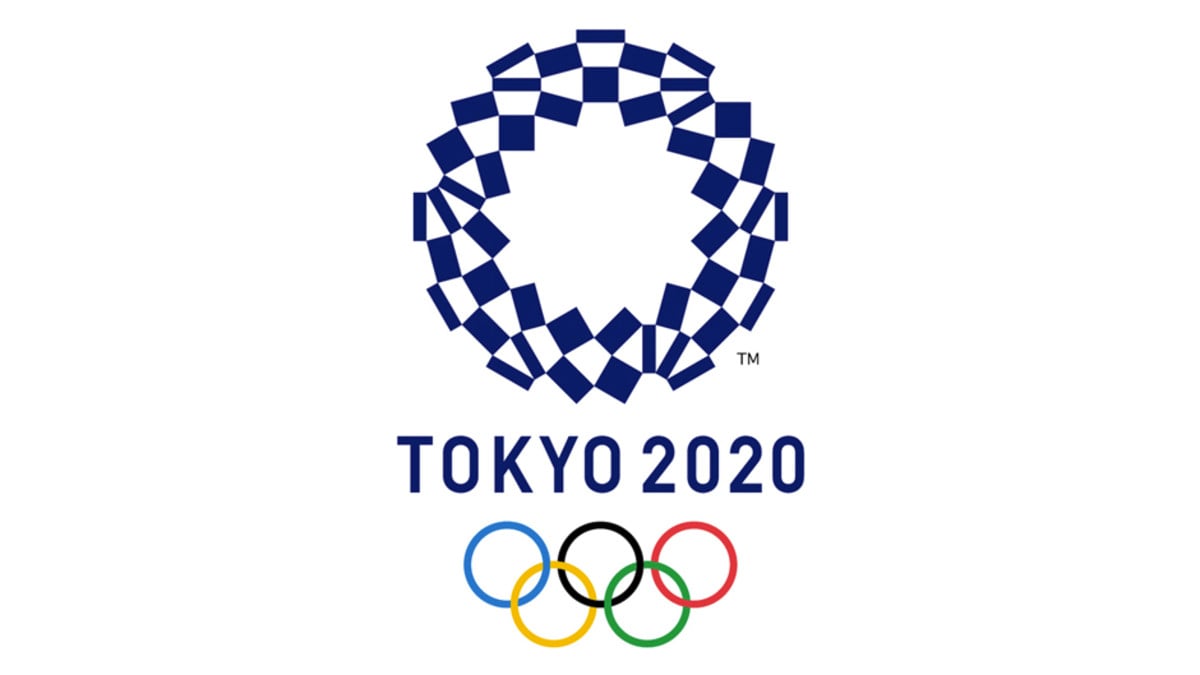 July 30, 2021 to August 08, 2021
By Letsrun.com
August 2, 2021
TOKYO — The first leg of the treble is complete and Sifan Hassan is golden.
One event down, one gold medal.
Embed from Getty Images
Article continues below player
Hassan unleashed an incredible 57.36 final lap to crush reigning World champ Hellen Obiri and the rest of the field in the women's 5,000-meter final, finishing in 14:36.79 to Obiri's 14:38.36, while Ethiopia's Gudaf Tsegay took the bronze in 14:38.87.
Just 12 hours after needing a separate incredible kick to rally from a fall and make it out of the first round of the 1500, Hassan seized the lead from Obiri with 250 to go and never looked back, securing her first Olympic medal, and making it look easy.
Both Obiri and Tsegay also closed under 60 seconds but Hassan won going away.

Obiri, the two time reigning World Champ in this event, was relegated to silver for the second consecutive Olympic games, while Tsegay, the world indoor record holder in the mile, was outclassed by Hassan and Obiri on the final lap.
This was step 1 of Hassan's unprecedented triple in Tokyo, where she hopes to be the first woman to run the 1,500, 5,000 and 10,000 at the same Games. At the 2019 Worlds in Doha, Hassan successfully completed the unprecedented 1,500 and 10,000 double, winning golds in both.
The Americans Karissa Schweizer and Elise Cranny fell off when the pace increased and finished 11th and 13th respectively.
The race
Embed from Getty Images
Despite a downpour before the race and the 9:40 p.m. local start time, it was another hot night in Tokyo, as the athletes dealt with 82-degree heat and 84% humidity.
Ririka Hironaka of Japan took on the early lead and kept the early pace honest but not blazing, going 3:00.7 for the opening kilometer. Hassan went directly to the back of the field after the gun and big players Obiri and Tsegay tucked just behind Hironaka.
Just before the mile mark, Obiri took over the lead. She and her teammate Agnes Tirop would share the lead with Ejgayehu Taye of Ethiopia and Tsegay for the following eight laps.
The field went through 1600 around 4:47 and 3200 around 9:36, but no one launched a major move. Obiri occasionally went to the front and injected a surge, but the overall pace did not quicken much.
Hassan made her way into the middle of the pack as Obiri and Taye continued to trade the lead. Both American athletes in the field, Schweizer and Cranny, lost contact with the main pack after 3200 meters.
With three laps to run, the pack remained 11 runners strong. Still no one tried to make a big move.
After a 69.29 third-to-last lap, the group was down to 7 — two Kenyans, three Ethiopians, Yasemin Can of Turkey, and Hassan.
Tsegay ran a 68.05-second penultimate lap and had the lead at the bell, but the real push for home had yet to begin. Obiri moved quickly past her and into the lead, while Hassan moved up into third.
Hassan hit the front on the back stretch and opened up her stride as Obiri tried to hang on. Hassan had opened a small gap when the two entered the home straightaway, but it grew rapidly from there, as she kicked away again and won by 10 meters.
Obiri held off a hard-charging Tsegay for the silver while Tirop beat Taye for fourth.
Quick Take: Hassan explains the origins of "the triple"
Hassan is not motivated by medals. She is an athlete who loves a challenge and who doesn't mind what others think about those challenges.
"I like really crazy things," Hassan said.
That's what motivated her to try (and complete) the 1500/10K at the 2019 Worlds in Doha. And it's what had her contemplating an even more audacious double — the 800/10K — in Tokyo this year.
"My coach (Tim RowBerry) is from 800, he used to run 800, and he always said I want you to do 800 and 10,000 meters," Hassan said.
One day, Hassan began thinking about a triple, and while the idea appealed to her, it also scared her. Her feelings about it would fluctuate based on how her workouts were going.
Embed from Getty Images
"One day, I say okay I'm in for three distances. Another day, no I'm not enough even for one distance, I'm not good enough. When the train go up, I'm like, Ooh, I'm in good shape. When the train go down? I'm nothing. I'm stupid."
Heading into the Monaco meet, Hassan was dealing with jet lag and a tight hip and leaning toward only the 5k and 10k in Tokyo. Then she was beaten in the 1500 there by Faith Kipyegon, and that defeat spurred her to call her manager and tell her she wanted to triple in Tokyo.
"More than winning, losing makes me some crazy," Hassan said. "I can tell you, when I lose, I can climb to this mountain."
RowBerry also signed off on it — "my coach is also a little bit crazy," Hassan said — and it was tentatively on, though Hassan didn't announce her final decision until Monday morning in Tokyo.
Quick Take: After falling in the 1500, Hassan admitted she did contemplate staying on the ground
While it certainly didn't look like it, Hassan said today when she fell in the 1500 this morning she briefly considered staying down and trying to get into the semi on an appeal, but quickly discounted that as she didn't want people to make excuses for anything she accomplished here by saying she had extra recovery. So she popped up and tried to see if she could get back into the top six.
"I don't want to regret it later," said Hassan.
When she caught the lead pack, she said she felt absolutely amazing with 100 left and thus kept going and won the heat.
Quick Take: Hassan said prior to the 5000 final she felt horrible this evening and thought there was no way she'd medal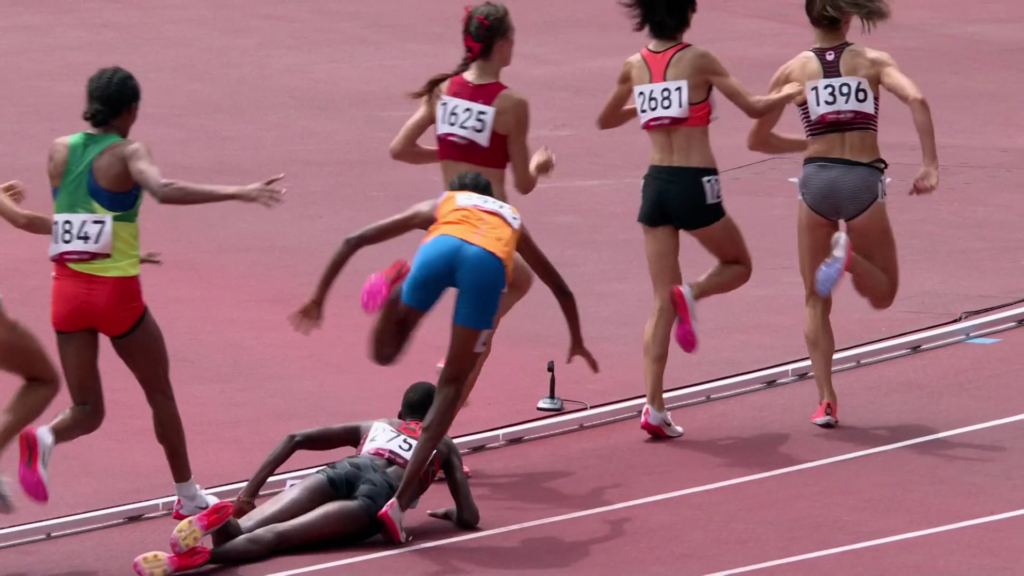 As good as Hassan felt this morning, she said she felt that bad for most of tonight. She went home after the 1500 and wanted to rest and nap but said she was totally wired, and it felt like she had drank 20 cups of coffee. When she got to the stadium, she felt horrible.
"I was so tired I didn't warm up very well, I just did a couple laps," said Hassan, who said she normally warms up easily. "I entered the race thinking I was just going to finish. I thought no way [can I win] gold, no way [can I] medal."
"So I made a plan. I will just finish this race. And I'm going to focus on 10,000 and 1500 meter but [then I realized], I have to do my best. I don't want to have any regrets. That is what my plan was. It took away all the pressure.'
Speaking of pressure, we asked Hassan if now given the fact she's won the 5000 if there will be pressure on her once again as she'll have to be considered the favorite for at least the 10,000. She said not at all: there is no pressure on her moving forward as she's already won a gold medal.
"I'm just lucky, I don't care, because I did get the gold medal — my first gold medal," said Hassan. "Sometimes in life, if it is meant for you, it's just meant for you. And in the 1500 meters and 10,000 meters, I do my best. If I win, I win."
Quick Take: Obiri and Tsegay did nothing to run the sting out of Hassan
There is no good way to try to beat Sifan Hassan, who possesses range from a 1:56 800 up to a 65-minute half marathon, but leaving it to a kick on the final 400 is suicide.
Hassan expended a lot of extra energy this morning in running a 61-second final lap of the 1500 including a fall, so a fast pace today could have tired her out. The conditions were not suitable for a fast pace, and the race was slow all the way until the bell.
Obiri toyed with the pace from the front but did not launch any significant move, and neither did anyone else. They played directly into Hassan's hands.
In the 10,000 at the World Championships in Doha in 2019, Ethiopian Letensebet Gidey launched a big move with a mile to go, running 65-second laps. She was able to drop Hassan briefly using that strategy.
Would it have mattered in the end? Probably not. Hassan won that 10k in Doha anyway. She will have another race against Gidey in the Tokyo 10k final after she tries to take down Faith Kipyegon in the 1500.
Obiri and Tsegay are strong competitors but Hassan's biggest challenges at these Games are still to come.
Quick Take: Hellen Obiri was proud to have earned another Olympic silver medal
Embed from Getty Images
The 31-year-old Obiri moved up to the 5,000 in 2016 and took silver at the Olympics in Rio in her first year running the event seriously. Since then, she has been a mainstay of the event, winning world titles in 2017 and 2019 and consistently finishing near the top of fields in Diamond Leagues. Sadly for Obiri, she was denied the Olympic gold tonight — the one medal missing from her resume (she has won World outdoors, World indoors, and World XC) — but felt no disappointment. Hassan was brilliant, and Obiri still beat a terrific runner in Tsegay in order to take silver.
"There was a strong field," Obiri said. "For me winning a silver, It's a great opportunity for me."
She will have one more crack at that elusive Olympic gold in the 10k final on Saturday, but with Hassan and world record holder Letesenbet Gidey both entered, the odds are stacked against her.
Quick Take: The 5,000 remains a tough nut to crack for the Americans as Schweizer & Cranny finish 11th and 13th
The 5,000 is the only track event in which an American woman has never won an Olympic medal, and that drought extended tonight as Schweizer and Cranny bravely hung with the leaders as long as possible but faded toward the end of the race.
Cranny would have needed to run a personal best just to finish in the top eight tonight, and while Schweizer ran 14:26 last summer, which makes her the 16th-fastest time in history, tonight's race showed the difference between running fast in a perfectly-tuned time trial and a grueling, fartlek-style championship race filled with surges.
Schweizer actually finished two places higher at the 2019 Worlds, but that was against a weaker field than the one assembled in Tokyo tonight. Still only 25, she believes that she — and the rest of the Americans — will eventually be able to solve the 5,000 on the global stage.
"I think just getting that experience and keep on showing up, we're gonna really be able to crack [it]," Schweizer said.
Results
Discussion: Hassan silences the doubters
*Official Monday Morning Olympic Discussion Thread: Men's Steeple & Women's 5000 Finals
Like this article? Become a LetsRun.com Supporters Club member and get all the insights from Tokyo and the world of professional distance running. We are having daily video shows/podcasts from Tokyo, plus get exclusive LetsRun.com content throughout the year, big savings on running shoes (if you buy one shoe that will more than pay for a month of your membership), and a free LetsRun.com or 1:59:40 shirt if you join for a year. Join here.
Not yet ready to join? Follow us on twitter, instagram, subscribe to our free weekly podcast, or get our free newsletter.