Men's 1500 Prelims: Phenoms Hobbs Kessler & Cole Hocker Win Heats as Favorites Move On
By LetsRun.com
June 24, 2021
EUGENE, Ore. — With 24 of the 29 men in tonight's first round of the 1500 at the 2020 US Olympic Trials advancing to Friday's semifinals, there was never going to be much drama on the track. All of the big names advanced, with recent high school grad Hobbs Kessler — making his pro debut — and 20-year-old NCAA champion Cole Hocker of Oregon each winning their heats (defending Olympic champ Matthew Centrowitz and defending US champ Craig Engels also advanced comfortably). Oregon alum Sam Prakel of adidas won heat 3 in 3:39.02, the fastest time of the day.
The one major name who did not have an easy go of it was 2016 Olympic finalist and 2019 World Championship team member Ben Blankenship. The 32-year-old Blankenship, who had not raced all year due to injury, had nothing left when the kicking began in heat 3, but the first two heats went slow enough that he was able to grab the last of six time qualifiers in 3:42.46 — despite finishing over two seconds behind eighth place in his heat. Even if Blankenship survived today, it was clear from his final 100 meters that he will not be a factor to make the team in 2021.
Results & analysis below.
Article continues below player.
Heat 1 results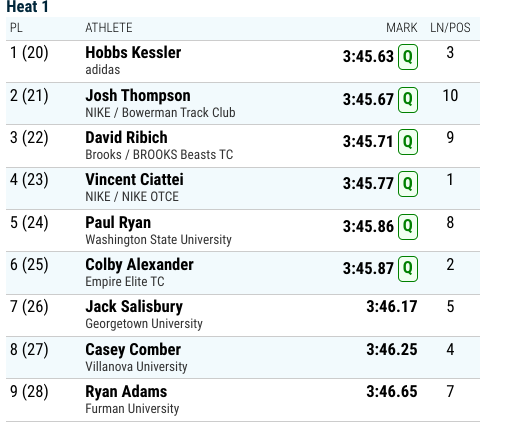 Heat 2 results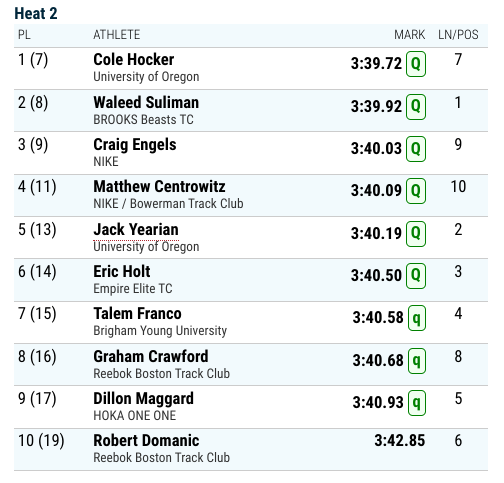 Heat 3 results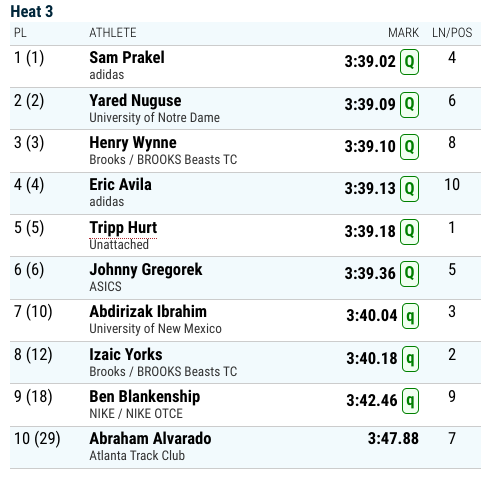 Quick Take: If you were looking for signs of any cracks in the favorites, you didn't get them tonight
All of the expected major players — Centrowitz, Hocker, Nuguse, Engels etc. — looked great. We didn't hear from Centrowitz as he declined to speak to media after the race.
Quick Take: Kessler showed patience and an impressive kick
All eyes on heat 1 were on Hobbs Kessler, the high school 1500m record holder who yesterday turned professional with adidas. The knock on Kessler coming in is that he has never run in a major championship with rounds like the Olympic Trials, but he looked quite comfortable today. He ran most of the race on the rail, which looked as if it could have been an issue with 200 meters to go when he was in the sixth and final automatic qualifying spot but boxed in.
Kessler was still sixth entering the final 100, but he coolly let off the gas to escape the box, went wide to find running room and then he was off. It quickly became evident he had a ton of gas left in the tank, cruising to the lead and winning the heat thanks to a 53.2 last lap.
If you're wondering, that's 3rd gear for Hobbs

— Mason Ferlic (@masonferlic) June 25, 2021
It is only going to get tougher from here, but Kessler has passed his first test as a pro. What's Kessler plan between rounds? Mario Kart (he brought his Wii from home and has been playing it nonstop — though apparently not very well).
For those interested in Kessler's footwear (he ran his 3:34 in Nike's), he said he was racing today in the adidas Adizero Ambition, a model he has run a few workouts in before today. He said he didn't view the shoes as a factor at all and that he didn't think about them during the race.
"I didn't feel at all at a disadvantage because of the spikes," Kessler said. "Possibly at an advantage. It's about running, not the spikes."
Quick Take: Kessler said turning pro has been a source of stress; Hocker has largely avoided that by putting off a decision until after the Trials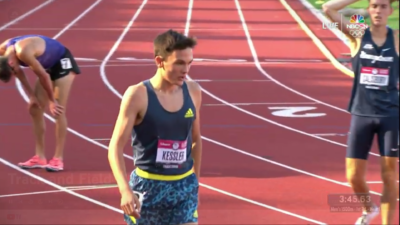 June can be a tough time for a young super talent like Kessler. Not only are you preparing for the biggest race of your life, but you're also making a major life decision — whether to turn pro or not, and who to sign with. Kessler said that despite a terrific support system, the process of turning pro has been a distraction.
"I wish it wasn't," Kessler said. "But it definitely was. Even having a bunch of adults I trust helping me doing it — my parents, my coaches — it still was really stressful and weighed on me for a long time."
Now that the decision has been made, however, it as if a weight has been removed from Kessler's shoulders. 
"I know what I'm doing, and the coast is clear, and I'm just focusing on these races."
Hocker Talks About Not Turning Pro Yet
Cole Hocker has taken a different approach. Hocker will also be in high demand among the shoe companies, but he has chosen to punt any decision on his professional future until after the Trials, which he said has allowed him to focus on this meet and this meet only.
"I wanted one thing on my mind this weekend and that's taking my best shot at the Olympic team, and that's all I'm worried about," Hocker said.
Quick Take: Let us repeat. USATF only letting in 30 people year after year for a three-heat 1500 is a disgrace. 
By refusing to let in an extra 18 people (we say run it with four heats of 12 and take the top six from each heat, but it should be a minimum of 40 people), USATF is wasting the fans' time and also denying a good number of people from being Olympic Trials participants. And every participant generates more fan interest and more media interest.