NCAA Indoors Day 1 Super Women's Recap: Joyce Kimeli (5K) & BYU (DMR) Win Titles, Tara Davis Breaks NCAA LJ Record, & Tyra Gittens Is Winning the Meet By Herself
By LetsRun.com
March 12, 2021
Friday's action at the 2021 NCAA Indoor Track & Field Championships are in the books, and a few new stars earned their first NCAA titles in the distance events. In the 5,000, Auburn's Joyce Kimeli won a race no one wanted to lead in 15:48.98. The distance medley relay was the opposite: Courtney Wayment was more than happy to lead, making a strong push with over a kilometer remaining in the anchor leg to power BYU to the school's first women's DMR title.
In non-distance action, Texas A&M's Tyra Gittens continued to star. A day after winning the NCAA pentathlon in collegiate record fashion, she scored another 16 points as she won the high jump with a 1.90m (6-2¾) clearance (she actually cleared 1.93m (6-4) in the multi yesterday) and placed third in the long jump with a personal best leap of 6.68m (21-11). There was also a collegiate record in the field as Texas' Tara Davis leaped out to 6.93m (22-9) in round three to edge past the previous record of 6.91 shared by Auburn's Elva Goulbourne and TCU's Whitney Gipson.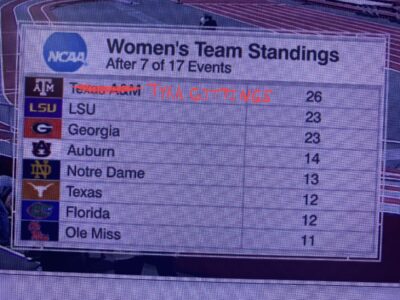 Full recaps and analysis of the 5,000, DMR, and mile and 800 prelims below.
Video highlights can be found here.
Women's 5000: Kimeli wins her first NCAA title
Two weeks ago on this very same Arkansas track, Joyce Kimeli made herself the NCAA 5000 favorite by beating NCAA 5000 leader Katie Izzo of Arkansas at SECs to capture both the 3000 and 5000 titles.
Tonight, Kimeli, who had never previously scored at NCAAs on the track, lived up to that favorite billing as she used a 66.55 final 400 (31.73 final 200) to close off a final 1600 of 4:52.97 to get the win in 15:48.98. Coming off the final turn, only NC State senior Elly Henes was within striking distance of Kimeli but Henes was passed by Big 10 champ Bethany Hasz for second as Hasz ran 15:49.62 to Henes' 15:49.86.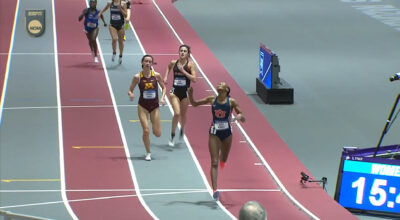 Hasz actually had the fastest close of anyone in the field. The tactical start to this one — Kimeli ran her first 1600 in 5:19.09 — coupled with the evenness of the field in terms of seasonal bests allowed there to be nine women within 1.01 seconds of Kimeli with just 400 to go. Hasz was that ninth woman but she went from ninth to second over the final 400, which she covered in 66.18 (31.72 last 200). 
Arkansas' Izzo, who had the lead as late as the 3500 mark, ended up a disappointing ninth and failed to score, hurting Arkansas' team title chances. 
The Race
Article continues below player.
The pace was erratic on this one. Things started slow (5:19.09 first 1600 for Kimeli) but picked up during the second mile (5:01.82 for Kimeli). Arkansas' Izzo then went to the lead but decided around 3500 that she didn't want to be a sacrificial lamb to Kimeli as Izzo had tried to outrun Kimeli from the front at SECs and that didn't work. Here, Izzo figured she'd rather try to use her 4:34 mile speed and stepped out into lane two and Kimeli took over the leading once again. Surprisingly though, it was Izzo who was the worst of the nine women that were still in contention over the final 400.
Keeping things honest might not have resulted in a win for Izzo but it probably would have gotten her some points. The runner-up Hasz had actually been dropped and was more than three seconds back with 1400 meters left, but she got back into it when the 19th and 20th laps were both run over 39 seconds.
Results *Splits
1 Joyce KIMELI JR AUBURN 15:48.98
2 Bethany HASZ SR MINNESOTA 15:49.62 SB
3 Elly HENES SR NC STATE 15:49.86 SB
4 Mahala NORRIS SR AIR FORCE 15:51.73 PB
5 Abbey WHEELER SR PROVIDENCE 15:51.87 SB
6 Grace FORBES SO RICE 15:53.36
7 Jenna MAGNESS JR MICHIGAN STATE 15:53.73
8 Hannah STEELMAN SR NC STATE 15:55.65
9 Katie IZZO SR ARKANSAS 15:58.38
10 Nicole FEGANS SR GEORGIA TECH 16:07.75
11 Kelsey CHMIEL SO NC STATE 16:12.73
12 Rebecca CLARK FR FLORIDA STATE 16:18.29
13 Ashley TUTT JR NORTHERN ILLINOIS 16:19.42
14 Grace FETHERSTONHAUGHSO OREGON STATE 16:22.03
15 Ericka VANDERLENDE SO MICHIGAN 16:37.36
DNF Hannah REINHARDT SR OREGON DNF
Quick Take: The fact that nine women were in contention with 400 to go shouldn't have been that surprising given sbs of the field and the slow start
With 400 to go, any of nine women could still win it. That's pretty unusual for a championship level 5000 but it's not that shocking as the field was very evenly seeded. Joyce Kimeli was the #3 seed coming in at 15:46.88 but the #10 seed had run 15:50.94 this year.
Quick Take: It will be interesting to see what Kimeli does in the 3000 tomorrow

Kimeli was justifiably quite happy after winning this one since she'd never scored in track before at NCAAs. On paper, she's definitely a contender for the 3000 title tomorrow as she's the #2 seed, assuming she goes all-out in it. She seemed content to have won tonight and said "trying to get one point would be good" for tomorrow.
She also said she didn't want to do XC this winter as she didn't want to burn herself out. So if you were going to predict how she does based on her post-race demeanor, we'd say worse than expected.
It probably all comes down to how she feels. When the race starts, her natural competitive juices may take over.
Kimeli had a little extra reason to be happy about winning this race tonight. At the start, she lost her balance and false started but the officials decided to do what we'd want them to do in a 5k: not DQ anyone, even though, by the letter of the rule book, she should have been DQ'd.
See it for yourself:
Quick Take: Arkansas not scoring a point was shocking
It's hard to believe that Arkansas, which had the two fastest women in the country during the regular season this year in the 5000, didn't score a point in this event. Izzo was ninth and Lauren Gregory opted for the DMR (where she ran the 1200 leg) and 3000.
DMR: BYU "wins the wait" and its first NCAA DMR title
Entering the final leg of tonight's DMR, Arkansas and BYU, the two distance powerhouses who went 1-2 at the 2019 NCAA XC championships, were clear of the field. Two of the NCAA's top milers were set to anchor: 2021 NCAA leader Courtney Wayment (4:30.47 sb) for the Cougars and Krissy Gear (4:31.83, #5 NCAA this year) for the Razorbacks, running on their own track. The pieces were in place for an epic anchor leg.
Courtney Wayment had other plans.
After running behind Gear for two laps, Wayment made a hard move with just over a kilometer remaining and immediately gapped Gear. From there, the BYU senior cruised to victory, her 4:32.90 anchor leg giving the BYU squad of Olivia Hoj (3:21.92), sisters Alena (52.41) and Lauren Ellsworth (2:05.74), and Wayment the win in 10:52.96, the #8 time in collegiate history. Gear and Arkansas held on for second (10:57.19), giving the Razorbacks eight valuable points in their quest for the team title, as Florida State (10:59.16) took third.
Ahead of the race, Arkansas coach Lance Harter had told LetsRun.com that he would be running Lauren Gregory — entered in tomorrow's 3000 final — on the anchor leg. That is who Wayment expected to see, so it came as a surprise when Gear lined up to take the baton instead. Wayment, running fresh, knew Gear was doubling back from her mile prelim less than two hours earlier, and when she heard the splits for her first two laps, she knew she had to pick it up and press her advantage.
"My best shot was I had to go and just go to the hurt locker and put that gap in there," Wayment said. "…I knew that if I could take it out and not leave it to a kicker's race, that would be my best odds."
Wayment's decision paid off with an NCAA title, and she will have the chance to win another one in Saturday's 3000m final, where she is the top seed and will square off against 5000m champion Joyce Kimeli of Auburn.
Results *Splits
1 BYU 10:52.96 CL
2 ARKANSAS 10:57.19
3 FLORIDA STATE 10:59.16
4 OKLAHOMA STATE 10:59.75
5 MICHIGAN 11:04.65 SB
6 FLORIDA 11:05.36
7 NC STATE 11:06.14 SB
8 OLE MISS 11:07.18
9 VIRGINIA TECH 11:20.32
10 OREGON 11:22.74
DQ WASHINGTON DQ [7.5-3g]
DQ ALABAMA DQ
Quick Take: BYU's motto was "win the wait." Now they've won an NCAA title
Throughout the pandemic, BYU coach Diljeet Taylor's motto was "win the wait." She did not know when her athletes would race again, but wanted to make sure they were ready to seize the opportunity when they did. When things shut down this weekend a year ago, Taylor was already scheming up ways to stay close to her team, organizing weekly Zoom meetings with her athletes and sending them handwritten cards.
"She made sure even a pandemic would not get in between our sisterhood…Coach Taylor just did more than anyone can imagine to make sure that we still felt that we mattered," said Wayment, who sports a "Run for Her" tattoo on her back (another BYU distance squad motto).
Even now, the BYU distance squad is not fully reunited — Taylor made the decision to break her women up into two groups this season, one focused on indoor track and one on cross country. But even though the two groups don't work out together, Wayment says it still fells like one team, with each group showing up to workouts to cheer the others on or FaceTiming afterwards to offer encouragement.
Speaking of winning the wait, Wayment may have done it better than anyone. Frequently injured during her first four years in Provo, Wayment has emerged as one of the country's top distance runners in 2021 and ran like a seasoned pro tonight — even though this was her first NCAA championship appearance on the track.
Quick Take: BYU gets a national title after a string of near-misses
Taylor has revitalized the BYU women's program since taking over in 2016, and has come close to an NCAA title several times in the last few years. In 2019, her women were second in the DMR at NCAAs behind Oregon, and that fall they finished just six points behind Arkansas at NCAA XC. Last year, the Cougars entered NCAA Indoors as the top seed in the DMR, but never got the opportunity to back it up as the meet was cancelled just one day before the race.
Tonight's win, then, was not just for the women on tonight's team, but for the program as a whole.
"It definitely means more than just a national title," Wayment says, reflecting on the team who didn't get a chance to run in Albuquerque last year.
Quick Take: Arkansas takes a risk
As noted above, Lauren Gregory was initially slated to run the anchor leg for Arkansas tonight. But sometime between Monday and today, Razorbacks coach Lance Harter decided to switch up the order and sub in SEC champion Krissy Gear. It was a calculated risk — Gear is the superior miler, but Gregory was fresh — and though it didn't result in victory, Gear did her job by grinding out a 4:37.07 anchor leg to hold onto second place.
Was it worth the risk? It's a little early to tell as we haven't seen how Gear will handle the mile tomorrow, her third race in 24 hours. But the truth is, it probably didn't matter who Arkansas ran on anchor tonight — a fresh Wayment was simply too good.
Women's mile: Hurta & Gear look like the class of the field ahead of showdown in final
Looking at the entries of the women's mile, two women stood out: Colorado's Sage Hurta (4:31.80 sb) and Arkansas' Krissy Gear (4:31.83 pb), both of whom had run over three seconds faster than anyone in the field this year.
So perhaps it's unsurprising that those two dominated the two mile semifinals Friday evening. Gear went wire-to-wire to win heat 1, looking supremely comfortable as she closed out the race with a 31.76 last lap to win handily in 4:40.92. Hurta took longer to assert herself in heat 2, waiting to take the lead until two laps remained, but she looked equally comfortable, using a 32.49 last lap to win in 4:37.04. You have to be careful about reading too much into prelims, but tomorrow's final does appear to be a two-woman race.
The biggest casualty of the prelims was Rhode Island's Lotte Black, who could only manage seventh place in heat 1. Black, the #3 seed coming in, was 4th in the 2019 NCAA 1500 final. Otherwise, the top seven seeds all made it through. Arkansas, pushing for the women's team title, got three of its four entrants into the final as they grabbed the final auto spot in heat two behind Gear's victory in heat 1. *Splits
1    132 Sage Hurta                    SR Colorado            4:31.80 Won heat 2 – Q
2     56 Krissy Gear                   SR Arkansas            4:31.83 Won heat 1 – Q
3    452 Lotte Black                   SR Rhode Island        4:35.54 
4    567 Kaley Richards                JR UMass Lowell        4:35.64 2nd heat 2 – Q
 5    422 Aneta Konieczek               JR Oregon              4:35.88 3rd heat 2 – Q
6    111 Heather Hanson                JR BYU                 4:36.49 3rd heat 1 – Q
 7    113 Kate Hunter                   SR BYU                 4:37.17 4th heat 1 – Q
8    114 Simone Plourde                FR BYU                 4:37.24 
 9     60 Gracie Hyde                   JR Arkansas            4:37.57 6th heat 2 – q
 10    142 Imogen Barrett                JR Florida             4:38.12 
11    616 Katie Rainsberger             SR Washington          4:38.15  2nd heat 1 – Q
12     69 Isabel Van Camp               SO Arkansas            4:38.88 
13     68 Kennedy Thomson               SR Arkansas            4:39.19 5th heat 2 – q
14    248 Tori Herman                   FR Kentucky            4:39.52
15    123 Ellie Leather                 SR Cincinnati          4:40.03 
16    381 Allie Guagenti                SO OH State            4:40.89 4th heat 2 – Q
Women's 800: Bring on the wide-open final
The women's 800 prelims went largely according to form as only one of the top eight women failed to advance to Saturday's final (#7 seed Andrea Foster of Clemson, who was last in heat 2). In heat 1, the top four broke away over the last lap and though there was a spirited battle for the three automatic qualifying spots, all four women wound up qualifying for the final, led by SEC runner-up Gabrielle Wilkinson of Florida, who made a strong move for the lead on the backstretch of the final lap and won in 2:04.59.
In heat 2, BYU's Claire Seymour got the win in the fastest time of the day, 2:03.97.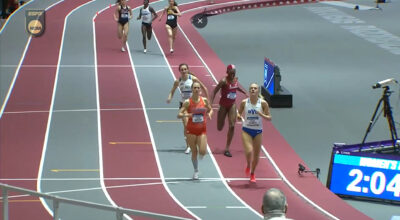 With collegiate record holder Athing Mu opting for the 400 at this meet, tomorrow's final looked to be up for grabs, and with no one truly asserting themselves in today's prelims, that assessment remains accurate. *Splits
1    593 Lindsey Butler                SO VA Tech             2:01.96 – Q – 2nd heat
2    126 Laurie Barton                 SR Clemson             2:01.99 – Q – 2nd heat 2
3    115 Claire Seymour                JR BYU                 2:02.20 – Q – Winner heat 1
4    100 Aaliyah Miller                SR Baylor              2:02.35 – Q – 3rd heat 1
5    153 Gabrielle Wilkinson           SO Florida             2:02.85 Q – Winner heat 1
6     62 Shafiqua Maloney              SR Arkansas            2:03.12 Q – 3rd heat 2
7    127 Andrea Foster                 SR Clemson             2:03.54 – 8th heat 2
8    243 Sarah Hendrick                JR Kennesaw State      2:03.73 q -4th heat 1
9    292 Kayla Johnson                 SR Miami (Fla.)        2:03.80 – 7th heat 1
10    584 McKenna Keegan                SR Villanova           2:04.21 q – 4th heat
11    456 Brooke Fazio                  SR Richmond            2:04.27 – 5th heat 2
12    611 Aleeya Hutchins               SO Wake Forest         2:04.73 – 6th heat
13    136 Leigha Torino                 SR Duke                2:05.20 – 5th heat 1
14    221 Mallory King                  SR Iowa                2:05.34 -6th heat
15    443 Victoria Vanriele             FR Penn State          2:05.59  -7th heat 2
16     68 Kennedy Thomson               SR Arkansas            2:05.62 – DNF
Be a fan and talk about the Day 1 action our world famous fan forum/messageboard.