Elise Cranny (30:47) & Marc Scott (27:10) Win The TEN in California, Lead 10 Athletes Under Olympic Standard
By LetsRun.com
February 20, 2021

We recap the two 10,000-meter races that were held as part of The TEN track meet tonight at JSerra High School in San Juan Capistrano, California. For those that finished the race, the times were VERY fast. The Bowerman Track Club had a good day as BTC athletes won both races and had four athletes in each race pick up the Olympic standard. (Lap by lap splits can be found here. Full video replay here).
Women's Race: Cranny Outkicks Schweizer to go to #3 all-time US
The Bowerman Track Club's Elise Cranny used a 65.11 final lap to kick by teammate Karissa Schweizer to win The TEN tonight in 30:47.42 to Cranny's 30:47.99 as the two women became the sixth and seventh US runners in history to dip under the 31:00 barrier for 10,000 meters. They are now the third- and fourth-fastest women in US history.
Britain's Eilish McColgan also broke 31:00 in third in 30:58.94, just off the 30:57.07 personal best that her mom and coach Liz ran to win in Hengelo back in 1991, the year she won the 10,000 world title in Tokyo. 2015 world championship bronze medallist Emily Infeld (31:08.57) as well as Marielle Hall (31:21.78) also left tonight's race with the 10,000 Olympic standard of 31:25.00. Hall already had it thanks to her 31:05 at Worlds in 2019; for Infeld, 30, her time was a 12-second personal best.
The race was very evenly run at almost exactly 75-second-per-lap pace for 7200 meters (22:28) with pacers Vanessa Fraser and then Courtney Frerichs leading through 6400. Four sub-75 laps after 7200 meters winnowed the lead pack down from four to two with three laps to go. Schweizer did all of the leading for the final 6+ laps until Cranny kicked by for the win in the final 50 meters. Cranny ran her last 1600 in 4:38.76 with lap splits of 72.59, 71.70, 68.75, 65.74.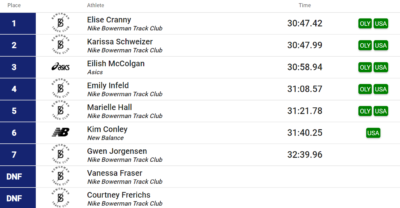 Quick Take: Here is how the US and British sub-31 lists now look
US Sub-31:00 Women
30:13.17

Molly Huddle




30:22.22

Shalane Flanagan



30:47.42 Elise Cranny

30:47.99 Karissa Schweizer


30:49.57

Emily Sisson




3

0:50.32

Deena Kastor




30:55.16

Kara Goucher
British Sub-31:00 Women
30:01.09

Paula Radcliffe




30:53.20

Jo Pavey




30:55.63

Julia Bleasdale




30:57.07

Liz McColgan



30:58.94 Eilish McColgan 
Quick Take: 12 American women now have the Olympic standard
Americans with 2020 Olympic standard
30:47.42 Elise Cranny

30:47.99 Karissa Schweizer

30:49.57 Emily Sisson

30:58.46 Molly Huddle

31:05.71 Marielle Hall

31:08.57 Emily Infeld

31:09.79 Rachel Schneider

31:10.84 Alicia Monson

31:12.28 Natosha Rogers

31:15.65 Kellyn Taylor

31:22.86 Dani Shanahan


31:24.47 Stephanie Bruce
Men's Race: Scott leads five men under Olympic standard
The Bowerman Track Club's Marc Scott's hot start to 2021 continued tonight as he ran 27:10.41 to win the men's 10,000 and move to #2 all-time on the British 10,000 list. Scott wasn't the only man leaving the race happy as the point of the race was to get the Olympic standard of 27:28.00 and all five men that finished the race were well under the standard.
In his 10,000 debut, Grant Fisher ran 27:11.29 for 2nd, meaning he's now the 5th-fastest American in history. 12:58 man Woody Kincaid was third in 27:12.78 as Bowerman Track Club athletes swept the top 3 places.
Ben True, currently unsponsored, ran a big pb of 27:14.95 for 4th (previous pb of 27:41.17). And in the shock performance of the night, Harvard grad Kieran Tuntivate of Thailand ran 27:17.14 for 5th, meaning a guy who came into the night with a 13:57.60 5000 pb ran the equivalent of two 13:38's back-to-back and is now #4 all-time in Asian history.

The race was rabbited perfectly through 8000 meters by Evan Jager and Sean McGorty. The field went through 5000 in 13:45 and McGorty hit 8000 in 21:57.85 (27:27 pace). After McGorty stopped at 8k, Scott did most of the leading although Fisher had the lead with 2 laps to go. Scott immediately picked up the pace and his final 5 laps were 64.18, 65.49, 64.62, 61.18 and 57.13, meaning he covered his last 1600 in 4:08.40 and last 2k in 5:12.58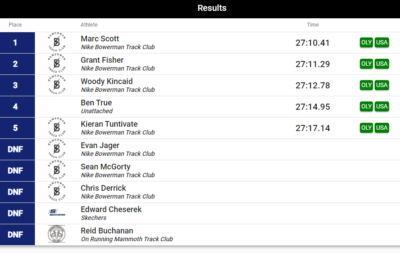 Quick Take: What a run by all of the finishers.
Here is the complete list of Americans who have broken 27:20 for 10,000.
The 9 Sub 27:20 men in US history.
26:44.36 

Galen Rupp


26:59.60

Chris Solinsky




27:04.72

Lopez Lomong




27:07.55

Shadrack Kipchirchir

27:11.29 Grant Fisher

27:12.78 Woody Kincaid


27:13.98

Meb Keflezighi



27:14.95 Ben True


27:16.99

Abdi Abdirahman 
And here is the list of Americans with the 27:28 Tokyo standard.
Lopez Lomong 27:04.72
Grant Fisher 27:11.29
Woody Kincaid 27:12.78
Ben True 27:14.95
Eric Jenkins 27:22.06
Shadrack Kipchirchir 27:24.74
The 5 Sub-27:20 Asian Runners in history

Article continues below player.
26:38.76

Abdullah Ahmad Hassan

QAT

26:51.87

Nicholas Kemboi

QAT

27:11.08

Abraham Cheroben

BRN

27:17.14

Kieran Tuntivate THA

27:18.75

Akira Aizawa

JPN
Talk about the athletes and the races on our messageboard.