Joshua Cheptegei Will Make 10,000m World Record Attempt in Valencia on October 7
By LetsRun.com
September 3, 2020
Last month, Joshua Cheptegei ran 12:35.36 in Monaco to break Kenenisa Bekele's longstanding world record in the 5,000 meters. Now Cheptegei is coming for Bekele's 10,000m world record of 26:17.53 as well.
Cheptegei's NN Running Team announced the news on Thursday with a spine-tingling video narrated by Jos Hermens. Hermens managed Bekele and Haile Gebrselassie, who combined to break the 10,000 world record five times, his Global Sports Communication also manages Cheptegei.
"I have seen firsthand how difficult it is to break a world record — what a person has to sacrifice and to give," says Hermens. "That day in Brussels, 15 years ago, Kenenisa gave everything. To see the record stand for so long is a testament to how incredible the time truly is. Nobody could do what he did. Until now."
If you haven't already, take a minute to watch the video in its entirety and try not to get goosebumps.
When there aren't many races, we aim for the highest. Joshua Cheptegei is going for the 10.000 meters world record!?#NNValenciaWorldRecordDay pic.twitter.com/5HIGHKsgHJ

— NN Running Team (@NNRunningTeam) September 3, 2020
Cheptegei's attempt will take place at Turia Stadium in Valencia on October 7 — just 10 days before Cheptegei is scheduled to make his half marathon debut at the World Half Marathon Championships in Poland. The NN Running Team has dubbed the attempt "NN Valencia World Record Day."
Valencia is an appropriate venue, as it is quickly developing a reputation as one of the world's premier running cities. It began in 2017, Joyciline Jepkosgei set the women's half marathon world record of 64:51 in Valencia. And in the last 12 months, Valencia has been the site for three world records. In September 2019, Geoffrey Kamworor ran 58:01 to break the half marathon mark; Cheptegei followed in December by running 26:38 to break the 10k road world record. Most recently, Rhonex Kipruto broke Cheptegei's 10k record by clocking 26:24 on the streets of Valencia in January.
Cheptegei's manager Jurrie van der Velden told LetsRun that the 10,000 world record attempt in Valencia has been in the works since June — well before Cheptegei broke the 5,000 record. The race will include several more elite athletes, and though the rest of the field has not yet been announced, van der Velden told us "there should be at least one in which I am sure you will have special attention for."
Article continues below player.
Van der velden also confirmed that the attempt will feature Wavelight pacing technology and will be streamed live.
(We spoke to Cheptegei's agent Jurrie van der Velden on the World Record attempt and how all this came about. It's on an emergency podcast available to all here. If you'd like to see the Zoom of the talk, join the LetsRun.com Supporters Club and get exclusive content, huge savings on running gear, and access to our private forum)
Quick Take: World records are hard, but Cheptegei definitely has a good shot to break this one
After Cheptegei's 12:35 in Monaco, it's tempting to assume that he will of course break the 10,000 WR as well. But let's take a moment to appreciate just how good 26:17 is.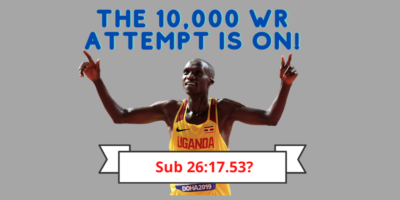 Bekele's record, which he set on August 26, 2005, in Brussels, celebrated its 15th birthday last week, and in that span, only Bekele, who ran 26:25.97 in Eugene in 2008, has come within 18 seconds of it. After that, Kenya's Micah Kogo, who ran 26:35.63 in Brussels in 2006, has come closest to breaking the mark.
Cheptegei's personal best on the track is 26:48.36, which he ran to win gold at last year's World Championships in Doha. That performance is not a realistic reflection of his abilities, however, as he hasn't run a 10,000 on the track outside of a championship setting since 2015, when he clocked 27:27.57 as an 18-year-old at the Pre Classic. Cheptegei has run faster on the roads (26:38), but given the fitness he showed in Monaco, and with a race tailored toward breaking the record, Cheptegei should come a lot closer to 26:17 in October.
Consider: after Bekele ran his 5,000 world record of 12:37 in 2004, he ran 26:20 for 10,000 just eight days later. It's simple: if you're in shape to run a fast 5,000, you're probably in shape to run a fast 10,000 as well — especially since the strength-oriented Cheptegei was known primarily as a 10k man until his 12:35.
For what it's worth, World Athletics' scoring tables say Cheptegei's 12:35 is worth 1302 points — which would equate to 26:13 for 10,000.
Assuming the weather cooperates, he has a very good shot to break Bekele's mark. 
Quick Take: Is sub-26:00 a possibility?
While Bekele's 26:17.53 world record celebrated its 15th anniversary last week and only three men in history have broken 26:30, some have wondered if Cheptegei might be able to not just break the WR, but also break 26:00. One of those thinking it possible is top distance coach Renato Canova. 
Canova, a regular poster on the LetsRun.com messageboard over the years, posted two weeks ago that he thinks Cheptegei can run the 10,000 within 40-45 seconds of double his 5,000 time.
[If] an athlete [like] Cheptegei who, don't forget, is also the WR holder of 15 km on road, wants to attack the WR of 10000m with two months of specific preparation, [he] can stay in the range of 40″/45″. This means under 26′.
If you double Cheptegei's 5,000 pb and add 45 seconds, you get 25:55.72.
Canova, who coached Bekele for a while starting in 2016, also later wrote that both times when Bekele set the 10,000 world record, he wasn't in top form.
You have to know that Kenenisa, when bettered WR of 10,000m, one time was not in shape, and another time was sick. When I told Kenenisa he never prepared 10000m, he told me I had reason; he always looked for 5,000 because was the distance in Golden and Diamond League, going to 10,000 in Olympics and WCh because was easier to win.
(Don't miss another post from Canova. Become a LetsRun.com VIP and be notified when your favorite posters post on the messageboard).
Van der Velden, for the record, says Cheptegei's goal in Valencia is simply to break the world record, not to run under 26:00.
Rojo's Weather Take: What will the weather be like?
While Valencia has certainly become one of the world's greatest running cities in recent years, I'm slightly surprised it's being picked as the venue for the record attempt as the temperature is likely to be a little warmer than ideal.
One can't accurately predict the weather for a race that's five weeks away. But one can look back at the last five years to get a sense of what the conditions will be like for Cheptegei's attempt. Below is the weather in Valencia on October 7 at 8 p.m. in each of the last five years (a start time has not been announced, but it seems logical to hold it in the evening).
| | | | |
| --- | --- | --- | --- |
| Year | Temperature (F) | Dew point (F) | Humidity |
| 2015 | 72 | 57 | 60% |
| 2016 | 75 | 66 | 73% |
| 2017 | 66 | 64 | 94% |
| 2018 | 70 | 48 | 46% |
| 2019 | 73 | 57 | 57% |
| Average | 71.2 | 58.4 | 66% |
And here is what Dark Sky predicts the temperature and dew point will be on October 7 in Valencia.
| | |
| --- | --- |
| Temp | Dew Point |
When Cheptegei broke the 5,000 world record in Monaco, the temperature was 79 with a dewpoint of 69, so conditions in Valencia are likely to be better than that. But high 60s/low 70s degrees and a dewpoint of 58 is still on the warmer side.
Perfect conditions for distance running are much cooler. Remember, when Eliud Kipchoge broke 2:00 last year at the INEOS 1:59 Challenge, the organizers chose Vienna specifically for its weather, and it was 48 degrees with 48 humidity during the entirety of the attempt. Weather matters more in a marathon than a 10,000, and 48 would be a little chilly for a 10,000, but I think it's safe to say it will almost certainly be warmer than ideal in Valencia. 
When Bekele ran 26:17.53 in Brussels in 2005, the temperature was close to 60F and the dew point close to 50.
| | |
| --- | --- |
| Temp during 26:17 | Dew point during 26:17 |
Although when Bekele ran his first 10,000 WR (26:20) a year earlier in Ostrava, the temperature and dew point was closer to what Cheptegei is likely to find in Valencia.
| | |
| --- | --- |
| Temp during 26:20 | Dew Point during 26:20 |
Quick Take: Who will be the "mystery guest" in Valencia?
As noted above, van der Velden hinted that at least one more big name will be in the race with Cheptegei on October 7. If we had our pick of anyone, we'd choose either Kamworor — the three-time defending World Half champion and the WR holder at that distance — or Kipruto, whose 26:24 on the roads in January suggests he has a legitimate shot at Bekele's record. 
While Kamworor is a bigger name, Kipruto may be the better option. For one, he has a better shot at the record than Kamworor. For another, we may get to see Cheptegei vs. Kamworor at the World Half champs anyway.
Quick Take: October 2020 could be a legendary running month
After the pandemic wiped out most of the fall marathon season, we were worried there may not be anything for running fans to get excited about this fall. That is no longer a problem.
In a two-week stretch in October, we are scheduled to have:
-Eliud Kipchoge vs. Kenenisa Bekele at the London Marathon on October 4
-Cheptegei's 10,000m world record attempt on October 7
-The World Half Marathon Championships (featuring Cheptegei's debut) on October 17
That's an incredible lineup for any year, let alone one affected by COVID-19.
More WR Attempt Analysis:
LRC Emergency Podcast on Joshua Cheptegei World Record Attempt With His Agent Jurrie van der Velden This is the type of bonus content normally available to LRC Supporters Club members. If you're not a member yet, join by Labor Day and get a free 1:59:40 GOAT shirt. Click here to join https://www.letsrun.com/subscribe
*Video (Supporter's Club Only): Zoom w/ Joshua Cheptegei's Agent Jurrie van der Velden on 10,000m World Record Attempt Valencia
Talk about this article and Cheptegei's WR chances on our world famous messageboard/fan forum.