2020 Zagreb Recap: Daniel Rowden Arrives as Bryce Hoppel Is Beaten; Stewart McSweyn Just Misses Aussie Record
By Jonathan Gault
September 15, 2020
It's not quite the 1980s yet, but the 2020s are shaping up as a great decade for British middle-distance running. Last year, Great Britain put three men in a global 1500 final for the first time since Coe, Cram, and Ovett at LA '84. This year, Jake Wightman ran faster for 1500 than any of those famous names with his 3:29.47 in Monaco. And tonight, Wightman was part of a 1-2-3 British sweep in the men's 800 at the Hanzekovic Memorial meet in Zagreb, led by the 23-year-old British champ Daniel Rowden, who earned the biggest win of his career to date, dusting a quality field over the final 100 to win in a personal best of 1:44.09. Pre-race favorite Bryce Hoppel of the United States, racing for the first time in over a month, could only manage fourth in 1:44.95.
It's a long way from a Tuesday evening in Zagreb to the Olympic Games, but tonight's 800 result bodes well for British running — and in particular Rowden, a potential star in the making who first ran 1:44 as a 20-year-old in 2018 and is finally putting it all together after stomach surgery sidelined him for most of 2019. (For more on Rowden's challenging last 18 months, check out this Athletics Weekly story).
Article continues below player
In other action in Zagreb, Australia's Stewart McSweyn dominated a fast 1500 in which eight of the 12 finishers set personal bests.
Recaps of the men's 800 and 1500 below.
Men's 800: World, meet Daniel Rowden
With 13 starters (including eight men who had broken 1:45 in 2020), positioning was always going to be important in this race, and Rowden got out quickly for the first 200, settling in behind the pacer with Sweden's Andreas Kramer beside him. He'd stay there through 400 (50.39 for the pacer), by which point Hoppel had moved into third just behind and to the right of Kramer.
Kramer would draw level with Rowden on the back straight of the bell lap and move past him just before the final turn. But he couldn't shake the Brit, and as they entered the home straight, Rowden swung into the outside of lane 1, pulling clear of Kramer and the rest of the field and powering to victory in 1:44.09. Fellow Brits Elliot Giles (1:44.75) and Wightman (1:44.85) closed hard to take second and third but were too far back at the top of the straight to challenge Rowden. Hoppel, who was second with 50m to go, ran out of gas late and wound up fourth in 1:44.95.
Rowden's time was the fastest by a Brit since Andrew Osagie's 1:43.77 in the 2012 Olympic final.
You can watch the full race here:
Results
Pos. s
Name
Born
Club/Nationality
Ln.
Result
1

Daniel Rowden

97
2

PB

1:44.09
2

Elliot Giles

94
7
1:44.75
3

Jake Wightman

94
5
1:44.85
4

Bryce Hoppel

97
4
1:44.95
5

Collins Kipruto

94
3
1:45.36
6

Andreas Kramer

97
3
1:45.39
7

Arriba Álvaro De

94
1

SB

1:45.60
8

Wesley Vázquez

94
5
1:45.66
9

Peter Bol

94
1
1:45.94
10

Joseph Deng

98
7
1:46.11
11

Amel Tuka

91
6
1:46.63
12

Max Burgin

02
8
1:47.73

Žan Rudolf

PACE

93
8
DNF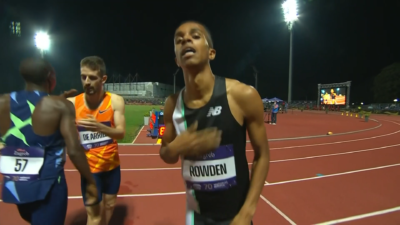 Quick Take: Who is Daniel Rowden?
I don't want to get too carried away with a 1:44 win in Zagreb, but it was hard not to come away impressed with Rowden's run tonight. In a deep race — headlined by one of the top 800 men in the world in Hoppel — Rowden was clearly the class of the field and looked spectacular in pulling away to victory over the final 100. It certainly helped that, in a 13-man field, Rowden got great position early and didn't have to worry about going wide to pass anyone — but positioning is part of being a great 800 runner, and Rowden was never in any trouble tonight.
After recovering from stomach surgery last year and changing coaches, Rowden has put together a fine 2020 season, with a 1:44.74 pb in Gothenburg on August 29 followed by a British title over Wightman on September 5 and tonight's 1:44.09. And his future looks very bright: he only turned 23 last week.
Quick Take: Bryce Hoppel looks mortal
Hoppel, on paper, was favored to win this race but could only manage fourth. That's far from a disastrous result — this was a strong field, and he still ran 1:44.95 — but his closing speed just wasn't there over the final 50 and the Brits made him pay. One possible reason: Hoppel didn't get off the line well and had to run wide on turns 2 and 3 as he made his way up the field. The costs of that extra energy and distance were evident over the final 50m. Usually Hoppel is the guy mowing people down at the end of the race, but today his form was breaking down and he was struggling to hold on.
Men's 1500: McSweyn dominates to lead PB parade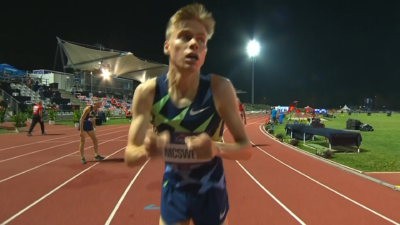 This race was set up as a chance for Australian star Stewart McSweyn to break the national record of Melbourne Track Club teammate Ryan Gregson (3:31.06). And had the pacing been better, he may well have done it. Instead, McSweyn had to settle for a dominant victory in 3:32.17, with his hot pace up front setting the stage for eight of the 11 men behind him to run personal bests.
Pacemaker Azzedine Habz was tasked with taking McSweyn through 800 in 1:52 (3:31.06 pace is 1:52.56 for 800) and was spot-on through 400, hitting one lap in 55.74 with McSweyn right behind him. But Habz slowed down to 58.40 for his second lap, causing the pack to bunch up as he hit 800 in 1:54.14.
Seeing his split, McSweyn immediately accelerated, opening a gap on the field as Habz stepped off, but the damage was done — though he would pick it up to 55.03 for his next lap and close in an impressive 41.00 for his last 300 running all alone, McSweyn wound up just short of the record.
Behind him, there was a fierce battle for second, which ultimately went to Brit James West, the 2019 Pac-12 third placer for Oregon, who was able to hold off Australia's Matthew Ramsden and Serbia's Elzan Bibic for second in 3:34.56 (West's previous pb was 3:35.74). All three men set personal bests. For Ramsden (3:34.83, previus pb 3:35.23), it was his eighth pb in a breakout 2020 season. For Bibic (3:35.07), it was a big breakthrough (his previous best was 3:37.66) and almost his second national record in eight days; after running 13:26 in Ostrava last week to break the 49-year-old Serbian 5k record, he barely missed Dragan Zdravkovic's 37-year-old 1500 record of 3:34.85.
21-year-old British champ George Mills earned his second pb in five days in 6th (3:36.72, previous pb 3:38.06). Former Louisville star Matt Hughes , the 2010 and 2011 NCAA steeplechase champ, continued his own pb streak at age 31 in 8th in 3:37.20. Hughes had never broken 3:40 in his life prior to September 6. Now, after three consecutive pbs, he has done it three times in 10 days.
Pos. s
Name
Born
Club/Nationality
Ln.
Result
1

Stewart McSweyn

95
12
3:32.17
2

James West

96
3

PB

3:34.56
3

Matthew Ramsden

97
11

PB

3:34.83
4

Elzan Bibić

99
4

PB

3:35.07
5

Ryan Gregson

90
10

SB

3:35.22
6

George Mills

99
6

PB

3:36.72
7

Quentin Tison

96
9

PB

3:36.83
8

Matthew Hughes

89
5

PB

3:37.20
9

Johan Rogestedt

93
7

SB

3:37.56
10

Paul Robinson

91
8

SB

3:38.26
11

Dino Bošnjak

94
1

PB

3:42.94
12

Daniel Ivaničić

96
2

PB

3:50.17

Azzedine Habz

PACE

93
13
DNF
Quick Take: Hopefully the inability to earn the Olympic standard in 2020 doesn't come back to bite these athletes
While McSweyn already had the Olympic 1500 standard of 3:35.00, both West and Ramsden ran under the barrier for the first time today — but neither will get to count it as an Olympic standard as the qualifying window doesn't reopen until December 1.
We at LetsRun were against World Athletics' decision to freeze the qualifying window — the point of Olympic standards is to prove you have the ability to run at the Olympics, which West and Ramsden both just did — and can only hope it won't end up hurting them next year. It's not that West (24) and Ramsden (23) don't have the ability to run the time again; it's that, between potential injuries and competition opportunities, you just never know. There aren't many sub-3:35 1500 races in a given year, especially when you have to fit one in around peaking for your own country's Olympic Trials.