How Joshua Cheptegei Became the World's Fastest Distance Runner – A Look Back at His Career After 5,000m World Record
By Jonathan Gault
August 18, 2020
After his remarkable 12:35.36 world record for 5,000 meters last week in Monaco to take over from the great Kenenisa Bekele as the fastest 5,000m runner ever, casual running fans may just now be learning the name Joshua Cheptegei. But for hardcore distance fans, it's been clear for quite some time that the 23-year-old Ugandan is something special.
Even before Monaco, Cheptegei's list of accomplishments was impressive: world titles in cross country and in the 10,000 meters on the track last year; three world records on the roads; a 5,000/10,000 double at the 2018 Commonwealth Games. But now that he's joined men like Emil Zatopek, Haile Gebrselassie, and Kenenisa Bekele as members of the 5,000m world record holder club — something even Mo Farah, the best distance runner of the 2010s, could never accomplish — Cheptegei is thinking bigger.
Article continues below player
"I always tell my coach, I want to become the greatest distance runner of all time," Cheptegei told the NN Running Team website last week.
While Cheptegei still has a long way to go to be regarded as the GOAT — he has yet to win a single Olympic medal — he is only just entering his prime. And with his cross country success and ability to push hard from a long way out in track races, he projects as a fantastic marathoner whenever he decides to move up to the 26.2-mile distance.
All of that is still ahead of Cheptegei. For now, let's focus on what he's already done, and the path that led him to the world record in Monaco.
Want to hear from Joshua directly? He joined the Letsrun.com crew for a nearly 45 minute Zoom video interview to discuss his record run in Monaco. Available now to LetsRun.com Supporters Club members.
2014 – A Junior Star Emerges
Cheptegei began running seriously at the end of 2012, inspired by fellow Ugandan Stephen Kiprotich's victory in the Olympic marathon earlier that year (Cheptegei and Kiprotich hail from the same district: Kapchorwa, near the Kenyan border in eastern Uganda). His first big moment in the sport came at the age of 17 in 2014, when Cheptegei won the World Junior 10,000-meter title at Hayward Field.
While junior titles do not always translate to senior success, several World Junior 10k champions have gone on to notable professional careers, including distance legends Haile Gebrselassie (1992) and Daniel Komen (1994), future 10,000m world record holder Richard Chelimo (1990), and 2011 world champion Ibrahim Jeilan (2006).
(If you watch the video below, you'll also note that Cheptegei laps Jon Green — now better known as the man who coached Molly Seidel to an Olympic berth — with just under 200m to go).
LRC M 10k: Uganda's Joshua Cheptegei Comes Back in the Final Lap to Win over Kenya's Elvis Cheboi
RRW Favorite Joshua Cheptegei Claims 10,000m IAAF World Junior Gold For Uganda
2015 – Cheptegei Runs His First Senior World Champs
After finishing 11th in the junior race at World XC in March, Cheptegei headed back to Eugene for the Prefontaine Classic and knocked almost 30 seconds off his personal best by running 27:27. In his first senior World Championships on the track that summer, Cheptegei, still only 18, finished 9th in the 10,000 meters in Beijing
2016 – Cheptegei Finishes 6th at Olympics
Cheptegei continued to make progress on the track in 2016, running significant PBs in the 1500, 5k, and 10k. First was a 28-second personal best in his first Diamond League 5,000 on May 14, where he finished a close second behind Ethiopia's Muktar Edris in Shanghai in 13:00.60. Just four days later, Cheptegei, running in his first 1500, clocked another pb (3:37.82).
In his Olympic debut in Rio, Cheptegei took 6th in the 10,000 (in another personal best of 27:10.06) and doubled back to finish 8th in the 5,000 a week later.
2017 – Cheptegei Goes for Glory at World XC And Staggers Home in Agony, Bounces Back with Silver Behind Mo Farah
2017 is the year where Cheptegei's star truly began to rise. It began with the World Cross Country Championships in March, which for the first time were held in Cheptegei's native Uganda.
Among the favorites going in, Cheptegei opened up a 12-second gap on defending champion Geoffrey Kamworor heading into the final two-kilometer loop at the Kololo Independence Grounds in Kampala. Cheptegei seemed destined for a famous victory until, half a mile from the finish line, his body gave out in the hot, humid conditions, forcing him to stagger home in 30th place.
While Cheptegei's race was worthy of admiration and would have made Steve Prefontaine proud — an athlete pushing himself to his absolute limits to achieve greatness — not everybody viewed it that way. After the race, some Ugandans mocked him on social media. And because the race attracted a national spotlight — Cheptegei was Uganda's biggest star competing in the biggest race to have ever taken place on Ugandan soil — he was constantly reminded of his failure. He would carry the burden of that race for some time.
"It's always every question they ask me about my past," Cheptegei said in 2019.
LRC Geoffrey Kamworor Defends His World Cross Country Crown and Denies Host Uganda A Fairy Tale Ending
LRC Video of Joshua Cheptegei Staggering to Finish at World Cross Country
Cheptegei returned in full force for the track season, breaking 13:00 for the first time in Lausanne on July 6 (12:59.83) before heading to the World Championships in London. There, Cheptegei delivered the finest performance of his career to that point, running 26:49.94 to earn the silver medal, just behind Great Britain's Mo Farah, who won the last of his 10 consecutive global titles on the track.
With Farah leaving the track behind after 2017 (though he has since announced he will return for the Olympic 10,000 in 2021), there was now a hole atop the sport, and Cheptegei's performance in London suggested he could be the man to fill it.
"Haile [Gebrselassie] came and then he heft, then Kenenisa [Bekele] came [and he left], and now Mo Farah [came] and is almost leaving. Everyone has his time. Maybe my time will come," Cheptegei said after the race.
He then added, prophetically: "The next edition [of Worlds] I really think it is going to be something different."
LRC Joshua Cheptegei Is Primed to Succeed Gebrselassie, Bekele, and Farah as the World's Next Great 10,000-Meter Runner
2018 – Cheptegei Gets Road 15k World Record
Cheptegei began 2018 strongly, defeating Moh Ahmed to claim gold in both the 5,000 and 10,000 meters at the Commonwealth Games in Australia. But a knee injury — which still bothers him to this day — cost him the rest of the track season. Still, Cheptegei managed to heal up in time for a stellar season on the roads that fall, first running a personal best of 45:15 to win the Dam tot Damloop 10-miler in September and following it up with a national record of 27:16 at the Durban 10k CitySurfRun in October (#11 on the all-time list).
Most impressively, Cheptegei closed out the season with his first world record (officially, a "world best"), running 41:05 for 15k at the NN Zevenheuvelenloop (Seven Hills Run) in the Netherlands in November to set the stage for a big 2019 season.
LRC Another Look at NCAA XC, Joshua Cheptegei Sets World Record on a Course Named "Seven Hills," 2 Great Finishes in China
2019 – Cheptegei Wins World XC and World 10,000m Golds
2019 was the year when Cheptegei went from immense talent to the greatest distance runner in the world (non-marathon division). Despite suffering injuries in a car accident late in 2018, Cheptegei bounced back to defeat a loaded field at the World Cross Country Championships in Aarhus, Denmark, conquering the toughest course in World XC history and earning redemption for 2017.
LRC Redemption: Joshua Cheptegei Conquers Kiplimo, Kamworor, and the Course to Become World Champion
Cheptegei was just as good on the track, outkicking Paul Chelimo to win the 2-mile at the Pre Classic in 8:07.54 and using a hard, sustained move over the final six laps to claim the Diamond League 5,000 title in Zurich in a personal best of 12:57.41. He capped the season with his first senior world title on the track, outkicking indoor mile world record holder Yomif Kejelcha over the final lap to win the 10,000 in Doha in a personal best of 26:48.36.
LRC Joshua Cheptegei Outkicks Yomif Kejelcha To Join the Great Kenenisa Bekele as World XC and 10,000m Champs in Same Year
Cheptegei wasn't done just yet, however. In December, he truly proved he was a man for all seasons by running 26:38 to break the world record for 10k on the roads in Valencia. With world titles on the track and in cross country and a world record on the roads, Cheptegei dominated across all three surfaces and established himself as the world's best all-around distance runner in 2019.
2020 – 12:35.36 5,000m + World Road 5k Record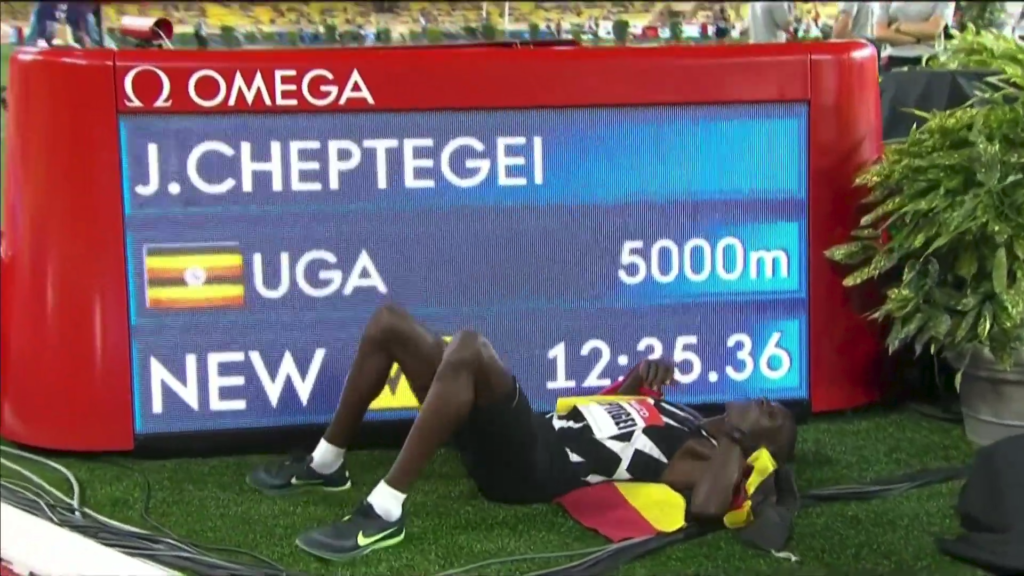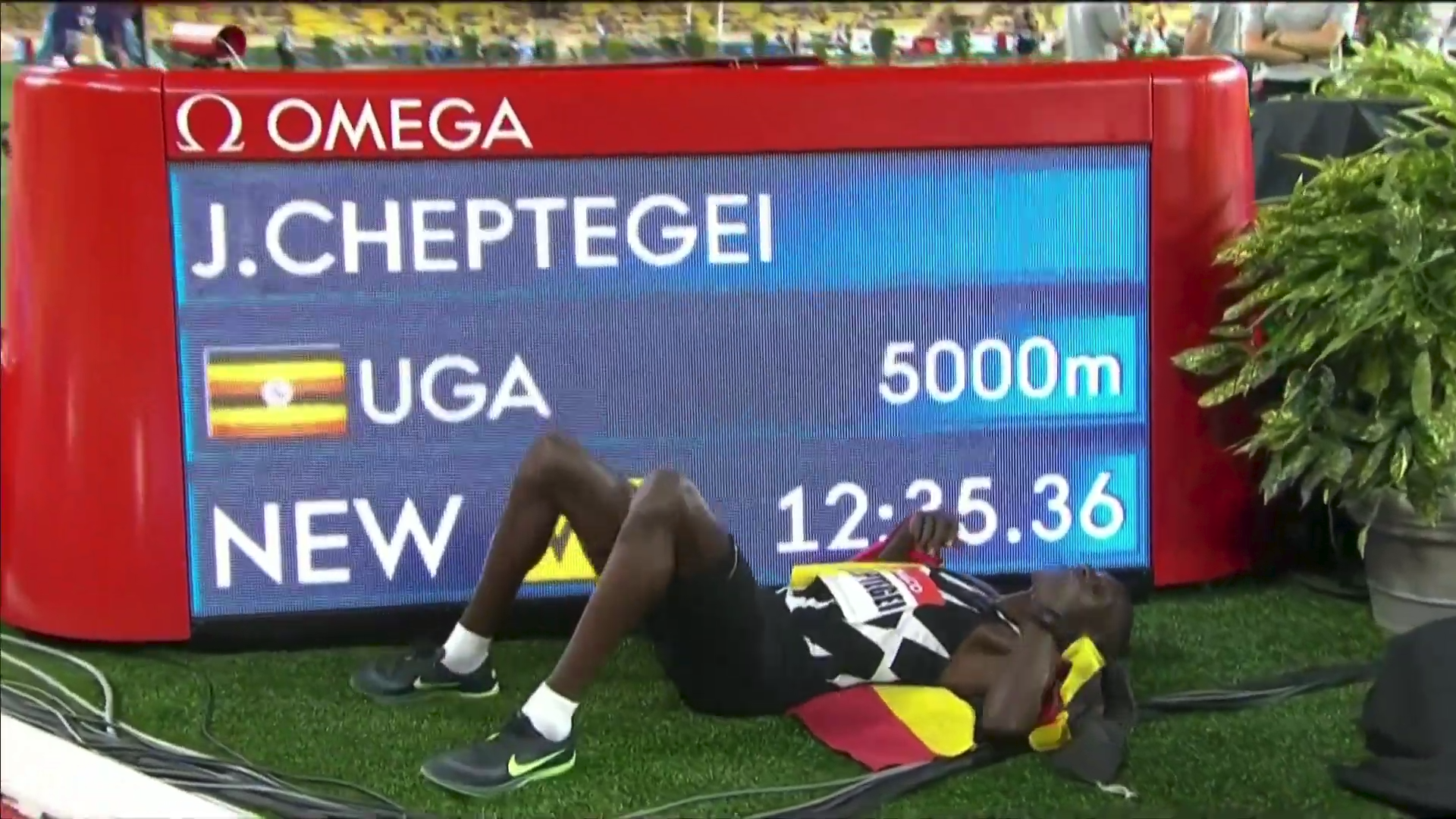 Though Cheptegei's 10k world record would stand for just 42 days (Kenya's Rhonex Kipruto broke it by running 26:24 in Valencia in January 2020), it wouldn't take long for the Ugandan to set another one, as he ran 12:51 in Monaco to set the world record for 5k on the roads. From there, he was set to make his half marathon debut at the World Half Championships in Poland in March, but that would have to wait as the COVID-19 pandemic forced the race to be postponed until October 17.
With the Olympics also postponed, Cheptegei set his aim on adding the 5,000m world record on the track to his 5k mark on the roads, and on August 14, Cheptegei returned to Monaco, where he accomplished his goal with his instantly iconic 12:35.36 run.
LRC Joshua Cheptegei Is Going For The 5,000 WR In Monaco – Can He Break It?
LRC Joshua Cheptegei Runs 12:35.36 To Break 5,000-Meter World Record In Monaco
2021 and beyond…?
That's the story so far, but with two world titles and four world records under his belt at the age of 23, Cheptegei's future potential is limitless. Stay tuned to see just how far this Ugandan star can rise.
Want to hear from Joshua directly? He joined the Letsrun.com crew for a nearly 45 minute Zoom video interview to discuss his record run in Monaco. Available now to LetsRun.com Supporters Club members.