M 10k: Uganda's Joshua Cheptegei Comes Back in the Final Lap to Win over Kenya's Elvis Cheboi
by LetsRun.com
July 22, 2014
The first day of the 2014 IAAF World Junior Championships from Eugene, Ore., are in the books and we have our first champion: Joshua Cheptegei of Uganda, who was passed by Kenyan Elvis Cheboi with 450 to go only to pass Cheboi back and pull away for the win over the final 200 meters to win in 28:32.86 after a 59.6 last lap and sub-14:00 last 5000. Cheboi, last year's African Junior silver medalist, would take silver in 28:35.20 while countryman Nicholas Kosimbei took the bronze in 28:38.68. Tsegaye Mekonnen, the Ethiopian who won the Dubai Marathon in January in 2:04:32, was not listed on the start list and did not run even though he had appeared on the list of entries that was released on Sunday.
Americans Brendan Shearn (Penn) and Jonathan Green (Georgetown) finished more than a lap down in 15th (30:24.30) and 24th (31:15.69) respectively.
Article continues below player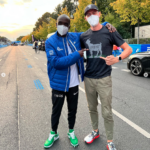 Kipchoge loves the 1:59:40 Shirt Get Yours Today
What a legend!
Shearn said he drew motivation from the exuberant crowd at Hayward Field –oftentimes clapping along with the University of Oregon's Brass & Percussion Ensemble playing music from the infield– and late friend Madison Holleran. Holleran was a freshman runner at Penn before tragically claiming her own life last January.
"Just to be able to represent my country and to just run out here was fantastic. It was just amazing," he said. "I heard the USA chants and it kind of spurred me on to go a little faster, and my coaches told me to do this for Madison who was a runner on my team who passed away. I was really happy to do this for her and represent for her."
There was also a bizarre incident after the race that saw Ecuador's Angela Tenorio re-run her heat of the 100 meters all alone after she successfully appealed against her DQ earlier in the day. We recap it all below with results and quick takes.
Full results and splits *IAAF recap
(Note: The part on Shearn above is via the recap of Chris Lotsbom of Race Results Weekly which you can read here)
The Race
This one took a while to get going as the favorites — Cheptegei, Cheboi, Kosimbei, Abdallah Mande of Uganda and Yihunilign Adane of Ethiopia — went out at a relaxed pace. Those five men entered with the five fastest PRs, ranging from Cheptegei's 27:56 to Mande's 28:40. Kosimbei was in dead last at 400 meters and the others seemed willing to let someone else make the race up front.
The Japanese duo of Keisuke Nakatani and Hazuma Hattori were more than happy to oblige. Both entered with relatively strong PRs — 28:51 for Nakatani and 28:55 for Hattori — and they quickly began to build a huge lead in the early laps, with only Bahrain's Abdi Abdo daring to follow. They began to click off 70-second laps and passed 4k in 11:39 (29:09 pace). At that point, Nakatani had opened up a gap of about 15 meters on Hattori and had a huge gap to the rest of the field — 10 seconds to Abdo and 18 seconds on the main pack.
It was then that the Kenyans and Ugandans realized they had to start making up the deficit and though Nakatani continued to click off 70s, the Africans were running 67s and 68s. Eventually, they caught Nakatani shortly after passing 6400 meters in 18:42. Nakatani was clearly hurting but valiantly held on for another kilometer before a 64.88 19th lap dropped him for good.
With Nakatani gone, the real racing began. Cheptegei led a pack of five men that included his fellow Ugandan Mande, Kenyans Cheboi and Kosimbei and Eritrea's Afewerki Berhane. Cheptegei could not maintain 64 pace for the rest of the race, but a series of 66-mid laps gradually dropped Mande and, with two to go, Berhane. The medals would go to Cheptegei, Cheboi and Kosimbei.
The question was would Cheptegei be able to hold off the two Kenyans, who seemed to be working together as they were motioning and talking to each other during the race. Cheboi eventually went to the lead with 450 to go and made his bid for glory. A 63.21 penultimate lap was enough to break Kosimbei but Cheptegei hung tough and would not allow a gap to form. He moved by Cheboi just before the final turn and powered home with a 59-second last lap to win in 28:32.86. Cheptegei ran his final kilometer in a quick 2:36 and his last 3k in 8:07. We couldn't get an exact 5k split for Cheptegei but it was likely around 14:49, meaning he ran his last 5k in 13:43.
Quick takes, results and post-race interview appear below.
RESULTS
POS
BIB
ATHLETE
COUNTRY
MARK
1
1492
Joshua Kiprui CHEPTEGEI
UGA
28:32.86
2
968
Elvis Kipchoge CHEBOI
KEN
28:35.20
3
977
Nicholas Mboroto KOSIMBEI
KEN
28:38.68
4
505
Afewerki BERHANE
ERI
28:45.83 PB
5
1494
Abdallah Kibet MANDE
UGA
28:53.77
6
554
Yihunilign ADANE
ETH
28:54.84
7
937
Keisuke NAKATANI
JPN
29:11.40
8
920
Hazuma HATTORI
JPN
29:12.74
9
478
Robleh Djama ADEN
DJI
29:43.49 NJR
10
520
Carlos MAYO
ESP
29:52.31 PB
11
999
Tae-Jin KIM
KOR
29:53.93 PB
12
1098
Bart VAN NUNEN
NED
29:58.90
13
783
István SZÖGI
HUN
30:15.93
14
1214
Miguel MARQUES
POR
30:23.50
15
1558
Brendan SHEARN
USA
30:24.30
16
1390
Andreas JANSSON
SWE
30:38.81
17
998
Junhaeng JO
KOR
30:43.11
18
1426
Cheng-Hsun HO
TPE
30:48.86
19
1094
Noah SCHUTTE
NED
31:00.94
20
522
Santiago PARDO
ESP
31:04.13
21
850
Giulio PERPETUO
ITA
31:04.48
22
457
Jakub ZEMANÍK
CZE
31:06.76
23
757
Márkos GOÚRLIAS
GRE
31:09.95
24
1536
Jonathan GREEN
USA
31:15.69
25
1463
Onur ARAS
TUR
31:25.09
26
1500
Mykola NYZHNYK
UKR
31:27.03
27
106
Djamal MEHBALI
ALG
31:29.21
28
326
Jesse HOOTON
CAN
31:38.78
29
452
Dominik KUBEC
CZE
31:47.15
30
1055
Sandro ENRIQUEZ
MEX
32:08.44
31
1140
Kristian TJØRNHOM
NOR
32:08.79
32
1163
Jhordan Alonso CCOPE
PER
32:11.42
33
1162
Daniel ANGOMA
PER
32:19.66
34
842
Omar GUERNICHE
ITA
32:30.44
35
1130
Lars Jonassen FØYEN
NOR
32:37.73
1467
Saffet ELKATMIS
TUR
DNF
108
Ahmed SLIMANE
ALG
DNF
300
Abdi Ibrahim ABDO
BRN
DNF
Quick Take #1: The favorite came through.
Had he started, Ethiopia's Mekonnen, the Dubai Marathon winner, would have been the favorite but there was a clear #2 behind him in Cheptegei, whose 27:56 PR was 34 seconds faster than anyone else in the field. You can't always rely on PR — the #2 PR coming in was Ethiopia's Adane, who was just sixth — but when there's a guy who has run over 30 seconds faster than everybody else, he's usually a good pick for the win.
Cheptegei is an interesting story. Chris Lotsbom reports that he got into the sport only recently after being inspired by Stephen Kiprotich, the 2012 Olympic Marathon and 2013 IAAF World Championships Marathon gold medalist.
According to Cheptegei's manager, Jurrie van der Velden, Kiprotich only began running in late 2012/early 2013 after being inspired by Kiprotich's success at the London Olympics.
"His parents (teachers) where [sic] not too happy about this as they wanted him to get his degree," wrote Van der Velden in an e-mail message to Race Results Weekly. "However he went on and did really well this February and March in African XC and World Uni XC. He continued training and put his Uni on hold for a while to focus on the 10,000m gold which he won tonight."
Van der Velden continued: "He's an intelligent guy from Kapchorwa area (not far from where Stephen grew up)."
The Gold Medallist
Quick Take #2: The East Africans, as expected, were dominant.
The long-distance powerhouse nations of Uganda, Kenya, Eritrea and Ethiopia entered six runners and they took the top six spots in this race. It shouldn't come as a suprise — those four nations took six of the top eight spots at senior worlds last year (Mo Farah and Galen Rupp were the exceptions) and nine of the top 13. The last runner born outside of East Africa to medal in the 10k at World Juniors was Japan's Ryuji Ono in 2004.
The Silver and Bronze Medallists From Kenya
Quick Take #3: Is Nakatani Japanese for metronome?
Watching the race, it was easy to think that Nakatani ended up running a huge positive split since he had a massive lead halfway through but ended up well back of the winner in seventh place by the end. But in actuality, Nakatani ran almost dead-even splits: 14:35 for the first 5k, 14:36 for the second 5k. It only looked like he was dying because the guys who beat him ran the second half significantly faster than the first.
Quick Take #4: This wasn't the last race of the night.
Ecuador's Angela Tenorio was disqualified for a false start in Heat 3 of the women's 100 earlier in the day but she appealed and was granted the chance to run the race over. The caveat: she'd have to do it all alone after the men's 10k was over. Tenorio was out on the track for about 10-15 minutes ready to go but had to wait for the medal ceremony, victory laps and another unexplained delay before she finally got a chance to run.
Racing against the clock and needing an 11.77 to qualify for Wednesday night's semifinals, Tenorio ran 11.27 — just .02 off her PR and the second-fastest time of the day.
More: Cool stuff: After officials recognized a girl was falsely DQd in girls 100, she was allowed to run ll by herself after boys 10k and put up 2nd fastest time of meet
More photos below