WTW: Was Witchcraft To Blame For Joshua Cheptegei's World XC Collapse, All Hail Stephanie Bruce, And A Possible Scientific Explanation As To Why Women Collapse So Often At The End of Races
The Week That Was In Running
by LetsRun.com
April 5, 2017
Last week, right after the World XC championships ended, instead of writing the Week That Was, we went into the heart of Africa to see a family of mountain gorillas in Uganda. Totally amazing — mountain gorillas don't live in zoos, and we managed to see a family of 18 out of just over 800 left in the world. Re-energized by an AMAZING experience, we'll talk a little bit about the last two weeks now.
Article continues below player
The biggest event of the last two weeks was the World Cross Country Championships from Kampala, Uganda and if you missed our extensive on-site coverage catch up here: 2017 World Cross Country coverage.
The other big event of the last two weeks was the amazing 64:52 world record at the Sportisimo Prague Half-Marathon by previously unheralded Joyciline Jepkosgei, who went out in a ridiculous 30:04 for the first 10k, which means she broke the 10k road world record and still had more than half her race to run, yet hung on to break the half-marathon world record.
Past editions of the Week That Was can be found here. Questions or comments? Please email us or post them in our running fan forum.
Talk about this colum on our messageboard: MB: WTW 4/5/2017 – Was Witchcraft To Blame For The World XC Collapse, All Hail Stephanie Bruce, And Why Women Collapse 
****
Joshua Cheptegei's Inspirational Run and Collapse – Was Witchcraft To Blame?
Joshua Cheptegei's performance at World XC was one of the most inspirational runs we've ever witnessed.
The Ugandan Cheptegei, inspired on by the raucous home crowd, broke away from defending champion Geoffrey Kamworor of Kenya and was less than a half mile from victory with Ugandan president Yoweri Museveni watching from the stands. Then the unthinkable happened. Cheptegei completely ran out of gas, was passed by Kamworor, and then he began a slow agonizing stagger to the finish that took over 2 minutes, as 28 more runners went passed him. While he was doing this, the raucous crowd went silent (in the video below, the noise you hear is from runners and coaches in the infield).
Steve Prefontaine once famously said, "To give anything less than your best is to sacrifice the gift." Well, Cheptegei certainly gave it his all in a way we've never seen before. Yes, we've seen people stagger home in races – but never someone who was minutes away from winning a major international competition, on home soil no less.
If you haven't seen the video you must watch it below:
Had the race taken place in America, Cheptegei would have received an incredibly large ovation when he eventually made it to the finish. In Uganda, the crowd was nearly silent as the Ugandans were stunned. President Museveni of Uganda did seek Cheptegei out after the race to console him but some other Ugandans weren't so kind.
According to one letter to the editor in a local paper, some Ugandans made fun of Cheptegei's slowdown on social media and others blamed it on witchcraft. Take a look at this photo we took from the paper.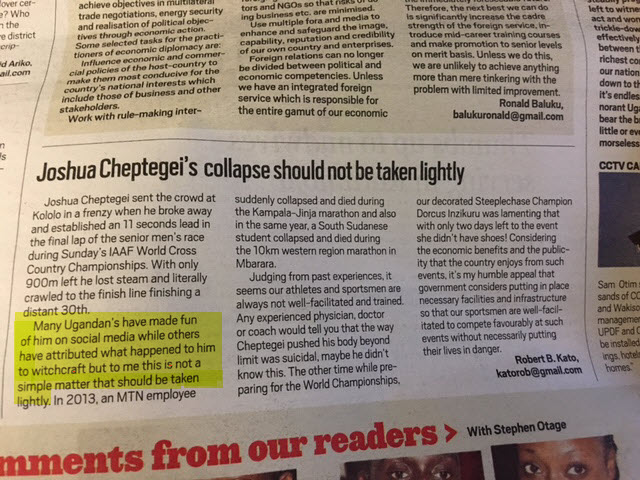 Cheptegei ran out of steam for good reason. He was flying – particularly on the 4th 2000m loop when he broke away. He ran that loop in 5:34. In the mixed-gender relay, Asbel Kiprop ran his 2023-meter leadoff leg in 5:19. Cheptegei's 4th lap pace equates to 5:37.8 for 2023 meters. If Cheptegei had run that in in the mixed-gender relay, he would have handed off in 5th. America's Cory Leslie, who handed off in 8th, ran the opening leg all-out in 5:44.
More Ugandans should have been praising Cheptegei because his 30th place finish cemented the team bronze medal for Uganda. Even if Cheptegei had won the race, Uganda would not have moved up to the silver.
****
Stat of the Week I / Irene Cheptai Was A Deserving Champion
43% – Percent of all men's competitors at the 2017 IAAF World Cross Country Championships that ran slower than women's champion, Irene Cheptai of Kenya. Cheptai's exceptional time of 31:57 would have placed her 77th in the men's race (136 finishers).
Had she been in the men's race, she would have been the #1 finisher for Great Britain (in an embarrassing act, the Brits forfeited in the senior men's competition. One would think since they basically ruled Uganda for 70 years and both are members of the Commonwealth they'd have the decency to show up with a full squad) and the #3 finisher for Canada (just 3 seconds behind Canada's #2).
We hope these stats make you realize that Cheptai and all of the Kenyan women (who went 1-6) were truly phenomenal in Kampala. Think about it for a second. The 6th place woman in the race, Faith Kipyegon, is the Olympic champion at 1500 and a former two-time world junior XC champ. The first non-Kenyan in the race – seventh place finisher Ruth Jebet of Bahrain – is the world record holder in the steeple and she was born in Kenya.
If you still don't believe us that the Kenyan women were amazing in Kampala, consider this. In Kampala, Cheptai beat American Stephanie Bruce, who was the top non-African-born runner in the race in 22nd, by 2 minutes and 45 seconds. Five days later at Stanford, Bruce ran a huge 10,000 pb of 31:59. Are we suggesting that Cheptai is in 29:14 shape (2:45 faster than 31:59)? No, but she was truly great on a warm day in Kampala.
****
Stat of The Week II / Stephanie Bruce Obliterates All Excuses For Not Doing World Cross Country
9,378 miles – distance between Kampala, Uganda, and Palo Alto, California.
We mention that because America's Stephanie Bruce raced in both locations just five days apart, as the World Cross Country Championships were held on Sunday and the Stanford 10,000 was held five days later on Friday. Surely, since we've been hearing for years that it's impossible to travel to some remote part of the globe for World Cross Country without having it screw up your track season, Bruce must have bombed in her race at Stanford, particularly since it was warm in Uganda.
Well actually, no. Bruce ran a huge pb in Stanford, where she was second in 31:59.88 (previous pb was 32:14.42; Notre Dame's Anna Rohrer won in 31:58.99)
World Cross Country needs to regain its status as the world's greatest footrace. The excuses that people give for not competing are embarrassing. The excuses of "It will mess up my track season" or "It's too hard to get to" (while it hasn't been easy to get to Guiyang, China, or Kampala for the last two editions, there is no excuse in 2019 as it will be in Denmark) are getting old and Bruce helped dispel their validity. In the future, if someone doesn't go to World XC, we just hope they say, "I can't compete with the Africans so I'm not going to try."
That at least would be more honest.
We reached out to Bruce and asked her how her travel went. It actually was more difficult than we thought as she didn't go straight from Uganda to California. No, she returned home and was a mom for three nights first before she ran her PB.
Here is an email we got from Stephanie when we asked her about her travel from Uganda to Palo Alto.
"So I flew from Entebbe, Uganda 11:45 pm Sunday night after Worlds and Scott Fauble (my teammate) and I arrived in Phoenix Monday at 3:30 p.m. after (25+ hours of travel). Then we drove 2 1/2 hours up to Flagstaff (Editor's note: Her total trip time was at least 28 hours). Hung with my kids for 3 nights, jet lagged of course, then Ben and I drove back down to Phoenix Thursday at 6:30 am and flew out to Palo Alto at 10:30 am. That's my travel in a nutshell, let me know if you want or need anything else. Was great to have you guys out in Uganda!"
Stephanie's coach, Ben Rosario of the Hoka One One Northern Arizona Elite team, admitted to us that all of the credit must be given to Stephanie. He said he had to be talked into letting her do the World XC/Stanford double.
"All credit goes to her on that one. First of all, she was the one who convinced me she'd be able to do it. And I did need a little convincing for sure. Her theory was that she knew she'd be fit for Worlds so why not take advantage of it? Once we agreed to do it my job was pretty easy. I just scheduled a day off

on Monday

for travel then an easy 8

on Tuesday

, six 300s

on Wednesday

at 10k race pace, a six-miler

on Thursday

and then we'd race

on Friday

. That was it on my end. I just trusted her to do all she could to get in
as much sleep as possible. Then I just watched her do her thing

on Friday

like everyone else. It was awesome.
"If I could add one thing that I observed she did really well it was that she didn't let herself come 'down' from the high of running at Worlds. I am a guy that tends to take a little dip emotionally after a big event, good or bad, but I think she kept the good vibes rolling all the way through. That ended up being the way to go because I don't think there was time to come down and then get back up. Now after

Friday

going so well I think she may just be on cloud nine the rest of the season."
MB: 10k: Stanford 10k Anna Rohrer Runs 31:58.99 In 10k Debut For Win At Stanford! Abbabiya Simbassa (28:03) Wins Men's
****
Stat of the Week III / Patrick Tiernan Closed Really Well At World XC
3rd – Rank of the last lap for Australia's Patrick Tiernan at the 2017 IAAF World Cross Country Championships. Tiernan ran his last lap in 5:53, which nearly was fast as the race winner Geoffrey Kamworor (5:51), and in the process he moved from 19th to 13th. He was one of just 10 runners to break 6:00 for the last lap.
Fastest Last Laps in Kampala
1. Geoffrey Kamworor (1st)  5:51
2. Abadi Hadis (3rd) 5:52
3. Patrick Tiernan (13th) 5:53
4. Leoanard Barsoton (2nd) 5:54
5. Jemal Yimer (4th) 5:56
6. Getaneh Mollar (18th) 5:58
7. Aron Kifle (5th) 5:59
7. Bonsa Dida (10th) 5:59
7. Sam Chelanga (11th) 5:59
7. Leonard Korir (20th) 5:59
With his 13th place showing, Tiernan was the top non-African-born runner by a long shot. The next non-African-born runner was the USA's Scott Fauble, who was more than a minute back (63 seconds) in 36th.
In the women's race, there were three non-African-born runners in the top 25 (Bruce was 22nd, Natosha Rogers 23rd and Japan's Yuka Hori 24th) but they were farther back in terms of the time from the winner (Bruce was 2:45 behind the winner whereas Tiernan was 57 seconds back and Fauble 2:00).
LRC NCAA Cross Country Champion Patrick Tiernan Signs With Nike
*****
Yet Again A Slew of Women Collapse At The Finish Line of A Cross Country Race – Does Science Explain This Phenomenon?
At the end of the women's U20 race at World Cross Country, there was a familiar sight to distance fans: scores of women collapsing on the ground. We weren't the only ones to notice. Take a look at this photo of the finish line area after the girls' U20 race from a Ugandan paper.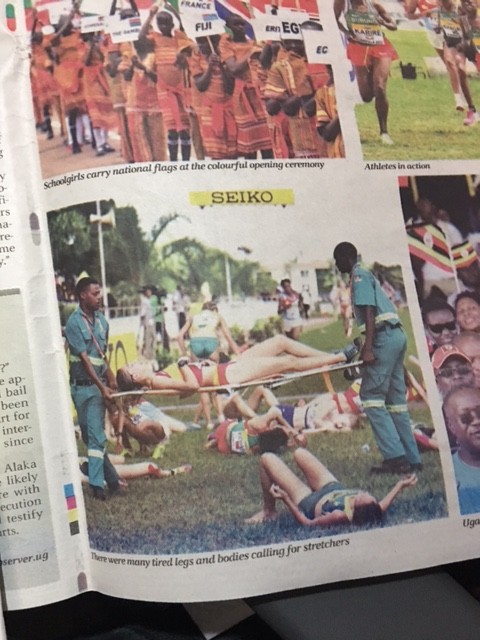 In the past, the phenomenon of a slew of women collapsing at the finish of xc races has been noticed by many of our visitors and discussed multiple times over the years on the messageboard:
2016: Do women runners fall, collapse, trip, flop etc. more than male runners? Watching trials, makes me wonder.
2014: Collapsing at the 6km XC finish? A new thing? Theatrics or real exhaustion?
2007: Hilarious video@womens pre-nats
2007: Do Women Push Themselves Harder Than Males?
 2002: WOMEN ARE TOUGHER THAN MEN
Now we know that several of you may think that all of the women collapsing together is largely histrionics (we've been at meets where even women's distance coaches have pointed out this phenomenon to us, and not in a flattering way), but we wondered if there might be a scientific reason as to why women collapse more often than men after races.
After all, we already know that women are biologically more likely to shed tears than men (they have smaller tear ducts; thus tears shouldn't be viewed as a sign of weakness) and we've never believed that women's distance runners are less tough than men – physical therapist Gerard Hartmann, who has worked on the likes of Bob Kennedy, Khalid Khannouchi, Moses Kiptanui, and Haile Gebrselassie during his career, told us 15 years ago that of all the athletes he ever worked with, the one with the highest pain tolerance, by far, was Paula Radcliffe.
So we reached out to sports scientist Ross Tucker and asked him if there might be a biological reason as to why women collapse after races more often than men. He responded quickly by saying it was an interesting question and that he knew off the top of his head that women have a "lower sweat capacity" than men. He then promised to look into it and he fulfilled that promise as he wrote back a few hours later with a detailed explanation saying we were on to something:
OK, so I found out a little bit more on the women vs men issue.  It has been clearly documented that women have what is called a lower "orthostatic tolerance", which is basically saying that they have less ability to cope with a drop in blood pressure.
That drop in blood pressure can happen when a runner suddenly stops running, because blood has been sent to the legs during exercise, and if there is not enough constriction in those blood vessels, then the athlete faints because blood pressure drops (it's not dissimilar to what happens when people faint on hot days standing in parades, or when they get up suddenly and feel light-headed).
When you exercise on a hot day, this problem is exacerbated because blood is being sent to the skin to help cool the body, making that blood pressure/cerebral circulation challenge even greater.
So anyway, it's been documented that this is more likely to happen in women, probably because they can't do that constriction response as well as men.
More: Photos from Gerard Hartmann's Clinic
2016: Do women runners fall, collapse, trip, flop etc. more than male runners? Watching trials, makes me wonder.
2014: Collapsing at the 6km XC finish? A new thing? Theatrics or real exhaustion?
2007: Hilarious video@womens pre-nats
2007: Do Women Push Themselves Harder Than Males?
2002: WOMEN ARE TOUGHER THAN MEN
PS. One other possible explanation for women collapsing more often than men would be if they are able to push themselves harder than men. Tucker said there isn't any scientific evidence supporting that theory.
There have been studies looking at how men and women perceive exercise.
In one, they had men and women do knee extension exercises to fatigue, and they actually found that women's perceived exertion rose slightly faster than the men's.  Which suggests that doing relatively the same task, women actually report slightly higher effort perception.  That would argue against a theory of women having higher thresholds, though there's some fine-print there because pain is not necessarily exertion, it's just part of it.
In another, men and women ran to exhaustion on a treadmill, and they found that the perceived exertion was similar at the same relative intensity.
In other words, there doesn't seem to be any basis for a theory that women perceive exercise as easier and thus go harder, and nor is there any evidence that women can tolerate higher pain or exertion to push harder.
Also, elite athletes are a different ballgame, as you know.  I think a common trait they all share is the ability to tolerate pain, and push well into a very high perceived exertion.  So I don't think men and women will be any different within an elite population. 
More: Does Science Explain Why So Many More Women Than Men Collapse At The End Of Races? 
****
Stat of The Week IV / Joyciline Jepkosgei Put On A Performance For The Ages
5th – place in the Olympic 10,000 where Kenya's Joyciline Jepkosgei would have finished with her 30:04 10k split in the midst of her 64:52 world record at the Sportisimo Prague Half-Marathon on Sunday.
We just point that out because we want people to really appreciate how mind-bogglingly special Jepkosgei's run was on Sunday. Considering that the women's half-marathon world record has been broken twice in the last two months, some of you may be thinking, "A new women's half marathon WR was set – no big deal."
Jepkosgei's run is a HUGE deal. The fact that she can run a road world record for 10k and then keep going for nearly another seven miles (she did slow down as her next 10k was 31:21) is amazing. If she ran a more even pace, we imagine she might have broken 64:30 and Paula Radcliffe's 2:15:25 marathon WR converts to 64:21 for 13.1 according to Greg McMillan.
The 23-year-old Jepkosgei is a total neophyte, but her rise makes us confident in a prediction.
LRC Rojo's Prediction of The Week: We think we'll see a sub-2:15 women's marathon before we see a legitimate non-aided sub-2:00 men's marathon.
P.S. We tried to figure out a male equivalent of Jepksogei's first 10k. When Jepkosgei went out in 30:04, she went out in 2:06:52 marathon pace, which is 93.7% of the women's marathon WR (2:15:25). 93.7% of the men's world record is 1:55:11, which comes out to be 27:17.9 10k pace. But if you consider how crazy fast Radcliffe's WR is, it might be equivalent to going out in sub-27 (the men's 10k road WR is 26:44).
****
Stat of the Week V / Jordan Hasay Is Getting Into Great Shape
49:28 – time for 15k that Jordan Hasay ran to win the US 15k champs held at the 40th Gate River Run on March 11.
48:21 – 15k split for Jordan Hasay in the midst of her 67:55 half marathon at the Sportisimo Prague Half-Marathon on April 1.
Seeing the 25-year-old Hasay and Emily Sisson (68:21 half a few weeks ago in NY) run so well of late has led us to a realization. If you are an Olympic marathon hopeful for 2020, you've got your work cut off for you.
Hasay and Sisson will both be 28 and in their primes when the 2020 Trials roll around. And the stars of the 2016 Trials could still be factors as well – Molly Huddle will be 35, Desi Linden 36, Amy Cragg 36, and Shalane Flanagan 38. If you gave us what are the odds that the 2020 US Olympic women's marathon team comes from those six names, we'd say the chances are greater than 50%.
More: LRC 2017 Prague HM Recap: Joyciline Jepkosgei Sets WR (64:52) To Become First Woman Ever Under 65:00 As Jordan Hasay Runs 67:55; Tamirat Tola Destroys Men's Field In 59:37
****
Stat of the Week VI / The 800 Is A Young Man's Event
23 – average age of the world's 25 fastest 800 runners when they set their pb, according to an interesting article on Runner's Tribe. If you read the article closely, you'll see all of the fastest 15 men in history ran their pbs at age 24 or younger.
Now, those stats may be a little misleading as in the fully professional era people are sticking with the sport much longer. Nick Symmonds' 1:42 pb came at age 28 and Duane Solomon's pb came at age 27 so there is hope for US star Clayton Murphy, who won bronze last year by running 1:42.93 at age 21, that he'll be able to possibly PR at the 2020 Olympics when he's ancient (by 800 standards) at 25.
More: The Peak Age for Male 800m Runners?
*****
Most Interesting Thing We Heard At World Cross Country
A top agent told us in Kampala that he heard that the IAAF is going ban the Nike Zoom Vaporfly Elite shoe (Ross Tucker has already called for it to be banned and explains why in this article). The shoe, even if banned for competition, may still have a market because if it helps you run fast without calf strain/injury in practice then elites will still want to wear them.
****
Funniest Thing We Heard at World Cross Country
While some on the messageboard were upset that we would occasionally point out the fact that top four members of the U.S. men's team at World Cross Country were all born in Kenya – Is it necessary to keep referring to Team USA Members as Kenyan born? – we think we handled it appropriately. To act like it's not a newsworthy fact is ridiculous. Case in point, when we got to the Kololo Independence Grounds and the junior races were about to begin, a Kenyan journalist came up to us and asked us if we were ready for the 2020 US Olympic Trials preview race. He also asked us how would we refer to Team USA if they medalled – would we call them Kenya B?
We would have called them what they are: "USA A."
All four Kenyan-born runners on the US team — Sam Chelanga, Leonard Korir, Shadrack Kipchirchir, and Stanley Kebenei — really developed as runners in the US. Kenya is great at producing world-class runners, but it does a poor job of developing the careers of guys like Chelanga, Korir, Kipchirchir, and Kebenei who are not world class right off the bat. In Kenya, the system rewards those who are world class at a young age. Many others fall through the cracks because there aren't sponsorships to help develop up-and-coming talent. Case in point, famous Kenyan coach Brother Colm O'Connell told us that before US Olympic 5000m silver medallist Paul Chelimo came to school in the US, he came to Brother Colm's training camp in Iten and Brother Colm sent him out on a workout with Augustin Choge and others. According to Brother Colm, Choge destroyed Chelimo, and Chelimo realized he wasn't ready to be world class, so to continue his running he realized he needed to go to school in the States.
With the proper time to develop, Chelimo is now an Olympic silver medallist.
****
Thumbs Down To The Abbott World Marathon Majors
Anyone who fears that in 50 years the major marathons will turn into nothing more than charity runs got some support for their paranoia last week when it was revealed that the Abbott World Marathon Majors will be reducing the prize money structure to elite distance runners by 35%. In the past, the winner of the Abbott World Marathon Majors series title won $500,000. Now that prize will be 50% less, but second and third will get something ($50,000 for 2nd, $25,000 for third) so the total amount of prize money going to the pro runners, $325,000, is 35% of what it once was.
That 35% is still going to be spent – but it's going to charity (each winner will have $10,000 donated to the charity of his or her choice) and the wheelchair racers (their $50,000 first prize is the same but second and third will now get $25,000 and $10,000).
So basically, it looks like what happened is the races decided they want a big portion of every broadcast to be devoted to talk about which charity the winner has selected as his or her beneficiary.
That's not something we think is good for the sport.
When you watch an NBA game, no one talks about the point guard's favorite charity. Also, one's viewing of an NBA game isn't interrupted with coverage of a wheelchair basketball game — and the winner of that wheelchair game most certainly doesn't get 20% of the gate.
###
Since we gave a thumbs down, how about a Thumbs Up to the South African sprinters who are raising a ruckus as they all want to compete at the South African champs, but the federation wants them to compete at the World Relays.
We'd like to see these guys at both. The World Relays definitely needs them there as the amount of talent in South Africa is huge right now. Already this year, six guys have run 10.12 or faster in the 100 and four have run 20.50 or faster in the 200 (it's seven people total over the two events). Whoever is the idiot that scheduled the South African champs on the same weekend as the World Relays gets a big thumbs down.
More: Abbott World Marathon Majors Reduces Prize Structure to Pro Runners by 35%
*SA's best sprinters in Bahamas conundrum
*****
HSer Sam Worley Runs 4:00
At the Texas Relays, high school Senior Sam Worley, the 2016 NXN runner-up in cross country, got a big win as he beat a bunch of collegians as well as star Leo Manzano to claim the mile in 4:00.61. What was most impressive about the win was at the start of the last lap he was barely hanging on to the lead pack. He went from 8th to 1st over the last 400 as shown in the video below.
MB: HSer Sam Worley beats Leo Manzano in Texas Relays mile – Runs 4:00.61!!
MB: Sam Worley: the next Ryan Hall?
MB: Sam Worley will break 4:00
*****
Looks Like She Ran The Wrong Event At NCAA Indoors
At the 2017 NCAA indoor championships, Washington's Amy-Eloise Neale ran the mile where she failed to score (9th in the final). Last year outdoors, Neale failed to score in the 1500.
At Stanford last week, Neale, who was the Pac-12 champ in XC (8th at NCAAs), moved up to the 5000 and was quite successful as she got the win after a battle with 2016 NCAA cross country and 2017 NCAA indoor 5000 champion Karissa Schweizer.
More: 2017 Stanford Results *2017 NCAA Descending Order List
****
RIP To One of Track and Field's Greatest Showmen – Brian Oldfield
On March 26, shot putter Brian Oldfield died at age 71. On March 28, his life was recapped in the LA Times. On March 30, he got a long piece in the New York Times.
It's not often that a US track and field athlete gets an obituary in both and LA and NY Times, particularly one who never won an Olympic medal. But Brian Oldfield was a showman and character – he garnered press for competing in Speedos, racing a woman in a battle-of-the-sexes type race and smoking between throws on TV. He also was a damn good shot putter. In 1975, he threw the shot farther than anyone in history at the time – 75 feet – but it didn't count as he was competing as a banned professional. He also is credited with making the spin technique popular in the event.
Read more about Oldfield's life here: LA Times *NY Times
More: MB: RIP Brian Oldfield
*****
Quotes of the Week (that weren't quote of the day)
#1 Brian Oldfield Didn't Take Himself Too Seriously
"It doesn't seem fair that of all the things I picked to be the best in the world at — I mean, who wants to be a shot putter? We're the dummies, hardly leading-men types."
–Brian Oldfield as quoted in the past in the LA Times.
#2 Praise For The African-Born Americans Who Represented Team USA in Uganda
"When they (African-born Americans) become US citizens, at least they are happy to represent their country on the World Stage. Meanwhile, the born and bred Americans can't be bothered – it's too hot, it's a 'third world' venue, there is not enough $$, it doesn't fit in with my schedule, etc. Kiprop was out there today – fit in with his schedule just fine. Just a bunch of weak excuses US-born distance runners are just soft and spoiled."
-messageboard poster "toosfoft" posting in a thread he or she started entitled, "People rail against foreigners taking over the NCAA system, but…"
We certainly agree that everyone who represented Team USA should be commended. Four of the top six from the 2016 Olympic Trials 10k went to Uganda and they went for it big time as the Team USA men were up in the front on the first lap.
#3 The Texas Relays is #1 For Carl Lewis 
"It was all about the Penn Relays where I grew up. We didn't have the internet back then, so there wasn't much else outside of our area. Once I moved down here, I switched my allegiance to the Texas Relays."
–Carl Lewis talking to the Austin-American Statesman last week.
#4 Will The Meldonium Suspensions Be Lifted?
"All athletes' samples will be studied again, and the doping charges will be lifted. They had taken this medicine when it was not yet banned."
-Russia's Federal Medical-Biological Agency (FMBA) chief Vladimir Uiba, talking about a study they are completing that he claims will result in all meldonium bans from early 2016 being lifted.
More: Russia scientists finishing up study on Meldonium – Say it proves most of the athletes banned weren't on it after it was banned 
 #5 It Helps To Mentally Only Imagine Yourself Running Fast
"The one thing I find works for me is to try to imagine a world where me not running fast doesn't exist.
"The analogy I use is, if you're holding a ball and let go of it … if it drops to the ground, that's me winning and running fast.
"But if it floats towards the ceiling, which is impossible, that's me losing and not running fast.
"I just replay that over and over in my head, that the reality of the ball floating up doesn't exist."
-Kiwi 100 and 200 champ Joseph Millar talking to the NZ Herald about the mental strategies he uses to make sure he runs fast.
#6 Turn Off Your Smartphone and You Might Become An Olympic Champion
"There is a whole world do be discovered outside of your smartphone or computer. When I was young we got to know each other by talking to each other in person."
-Olympic discus champ Christoph Harting talking to Spikes last week. Can we say that the fact that a pair of brothers (Robert in 2012, Christoph in 2016) won the last two Olympic titles in the discus is a story that hasn't gotten nearly enough publicity?
*****
Recommended Reads
Kara Goucher Is Back Training, But Says Retirement Was On The Table When She Missed 5 Months This Summer With Two Knee Surgeries

Wayde Van Niekerk Has His Sights Set On A Sub-43 Second 400m "I'm not someone that necessary likes counting my chickens before they hatch, but at the age of 24, achieving a record that's been there forever … you still feel that you've got so much more to prove."
Australia's Olympic Racewalk Bronze Medalist Dane Bird-Smith Tells Story Of How Meeting His Fiancee At A Party In 2012 Was His Inspiration To Get Serious About The Sport "I took a hard look at myself. I needed to cut out the parties and the social life. If I wanted to be the best in the world, I had to want it more than anybody else."
IAAF Profile: With Second World XC Title Secure, Geoffrey Kamworor Now Turns Focus To London  "In 2015 I was really focused to win the (10,000) title, but I got silver, so I am not satisfied yet. I want to win the title. I am working so hard for it. That's really my big dream and I will work for it until I fulfill it."
The Guardian: Jo Pavey To Receive 2007 10,000m Bronze … 10 Years Late "It's been a decade of waiting, but now to have it in black and white from the IAAF that her results will be annulled and I'll receive my medal finally means a lot. I can finally enjoy the moment. I would have preferred to have been on the podium in Osaka but it is good to have a resolution. Obviously I'll be thrilled to receive that medal that's rightfully mine but it's also bittersweet. I was in the best shape of my life that day, it was incredibly hot and humid and I gave it my all and it was so close for a medal only to lose it just before the line. I just felt massive frustration I couldn't quite do it, it was a feeling of failure, lying on the track flat on my back, feeling massively disappointed. You feel like you've let everyone down when it could have been you standing on the podium feeling massively proud, it should have been a day of massive elation." *BBC article
To see our favorite reads from other weeks, go here.
***
Quotes Of The Day And Last Week's Home Pages
To see the actual quotes of the day from last week or last week's home page or any home page, go to our archive page.
Past editions of The Week That Was can be found here. Questions or comments? Please email us or post them in our running fan forum.
Talk about the WTW on our fan forum / messageboard: MB: WTW 4/5/2017 – Was Witchcraft To Blame For The World XC Collapse, All Hail Stephanie Bruce, And Why Women Collapse