Shelby Houlihan (14:23.92) CRUSHES American Record at 5,000 (and So Does Karissa Schweizer)
The Americans Are Now The 12th and 14th Fastest Women In History
by LetsRun.com
July 10, 2020
Shelby Houlihan and Karissa Schweizer came into tonight's 5,000-meter race in Portland with one goal: Houlihan's 14:34.45 American record.
Mission accomplished.
On a terrific night for distance running and with the aid of a star-studded pacer crew consisting of Bowerman Track Club teammates Colleen Quigley, Courtney Frerichs, and Elise Cranny, Houlihan and Schweizer both smashed the previous record, Houlihan leading the way with her 14:23.92 and Schweizer following with 14:26.34 (previous pb: 14:45.18).
Quigley, Frerichs, and Cranny did a good job of clicking off 70-second laps before Houlihan took over with just under a mile remaining. Leading the entire final 1400 meters, she took care of business from there, gradually upping the pace over the third-to-last (68.89) and second-to-last laps (65.89) before ripping off a 61.46 last lap to seal the record as she covered her last 1600 in 4:26.42.
Article continues below player.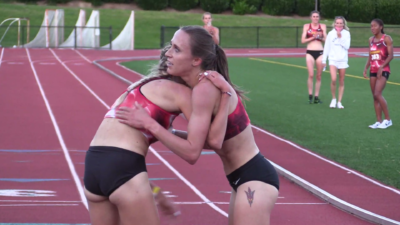 Schweizer hung with Houlihan almost the entire way, and made multiple attempts to pass over the penultimate lap, almost pulling even on the back straight and again with 500 to go. But she could never get around, and was no match for Houlihan's kick when she put the hammer down with 200 to go.
Houlihan is now the 12th fastest woman in world history and Schweizer 14th.
Results and lap by lap splits.
QT: COVID-19 is not slowing down the Bowerman women
The Bowerman team has shown they can run very fast in meets that are essentially time trials. Last year Woody Kincaid (12:58) and the men did it at 5,000m outdoors. 
Update right after Houlihan's run, Moh Ahmed ran 12:47 to crush his Canadian record.
This year the women have taken it to another level.
Indoors, Schweizer ran 8:25.70 to get the American 3000m record just ahead of Houlihan (8:26.88) and Quigley (8:28) who all beat the old American record.
Outdoors if you thought COVID-19 might slow down the Bowerman women, think again. Elise Cranny ran 14:48 for 5,000m last week to show everyone the team was in shape and this week the "A" teamers Schweizer and Houlihan took a crack at the 5,000m and the results were tremendous.
American women have not been medal threats in the 5,000m, but now with Houlihan and Schweizer in the 14:20s, the medal prospects look different. Houlihan moves to #12 all-time at 5,000 with Schweizer #14.
Results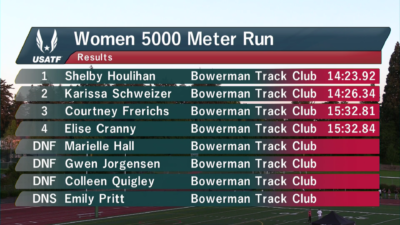 The 15 Fastest 5000 Women in History (Per Tilastpaja.eu)
1 14:11.15 Tirunesh Dibaba ETH Oslo 6 Jun 2008
2 14:12.59 Almaz Ayana ETH Roma 2 Jun 2016
3 14:12.88 Meseret Defar ETH Stockholm/S 22 Jul 2008
4 14:15.41 Genzebe Dibaba ETH Saint-Denis 4 Jul 2015
5 14:18.37 Hellen Obiri KEN Roma 8 Jun 2017
6 14:20.68 Agnes Tirop KEN London 21 Jul 2019
7 14:20.87 Vivian Cheruiyot KEN Stockholm/S 29 Jul 2011
8 14:22.12 Sifan Hassan NED London 21 Jul 2019
9 14:23.14 Letesenbet Gidey ETH Rabat 13 Jul 2018
10 14:23.33 Senbere Teferi ETH Rabat 13 Jul 2018
11 14:23.75 Liliya Shobukhova RUS Kazan 19 Jul 2008
12 14:23.92 Shelby Houlihan USA Portland 10 July 2020
13 14:24.68 Elvan Abeylegesse TUR Bergen 11 Jun 2004
14 14:26.34 Karissa Schweizer USA Portland 10 July 2020
15 14:26.76 Konstanze Klosterhalfen GER Berlin 3 Aug 2019
Talk about the race on our world famous fan forum / messageboard.