Moh Ahmed Amazes with 12:47 5K (3:58 Final 1600) as Lopez Lomong Becomes 9th American Under 13:00
By LetsRun.com
July 10, 2020
2019 World Championship bronze medalist Moh Ahmed is truly among elite company now. Running in the Bowerman Track Club Portland Intrasquad II meet, just minutes after Shelby Houlihan lowered her American record (14:23.92) at 5,000m, Ahmed clocked 12:47.20 to smash his Canadian record (12:58.16) on Friday night. He became the 17th man to run under 12:50 for 5,000 meters and moved to #10 on the world all-time list. As impressive as the time was, it was the way he did it — an incredible 3:58.59 final 1600, with each lap faster than the previous one (61.34-60.31-59.48-57.45) — that truly resonated.
So great was Ahmed's run that he made Lopez Lomong's 12:58.78 runner-up effort look downright ordinary by comparison — despite Lomong, the reigning US champion, becoming just the ninth American to join the sub-13:00 club.
Afterwards, Ahmed said he really wanted to dip into the 12:40s, saying he saw the split with two laps to go (10:50.26) and thought "You can run 2:00."  Ahmed, who broke 13:00 for the first time last year, knew there was a big time gap between him and some of the other top guys in the world. Two years ago in Brussels, Selemon Barega ran 12:43, Hagos Gebrhiwet 12:45, and Yomif Kejelcha 12:46. Ahmed? He ran 13:03, which was then a PR.
"I saw those guys run 12:43 and how easy they made it look," Ahmed said on the USATF+ broadcast.
Ahmed said he was "super nervous" before the race and despite running so fast said it's been a "super challenging year."  "Right now I'm speaking to you, but I don't know where the hell I am," he told Paul Swangard.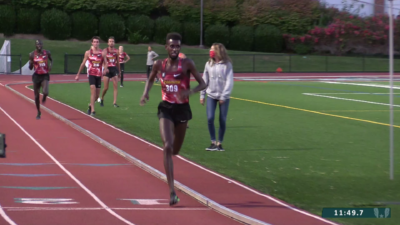 Both Ahmed and Lomong benefited from some world-class pacemakers, with Bowerman Track club teammates Ryan Hill, Grant Fisher, and Evan Jager helping them through 1600 in 4:09 and 3200 in 8:18. Once the final pacer, Jager, stepped off at 3600, however, it was all Ahmed. This wasn't exactly unfamiliar territory — Ahmed ran almost all of the way in last year's fast Bowerman 5,000 in Beaverton that saw Woody Kincaid run 12:58. The question on many people's minds that night was how fast Ahmed could have run had he stayed in the race. Tonight's effort provided an answer of sorts.
Article continues below player.
Results: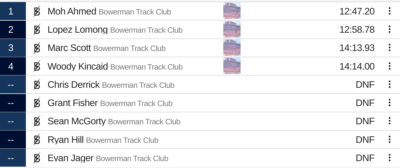 Men's 5000 results with splits *En route 3000 Splits
MB: Moh "MF" Ahmed 12:47.2 — #10 5000m runner ever!
*Jerry now has coached 5 sub 13 athletes 
QT: Who needs Hayward Field or the Prefontaine Classic?
Ahmed's time was the fastest time in the US ever by a long shot. The previous best? 12:56.98 by Mo Farah at the 2012 Pre Classic.
The 10 Fastest 5000 Men In History (Per Tilastopaja.eu)
1 12:37.35 Kenenisa Bekele ETH Hengelo 31 May 2004
2 12:39.36 Haile Gebrselassie ETH Helsinki 13 Jun 1998
3 12:39.74 Daniel Komen KEN Bruxelles 22 Aug 1997
4 12:43.02 Selemon Barega ETH Bruxelles 31 Aug 2018
5 12:45.82 Hagos Gebrhiwet ETH Bruxelles 31 Aug 2018
6 12:46.53 Eliud Kipchoge KEN Roma 2 Jul 2004
7 12:46.79 Yomif Kejelcha ETH Bruxelles 31 Aug 2018
8 12:46.81 Dejen Gebremeskel ETH Saint-Denis 6 Jul 2012
9 12:47.04 Sileshi Sihine ETH Roma 2 Jul 2004
10 12:47.20 Moh Ahmed CAN Portland 10 July 2020
QT: Lopez Lomong appears to be following the Bernard Lagat aging curve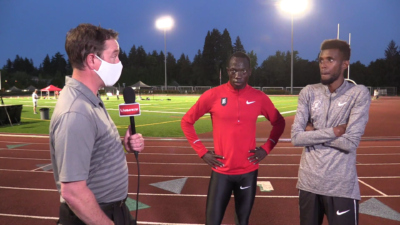 Four years ago, Lopez Lomong looked broken down and washed up. He was 31 years old and finished an uncompetitive 10th in the Olympic Trials 5,000 final. If that was it, he had a good run: a two-time Olympian and a two-time US champ in the 1500 and the 2008 US Olympic flag bearer.
Flash forward to 2020 and Lomong — now healthy — is running better than ever. He's won two US titles in the past two years, and after running a 13:00.13 pb at age 34 in 2019, he's now run 12:58.78 at age 35.
It seems hard to fathom, except we have another recent US star who followed a very similar curve. Like Lomong, Bernard Lagat began his career as a 1500 specialist before carving out an impressive second act as a 5,000 runner. And like Lomong, Lagat kept PRing well into his 30s — he broke 13:00 for the first time with a 12:59.29 at age 30, then lowered his PR to 12:59.22 at age 31, 12:54.12 at age 35, and, finally, 12:53.60 at age 36 — the current American record. And even after he stopped PRing, Lagat remained relevant for another five years, winning the 2016 Olympic Trials at the age of 41.
That doesn't mean Lomong is going to be winning USAs in 2026. But given he's still PRing at 35, he seems to have several good years still in front of him.
Lomong is the ninth American to break 13:00 and the third to do it on US soil, all in the state of Oregon (Kincaid did it in Beaverton and Rupp in Eugene). Among the top 10 Americans all time, precisely half set their PRs while being coached by Jerry Schumacher.
1. 12:53.60 Bernard Lagat, 2011
2. 12:55.53 Chris Solinsky, 2010
3. 12:56.27 Dathan Ritzenhein, 2009
4. 12:57.55 Paul Chelimo, 2018
5. 12:58.10 Woody Kincaid, 2019
6. 12:58.21 Bob Kennedy, 1996
7. 12:58.56 Matt Tegenkamp, 2009
8. 12:58.78 Lopez Lomong, 2020
9. 12:58.90 Galen Rupp, 2012
10. 13:00.39 Matthew Centrowitz, 2019
More: Shelby Houlihan (14:23.92) CRUSHES American Record at 5,000 (and So Does Karissa Schweizer) The Americans are now the 12th and 14th fastest women In history as Houlihan used a 4:26 last 1600 and 61.5 last 400 to set the new mark.