Karissa Schweizer Outkicks Shelby Houlihan to Crush American 3000m Record in Boston
By LetsRun.com
February 27, 2020
The Bowerman Track Club flew across the country to chase fast times on the historically fast Boston University indoor track, and they more than delivered as BTC athletes won three of four races at the Last Chance Invitational on Thursday night.
Article continues below player.
The fastest Bowerman athlete of all was a huge surprise as Karissa Schweizer outkicked her teammate, 13-time national champion Shelby Houlihan, to pull the huge upset and win the 3000 in 8:25.70. The the top 3 of Schweizer, Houlihan, and, Colleen Quigley all crushed the old American record of 8:33.25 by Shalane Flanagan.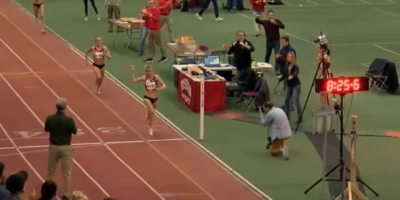 Kate Grace rabbited the 3k field through 2k in 5:40 (8:30 pace) before Schweizer went by Houlihan into the lead. Schweizer kept pushing the pace, figuring her only chance at victory was to grind her faster-kicking teammate into submission. Houlihan would not be dropped and seized the lead at the bell.
However, unlike at USA Indoors two weeks ago, this race was not over. Houlihan was spent from Schweizer attacking the pace, and could only marginally increase the pace the final lap (32.54). Schweizer had a little extra in the tank (31.59), and coming off the final turn she went by Houlihan to get the upset, victory, and American record. Quigley, who had been dropped with three laps to go, still managed to break 8:30 in 3rd. The three teammates were the only finishers in the race, and this was one of the most impressive club practices ever.
Women's 5000: Koko Destroys Field, Vanessa Fraser Runs Huge PB to Become 2nd Fastest American Ever Indoors
Earlier in the night, the Bowerman women also impressed in the women's 5000. Nike athlete Konstanze Klosterhalfen, who is not in the BTC, ran away from the field 800m into the race and absolutely destroyed the competition, running 14:30.79 for the win, but the BTC was PRing behind her.
Unheralded Vanessa Fraser (previous pb 15:07) had a huge PB in 2nd (14:48.51), less than a second off of Shalane Flanagan's American record of 14:47.62.
Emily Infeld PR'd (14:51) in 3rd (previous best 14:56), Courtney Frerichs had a 10-second PB (15:02) in 4th , and Gwen Jorgensen PR'd (15:10) in 5th (previous pb 15:15).
In the men's 3,000m Lopez Lomong (7:37.74), Ryan Hill, Evan Jager, and Grant Fisher took the top 4 places. All broke 7:40.
The BTC also managed first place in the men's 1,500, with Josh Thompson running 3:34.77 to get under the Olympic qualifying mark of 3:35.00 as Oregon's James West's 3:36.93 was an NCAA indoor record.
Quick take: What a run for Schweizer
The women's 3,000m was a superb display of running by the Bowerman women and in particular Schweizer. Can Schweizer become a factor on the world stage? 8:25 is a big step to saying yes.
QT: Big step for Gwen Jorgensen
The Olympic triathlon champion ran 15:47 for 5,000 in her last race two weeks ago. It was very disappointing considering she ran 15:15 in her first race back from pregnancy in 2018. Jorgensen took a huge step forward today, running 32 seconds faster. She beat Marielle Hall, who was 8th at Worlds in the 10k last year. However, before we get ahead of ourselves, remember Jorgensen was only 5th in this race (4th American), so making the US Olympic team will still be very difficult. And medalling at the Olympics is a whole different proposition as Klosterhalfen lapped Jorgensen today.
Full Results here
Results Women's 3000:
Finals                                                                
  1 Schweizer, Karissa           Nike / Bower           8:25.70B      
       34.104 (34.104)       1:07.809 (33.705)       1:41.807 (33.998)
     2:15.345 (33.538)       2:49.583 (34.238)       3:23.606 (34.023)
     3:57.719 (34.113)       4:32.134 (34.415)       5:06.315 (34.181)
     5:40.569 (34.254)       6:14.592 (34.023)       6:47.505 (32.913)
     7:20.896 (33.391)       7:54.107 (33.211)       8:25.693 (31.586)
  2 Houlihan, Shelby             Nike / Bower           8:26.66B      
       33.850 (33.850)       1:07.577 (33.727)       1:41.567 (33.990)
     2:15.113 (33.546)       2:49.345 (34.232)       3:23.372 (34.027)
     3:57.486 (34.114)       4:31.904 (34.418)       5:06.107 (34.203)
     5:40.325 (34.218)       6:14.601 (34.276)       6:47.716 (33.115)
     7:21.120 (33.404)       7:54.118 (32.998)       8:26.657 (32.539)
  3 Quigley, Colleen             Nike / Bower           8:28.71B      
       

Top Results Women's 5k
  1 Klosterhalfen, Konstanze     Nike                  14:30.79B                                                    
  2 Fraser, Vanessa              Nike / Bower          14:48.51B                                                    
  3 Infeld, Emily                Nike / Bower          14:51.91                                                     
  4 Frerichs, Courtney           Nike / Bower          15:02.91                                                    
  5 Jorgensen, Gwen              Nike / Bower          15:10.98
Top Results Men's 3k
Finals                                                                
  1 Lomong, Lopez                Nike / Bower           7:37.74       
  2 Hill, Ryan                   Nike / Bower           7:38.03       
  3 Jagar, Evan                  Nike / Bower           7:38.25       
  4 Fisher, Grant                Nike / Bower           7:39.99       
  5 Mahoney, Travis              Hoka Njnytc            7:41.94
Top Results Men's 1500
Finals                                                                
  1 Thompson, Josh               Nike / Bower           3:34.77       
       14.145 (14.145)         42.087 (27.942)       1:11.426 (29.339)
     1:40.905 (29.479)       2:10.324 (29.419)       2:40.139 (29.815)
     3:08.239 (28.100)       3:34.761 (26.522)                        
  2 Kidder, Brannon              Brooks Beast TC        3:36.51                         
  3 Alvarado, Abraham            Atlanta TC Elite       3:36.82                              
  4 West, James                  Oregon                 3:36.93                             
  5 Prakel, Sam                  adidas                 3:39.02