American Distance GOAT Voting: The Final 4 Is Here as Jenny Simpson Edges Joan Benoit Samuelson To Clinch Spot in Women's Final
By LetsRun.com
April 20, 2020
Editor's note: LetsRun.com has created a 64-athlete bracket to determine who is the Greatest American Distance Runner of All Time. If you missed the intro to the tournament, catch up here.
We've made it to the Final Four in our monthlong quest to crown the Greatest American Distance Runner of All Time. A field of 66 athletes has been narrowed to a quartet of legends:
Article continues below player
Shorter. Ryun. Kastor. Simpson.
But how we got here was interesting. The Elite 8 had a decidedly old school vs. new school feel. Three of the four matchups featured a legend from the '60s (Jim Ryun), '70s (Frank Shorter), or '80s (Joan Benoit Samuelson) against contemporary stars Bernard Lagat, Galen Rupp, and Jenny Simpson, respectively.
On the men's side, the old-timers prevailed, #1 seed Shorter defeating #2 seed Rupp (60.5% to 39.5%) and #3 seed Ryun taking out #1 seed Lagat (56.6% to 43.4%). On the women's side, #1 seed Deena Kastor eliminated #2 seed Shalane Flanagan (64.8% vs. 35.2%) to book her place in the Final Four.
But it wouldn't be a tournament without a little controversy, and that's what we got in the final quarterfinal matchup between #1 seed Joan Benoit Samuelson and #2 seed Jenny Simpson. On Saturday night — the third of four days during which voting was open — LetsRun.com co-founder Robert Johnson saw Simpson was leading Benoit, 54% to 46%. Believing Benoit had the better career, Rojo started a messageboard thread registering his disbelief – MB: Has LetsRun nation lost its mind? Jenny Simpson is currently beating Joan Benoit in the voting for Greatest American Ever. – before going to bed. Late Sunday afternoon, he took to his keyboard and published an article lmaking the case for Benoit over Simpson.
The fans must have agreed with Johnson's analysis as the votes began to pour in for Benoit. In fact, as of this writing, Benoit has more votes than Simpson. But LetsRun.com very clearly set the cutoff for votes at midnight ET on Sunday, and at that point, Simpson was still ahead — barely. And so it is Jenny Simpson who will advance to the Final Four after prevailing by a narrow 50.5% to 49.5% margin.
MB: Rojo goes home DEVASTATED. Simpson def. Benoit Samuelson
So now we are down to our men's and women's final. Final Four voting — which runs through Wednesday night (midnight ET). The winners of each matchup will earn the title of LetsRun.com's Greatest American Male Distance Runner of All Time and Greatest American Female Distance Runner of All Time before squaring off, male vs. female, to determine the ultimate US GOAT. Here are the matchups:
1) Frank Shorter vs. 3) Jim Ryun
Both of these men were the very best in the world in their event in their primes. Shorter was ranked World #1 by Track & Field News three times and won Olympic marathon gold in 1972 (plus a silver in '76). Ryun was also ranked World #1 three times and broke world records in the mile and half mile. His best Olympic finish was 2nd in 1968 (behind Kip Keino in the altitude of Mexico City); he lost a shot at a second medal after falling in the prelims in '72.
1) Deena Kastor vs. 2) Jenny Simpson
Both own Olympic bronze medals. Kastor leads Simpson in major American records (three to one, including the still-standing marathon mark), while Simpson holds the edge in World Championship medals (three to two, including gold in 2011; Kastor has two silvers from World XC) but Kastor has edge in major marathons won (two to zero). Should be a good one.
***FOURTH ROUND VOTING NOW OPEN, CLICK HERE TO VOTE NOW! Voting closes at the end of Wednesday, April 22 (midnight ET), so get your votes in.
Updated bracket: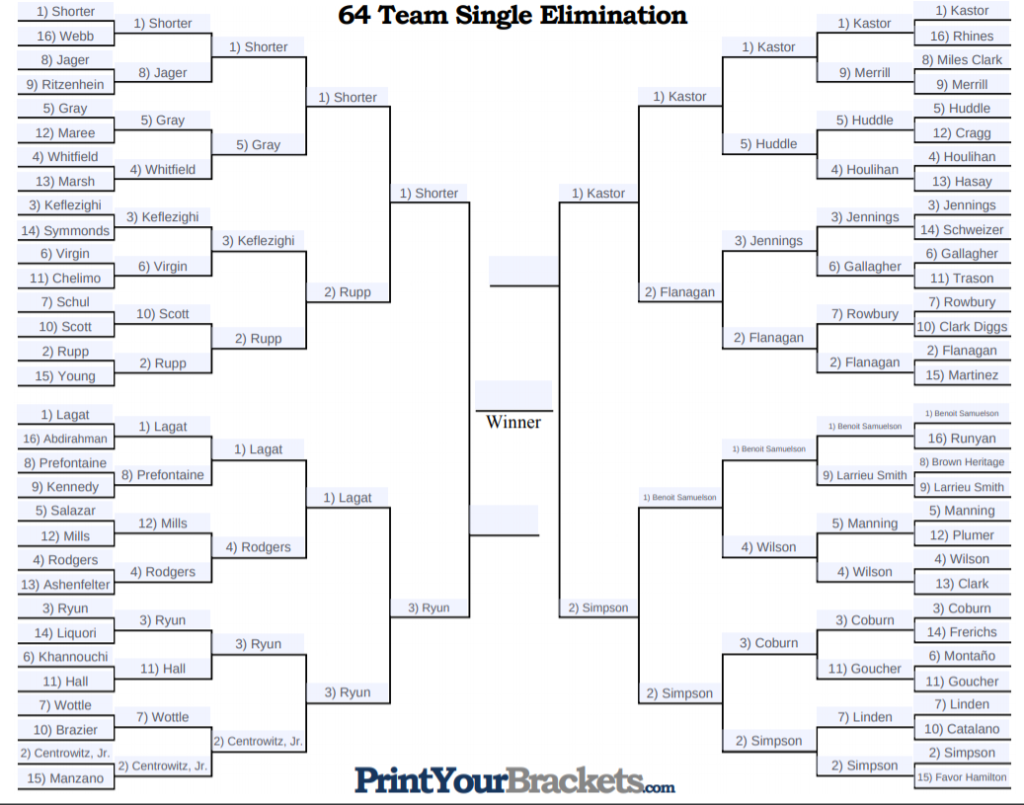 Quarterfinal results
Shorter Region Final
(1) Frank Shorter 60.5%
(2) Galen Rupp 39.5%
Lagat Region Final
(1) Bernard Lagat 43.4%
(3) Jim Ryun 56.6%
Kastor Region Final
(1) Deena Kastor 64.8%
(2) Shalane Flanagan 35.2%
Benoit Region Final
(1) Joan Benoit Samuelson 49.5%
(2) Jenny Simpson 50.5%