Erik Sowinski Pulls a "Symmonds," Joins Brooks Beasts
By Jonathan Gault
February 5, 2020
Erik Sowinski is "pulling a Symmonds."
Sowinski's Nike contract expired at the end of 2019 and, like Nick Symmonds six years ago, he has traded in his Swoosh for the neon uniform of the Brooks Beasts. Sowinski has been one of the most consistent US 800-meter runners of his generation, albeit without the big-meet success of Symmonds. Sowinski made 13 straight US finals, indoors and out, from 2013 to 2019, during which time he claimed three US indoor titles and a bronze medal at the 2016 World Indoors. Outdoors, he owns a pb of 1:44.58 and has made one World Championship team (2015).
Article continues below player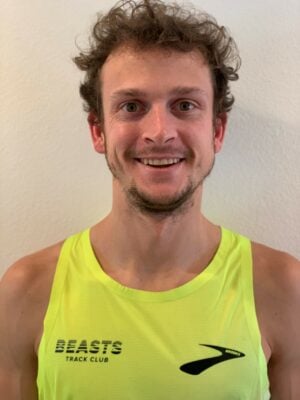 The move brings a few changes for the globe-trotting Sowinski, who has been coached by Joey Woody, his college coach at the University of Iowa, since turning pro in 2013. Sowinski plans to keep his house in Iowa City, but he'll join the Beasts for training camps in Albuquerque (where he is currently in preparation for next week's US Indoor champs) and Seattle. He will be coached by Beasts coach Danny Mackey — "he'll oversee everything," Sowinski says — but said that Woody will still help out when he's back in Iowa City.
"[Danny] and Joey have a good relationship, they have very similar views on training and a lot of things," Sowinski says. "At the same point, I've been doing this for so long that I know what I need to do to be successful. Danny's really open-minded with that and I think that we have a pretty solid plan going forward."
The biggest change, Sowinski says, is that for the first time since college, he'll have consistent training partners.
"I would say probably 95% of everything has been on my own since I've started doing this," Sowinski says.
Current Beasts Drew Windle and Brannon Kidder have both made outdoor World Championship teams, and Sowinski hopes that training with them will help put him over the edge in his quest to make his first Olympic team this summer.
The problem for Sowinski? This year's 800 team figures to be one of the toughest to make in recent memory. Clayton Murphy, Bryce Hoppel, and world champion Donavan Brazier all made last year's World Championship final. 2018 NCAA champ Isaiah Harris, a World Championship semifinalist in 2017, is back healthy.
Meanwhile Sowinski, who turned 30 in December, didn't even make it to last year's US final after battling a back injury. Sowinski says he thinks this will be the toughest US team to make since 2013, when Symmonds, Duane Solomon, and Brandon Johnson all ran 1:43 in the USA final. Sowinski has broken 1:45 just four times in his career, most recently in July 2017.
"I'm excited for the challenge," says Sowinski, who was 5th at the 2016 Olympic Trials. "Like I've always said, when you put yourself in that final, you've got just about as good a shot as anyone. Because I think it's shown year after year after year, there's always one or two guys that aren't on it on that day and there's always a chance for someone to sneak in."
Sowinski will get his first test on Saturday at the NYRR Millrose Games in New York, where he'll face Brazier, Harris, and Hoppel in the 800.
Talk about this article on the LRC forum: Erik Sowinski Pulls a "Symmonds," Joins Brooks Beasts .