January 23-25: Katelyn Tuohy, Mary Cain, Justyn Knight And Athing Mu Set Sights For Dr. Sander Invitational Columbia Challenge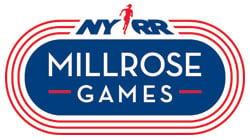 February 08, 2020
Press Release
January 16 2020
The third annual Dr. Sander Invitational Columbia Challenge takes place January 23-25 at the Armory New Balance Track & Field Center with the final day showcasing 12 professional events, in addition to elite high school and NCAA competition.
Honoring the memory of Dr. Norbert Sander Jr, the beloved founder of The Armory Foundation, the event is the perfect preview for the 113th NYRR Millrose Games, which will take place February 8 at The Armory.
Article continues below player
"Doc, as many referred to Norb Sander, loved bringing together high school, college and top pro athletes," Armory Foundation Co-President Jonathan Schindel said. "The mixing of these age group and performance levels is an inspiration to everyone involved. These hard-working athletes will put on a show for the crowd on The Armory's `Fastest Track in the World.'"
Added Dan Ireland, Director of Men's and Women's Cross Country and Track & Field at Columbia University: "Columbia's track & field program is very excited to once again partner with The Armory and the Dr. Sander Invitational Columbia Challenge. This is our third year with this meet, and it has gotten better and better each year.
"We are looking forward to many of the top collegiate and professional athletes competing in New York City for what we think will be the best track meet held anywhere during the last weekend in January."
Many of the best athletes in the United States will be competing at The Armory, including several Olympians and World Championship medalists. Here are just a few of the exciting athletes and events:
American 800m record holder and two-time world medalistAjeé Wilson will lead the field in the women's 800m. She will face 2016 Olympian Chrishuna Williams and NCAA champion Danae Rivers, among others.
Current and former high school phenoms will face off in the women's 3000m, as three-time reigning Nike Cross Country Nationals champion Katelyn Tuohywill battle 2014 NYRR Women's Wanamaker Mile champion Mary Cain, now on the comeback trail after rewriting the high school record book several years ago. They both must contend with last year's winner Amanda Eccleston, as well as former NCAA champion Emily Lipari.
The men's 800m will feature former 1500m national champion Robby Andrews, World Championship semi-finalist Isaiah Harris, and world indoor bronze medalist Erik Sowinski.
The women's 400m will star a pair of 4x400m relay gold medalists, as world indoor champion Courtney Okolo, who led off for Team USA at the Rio Olympics, faces Wadeline Jonathas, a 2019 breakout star who finished fourth in the 400m at the World Championships before running a leg on the winning relay. They both need to look out for high school superstar Athing Mu, the American 600m record holder.
The men's 400m showcases Nathan Strotherand Wil London, who both won gold medals in the 4x400m relay at the World Athletics Championships in Doha, Qatar.
Nikki Hiltz will compete in the women's mile after a breakout 2019 season when she qualified for the World Championships final.
Justyn Knight,2018 NCAA 5,000m indoor champion and 2017 NCAA Cross Country champion at Syracuse University is also a two-time 5,000m world finalist for Canada and will headline the men's mile.
The women's shot put will feature three of America's best throwers:Chase Ealey,Maggie Ewen and Raven Saunders.
In addition to Saturday's spectacular track & field lineup, the Dr. Sander Invitational Columbia Challenge will spotlight many of the nation's premier college programs, including Columbia, Brigham Young, Penn State, Wisconsin, UCLA, Princeton and many more. Please visit armorytrack.com to reserve seats for the Dr. Sander Invitational Columbia Challenge.
Meet times are 5:30 p.m.-10 p.m. on Thursday (Jan. 23), noon-4 p.m. Friday (Jan. 24) and 10 a.m.-4 p.m. Saturday (Jan. 25). Please click HERE for a schedule of the meet.