By Jonathan Gault
September 12, 2019
What if I told you there was a marathon this weekend that is even more important than the US Olympic Marathon Trials? One that is far deeper and more competitive (well, on the men's side at least) and 10 times harder to qualify for? Is that something you might be interested in watching?
May I present to you the Marathon Grand Championship (MGC), aka the first-ever Japanese Olympic marathon trials.
To call the MGC a once-in-a-lifetime event would be to sell it short — most athletes never get the opportunity to compete at an Olympics on home soil. The chance to do so, in an event the Japanese are crazy about — there may be no more coveted medal at Tokyo 2020 than the men's marathon gold — is what awaits the top finishers in Sunday's MGC.
Furthermore, the race comes during a golden age of Japanese men's marathoning. After being stuck at 2:06:16 for over 15 years, the Japanese national record has been broken twice in the last 19 months, by two different men. Last year, a third man, Yuki Kawauchi, became the first Japanese man to win a World Marathon Major (though Kawauchi will not be competing on Sunday). That fall, when Suguru Osako set the current Japanese record of 2:05:50 in Chicago — beating America's top marathoner, Galen Rupp, in the process — Osako's coach Pete Julian acknowledged the scope of the task ahead of him at the MGC: "The competition is just amazing. It's a really tough team to make. He's going to have to be better than he was today to make that team."
This is the Halley's Comet of marathons. A race like this isn't coming around again anytime soon, and it should be pretty damn amazing to watch. It's the most dramatic marathon of 2019.
But as with any great drama, to truly appreciate it, you have to know the backstory. That's where LetsRun.com comes in. Below, we run through the six things you need to know before you watch this race.
TV/streaming details
The races start at 7:50 p.m. ET (men) and 8:10 p.m. ET (women) on Saturday night in the United States.
Update: A messageboard poster says that the best way for overseas viewers to watch is through this site — click on TBS for the men's race. The women's race should be available here. If those don't work, Japan Running News has a list of potential streaming options here.
Live results will be here.
1) How it works
The MGC is like the US Olympic Trials, with a twist. Like the US Trials, the first three men and women across the line earn a spot on the Olympic team (in June, the IAAF paved the way for the Japanese trials to receive Gold Label status, so that shouldn't be an issue — though many athletes in the field already have the Olympic standard).
The twist? If someone runs really fast in between the MGC and the Olympics, they get to kick the third-placer at the MGC off the team. If a man breaks 2:05:50 (the current national record) or a woman breaks 2:22:23 during the Japanese winter marathon season (Fukuoka, Tokyo, and Lake Biwa for the men, Saitama, Osaka, and Nagoya for the women), they get the third spot. So if a stud has a disaster at the MGC, there's still a way for them to make the team.
2) The men's field is totally stacked
While it seems like everyone and their mother has qualified for the US Trials, the field for the MGC is exclusive: just 31 men and 12 women, compared to 181 men and 341 women currently qualified for the US Trials. That's because the entry standards for the MGC were significantly harder than the US Trials.
The full qualifying criteria was a bit complicated. Japanese athletes could qualify based on placing highly in certain domestic marathons assuming they ran under certain time standards (normally 2:11 or 2:10 for the men and 2:27, 2:28 or 2:29 for the women as fully explained here). Additionally, there were pure  time standards that were quite daunting  and were as follows:
MGC men's qualifying standards
-Run sub-2:08:30 once during the qualifying window
-Or average sub-2:11:00 for your two fastest marathons during the qualifying period
MGC women's qualifying standards
-Run sub-2:24:00 once during the qualifying window
-Or average sub-2:28:00 for your two fastest marathons during the qualifying period
(the qualifying window was 8/1/17 to 4/30/19, and all marks had to be achieved on a record-eligible course)
If the US Trials adopted those pure time standards, here's who would have qualified based on time.
Men: Galen Rupp
Women: Jordan Hasay, Amy Cragg, Emily Sisson, Sara Hall, Shalane Flanagan, Molly Huddle
That's it. One man and six women. Obviously, it's not a perfect comparison as the Japanese could also get in based on performing well domestically and, had the Americans been forced to hit those same time standards in order to qualify for the trials, more of them perhaps could have achieved them, but the point remains: it was really freaking hard to qualify for this race.
Only 20 Americans in history have broken 2:10 in the marathon and only four have ever broken 2:08; the MGC will feature 21 sub-2:10 guys, six of whom have broken 2:08.
Only three Americans, total, have broken 2:11 during the qualifying window. Five sub-2:11 Japanese men (including one sub-2:10 guy) failed to even qualify for the MGC.
MB: Four 2:10 guys + one 2:09 guy didn't make the Japanese Olympic Marathon Trials nor did three sub-2:29 women
Comparatively, the women's field isn't quite as strong or deep, with just 12 entrants, but it's still impressive, with 10 women under 2:25 (the US Trials list has just four women at sub-2:25). Three Japanese women who broke 2:29 during the qualifying window didn't make the race.
One man who won't be there is the most famous Japanese runner of all, 2018 Boston Marathon champ Yuki Kawauchi. Though he qualified, he's skipping the race to run the World Championship marathon in Doha.
You can view the full fields here (and here). For a detailed look at every athlete, Brett Larner of Japan Running News — whose coverage was influential in informing this article — has profiled every one of them on his site. Well worth a read if you're interested in the backstory of these athletes.
3) Yuta Shitara is crazy, brilliant, and impossible to root against
I first wrote about Shitara two years ago, when he decided to run the Berlin Marathon just one week after breaking the Japanese record in the half marathon (he ran a 24-second pb in Berlin). Since then, he's done all sorts of awesome stuff, and he's done it his own way.
An iconoclast who doesn't give a shit about conventional wisdom, Shitara first made a name for himself as a 20-year-old when he outkicked Dathan Ritzenhein to run 61:48 at the NYC Half. Five years later, when he made his marathon debut in Tokyo, Shitara went out in 61:55 for the first half — even though his HM pb at the time was just 61:19 (he faded to 67:32 for the second half but still ran 2:09:27).
In 2018, Shitara returned to Tokyo, and in the late stages of the race was on pace to break the 15-year-old Japanese marathon record — which carried a 100 million yen ($937,000 at the time) bonus. At the final drinks station, it was clear it was going to be very close. So for an extra boost, Shitara took a drawing of himself with the words "last fight" that he had attached to his bottle and pulled it around his arm. He wound up running 2:06:11 to break the record by five seconds.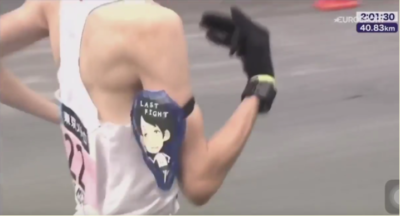 Then in July 2019, just 10 weeks before the MGC, Shitara decided to run the Gold Coast Marathon in Australia as a training run. It wound up a bit faster than that as Shitara set an Australian all-comes record of 2:07:50, the second-fastest marathon of his career. Shitara wasn't worried about the tight turnaround to the MGC — "even if we ran it right now I'd win," he said a day after Gold Coast. And he won it looking like this:
Yuta Shitara sets race record in Gold Coast Marathon victory https://t.co/6oJ413HwBG pic.twitter.com/JDc53q5itR

— Andy Vermaut (@AndyVermaut) July 7, 2019
No, that isn't a specially-designed, Japanese flag-inspired singlet. That, my friends, is one of the worst cases of nipple chafing you will ever see. Yuta Shitara is tough as nails.
Just in case you needed another reason to watch Shitara this weekend, I'll leave you with this quote from Shitara (per Brett Larner at Japan Running News):
"I'll be looking to run fast at the MGC Race no matter what the conditions. If you win it in 2:14 or 2:15 you'll never be competitive at the Olympics. I want to crush it. If this were the Olympics then I realize you'd have to be a bit careful about tactics, but it's just a race against a bunch of Japanese guys. Running conservatively would be pretty boring."
4) Suguru Osako looks to extend NOP's dominance overseas
Shitara's Japanese record lasted less than eight months; Suguru Osako broke it by running 2:05:50 in Chicago last fall. Outside of Kawauchi, Osako may be the Japanese marathoner most familiar to US fans as he has trained with the Nike Oregon Project in Portland since 2013. That's uncommon for Japanese runners, almost all of whom stay in Japan and run for teams sponsored by large corporations (Shitara's team, for example, is sponsored by Honda). But Osako wanted to be not just one of the best in Japan, but one of the best in the world, and to do it he relocated to the US to train with NOP, just like Mo Farah, Yomif Kejelcha, and Sifan Hassan.
Osako's main coach is NOP assistant Pete Julian, and though Osako broke the Japanese 5,000-meter record in 2015 (13:08), he struggled against top competition on the track. He didn't make the final at Worlds or the Olympics in the 5,000 in 2015 or 2016 and finished just 17th in the 10,000 in Rio.
So in 2017, Osako gave the marathon a try. He was a natural. He ran 2:10:28 for third in Boston in his debut, 2:07:19 in Fukuoka (third again), and 2:05:50 in Chicago last year in marathon number three (third place yet again). The one concern? He dropped out of his most recent marathon, in Tokyo in February, amidst cold, wet conditions.
The weather will be very different in Tokyo on Sunday (the current forecast calls for a high of 84 degrees with 70% humidity), and Osako should be ready for it; he tuned up for MGC by running 62:23 at the Hot Trot Half Marathon in Dallas — clearly an attempt to simulate the heat he'll face both in the MGC and the Olympics, should he make it.
This is a huge race for NOP, a group that measures its success by global medals. Rupp may be a lock for the US team (as long as his foot is properly healed), but Osako faces a tougher challenge to make it to Tokyo 2020. He'll still be one of the favorites this weekend, but it would be a disaster for NOP if their fastest marathoner (remember, Osako beat Rupp in Chicago last year) doesn't even make it to the Olympics.
5) A preview of the Olympic course/conditions
The MGC is being held on the same course as the actual Olympic marathon, which means that, unlike the rest of the world, the Japanese athletes who make the team will have the advantage of having seen and raced on the course before Tokyo 2020. The big concern about the Olympic marathon is the weather — the start has been pushed to 6 a.m. in an attempt to combat it — and while the MGC will take place a month after the Olympic marathons (August 2 for the women, August 9 for the men), it will still be hot on Sunday (and the races will be starting later in the day). Whoever makes this team will have to be able to handle the heat — a prerequisite for success at the Olympics.
Video course preview below (course map with elevation profile can be found here).
6) The main contenders (and other athletes to watch)
Men's race (Full field with PBs courtesy of Brett Larner is here)
Suguru Osako, 28, 2:05:50 pb: The national record holder, it would be a disaster for NOP if he missed the team.
Yuta Shitara, 27, 2:06:11 pb: Brave, idiosyncratic, and beautifully unique, the Japanese record holder in the half (60:17) is the guy to watch in this race.
Hiroto Inoue, 26, 2:06:54 pb: The fifth-fastest Japanese man of all time. Just 12th in Boston in April, but ran 2:06 last year in Tokyo and won gold at the 2018 Asian Games.
Yuma Hattori, 25, 2:07:27 pb: Broke through with a 2:07:27 victory in Fukuoka last year to mark himself as one of the favorites for this race.
Kensuke Horio, 23, 2:10:21 pb: His pb ranks him just tied for 26th in the field, but Horio has potential. The youngest guy in the field at 23, Horio was the top Japanese finisher at the Tokyo Marathon in February, running 2:10:21 in his debut.
Kentaro Nakamoto, 36, 2:08:35 pb: Working in Nakamoto's favor: he's the only man in this field to have run in the Olympics before, and he is a spectacular championship marathoner — he was 6th at London 2012 and finished in the top 10 at Worlds in 2011, 2013, and 2017. Working against him: he's the oldest man in the field and has broken 2:10 in just one of his last eight marathons.
Women's race (Full field with PBs courtesy of Brett Larner is here)
Yuka Ando, 25, 2:21:26 pb: Her 2:21 debut at 2017 Nagoya makes her the fastest woman in the field, but in three subsequent marathons, she's failed to break 2:26.
Ayuko Suzuki, 27, 2:28:32 pb: She has the slowest pb in the field, but that's because she's only run one career marathon (2018 Hokkaido), prevailing in warm conditions. Her 67:55 half in Marugame in February was the fastest by a Japanese woman in 13 years and showed she's a serious contender for the win here.
Mizu Matsuda, 24, 2:22:23 pb: Her 2:22:23 in Berlin last fall was the fastest time by a Japanese woman within the MGC qualifying window, but she hasn't raced much since.
Reia Iwade, 24, 2:23:52 pb: The fastest Japanese marathoner of 2019 (2:23:52) and the only woman not sponsored by a corporate team (she's sponsored by Under Armour instead). She ran 2:27 at the age of 19 back in 2014.
Kayoko Fukushi, 37, 2:22:17 pb: A Japanese legend who holds national records in the 3k (8:44), 5k (14:53), and half marathon (67:26), Fukushi was the top Japanese woman at the 2016 Olympics (14th), has made four Olympic teams in total, and earned marathon bronze at the 2013 Worlds. Though she's the oldest woman in the field, her 2:24:09 in Nagoya in March makes her the second-fastest Japanese woman of 2019.
---
Talk about the MGC on our messageboard. MB: The Most Dramatic Marathon of The Year is Saturday – Official 2019 Japanese Marathon Grand Championship Discussion Thread