What Are The Greatest Ultramarathon Records? These Are 7 Of The Greatest But Not THE Greatest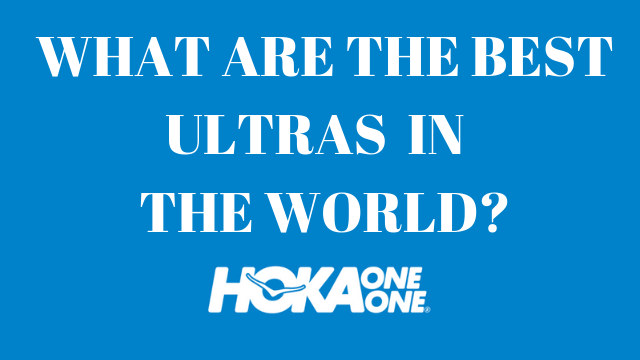 April 25, 2019 to May 31, 2019
By LetsRun.com
May 17, 2019
Editor's note: HOKA ONE ONE is sponsoring LetsRun.com's exploration of the ultramarathon over the month of May, trying to determine the answer to the question: "What are the best ultramarathons in the world?" You can join the debate here. While this is sponsored content, HOKA had no say in what was written.
As we continue our deep-dive in the ultramarathon world, for the last week, we've been asking LetsRun.com nation, "What are the best ultramarathon records?" In some ways, it's almost an impossible question to answer as there are so many different types and distances of ultramarathon races. It might be the equivalent of asking what is the best world record in track and field. There certainly are a lot of interesting arguments that can be made.
Article continues below player
But that's what makes the question so much fun in many ways. You can debate it forever.
Since we are just learning the ultra scene and aren't totally emotionally wrapped up in it, maybe that makes us the perfect organization to lead this debate as we aren't afraid to upset the status quo a bit and we don't have friendships with a lot of the established organizers. If we were asked to rank the US World Marathon Majors from 1-3, we might hesitate a bit as we'd not want to anger one of the three, but we don't have that type of hesitation when it comes to ultras.
So after reading the message board thread and talking to some sources, we've come up with a list of seven of our favorite ultramarathon records, but all seven fall short of GOAT — Greatest of All Time — status. Then on Monday, we'll reveal the one record we view as the GOAT.
In the meantime, we're kicking off next week's discussion now on the message board, "Who are the greatest ultramarathoners in history?" The week after that we'll conclude with the greatest races in ultramarathoning.
Post your thoughts or email them to us at ultras@letsrun.com and you might win a free pair HOKA shoes. Speaking of HOKA shoes, their new Carbon X shoe is now out and available for purchase online.
Boots are on the ground in Sactown. Wejo about to go to his first ultra press conference ever and getting bribed with the new @HOKAONEONE Carbon X shoes. World record attempt races tomorrow 9 am east pic.twitter.com/iKwH41hQrG

— LetsRun.com (@letsrundotcom) May 3, 2019
7 Fantastic Ultramarathon Records
(Note the # is not a ranking, it's just to help you keep count)
1. Jim Walmsley's 14:30:04 at Western States
Why we love this record: After two straight high-profile disappointments at Western States, Walmsley last year did what he said he'd do — win and get the course record, taking more than 16 minutes off Timothy Olson's 14:46:44 by running 14:30:04. Considering that Olson set his record on a year when the high temperature in Auburn, California was just 71 degrees and that it got as high as 98 last year, that's pretty amazing.
Why we don't think this record is the GOAT: Breaking the course record by 16+ minutes is nice, but in 2016, Walmsley was 17 minutes up on course record pace at mile 89. It's clear that Walmsley can run much faster on the course if he gets better conditions.
Hell, he doesn't even need better conditions. If a bear and her cubs didn't cause him to lose up to 10 a few minutes last year around mile 95, he might already be close to 30 20 minutes faster than anyone in race history. Walmsley himself has declared he can break 14 hours on the course. When he breaks 14 hours, then get back to us and we'll consider upgrading this to GOAT status, but we'd also add that we are hesitant to name a trail course record as the greatest record ever as the course isn't the same every year. We'd much rather give GOAT status to a set distance or time record.
Plus if Eliud Kipchoge wanted to run Western States this year, he couldn't get in.
2. Ellie Greenwood's 16:47:19 at Western States
Why we love this record: Women have been running Western States for more than 40 years, since 1978. Only four times in those 41 races has a woman even broken 18 hours. Yet Greenwood broke 17 hours. Her course record is nearly 40 minutes faster than the next best time on the course (39:41). That's 3.9% and mind-boggling.
Think of it this way. We revere Eliud Kipchoge's men's marathon world record of 2:01:39 and Paula Radcliffe's women's marathon world record of 2:15:25. Well, add 3.9% to 2:01:39 and you are adding 4:48 so you get 2:06:27. Add 3.9% to 2:15:25 and you have to add 5:20 and you get 2:20:45.
Why we don't think this record is the GOAT: We think one good way to check the strength of world records is to compare the men's and women's world records. For most track and swimming events, the difference is normally 10-12%. Well, Greenwood's mark is significantly slower than Jim Walmsley's 14:30:04. In fact, it's more than 15% slower — 15.77%. Additionally, she did it in good weather whereas Walmsley achieved his in less-than-ideal conditions. One ultra expert that we talked to said he's not convinced Greenwood's mark is any intrinsically better than the 17:27:00 that Courtney Dauwalter ran last year if you factor in the fact that Dauwalter did it in difficult conditions. As a result, we can't call Greenwood's mark the GOAT.
3. Frith van der Merwe's Comrades "Down" Record of 5:54:43 From 1989
Why we love this record: Comrades is a huge race that attracts many elites every year as it has big prize money, and no one has come close to this record, which is 30 years old. If a record in a popular event/distance lasts a long time and is untouchable for a long time — like Paula Radcliffe's 2:15:25 marathon WR — then it's a damn good record. That's the case here as Frith's mark is nearly four minutes faster than the next best time (Ann Trason's 5:58:25 from 1997) and a time that only one person has come within five minutes of in the last 22 years (and that person happened to be a Russian, so assume what you want).
Comrades was 89.6km in 1989, so that means Frith averaged 6:22.27 per mile and if she was running even paced she would have hit 50 miles in 5:18:34 (and kept going for another 5.67 miles). That's pretty amazing. Camille Herron's 50-mile world record is more than 20 minutes slower — 5:38:41. Yes, a "down" year at Comrades is more than 2,000 feet downhill overall, but a 2,000-foot drop with no uphills would only help you by about 6 minutes and there is A LOT of uphill in Comrades (6,000 feet of downhill and 4,000 feet of uphill).
Additionally, David Gatebe's Comrades men's "down" mark (see below) is also one of our favorite records and when you compare the two marks, they line up very well when you are looking for that 10-12% gap that normally exists between the records (11.44% in this case).
Why we don't think this record is the GOAT: The women's 100k record of 6:33:11 averages out to 6:19.66 per mile. When one realizes that someone ran 2.6 seconds per mile faster for 6.5 more miles without the huge elevation drop of Comrades (2,000+ feet), then it's hard to consider this mark to be the GOAT.
4. Tomoe Abe's 100km Record of 6:33:11 from the 2000 Lake Saroma Ultramarathon
Why we love this record: Normally a women's world record is 10-12% slower than a man's, but not here. Abe's mark is only 6.49% slower than the men's world record of 6:09:14. And the 100k is a universal distance that's run a lot. According to message board poster "the land of the rising sun," no other woman has ever even broken 7:11 on the course. No other woman in history has ever broken 7 hours period on any course.
Abe was a marathon stud — she was the 1993 World Championships bronze medalist in the marathon and had a 2:26:09 PR — who briefly moved up the ultra world and she rocked it. Part of our fascination with the ultra world is wondering, "What would happen if more marathon studs ran the ultras, would they dominate?' Well in Abe's case, the answer was yes.
Abe's record came on June 25, 2000. Earlier that year, she ran 2:28:01 for the marathon on January 30 and 2:29:09 on February 20. It's interesting to note that she ran a couple of track races just before her record as well as she ran a 33:22.99 10,000 on May 13 and then a 16:10.63 5000 on May 27. We'd love to know the thought process behind that but, hey, it worked out amazingly well.
Why we don't think this record is the GOAT: To be honest, initially when were pretty far along in this process, we thought about having separate GOAT men's and women's records and this was going to be our women's record. It's certainly impressive but we aren't giving it GOAT status for two reasons. The first is that Lake Saroma features a huge start-finish separation of 47%, just under the IAAF limit of 50%. So basically the course can be majorly wind-aided. "Ultra trail legends" did a great job of explaining on the message board the reservations many have about the course being accepted for records. That being said, it's not like the course is point to point, and even if you add, say, 10 minutes to Abe's time, it's still very close to the men's WR in terms of percent (9.19%).
The second is, while on percentage basis it is relatively close to the men's WR, it's not all that much faster (just 2.6 seconds per mile) than the pace run by Frith van der Merwe for the 89.6 km distance at Comrades.
5. David Gatebe's 5:18:19 Comrades Down Record From 2016
Why we love this record: We considered it since it's been pointed out to us by South African TV commentator and coach Cuan Walker that during that 2016 Comrades race — Comrades was 89.208 km that year (55.431 miles) — it's clear that Gatebe hit the 50-mile split faster than any human in history has ever run 50 miles. If he was running even paced, Gatebe would have hit the 50-mile mark in 4:47:08 – almost three minutes faster than the 4:50:07 that Jim Walmsley just ran for 50 miles at the Hoka Project Carbon X event — and then had to run for another 5.4 miles to get the win.
Why we don't think this record is the GOAT: One needs to remember that the Comrades "down" race features a net downhill of just over 2,000 feet (616m or 2,021 ft from one source we saw). According to John Kellogg's estimation, every 10 feet of elevation drop aids you by about 1.8 seconds (depending somewhat on your body weight), so the down course would be just over 6 minutes faster than a flat course.
Now with as many uphills as there are even on a down year on Comrades, the course isn't 6 minutes faster than a flat course. We reached out to Kellogg to ask him how much he thought it helped (if any) and he didn't want to even try to speculate as he's never seen a very detailed course profile. Depending on the specifics of the hills, he said it's possible it could be slower than a flat course but again he wouldn't speculate. Regardless, there is no way we feel comfortable in saying that Gatebe's mark is certainly stronger than Walmsley's.
As for the "up" Comrades men's mark, we didn't consider it since many believe the man who holds that record was on drugs.
As for Two Oceans, we're sorry — a 56k race just doesn't do it for us as we are certain if someone like Eliud Kipchoge wanted to DESTROY it or the 50k record he could easily do it. It's like asking if Kenenisa Bekele could have run a world record for a 13,271-meter race on the track. Answer: yes (Two Oceans is 32.7% farther than a standard marathon).
6. Camille Herron's 24-Hour Record of 262.1927 km (162.91 miles) from 2018
Why we love this record: We've been told that we are currently in the "golden age" of 24-hour running for women, particularly for the US women, and there are none better than Camille Herron. When Herron broke the women's 24 hours record in December at the Desert Solstice Track Invitational in Phoenix, she beat all of the men in the race, including Zach Bitter, the men's world record holder 12 hours. That's a crazy stat.
Why we don't think this is the GOAT: For starters, it's not like she destroyed the old mark. The old mark belonged to Poland's Patrycja Bereznowska and was 260 km. More importantly, we think it's instructive to compare the women's WR to men's and see if it's within the 10-12% range you normally find between men and women. And it's not. It's 15.76% slower than Yiannis Kouros' men's WR of 303.506 km (188.59 mi). Of course, if you are that close to the legendary Kouros, you are doing pretty darn good.
7. Francois D'Haene's 19:01:54 from UTMB from 2017
Why we love this record: In 2017, UTMB was 167 km (103.77 miles) and D'Haene somehow won it in 19:01:54. While the distance at UTMB isn't always exactly the same, this record is WAY faster than any other winning time except for 2010 and 2012, when the race was just 88km and 103km. If you look at all the other years that the race has been at least 153 km (95.1 miles), the next best winning time is more than an hour slower (20:05:49) and that came in 2003 when the race was just 153 km. But that's not a super great mark if you factor in how short it was.
The next-best winning time for a race over 160km is the 20:11:44 that D'Haene himself put up in 2014 to win UTMB on a course that was also 167 km. If we try to find someone not named D'Haene, then the best time in a year where the race was more than 160km belongs to the great Kilian Jornet. The fastest of Jornet's two UTMB wins was 20:36:43 from 2011, when the course was 170 km — 3km longer than what D'Haene ran. But 170 km is only 1.8% farther than 167km. So let's be generous and subtract 2% from Jornet's time — that's 24:44 — giving Jornet a theoretical finishing time for 167km of 20:11:59 – just slower than D'Haene's second-best time of 20:11:44.
So making a long story short, D'Haene's 19:01:54 winning time from 2017 is more than an hour faster (69:50) than any other winning time on UTMB if we convert everything to a 167km distance. That's absurd. The 2nd-best mark on UTMB is 6.12% slower than the best mark. That's unreal.
Why we don't think this record is the GOAT: The course isn't the same year to year, so you're not exactly comparing apples to apples. Plus, a top ultramarathon pro sent us an email stating, "The weather varies so much that if you got a year with perfect weather for 24 hours the time could come way down."
Update: In that light of showing you much of a difference the weather can make, we've been alerted to the fact that the 2nd, 3rd, 4th and 5th placers in 2017 all ran faster than 20:11:44 – D'Haene's second best winning time from 2014. One ultra expert that emailed us said the following about the race, "So it was just a fast day and a shorter course. Also keep in mind in a 170k ultra, an extra 3k can be 30+ minutes, easily. Even the top guys are absolutely jogging at that point. I think we need another ten years of UTMB times to really see if it's that impressive."
2017 Top 5 UTMB Results (Via irunfar.com)
Kilian Jornet (Salomon) — 19:16:38 (post-race interview)
Xavier Thévenard (Asics) — 20:03:14 (pre-race interview)
Jim Walmsley (Hoka One One) — 20:11:38 (post-race interview)
Even if that's not true, we don't think the greatest record should come from an event like UTMB. Not that UTMB isn't a great event but it requires a very special skill set as one is basically mountaineering for much of it. In ultras, one can be a mountain specialist much like one can be a clay court specialist in tennis. We actually like the French Open analogy for tennis. If you never win it, it's definitely a major hole on your resume (that means you, Pete Sampras), but we don't want to anoint a clay court record as the greatest ever.
Come back on Monday and see our GOAT record. In the meantime, talk about ultras on our world famous message board or shoot us an email at ultras@letsrun.com.
Next Week's Discussion: *MB: Who are the greatest ultramarathon runners in history?
This Week's Discussion: *MB: What are the best ultramarathon records?
Final Week's Discussion: *MB: What are the best ultras in the world?