Mo Farah Says Training Has Been "Perfect," Expect an 61:20-5 Opening Half, & More From London Marathon Media Day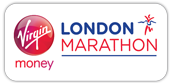 April 28, 2019
By Jonathan Gault
April 24, 2019
LONDON — LetsRun.com has boots on the ground in the British capital ahead of the 2019 Virgin Money London Marathon, and believe it or not, there was news to report other than the feud that erupted between distance running legends Mo Farah and Haile Gebrselassie: LRC Haile Gebrselassie Fires Back At Mo Farah, Accuses Him of "Disgraceful Conduct," Says Sir Mo Was Reported For Attacking A "Married Athlete" In Hotel Gym.
Farah spoke about his fitness and expectations for Sunday's race, Patrick Sang gave the perfect explanation of what it's like to watch his star athlete Eliud Kipchoge in the marathon, and I caught up with half marathon world record holder Abraham Kiptum and Great Britain's Callum Hawkins, who is shooting for 2:07 or faster. Insight and video interviews below (today was men's media day; we'll have more on the women tomorrow):
1) Mo Farah is guarded but optimistic
Article continues below player
Press conference emcee Tim Hutchings said that 61:20-61:25 is the number he's heard for the opening half split on Sunday — subject to change depending on the weather, which is currently calling for 11 mph winds.
That's slower than last year (when the race went out in 61:00 after an insane 4:22 first mile and 13:48 first 5k) but still on pace to run faster than any man but one has ever run. That man, of course, is Eliud Kipchoge, and he is the man that everyone will have to beat in London on Sunday.
No one has beaten Kipchoge in a marathon since September 2013, but the London organizers are hyping up Mo Farah as the man who finally be able to do it. They had Kipchoge and Farah pose together at the photocall in front of Tower Bridge as if they were preparing for a heavyweight title fight. The principals don't quite view it that way — they were asked to stare each other down seriously, but could barely hold that pose for a few seconds without laughing or play fighting.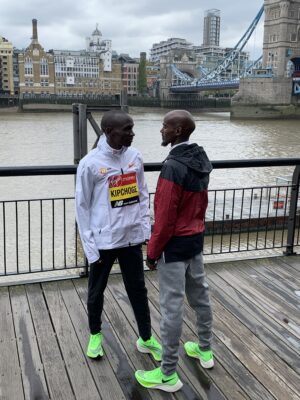 Fight breaks out between world's two greatest distance runners at London Marathon media day! pic.twitter.com/mI182giOri

— Jonathan Gault (@jgault13) April 24, 2019
Farah said that his buildup in Ethiopia went very well, aside from one incident (he was robbed while staying at Haile Gebrselassie's hotel in Ethiopia).
"It's gone well in terms of running," Farah said. "In terms of training, it's perfect. I couldn't ask for better training."
But even perfect training might not be enough to defeat the greatest marathoner of all time. Farah learned in his Chicago victory last year that he prefers to wait until late in the race to make his move in the marathon, but that strategy may not work against Kipchoge: if Farah lets Kipchoge go early on, the Kenyan may never come back to him.
So will Farah go with Kipchoge if he goes out in 61:20? He wouldn't commit either way. Last year, Farah felt as he had no other choice than to go out with the leaders when the planned 61:00 group and 61:45 group ended up merging into one big 61:00 group.
"I looked around," Farah said. "Nobody's there. I had no choice but to go with that."
Farah wound up running 2:06:21 the hard way in 2018. But it will take faster than that to win on Sunday. I asked him: can he run 2:02 or 2:03 if that is what is required?
"Chicago was 2:05," Farah said. "I know I can run 2:05. I know I can run 2:04 something. But it's different. In the marathon, you have to control and you have to go through and at the end, for me, it does suit me to finish quick towards the end. But it all depends on what happens during the race. It changes everything. As you saw last year, if you go from so fast the first half, it's impossible to finish faster than what you did the first half and you do pay the price."
2) Patrick Sang said that Kipchoge is "close to the same level" as he was at 2018 Berlin
I chatted with Kipchoge's coach Patrick Sang, who confirmed that Kipchoge is "close to the same level" as he was when he broke the world record in Berlin last year, but he was quick to add that that doesn't guarantee he's going to run 2:01 again.
"The external factors will determine the final time," Sang said.
London has been billed as a Farah/Kipchoge showdown, but often when watching Kipchoge compete, it's as if he's running a completely different race from everyone else. Sang verbalized that better than anyone I've heard:
"Athletes compete against themselves," Sang said. "They don't compete against somebody else. Unless you have equal talents. If you want to assume you have equal talents, then you are competing against the athletes. But you know, we have different talents, different mindsets as far as the event is concerned. So to me, I think individual athletes compete against what is possible within them."
I also asked Sang about Cyrus Rutto, the 2017 World Championship 5,000-meter finalist who was recently provisionally suspended for an Athlete Biological Passport violation. Rutto, who is coached by Sang and is part of agent Michel Boeting's group in Kaptagat (his training very rarely overlaps with Kipchoge as the two live in different camps and train for different events), has denied doping, and Sang said that he did not want to talk about it until he had more information:
"I don't have even the facts to comment about it," Sang said.
3) Half marathon WR holder Abraham Kiptum said a 61:20 first half would be "no problem" for him
I spoke briefly with Kiptum as well and he said he's aiming to run a personal best on Sunday. London will be his seventh career marathon, but his World Marathon Major debut; his official pb is 2:05:26 from 2017 Amsterdam.
Despite that 2:05 pb, Kiptum was virtually unknown (he was only 3rd in Amsterdam) until October, when he ran a shocking world record of 58:18 in the half marathon in Valencia. Kiptum said that he didn't go into the race expecting to break the WR, but after 5k, he told himself "I'll push it, I'll push it." He wound up pushing it all the way to 58:18.
Kiptum followed up Valencia with a runner-up finish in the inaugural Abu Dhabi Marathon in December, where he ran 2:04:16. But that time won't count as his personal best as the course in Abu Dhabi was found to be at least 190 meters short. Interestingly, Kiptum was not aware of that fact; Helmut Winter, who, along with Sean Hartnett, definitively proved that Abu Dhabi was short in February, was in London today and asked Kiptum if he knew Abu Dhabi was short. Kiptum told him he had no idea.
Even though Abu Dhabi was short, there is reason for himi to be confident in a PB as the man who won Abu Dhabi in 2:04:04, Marius Kipserem, recently ran 2:04:11 in Rotterdam.
As for Sunday, I asked Kiptum about the proposed 61:20 first-half split. He reacted with mock surprise before coolly responding, "No problem. I'll be there. I'll be ready."
Since Kiptum has run over three minutes faster for that distance, you can forgive him of being afraid of a 61:20. Let's see how it goes; perhaps he will be after he runs the second half on Sunday.
4) Brit Callum Hawkins is in the shape of his life
US fans of a certain age may remember Hawkins for the two years he spent at Butler University (2010-12), where he finished 26th at NCAA XC as a sophomore in 2011. However, Hawkins, now 26, wound up returning to his native Scotland at the end of that academic year to resume training under his father Robert, in part because he had to undergo knee surgery and in part because he had dug himself into an "academic hole."
"College lifestyle messed up my academics a bit," Hawkins said. "I just enjoyed myself a bit too much my freshman year and didn't do the uni part of it."
Most fans now know Hawkins as Britain's top distance runner outside of Mo Farah — he finished 9th in the 2016 Olympic marathon, 4th at Worlds the following year, and owns pbs of 2:10:17 and 60:00 in the half. Hawkins will be trying to revise the former number on Sunday, and Hawkins expects to chop off a significant amount of time.
"[The] plan is to go out at 63:30, so 2:07 pace, and either speed up or keep going," said Hawkins.
Obviously in London, 2:07 isn't going to be nearly enough to win, but for a Brit, it's very fast: only nine Europeans (and just one Brit) have ever broken 2:07. Five of those men were born in Africa (Hawkins was born in Elderslie, 11 miles west of Glasgow).
Looking at Hawkins' recent results, 2:07 or faster might seem like a stretch. He hasn't finished a marathon since the World Championships in August 2017, as he collapsed with under two miles to go while leading the Commonwealth Games in April 2018 before withdrawing from Fukuoka in December with a hamstring issue. This year, he's run two races, neither of them particularly impressive: 28:55 for 19th in a road 10k in Valencia in January and 62:52 at the Lisbon Half Marathon on March 17.
But Hawkins, who spent a month in Flagstaff during his buildup and the last three weeks in Mallorca, has been logging some killer times in his recent training sessions. Three in particular stand out: a 16-miler at marathon pace, during which he split 63:07 for 13.1 miles, a 4 x 5k (1k float recovery) interval session, the slowest of which was run in 14:45, and a 14-mile workout (6 miles marathon pace, 1 mile tempo, 6 miles marathon pace, 1 mile tempo) during which he split 62:17 for 13.1 and closed in 4:28.
So why the subpar showing in Lisbon? Hawkins said that he came into that race off several weeks of heavy mileage (125-130 per week) and still felt "loaded." That, and a headwind during the second half made for a tough day.
Hawkins' ultimate goal is the 2020 Olympics (though he'll also be looking for selection for the 2019 Worlds; the top two Brits here earn spots on the team), so I asked him if he was concerned by the conditions in Tokyo. Even at 6 a.m. (the start of the race), the average weather on August 9 in Tokyo over the last 10 years has been brutal: 78 degrees Fahrenheit, a dewpoint of 73, and 85% humidity.
Hawkins thinks that if the conditions are like that or how they were in Gold Coast last year for the Commonwealth Games, the Olympic marathon will just be "survival."
"I think the biggest thing is going to be the sun," Hawkins said. "I found that in the Gold Coast, the sun was probably the biggest factor. Because it said it was 28 degrees (82 F), but I reckon it must have felt like 35-40 (95-104)."
Hawkins, like us at LetsRun.com, thinks that running the Olympic marathon at night is a good solution.
"Can you imagine a midnight marathon in Tokyo?" Hawkins said. "I've been to Tokyo at night, it's one of the most beautiful cities you can be in, just with all the lights and everything. I think it would make a great spectacle."
But even if it stays in the morning, Hawkins said that he would not consider opting out of the race — even with after episode in Gold Coast.
"No," Hawkins said simply. "It's the Olympics."
Full pre-London interview with Callum Hawkins