Haile Gebrselassie Fires Back At Mo Farah, Accuses Him of "Disgraceful Conduct," Says Sir Mo Was Reported For Attacking A "Married Athlete" In Hotel Gym
By LetsRun.com
April 24, 2019
LONDON — Two of the greatest distance runners in history are squaring off this week.
It's just not the two we expected.
Four-time Olympic champion Mo Farah is set to take on marathon GOAT Eliud Kipchoge in Sunday's London Marathon. But before their high-profile matchup, Farah launched a volley at two-time Olympic champion Haile Gebrselassie at today's opening press conference, saying that he was "disappointed" in Gebrselassie after Farah allegedly had over $3,000 in cash, two phones, and a watch stolen from his hotel room in Ethiopia. Farah spent three months at the hotel, the Yaya Africa Athletics Village near Ethiopia, which is owned by Gebrselassie, while training for London.
Article continues below player.
That looked set to be the oddest moment of the day before Gebrselassie issued his response a few hours later Wednesday evening.
Gebrselassie started by defending his hotel, saying all guests are asked to declare any cash over $350 so they can give be given a safe but Farah declined to do so. As a result, Gebrselassie says the hotel isn't legally accountable in the matter. That being said, once the hotel learned of the alleged theft, Gebrselassie says they immediately reported it the police and five of his employees were taken into police custody three weeks before being cleared. Gebrselassie says they also gave Farah a 50% discount on the bill even though in his mind they bore no legal responsibility for the theft — a bill of $3,000 which Gebrselassie says Farah has so far refused to pay.
Gebrselassie went on to accuse Farah and his entourage of multiple instances of "disgraceful conduct" during their stay before leveling a salacious accusation: that Farah was reported to the police for "attacking [a] married athlete" in the gym, with the charge dropped only after Gebrselassie intervened.
The full press release, which was brought to our attention by Ethiopian journalist Bizuayehu Wagaw (@buzi2011) and was sent to several journalists, is below. Gebrselassie's manager Jos Hermens confirmed to LetsRun.com that the press release comes from Gebrselassie.
Update #2: The man allegedly struck by Farah has said this was all 'minor' Victim of Mo Farah's Alleged Attack Says His Altercation with Farah Was "Minor" & That His Wife Was Not Struck
Update: Farah has responded to Gebrselassie's statement with a statement of his own as described by The Telegraph. It reads in part, "Mo disputes all of these claims which are an effort to distract from the situation, where members of his hotel staff used a room key and stole money and items from Mo Farah's room."
Talk about this article on our world famous fan forum / messageboard. MB: Mo Farah says someone stole money & jewelry from his bag while he was staying at Haile G's hotel in Ethiopia.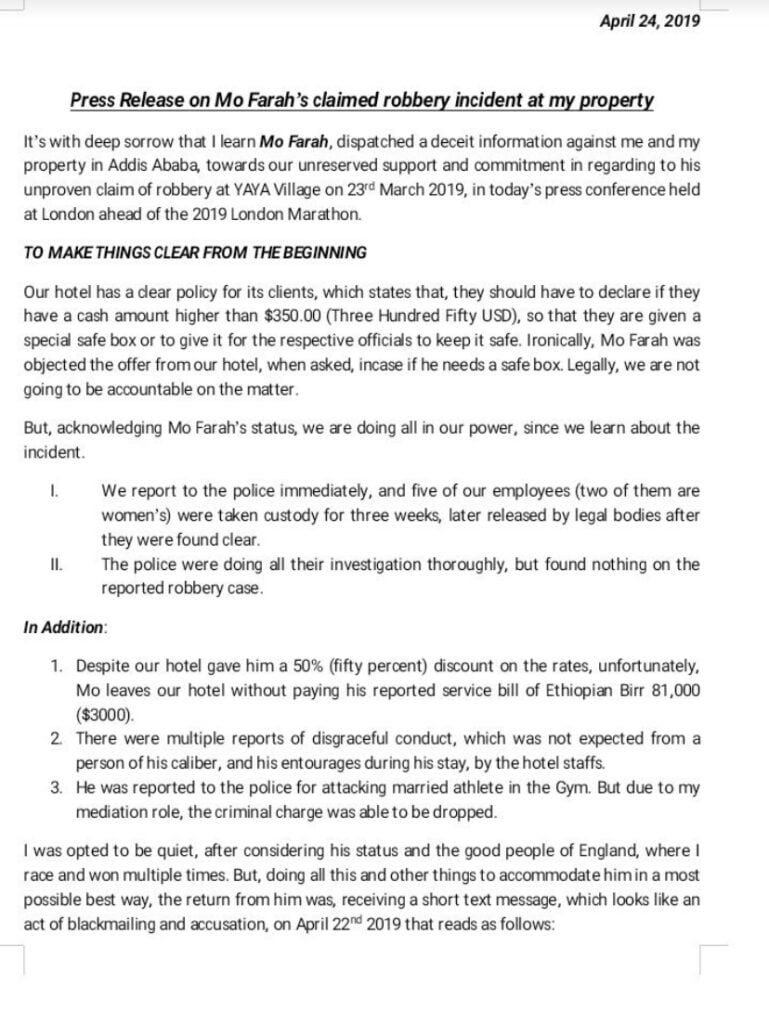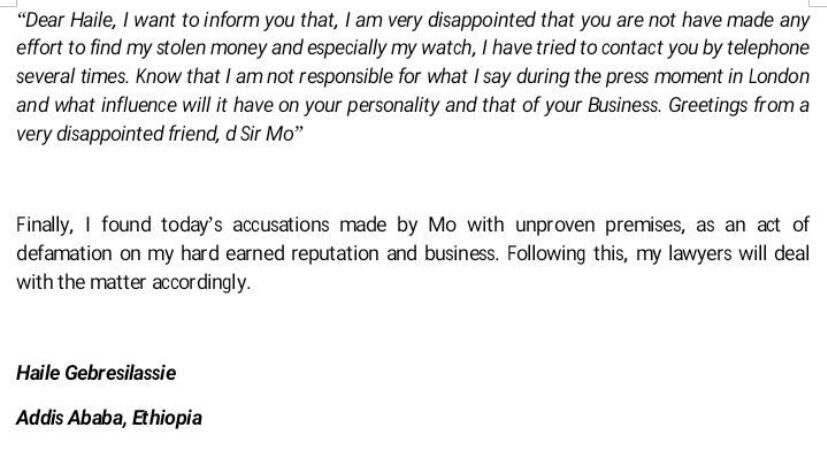 More: Previous: LRC Mo Farah Really Wants You to Know He Was Burglarized at Haile Gebrselassie's Hotel
*MB: Mo Farah says someone stole money & jewelry from his bag while he was staying at Haile G's hotel in Ethiopia.
Mo Farah rails at Haile Gebrselassie over Ethiopia hotel theft https://t.co/QCJ6CmzDnj
Haile Gebreselassie respond with this press release @guardian @letsrundotcom pic.twitter.com/9yyQKDDeqy

— Bizuayehu Wagaw (@buzi2011) April 24, 2019