Who Is New Half Marathon World Record Holder Abraham Kiptum, And How Did He Run So Fast in Valencia?
By Jonathan Gault
October 29, 2018
Yesterday, the running world was abuzz with the news out of Valencia that 29-year-old Kenyan Abraham Kiptum had broken Zersenay Tadese's eight-year-old world record by running 58:18 to win the Valencia Trinidad Alfonso EDP Half Marathon.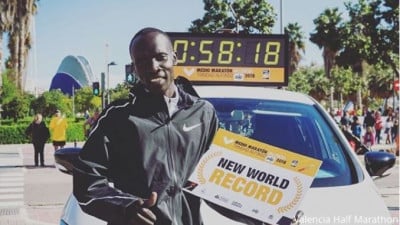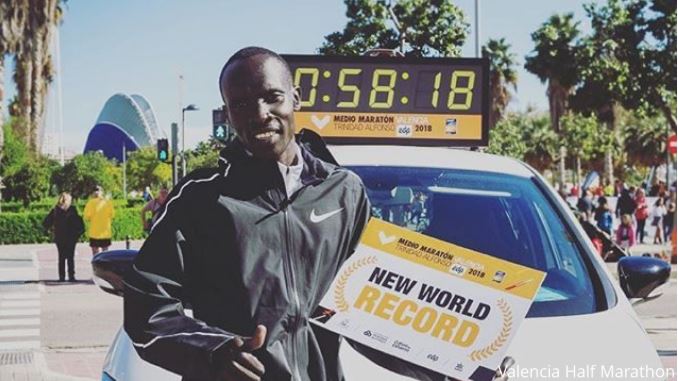 Yet almost as incredible as the performance is how little is known about Kiptum. In what other sport can someone break a major world record and 99% of the fanbase does not know who he is? Steve Pearce, the newly-christened World Series MVP for the Boston Red Sox, is hardly a household name, but a quick Google search reveals all you could want to know. He graduated from Lakeland (Fla.) High School in 2001. He spent the summer of 2004 playing for the Cotuit Kettleers of the Cape Cod Baseball League. When he played Wiffle ball as a kid, he pretended he was former Red Sox slugger Mo Vaughn.
But in long-distance running, where many top athletes hail from rural villages in East Africa, it's possible to approach the pinnacle of the sport without any name recognition. At the Dubai Marathon, the richest race in marathoning, it has become an annual tradition for an unknown Ethiopian to claim the $200,000 first-place prize. Just last month, another anonymous runner, Kenyan Emmanuel Saina, ran 2:05:21 in Buenos Aires — the fastest marathon ever run in South America. And unless you're a race director or an agent, you had probably never heard of Abraham Kiptum before yesterday (and here is where I, a man whose full-time job is to cover professional running, confess that I had never heard of him either). Recaps of Kiptum's race contained little about him beyond what his Tilastopaja profile revealed.
Article continues below player.
Part of this is because the development system in Kenya is not streamlined as it is in the United States. The best runners in American high schools compete at Foot Lockers or Nike Cross Nationals, and all of their times are logged on databases like Athletic.net. From there, almost every significant American distance runner comes through the NCAA system, and the exceptions — like Alan Webb or Drew Hunter — are more well-known in high school than most runners are in college. Contrast that to the story of former marathon world record holder Dennis Kimetto, who was discovered by Geoffrey Mutai while he was running on the side of the road in Kenya. Could you imagine Alberto Salazar discovering Galen Rupp just because he happened to see him running around the streets of Portland?
Of course we, collectively as the running media, can also do a better job of studying results and learning about emerging talents. So what do we know about Kiptum? Well, his agent is Spaniard Juan Pineda, whose other clients include, per his IAAF profile, Ethiopians Gelete Burka and Genzebe Dibaba, Kenyans Benjamin Kigen and Mathew Kisorio, and Bahrainis Sadik Mikhou and Salwa Eid Naser.
Pineda says he met Kiptum at the Rabat Marathon in April 2015, where he ran 2:11:36 for third in his marathon debut (in addition to it being his marathon debut, this is the first entry on his Tilastopaja profile).
"He was position 3, but when I saw him run he surprised me a lot, under my opinion he run technically perfectly," Pineda wrote in an email. "I was talking with him and he told me he is coming from a poor family in Kenya and he start late in athletics, but he told me many athletes was telling him he has a good conditions, after this day we meet again in Kapsabet (Kenya) in the place he is training."
Kiptum signed with Pineda at the end of 2015, and on paper, his next two results weren't particularly impressive: a 2:16:21 win at the Lagos Marathon and a 61:52 win at the Rock 'n' Roll Madrid Half Marathon. But Kiptum won both races and Pineda knew he was capable of more: Lagos had been contested in hot and humid conditions, while the Madrid course was hilly and challenging. Finally, in the fall of 2016, Kiptum got in a fast race in Copenhagen and responded with a huge personal best of 59:36 for the half marathon.
In 2017, after winning again in Lagos (2:15:23), Kiptum began training under Joshua Kemei, the husband of Olympic marathon silver medalist Eunice Kirwa.
"He was training well for half marathon because he is very fast but the problem was the preparation for the full marathon because he was training in Kapsabet with a group but not with a clear coach," Pineda says.
Pineda says Kemei instilled a "real focus" in Kiptum's training and that fall he ran his personal best of 2:05:26 to finish third in the Amsterdam Marathon. He followed that up with a 2:06:29 win in Daegu in April 2018, and had planned to run Chicago in the fall, but Pineda says that Chicago did not take him because "his credentials were not good enough." Instead, he is targeting the inaugural Abu Dhabi Marathon on December 7. Kiptum and Pineda decided he would run two half marathons during his preparation.
"Abraham is very competitive and he need[s to] test his body to get more confidence," Pineda says.
The first came in Copenhagen on September 16, and while Kiptum ran a pb of 59:09 to finish second, Pineda knew there was more in the tank.
"His coach and me, we know he is in shape in this moment but not in 100%," Pineda says.
But it's a long way from 59:09 to 58:18. For the full story of how Kiptum ran so fast in Valencia, we have to turn to another man.
***
As the race director of the Valencia Trinidad Alfonso EDP Half Marathon, Juan Manuel Botella has had a lot be proud of in recent years. In October 2017, Joyciline Jepkosgei ran 64:51 to set the women's world record in Valencia. In March, he served as the general director of the World Half Marathon Championships in Valencia, where Geoffrey Kamworor used a 13:01 5k split from 15k to 20k to power to victory in the men's race and Netsanet Gudeta ran 66:11, a world record for a women's-only race.
The results from Valencia on Sunday surpassed both of those races. Three men broke 59 minutes — only the third time that had happened in the same race. Ten men broke 60 minutes (nine of them under 59:30) — that had never happened before. Up front, Kiptum wasn't the only man to run historically fast; Ethiopia's Jemal Yimer ran 58:33 for second to move into a tie with Sammy Wanjiru as the third-fastest half marathoner ever.
Botella takes his job seriously. I know this because he told me. Back in January, LetsRun.com co-founder Robert Johnson and I wrote a preview of the Dubai Marathon. The preview included a throwaway line about Ethiopian runner Fikadu Haftu, who had run a half marathon personal best of 59:22 in Valencia last year: "Maybe someone should check Valencia to make sure it was actually 13.1 miles as the 59:22 for Haftu is a HUGE outlier from everything else in his career."
That night, there was an email from Botella in the LetsRun inbox. Title: Yes, Valencia HM is 13,1 miles
"It hurts me to read in your preview of the Dubai Marathon [those] ironic words," Botella wrote. "Your comment ironically questioning the correct measurement of our race is unfortunate and saddens me. Our races are IAAF's Gold Label, measured by international AIMS and IAAF professionals, controlled by international judges, and just this year, due to the world record of Joyciline Jepkosgei, the distance must be ratified in few weeks. Perhaps then you believe Valencia have the correct distance?
"Please, do not joke or speculate about the commitment of Valencia with certified distances. Know us before make a joke about us. We love clean and reglementary Athletics. We aren't like as another. We do not want records at any price. Without honesty or integrity, we do not want anything."
So after Kiptum's world record on Sunday, I emailed Botella to ask why he thought the world record went down. His response:
"Why? I think the course (95% the same of the WCH in March) is very flat and fast, and the weather today in Valencia has been perfect for long distances. A big storm the night before [left] the atmosphere clean and fresh."
But Botella knows the sport, and he knows that whenever someone produces an unbelievable performance, there will be those who question whether it was achieved legally. Botella has a response to those people.
"Every time a WR is beaten here (3 times between 2017 and 2018), it is ratified by a re-measurement for IAAF. In the Worlds we, as organization, donated 50,000 dollars to the [Athletics Integrity Unit] and [on Sunday there were] 16 [doping] controls (and on Saturday 11 more at the hotel of the elite athletes by surprise). And if someone gives positive will never step on our races. We love athletics. We don't like cheats. We don't want records if we must pay [prizes to cheats].
"We are not naïve and we know that there [is] cheating and doping in athletics. But we, as organization, work to be just the opposite. Please, do not confuse us with the bad guys. If tomorrow any athlete is positive in our races, we will be the first to repudiate him. And if in the IAAF remeasurement there is one meter less, we will ask for forgiveness one by one to the 13,800 runners who participated today and we will die of shame."
Botella is so committed to his race's reputation that he even offered to fly someone from LetsRun.com out to Valencia, all expenses paid, to inspect the course. The signoff line to his pitch: "Welcome to Valencia: the city who loves running and transparency."
One other factor that should not be overlooked: Kiptum appears to have worn the Nike Vaporfly 4% shoes, and there is a growing belief in the sports performance community, bolstered by a study by the New York Times, that those shoes could be responsible for some of the fast times we've seen on the roads this year.
"What shoes was he wearing?'" wrote sports scientist Ross Tucker after the race on Twitter, "[is] now added to a list of questions asked. One that includes 'Wonder if he's been tested?'"
We don't know exactly how much the shoes were worth, though that may change as data continues to accrue. We can't know whether he's clean — Kiptum alone knows that. What we do know: Kiptum ran 58:18 in Valencia on Sunday. We also know that his world record may not stand for very long: five men have broken 58:45 in 2018 — the same number of people who had ever accomplished the feat prior to this year.
And, thanks to Valencia, we know one more thing. We know the name Abraham Kiptum.
---
Talk about Kiptum on our world famous fan forum / messageboard. MB: Meet new Half Marathon WR Holder Abraham Kiptum – Turned down by Chicago, he ran a half marathon instead and broke the WR!!
---
Note: All the photographs in this story except for the WR one are from the 2017 Lagos Marathon.