2019 Boston Marathon Report Cards: Ranking the Top 10 & the Americans, A Through (DN)F
By LetsRun.com
April 18, 2019
With the 2019 Boston Marathon behind us, it's almost time to start salivating over the awesomeness that is next week's London Marathon, which features Eliud Kipchoge vs. Mo Farah and Americans Molly Huddle and Emily Sisson taking on the greatest female marathon field ever assembled.
But now that we've had a few days to digest Boston, we thought it would be good to take one last look at the race and assess everyone's performances before shifting our focus to London. Below, we've handed out letter grades to every top-10 finisher in the men's and women's races, as well as some top Americans who finished outside the top 10. Obviously if we were going strictly by finishing place, there would be no need to perform this exercise, so grades are subjective — we awarded them based on pre-race expectations and the runner's past performances.
Article continues below player
Men's Grades
1. Lawrence Cherono – 2:07:57 — A Winning the race is the ultimate goal, but the fact that the outcome was still in doubt with 50 meters to go means that we're giving Cherono an A rather than an A+. That said, it was a big deal for Cherono, who has cleaned up at the non-World Marathon Majors in recent years, to win his first World Marathon Major. It will likely not be his last.
2. Lelisa Desisa – 2:07:59 — A- Desisa ran a fine race on Monday — his 2:07:59 was the fastest he's ever run on Boston in six attempts, including two victories. But when you've won Boston twice and are the reigning NYC champ, anything other than a victory is going to be disappointing.
3. Kenneth Kipkemoi – 2:08:07 — A- Kipkemoi, the 2018 Rotterdam champ, was 4th in his major debut last fall in Chicago and was third after battling for the win in the final mile in Boston. A nice step forward.
4. Felix Kandie – 2:08:54 — B+ Kandie's 4th matched his previous major finish, a 4th in Berlin in 2017. Cherono and Desisa are both studs, and he beat a stud in Geoffrey Kirui, but missing out on the podium means we can't give the 2:06 man an A.
5. Geoffrey Kirui – 2:08:55 — C The expectations were high for a man who had finished 1st and 2nd in the last two Boston Marathons. 5th was not a disastrous result by any means, but pair that with a 6th in Chicago last fall and Kirui has fallen out of the "best marathoner not named Kipchoge" discussion.
6. Philemon Rono – 2:08:57 — B 6th is about what you'd expect for Rono, who owns a 2:06:52 pb and two Toronto wins. A good rebound from a rough 2018, which saw him DNF Boston and finish just 9th in Toronto.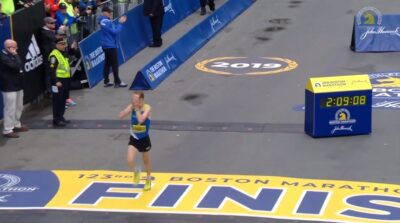 7. Scott Fauble – 2:09:09 — A Fauble's coach Ben Rosario gave him "a big-time A+" for his run on Monday, and the performance was undoubtedly a very good one, with Fauble the only American able to hang with the leaders through the Newton hills.
Breaking 2:10 was a big deal, and Fauble crushed the barrier, skipping the 2:11s and 2:10s entirely (and almost the 2:09s as well) to run 2:09:09. But we can't quite give him an A+ as he was only 7th in the race — a solid result for sure, but the same place as he finished in New York last fall (albeit the Boston field was deeper). Had Fauble cracked the top five — one of his pre-race goals — he would have earned an A+.
Fauble was a very good runner in high school (17th at Foot Locker finals) and college (two top-15s at NCAA cross), but never in the discussion of top runners in America. He's now atop the US marathoning ranks, albeit just temporarily until Galen Rupp returns to action.
8. Jared Ward – 2:09:25 — A- Ward works as a statistics professor at BYU, so perhaps it should come as no surprise that he correctly graded his effort on Monday, telling us after the race that he deserved "at least an A-."
"I don't feel like I was firing on all cylinders perfectly and it was a hard last four or five miles…I knew I could run 2:09 and that kept me going at the end," Ward said.

Ward could have picked up some extra points by beating Fauble or cracking the top five, but it's hard to call Monday's run anything other than a success. That being said, Ward beat Fauble in NYC off a far from ideal buildup so losing to him here wasn't a positive for Ward.
9. Festus Talam – 2:09:25 — C+ There are two ways to look at Talam. He finished behind both Ward and Fauble in his WMM debut last fall in NYC, so perhaps it's not totally surprising he was beaten by them in Boston as well (Ward nipped him at the line). In the opposite direction, Talam has twice won Eindhoven, never ran slower than 2:07:10 in his first three marathons, and owns a 2:06:13 pb, so why in the heck is he losing to two Americans who are just 2:09 guys? We lean more towards the latter.
10. Benson Kipruto – 2:09:53 — B- We ranked Kipruto the ninth-likeliest person to win Boston, and he finished 10th. He will have been shooting for higher after winning Toronto last year, but on paper he was not a serious podium contender.
Americans outside the top 10
11. Elkanah Kibet – 2:11:53– B+ This was a step in the right direction for Kibet, who ran his fastest marathon since his debut in Chicago in 2015 (2:11:31). Finishing 11th and missing the Olympic standard with a top-10 finish by 1 spot was tough on Monday (he would have needed to break 2:10 to do it), but that's what it would have taken to earn an A.
13. Augustus Maiyo – 2:12:40 — B+ Maiyo was 7th in Boston two years ago, yet despite running 36 seconds faster in 2019, he finished six places lower. His 2:12:40 was a PR (that's good) but, like Kibet, he missed out on the Olympic standard.
15. Shadrack Biwott – 2:13:11 — D+ Biwott was 4th and 3rd the last two years in Boston, so it's hard to call his 15th-place showing on Monday anything other than a disappointment considering he finished in the top 10 in his previous five WMM appearances. That being said, his time of 2:13:11 was only 63 seconds slower than he ran to take 4th in 2017 and only 70 seconds off his pb, but on this day it wasn't nearly fast enough.
19. Dathan Ritzenhein – 2:16:19 — C- These grades are based on expectations. If Ritz wasn't nearing the end of his career at 36 and if he had finished a marathon in the last four years, we'd give him an F for running 2:16 as a 2:07 guy. But Ritz scores higher than Biwott for simply finishing the marathon — a small victory in and of itself for a man who had not completed 26.2 miles since 2015. Ritz ran like he belonged for the first half, as he was only 13 seconds back of the leaders at halfway. But his finish was disastrous (he ran 19:13 5k pace from 35k to the finish), and that has to be taken into account. Ritz didn't come to Boston just to finish; he came to run well, and he didn't.
20. Brendan Gregg – 2:16:46 — B He's a 2:18:30 guy that ran 2:16:46. We always say you can't complain too much if you run a PR, but he reminds us of LetsRun.com co-founder Weldon Johnson. A low 28-minute guy (Gregg's PB is 28:03) would hopefully be running sub-2:15 in the marathon, 2:12-2:14 would be nice.
26. Stephen VanGampleare – 2:18:40 — A+ VanGampleare finished 26th overall — the top finisher from the non-elite start. He won the wave 1 race with a big pb of 2:18:56 (his ob coming in was 2:24). It's a shame Boston started wave 1 two minutes behind the elites.
27. Abdi Abdirahman – 2:18:56 — B+/F We're giving Abdi two grades here. The first is his masters grade as a 42-year-old and the second is a grade for his Olympic team aspirations.
There's no shame in winning the masters title in Boston with a 2:18:56. But if you are talking about a regular pro, some might think it's time for the Black Cactus to hang 'em up. After a DNF last fall in NYC, he could only manage 2:18:56 for 27th in Boston.
But it's highly unlikely Abdi hangs them up prior to the Olympic Trials. He said his recent training with Mo Farah went well, and Ryan Hall agreed. No US male track & field athlete — not Carl Lewis, not Frank Shorter, not Jesse Owens — has made five Olympic teams. If Abdi were to somehow make the team in 2020, he'd be making history as he made the US teams from 2000 through 2012.
42. Tim Ritchie 2:24:54 — D Ritchie entered the race having run less than 26.2 miles in his final two weeks of training due to a hip injury. So, like Ritzenhein, even finishing the race was an achievement, even if he only ran 2:24:54. Perhaps one year Ritchie, a 2:11 man and a Massachusetts native, will finally have a good day in Boston — he ran 2:21 for 25th in 2013 and was a DNF last year in the cold rain.
DNFs — Brian Shrader, Jeff Eggleston
Women's Grades
1. Worknesh Degefa – 2:23:31 — A Degefa had the fastest PR coming in, by a lot: her 2:17:41 from Dubai in January was over two minutes faster than any other woman in the field. The concern was whether Degefa, whose three career marathons had all come in Dubai, would be able to handle the challenging Boston course.
Degefa, who had never seen the course before Monday, was far from intimidated as she attacked within the first five miles, building up a lead of almost three minutes by 30k; despite slowing down late, she still won by a comfortable 42 seconds. Her World Marathon Major debut was a big success. If we're going to nitpick, it's that her second half of 72:51, admittedly run solo, wasn't super impressive.
2. Edna Kiplagat – 2:24:13 — A- Like men's runner-up Desisa, Kiplagat is a former Boston champ, which means goal #1 is to win the race again. In a move similar to the one that powered her to victory in 2017, Kiplagat blitzed the final 5.2 miles after climbing Heartbreak Hill in 27:11 (2:16 marathon pace). The difference was, this time there was a woman in front of her in Degefa. Second is still a strong showing, but we wonder if Kiplagat had moved a mile or two sooner whether she could have caught Degefa after trimming her lead from 2:52 at 20 miles to 42 seconds by the finish.
3. Jordan Hasay – 2:25:20 — A- We gave Hasay an A+ for finishing third two years ago, but she earns a slightly lower grade this time. First, this wasn't her debut: we already knew Hasay was a good marathoner. Second, she ran over two minutes slower: 2:25:20 in 2019 compared to 2:23:00 in 2017. And third she got trounced by 1:07 by Kiplagat over the final 5.2 miles. That said, this was a great sign that Hasay is over the injury issues that plagued her in 2018. She looks ready for even bigger and better things this fall in Chicago.
MB: Let's pump the brakes (a little) on Hasay's 3rd place finish. On a day with good weather, only 2 women broke 2:25 in Boston. 
4. Meskerem Assefa – 2:25:40 — B Assefa entered Boston in great form, having claimed wins in Nagoya and Frankfurt last year, the latter in a PR/CR of 2:20:36. So to finish off the podium is slightly disappointing. But this was better than her last major in 2015 (6th in Chicago) and the women who beat her are all terrific marathoners.
5. Des Linden – 2:27:00 — B Linden showed once again why she's one of the most consistent marathoners on the planet, notching her fifth top-five finish in Boston. But she finished 1:40 behind Hasay, which makes it hard to give her anything more than a B.
6. Caroline Rotich – 2:28:27 — B+ Rotich entered having finished just one marathon since November 2015 (that included three straight DNFs in Boston from 2016-18). So actually finishing the race in 6th was a good sign that the 2015 champ may not be entirely done.
7. Mary Ngugi – 2:28:33– C+ Ngugi, aka Mary Wacera, was making her marathon debut in Boston, a tough task for any runner. Moving forward, someone with her credentials (66:29 half, two World Half medals) should be hoping for much higher than 2:28:33 or 7th in the majors, but for a debut that's not a bad result.
8. Biruktayit Eshete – 2:29:10 — C The 2:23 runner Eshete would have been hoping for more after wins in Houston in 2018 and 2019 and a 2nd in Rotterdam last year.
9. Lindsay Flanagan – 2:30:07 — A Flanagan missed her PR, set in Frankfurt last fall, by 42 seconds, running 2:30:07, but earning the Olympic standard with her first top-10 finish in a major has to be considered a huge success.
10. Betsy Saina – 2:30:32 — C- Saina's marathon struggles continued in Boston as she could only run 2:30:32 for 10th. While she clearly has the talent to succeed (30:07 10k on the track, 2:22 win at '18 Paris), she hasn't been able to put it all together consistently over 26.2 miles.
Americans outside the top 10
13. Kate Landau – 2:31:56 — A+ Landau ran a PR of 2:31 at age 42 to finish as the fourth American. That on its own was impressive. But it's even more impressive once you hear her backstory. A standout prep runner, Landau had a successful NCAA career at Georgetown, placing 2nd in the 1996 NCAA 10,000 final. But she struggled with eating disorders and retired from running after graduating as a result. Over the next 15 years, she told the Tacoma News Tribune in 2016, she estimates she ran fewer than 100 miles. Total.
But Landau returned to the sport in 2013, and she's steadily improved. She won the Portland Marathon in 2016 in 2:38, the Eugene Marathon last year in 2:35, and last fall ran 2:33:29 (her previous PR) to place 8th in Chicago. In January, she won the Miami Marathon, and she took another 1:33 off her PR with her run in Boston on Monday.
15. Sara Hall – 2:35:34 — D We heard coming in that Hall was quite fit, so for her to finish 15th in 2:35:34 — her slowest time and worst finish in five career majors — was disappointing.
16. Becky Wade – 2:36:14 — C Wade ran a surprising 2:30:41 in her marathon debut in 2013 but since then has run between 2:35 and 2:37 in five straight marathons. Moving forward, maybe we should expect a mid-2:30s performance.
18. Hilary Dionne – 2:36:21 — B The 34-year-old Dionne has a 2:34:45 pb from Berlin in 2015 and she ran 2:36:21 on the more difficult Boston course, beating last year's runner-up by a spot in the process.
19. Sarah Sellers – 2:36:42 — B- Even Sellers knew that repeating her 2018 runner-up finish was a pipe dream. Her run on Monday almost matched her 2018 NYC finish (18th in 2:36:37, compared to 19th in 2:36:42 in Boston) — a solid effort despite running with a cramp, though not quite worthy of an A.
DNF Sally Kipyego — Incomplete Kipyego knew she wasn't yet in top shape ahead of the race, but the hope was that she could get a mark down ahead of the Olympic Trials next year. Instead, she struggled with the hills and a calf injury, causing her to drop out around 18 miles. Kipyego will be an interesting dark horse in the 2020 Olympic conversation, but she still has a lot of work to do between now and then. Kipyego was very disappointed with her run, but the good thing for her is she said the training went well.
Update: This article has been updated to include women's 13th-placer Kate Landau, who was omitted from the original version.