Surprise Win For #1163 Belay Tilahun, Domination for World Record Holder Joyciline Jepkosgei At United Airlines NYC Half
By Race Results Weekly, with LetsRun.com analysis at bottom
(c) 2019 Race Results Weekly, all rights reserved
NEW YORK (17-Mar) — Belay Tilahun pulled off a surprise win in the United Airlines NYC Half here today, taking the lead only in the final kilometer to grab the men's title.  Tilahun, who was entered by a local club and started just behind the invited pro athletes, was clocked in 1:02:10. There was no such drama on the women's side, where world record holder Joyciline Jepkosgei won by a full minute after a solo effort over the second half of the race.
This was the 14th running of the event, which featured a hilly, challenging point-to-point course from Brooklyn's Prospect Park to Manhattan's Central Park, finishing in the same spot as the TCS New York City Marathon. More than 25,000 runners competed in the 13.1-mile/21.1-kilometer race.
Article continues below player
Tilahun, a 23-year-old Ethiopian who lives and trains in Addis Ababa, worked his way through the field, outlasting Daniel Mesfun of Eritrea in the final stretch on a cold and sunny morning. Temperatures were barely above freezing (35F/2C) as the race began, with Americans Paul Chelimo and Parker Stinson making brief attempts to control the pace in the opening two miles/3 kilometers.
Mesfun, who set a personal best 1:01:13 to win the Humana Rock 'n' Roll Arizona Half Marathon in Tempe, Arizona, in January, bolted to the front just past two miles and continued to lengthen his gap on the field. He hit 5-K in 14:43 and by 10-K (29:09), he was eight seconds ahead of Chelimo, the 2016 Olympic silver medalist in the 5000 meters who was making his half marathon debut. Tilahun had moved into third by 10-K (29:22) and was soon running with Chelimo.
At 15-K Mesfun (43:49) still had a lead of more than 20 seconds and appeared on his way to a comfortable victory. But over the final miles in Central Park, Tilahun suddenly surged into view, and with Mesfun clearly fading, seized his opportunity. Mesfun's lead was down to just two seconds at 20-K (58:53) and he could not respond moments later when Tilahun came flying by. The Ethiopian broke the tape in 1:02:10, with Mesfun (1:02:16) just ahead of the fast-closing Chelimo (1:02:19).
"When I came here I was confident that I had it in me to win," Tilahun said through an interpreter. "Starting from about 15-K I was using everything I had, and I thought with about two kilometers to go I could catch him." Though he has impressive credentials– including a 27:11.83 PR for the 10,000 meters from 2016 and a win at the São Silvestre Road Race 15-K in São Paulo, Brazil, last New Year's Eve– Tilahun did not come to the start line as part of the invited pro field. He wore bib 1163.
Chelimo experienced a series of weather-related travel delays on his journey from his home in Colorado Springs, Colorado. He arrived in New York City in the early morning hours of Saturday, but remained determined to score a win in his debut. "I think I'm very fit, but the New York Half is no joke," he said. "I'm used to the track [and this course was] just up and down and up and down, the terrain was hilly, flat, hilly, so I didn't have that turnover." Coming off the highest mileage of his career, he was using the event to improve his strength for the track, where he hopes to race the 5000/10,000 double at this year's IAAF World Championships in Doha, Qatar.
Olympic marathoner Jared Ward finished fourth in 1:02:33, leading a wave of American runners as the next seven finishers across the line, including Noah Droddy (fifth in 1:02:39) and Brogan Austin (sixth in 1:02:41). Defending champ Ben True finished 10th in 1:02:56.
LRC analysis following the women's recap.
The professional invited women, who had a 12-minute head start on the rest of the field, ran a conservative pace in the early kilometers in Brooklyn, just under 6 minutes for the first mile and a comfortable 17:31 for the opening 5-K. In the fifth mile/8th kilometer, as the runners crossed the Manhattan Bridge between boroughs, Jepkosgei, Kenyan compatriot Mary Ngugi, and defending champion Buze Diriba of Ethiopia began to surge. Kenyan Edna Kiplagat, Americans Emma Bates, Des Linden, and Kellyn Taylor maintained contact until the sixth mile/10 kilometer, when Jepkosgei, who holds the half marathon world record (1:04:51 in Valencia, Spain, in 2017), made a decisive move. She passed 10-K in 33:51 and continued to drop the pace through 15-K (49:55), with the chase pack (now down to Diriba, Ngugi, Bates, and Linden) nearly 40 seconds behind.
Jepkosgei cruised through Central Park, hitting 20-K in 1:06:28 before breaking the tape in 1:10:07. Ngugi out-sprinted Diriba for second, with both women clocked in 1:11:07. Bates (1:11:13), who had maintained contact with the African pair through 20-K, pulled away from Linden (1:11:22) for fourth.
"I didn't think I would be running by myself like that," admitted Jepkosgei, who will make her long-awaited marathon debut in Hamburg, Germany, on April 28. "But when I started to maintain the pace there was nobody behind me, so I decided to go on my own. I did not want to chase anyone, I was running my own race."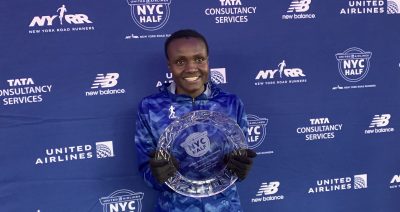 Bates, who won the USATF marathon championship last December, achieved her goal to be the top American finisher in New York. "I wanted to shoot for that spot and try to pick off as many people as I could," said the Boise State grad, who trains in solitary in the mountains in Idaho. "The last 800 meters I just had nothing left. [Ngugi and Diriba] just have that extra kick in the end so there was no keeping up with them. But I'm proud of my effort and I ran pretty even pace."
Many athletes in the field were using the race as preparation for a spring marathon. That includes Linden, who last year became the first American woman to win the Boston Marathon since 1985 and will seek to defend her title on April 15. She came to New York hoping to test her competitive gears on a course that presents similar challenges to Boston. "I don't think I've ever had a performance in New York that was as good as this in terms of just really competing and engaging," she said. "I probably got over my head a few times and then recovered just fine. I was able to cover some things, fall back, regroup, remain in contact after that. That's what racing is all about. Really good practice and a good positive step for the last couple of weeks heading into Boston."
The winners each took home $20,000, with prize money going down to 12th place as part of a $115,000 race purse.
LRC analysis below results.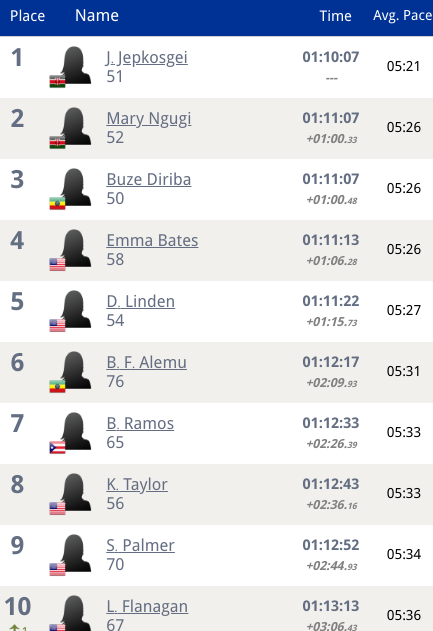 A pair of Americans won the wheelchair divisions, with Daniel Romanchuk taking the men's race in 51:35, ending the four-year winning streak of South African Ernst van Dyk (52:08), who edged American Aaron Pike for second. On the women's side, Tatyana McFadden (57:18) finished nine seconds clear of defending champ Manuela Schar of Switzerland.
LRC note: Race Results Weekly is owned by David Monti, the elite athlete coordinator for the NY Road Runners.
LetsRun.com analysis
Don't let the bib fool you: Tilahun is a pro
Tilahun may have not been in the elite field, but he is an accomplished professional athlete. He said he won $25,000 at the São Silvestre Road Race on New Year's Eve. He won the Bix 7-miler last year and $12,500 there. He was 4th at the Ethiopian track trials for 10,000m in 2016.
The men's field this year in NYC was pretty weak, and it looked designed to give Chelimo the shot at the win. In a day and age where sub-60 half marathons are pretty common, there were no runners in the field with a sub-60:00 PR. There were only two runners in the field with a sub-61 half marathon. One of them was 42-year-old Abdi Abdirahman (1:03:15 today) and the other Evans Cheruiyot, who only ran 1:09:54. So we like the fact a guy like Tilahun just showed up and won it. Technically Tilahun runs for the West Side Runners (a local NYC club), but we don't see any NYRR races for him.
Joyciline Jepkosgei to make marathon debut in Hamburg, will try and make Kenyan team for Worlds at 10,000m
Runner-up Mary Ngugi (also known as Mary Wacera) was until this year the US all-comers record holder in the half marathon, but Jepkosgei showed why she is the fastest half marathoner ever in the world. Jepkosgei ran away from the field with ease. She will make her marathon debut in Hamburg next month.
Jepkosgei is the best non-marathon women's road runner ever as she has the fastest times ever at 5,000 (en route to a 10k), 10k, and the half marathon. She set seven road world records in 2017. She did say she would try to make the Kenyan team for Worlds at 10,000m this year (she has run 29:43 on the roads).
Paul Chelimo using the half to get ready for 5,000/10,000m double at Worlds
Olympic 5,000m silver medallist Paul Chelimo's half debut didn't result in the win he wanted, but he was pleased with the effort. Afterwards, he said he wants to do the 5,000/10,000m double at Worlds and had some interesting comments about the 5,000 being dropped from the Diamond League and the new qualifying system for the Olympics. We've got all of that in a separate article here.
Emma Bates keeps running well, new Olympic qualifying procedures may cause her to SKIP World Champs in marathon
Emma Bates won the US Marathon Champs in December in 2:28:18. Today, she finished ahead of Des Linden as the top American in 1:11:13.  Bates was happy with her run saying, "I'm very pleased. The goal was top American if possible. I'm proud of my effort." Up next for her is the Cherry Blossom 10 Miler. Bates is not planning on doing a spring marathon, and initially was considering doing the IAAF World Championships in the marathon. However, with USATF's announcement Friday that it would put emphasis on time rather than world ranking in selecting the US team for Worlds, Bates may now not do the World Championships and focus on doing a fast World Marathon Major where should could get an automatic Olympic qualifier by finishing in the top 10 or running sub-2:29:30.
She said, "The whole Olympic standard definitely throws a weird wrench into it [my fall plans to do Worlds]. Maybe [I'll do] a fall marathon. I was hoping to maybe run the World Championships if I get selected. Now, who knows what the plan will be. Maybe a Berlin or Chicago, a fast race possibly. Making top 10 at Worlds would be ideal, but you never know with Doha being so hot [so it makes more sense to go run Berlin or Chicago where you can also get a time qualifier]."
Des Linden Says All Going Well in Build-up to Defending in Boston, Says if Current Olympic Rules Were in Place She May Have Gone in a Different Direction in Her Career
Linden is getting ready to defend her Boston Marathon crown next month and was fifth in 1:11:22.
She said, "It was a lot of un. I don't think I've ever had a performance in New York like that was as good as this in terms of competing and engaging. I probably got in over my head a few times and then recovered just fine. It's a good positive step heading into Boston."
This is Linden's first Boston build-up under coach Walt Drenth and she said, "It's been different. Everything's different. I feel a little bit fresher. I feel like I have the lifetime mileage and I can sacrifice the big mileage weeks."
Linden was asked about the new USATF qualifying procedures for the Olympics (which makes it more likely the top 3 at the marathon Trials may not make the team, especially on the men's side). She said, "It's kind of a mess. It's a little bit frustrating for a lot of athletes. Obviously for our Trials it takes a lot of the excitement out of it. For me personally it doesn't change my day. I got to get a time, I want to be top 10 at majors. I want to be top 3 [at the Trials]. I look at it like that. But I've been on both sides of it. In 2008, I thought I had an outside shot of making the team. I thought I could finish in the top 3 and I thought I could run 2:32. If that [option to make the team] hadn't been on the table, maybe I go in a different direction in my career… There's a lot to consider… On the women's side you have to be thinking under 2:30 to make the team even on a hilly course."
Jared Ward Says Being Dad to Baby #4 Has Caused More Treadmill Running, Says He Wasn't Consulted about New Qualifying Procedures for Olympics
Jared Ward finished fourth today, 14 seconds behind Paul Chelimo. Fourth was a fitting place to finish as his wife gave birth to baby #4 seven weeks ago and as a result Ward has been doing more training on a treadmill (up to 30 or 40 miles a week), so he can watch the other kids and give his wife a bit of a break.
He said his Boston prep is going well.
When asked how the new qualifying procedures for the Olympics announced by USATF to LetsRun.com would affect him he said, "It's going to be different. For those that don't want to worry about it, you choose a marathon and you hit the standard. Fortunately for us there are a number of major marathons in America and an opporunity to get one of those auto times by finishing in the top 10, and I imagine we see a lot of US athletes take advantage of that."
When asked by LRC if he thought a solution to protect the sanctity of the Olympics Trials would be for the IAAF to make a rule that the top 3 at the Japanese and US Olympic Trials equals automatic selection he said, "Yes. I don't know where you draw the line in exceptions, but I do think it makes sense in countries that are going to have more than three athletes who are going to hit the standard [in an event] and when there's media opportunities for a chance to showcase our sport with a trials it would be nice if they preserved that as a viable option. So yes but I don't know the answer to those. I'm glad I don't have to make those decisions."
More: LRC Paul Chelimo Wants to Do 5,000/10,000m Double at Worlds, Speaks Out Against Olympic Qualifying Changes