From 15:40 in College To 13:57 At Age 28, Meet Matt Crowe, the LetsRun.com Men's Entrant To 2019 World Cross Country
By Robert Johnson
March 28, 2019
Running fans, we've got good news. LetsRun.com is sending a second runner to compete at the 2019 IAAF World Cross Country Championships.
LRC, meet Matt Crowe.
Article continues below player
Crowe is 28-year-old American with a 13:57 5k pb who is currently living in London.
The story of how he got there, from 15:40 in college to 13:57 last year, is incredible.
Since it's Thursday and the race is Saturday and we have a lot of stuff we need to write before then, it might be quickest to jump into Crowe's story by simply sharing our initial email exchange. On Monday, shortly after wrapping our weekly staff conference call during which we decided to send Kelsey Bruce to the World Cross Country Championships, I realized we had received an email earlier that morning from someone else who wanted to race. And since they were already in London, I was intrigued as the cost of sending them to World XC would be MUCH less.
So without further ado, here is the email exchange I had with Crowe that got him selected to race.
Matt Crowe:
Hello,
This is Matt Crowe 5k PR 13:57 in 2018. I am currently training in London. I saw your post about needing an athlete to run World XC. The flight/trains would be relatively cheap for me. Shoot me back a message whether you want to have me wear the singlet and give it a go. I am in shape and am preparing for track season 3k-5k range.
Sincerely,
Matt
Rojo: Can you tell us a little more about yourself? I see a Matt Crowe on tilastopaja that was racing a lot in LA last year. What are you doing in the UK?
Matt Crowe:
That's me! 🙂 I spent two years in LA training/racing. Let me give you some background. I did Track and Field my senior year in high school and fell in love with running. I ran 9:47 (indoors for 3200) and 4:34 (indoors for 1600) – which got me 4th at states (Maryland). (Editor's note: He actually was 5th in 4:40 in a race that was won in 4:22). I went to Florida Gulf Coast University and ran crappy times such as 15:20's for 5k and 26:33 for 10k XC (Editor's note: The best 5000 we see for him as NCAA DI runner was 15:40.96). I loved the sport but seriously had no idea how people ran so fast. I met a German pro triathlete named Alex Schilling in college. He told me I needed to run more miles to break 15 because I was only averaging 45-55 ish. He got me to 14:44 at the UF relays.
I was working a computer programming gig post college in Florida and one day was sitting at my desk and said, "Screw it. I'm going to drive across to Flagstaff AZ to see how the pros train." I wasn't met with really open arms as I was only a 14:26 guy. They told me to train with the hobby joggers once a week for a track workout. I continued to learn. I jumped on anybody's training program that would let me. NOT a good idea! haha I ran terrible from going way too fast and I wasn't responding well to altitude. Also, I was cutting cost by sleeping out of my SUV with a tent setup outside. I did this for 4 1/2 months before I said to myself, "This isn't working". I decided to drive across country to Los Angeles looking for work and a new start at life. I had some family background issues that also pushed me to get even further away from Florida. I googled running clubs in LA and met up with TCLA. They are a marathon training group that does 5k workouts every Tuesday on the track. I kept showing up. The 5k track group got more elite. I was mentored by Ben Hubers (sub 4 and 13:35) from Indiana University. Eric Barron was the head coach of TCLA and also spent time mentoring me.
We tried to get into the USATF Distance Classic. They had me listed as denied on the entry list even though there were slower guys than me that got accepted. I kept trying to contact them. In the end, my friend Prince Mumba (Olympian in the 800) and others who had seen me train at Santa Monica College convinced them to add me as an entry last year. They accepted me but didn't notify me. My friend Jordan Gusman told me they had added me about 24 hours before the race. I jumped at the opportunity and broke sub 14 for the 5k. I ran 13:57.59. I yelled and screamed like an idiot after the race. I was so excited. Finally, something I could be proud of.
Los Angeles is extremely expensive and the local transportation is absolutely horrible. I had a job delivering Pepperidge Farm cookies and goldfish out of a truck to local grocery stores. It really sucked. The best places to run are in Malibu. The best track workouts are at Santa Monica College. The cost of living there wasn't adding up. Recently, I got a job teaching English online to Chinese students. I decided to travel the world and race. I did base training in Urubamba Peru. I then went to Cologne German to train with Alex Schilling doing tempos and K repeats for 3 months. Now, I am in London back on the track every Tuesday and Friday. Part of the moving is because a US passport only allows so much time in certain areas such as the Schengen Area in Europe. If you guys let me do this race I have two days to do it. Fly in the night before and fly out the same day of the race. Good thing is I can do it. I'm in shape. I won't do a hard session before it. I will really give it a go if you give me the chance. I know I'm not top tier but I'm working everyday to get there. Hope this info helps!
Sincerely,
Matt Crowe
How any true distance fan can read that last email and not think it's worth maybe $500 to send him to World XC is beyond me. I was instantly sold.
Yesterday, I talked to Matt on the phone and his story is even more remarkable than the email.
Just five years ago, in 2014, six years after graduating from high school in 2008, Crowe had a 5000 pb of just 15:18, and that was a road pb. His track pb from college was just 15:40. Yet he'd soon decide one day to say "screw it" and quit his job and drive out to Flagstaff — where he got by financially by camping out on a mountain, rent-free — to pursue his running dreams. A few years later, he said "screw it" again and moved to Europe to be closer to the big-time races.
But let's start at the beginning.
The Beginning — A Beautiful Girl Gets Him To Go Out For Track
Matt was a soccer player in high school who didn't do any organized running until he went out for track "half as a joke" his senior year. He said there was a "beautiful girl" who was on the track team and the soccer players and her would go back forth about how their sport was superior. "This girl told me, 'Track is the real deal — you're going to get your ass kicked if you show up for our trials,'" said Crowe, who responded along the lines of, "Track is easy. That running stuff is so easy."
So Crowe went out for the team and almost instantly fell in love with the sport.
"I loved it. I just loved indoor and outdoor. That's what sold me. I loved it from the first minute. It's the only thing in life that I've really enjoyed," said Crowe.
Wait. What about soccer?
"I'd say soccer was my first love but I remember when I was in indoors and I started running and people were so excited that I was scoring points for the team. That feeling of having teammates that were excited for you — it catapulted it and was different than anything else I'd ever experienced."
People at Old Mill High School in Maryland were excited as Crowe clearly was talented. He ended up being the only person on the team to score at the indoor state meet thanks to a fifth-place showing. However outdoors, Crowe didn't do as well and people aren't exactly beating their doors down for a 4:34 high school 1600 runner. Crowe decided to attend Ann Arundel Community College, but the school ended up dropping its track and field program so Crowe had to run on his own that year, racing only once — a 16:20 5000.
The next year, Crowe said he somehow talked his way into a scholarship to DII school Brevard, where he ran 15:46 for 5000. There was a coaching change, however, and he then decided to transfer to DI Florida Gulf Coast, which he described as "kind of a party school," for the rest of his college career.
While Crowe didn't exactly crush the competition at FGC — he said he normally ran as the team's #3 man and his best showing in XC was a 36th in 26:33 at the Atlantic Sun conference champs in 2011 (winning time 24:27). In track, he never ran faster than 15:40, but he still thought he thought he had made it. In hindsight, Crowe now realizes that he was far from the case and that he wasn't training properly and hard enough.
"[I know now that] there are so many guys and girls going through college — it's almost like hobby jogging. They are just filling spots on the roster," said Crowe. "I was just kind of clocking in and clocking out. I was running 8k in 26:33. [I know now I was] still going through the motions, but I was just on a high for being on a Division I team. No one in my family had done that. For me, I thought I had hit the jackpot. I even got a partial scholarship. I was on cloud nine."
Eventually, however, Crowe became disillusioned.
He was disappointed with the coaching, tired of not improving, and a little upset that his partial scholarship wasn't increased even though he was told it would be if he was in the top three. And on top of all that, he was in a relationship with a woman who wasn't supportive of his running. So Crowe decided to give up his scholarship and his place on the team and quit the sport in 2012, forgoing his senior year of eligibility.
That retirement didn't last long. After a couple of weeks without running, Crowe was miserable. He missed it. A lot. So Crowe took drastic action in the opposite direction — he became dedicated, and eventually went all-in.
Crowe soon asked one of the few legitimate runners on the team, Alex Schilling, a German triathlete who had run 14:50 for 5000 while being coached by Scott Simmons at Queens University of Charlotte, for advice. Schilling took a look at Crowe's training long and told him that the 45-55 miles a week he was doing weren't enough and that he needed to run more and start doing some legitimate workouts as well.
Crowe said that in college, he'd occasionally get up to 65 mpw and he "thought that was a lot." Schilling taught him that it wasn't very much and that "volume is ok and it's ok to be tired going into workouts."
"I quit and started running unattached. When I decided I'd take matters into my own hands, 'Ok I'm accountable for it. I'm going to figure out how to do it.' I got a lot better," said Crowe. "I was just so motivated to not suck."
In 2013, Crowe's focus was on a big local road race — the Edison Festival of Lights 5k — and when he won it and the $500 prize in a new pb of 15:19, he was ecstatic. "I thought I was the king," recalled Crowe on the phone. Later that summer, he knocked 10 seconds off his 1500 pb by running 3:53. In 2014, Crowe stagnated a bit as he ran 15:18 on the roads before really improving a lot in 2015.
"He (Schilling) got me under 15:00. I went to the UF Relays and ran 14:44 unattached [in 2015]. Once he showed me how to break 15:00 and I pulled it off, that's when I was hooked and became obsessed. That's the difference between someone running 15s and 13s. [A 13-minute 5000 runner is dedicated all the time and] they look at the year and they are training [seriously] for 11 months hard whether it's base or speed training. In college, I would train hard for a month or two and then have two weeks of absolute trash. And I kept doing that," said Crowe, who would run 14:29 later in 2015, meaning he went from 15:18 to 14:29 in one year after only improving from 15:46 to to 15:18 over the previous four.
Despite the huge improvement, Crowe was far from satisfied and wanted more but wasn't sure how to progress.
"I realized I kept reading stuff but none of it was making sense. Nowadays when kids go to LetsRun.com or they go to YouTube and see something from Steve Magness — they get little pieces of information, [but not a comprehensive training plan]. If they try to imitate it, they can't put it together.
"I knew I was not getting the complete picture and I wanted to understand more. I was sitting at my desk and was like, 'Screw it. [Let's go for this].' So I typed up my resignation letter, printed it out and handed it to my boss.
"He laughed as he knew I was into running and I didn't really want to be a computer programmer for the government — working in a room with no windows. My life [sucked]. I thought, 'I can come back to this later in life — but running is something you can only do now.'"
Flagstaff or Bust
So Crowe did a little research online, found out that he could camp for free in a tent on A1 Mountain in Flagstaff and convinced a friend, Ryan Stafford, to head on out to Flagstaff with him.
If you think this is the part of the story where Crowe meets instant success and chops a half-minute of his 5000 pb simply because he quit his job and moved to altitude, think again.
Crowe called the 4.5 months he spent in Flagstaff "kind of a mixed bag." While a few elites were friendly (he raved about how great Kiya Dandena was), he said most didn't exactly welcome him with open arms.
"The local elites thought we were just hilarious. Who are these losers that showed up?" said Crowe, who was hoping to be able to do some hard workouts with the top groups but found that wasn't the case. He was told to go to the open track workouts on Tuesdays but soon realized those were for recreational runners. The only thing with elites that he really was able to do was the weekly long run, but he found it to be too much to handle during his first stint at altitude.
"They would just hammer these things — they'd start at 6:20 pace but at 7,000 feet of altitude. Sometimes I felt like we were running 5:40 pace. It was just too much for someone in the 14:20-30 range," said Crowe.
Struggling at altitude, the dream of success in Flagstaff was dead but the dream of being fast lived on.
Crowe once again made a rash decision to move, this time to Southern California. He chose the LA area because he a) wanted to get back to sea level b); knew there were a lot of high-quality races in the Los Angeles area so he wouldn't have to travel much and; c) knew that a lot of people lived in LA so he thought it wouldn't be too hard to find a job or find people to work out with.
So off to Los Angeles Crowe went. After googling something along the lines of "Track clubs in LA," Crowe ended up running for the aptly-named Track Club LA (TCLA) coached by Eric Baron, who welcomed him with open arms. Crowe started to thrive as he liked the workouts and found great trails to run on in Point Mugu State Park. He also met former Indiana runner Ben Hubers, whom he credited with really helping him "think from an elite level."
"He is insane," said Crowe affectionately. "He trained with people like Andy Bayer — one of the top guys in the nation in college. He [taught me about the little things] and would get upset with me if I ate a cookie. "
Last year, with a little help from some friends, Crowe got accepted to the USATF Distance Classic at the last minute and he took advantage of the opportunity as he dipped under 14:00 for the first time and finally felt like he had accomplished something.
"I yelled and screamed like an idiot after the race. I was so excited. Finally, something I could be proud of," said Crowe.
Time To Move Once Again
Matt Crowe's Progression Since Taking Up The Sport His Senior Year of HS
2008 2:01 4×800 split, 4:34 indoor 1600/9:47 3200 in HS.
2009 Maybe one road race win in 16:20 — No college racing
2010 15:46 (Brevard)
2011 No PR – 15:56.68 (FGC)
2012 15:40 (FGC)
2013 15:19 5k road win at Edison Festival of Lights
/3:53 1500 Belgium in Europe with Alex Schilling/Met Alan Webb
2014 15:18 5k at Edison Festival of Lights
2015 14:29.09 First sub-15 at Florida Relays (14:44)
2016 14:26.88 Moved to Flagstaff for 4.5 months
2017 14:09.08
2018 13:57.59
While happy to be under 14:00, Crowe once again decided to make a rash move in search of faster times. Crowe said his setup in LA "wasn't sustainable" as he wasn't pulling in enough money via his various jobs, which included driving for Uber and stacking cookies on store shelves for a distributor who paid him in cash, so he decided to move — this time to London.
London was appealing to Crowe as you don't need a car like you do in LA and he was much closer to the European distance races he wanted to compete in — his goal is to get into the 13:30s this summer. So it will be much cheaper to get to those races, and when he does get there, he won't be jet-lagged.
Crowe did add that he reached out to a couple of track clubs elsewhere in California, but said that he never heard back from them.
Crowe moved to London without having a training group or coach in mind.
When I told him that many would think it's crazy to move across the globe without having a training group or coach secured, Crowe had a great response. He admitted he was a little bit nervous about doing the interview with me — he didn't know what to say, so he called his brother right before our interview, who told him the following: "The #1 thing I'd say is different about you is that a lot of people say they have goals and they know they need to give up a lot to get there, but you've actually given up everything to get there."
Crowe added, "He thinks I'm absolutely crazy. He said, 'You aren't the fastest, the strongest but you keep working so hard at it."
In London, thanks to another Google search, Crowe found in a coach in Kevin Best — a former 2:14 marathoner who coaches him at St. Mary's University on The Sir Mo Farah Athletics Track. As for workout partners, Crowe only has a couple and one of them is 46-year-old Brit Andy Keane, who recently ran 2:02 for 800 — but Crowe makes the most of what he has as his training partners will often do portions of his workouts with him.
I asked Crowe what kind of shape was he in and what was he expecting to do on Saturday at World XC. He said it's hard to know as he's really been focused on getting his mileage up. He said he started running more than 90 miles per week last year for the first time and came to the realization that "the higher I go, the better I feel." So he upped it to 110 per week and soon after broke 14:00 for the first time.
He said he also believes he does better when he doesn't taper down. "It's weird. I don't fluctuate my mileage much. I pretty much run the same thing every week. I may go down a little bit I try not to have down weeks. I find that my body does better that way," said Crowe, who shared three months of his Garmin logs with us below: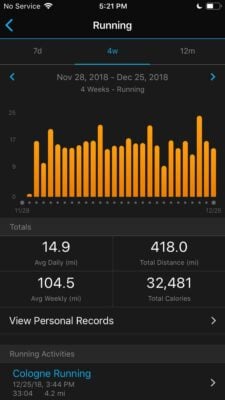 As you can see above, he averaged 117 miles a week from the end of December to the end of January. He said his highest week was between 124 and 127 miles.
Crowe did race once this winter. It was an 8:20 3000. If that seems extremely slow for a 13:57 runner (which is 8:22 3k pace), please realize that it was actually an indoor PB for Crowe. Last year, he ran a 3000 on the fast Boston University track and only managed an 8:26, yet in his 13:57 race went through 3000 in 8:14.
Crowe said he normally uses 3000s indoors to get his body used to the pace he needs to maintain for 5000.
As for this week, Crowe is sticking to his guns and not doing much of a taper. He says he's on pace to run between 105 and 110 miles.
As for the future, Crowe is hoping to run in the 13:30s and maybe make it to USAs this summer (he was the first guy out last year) and possibly Pan Ams if everything goes perfectly ,but the main goal is simply to "run fast" and "keep pushing."
"My goal is to do 3ks and 5ks and I really want to run like 13:30. I want to keep pushing. I think people when they get out of college they think, 'Oh crap I can't be elite so I have to go to the roads or the marathon.' I thought of it completely differently. I thought, 'I already suck so it doesn't matter if I suck at the marathon or the track.' I just want to keep pushing," said Crowe.
I asked him if he ever thought about moving up to the marathon as he could almost guarantee himself a spot in the Olympic Trials. Crowe said that didn't appeal to him.
"I know I can hit the marathon (Trials) standard but you are nowhere near the top guy if you hit the standard. A lot of the guys playing in the woods, they join these teams and call themselves professional, but there is nothing professional about running the same equivalent in the marathon as what you ran in another event (that would be considered mediocre). That's not what I want to be. I want to run fast. If I do a marathon, I want to run fast, I don't want to run some stupid, made-up standard."
But back to this weekend: Crowe is excited to get a chance to race the world's best.
"When I saw the post on LetsRun, I actually thought I had shot [at being selected by you guys]. I know some of these pros and how strict they can be with the schedules. I thought to myself, 'They aren't going to wing it. It's too last-minute for most big pros.' And I really do think some of them are scared of the Kenyans. To me, it doesn't matter if I have a bad race. I have nothing to lose, whereas they do.
"[As for goals], of course, I want to surprise people. I want to lay it on the line. The only thing is it's still early-season. I was gearing up for something in May or June to really crank it, but this is a great opportunity and sometimes you have to just step up — no matter where your fitness is. I've studied people like Craig Mottram and he said he was always only 1 or 2 weeks away from being in 13:10 shape or under.
"You gotta put yourself out there. I have to do it — just have to be a part of it. I would really like to be able to take a scalp that I'm not supposed to take.
"[The course] looks like absolute madness with the mud pit and sand pit. I'm not concerned about times — just rhythm and flow. I want to make sure I'm going fast and hard."
Talk about this article on our world famous fan forum / messageboard. MB: Team LetsRun.com just doubled in size – Meet Matt Crowe – We're sending him to 2019 World XC as well.
---
PS. We imagine some of you are wondering how Crowe supports himself as an American in London. He said he found a great online job teaching English to others on the computer via video chat that pays $18 an hour.
PPS. One other interesting thing about Crowe is he said every coach he's had complains about the way he carries his right arm. In that sense, he's the opposite of Haile Gebrselassie, who had a distinctive left arm carriage as that's the arm Haile used to use to carry his books when he'd run to school. Crowe said he got the distinctive right arm carriage from holding a soccer ball when he'd run to the park as a kid. The park was two miles from Crowe's house and he'd regularly run there and back with a backpack on with water in it, carrying a soccer ball in his right arm.