Sean McGorty Runs PR (13:21), Hits World Standard in First Race with Bowerman TC in Boston
By Jonathan Gault
February 8, 2019
BOSTON — Before the serious racing gets going at tomorrow's NYRR Millrose Games, a few members of the Bowerman Track Club flew east to kick off the racing weekend with a 5k at the fast Boston University track.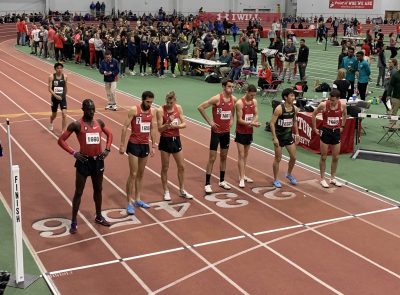 With Josh Thompson and USA 10,000m champ Lopez Lomong serving as rabbits, the goal was for the racers — BTC's Sean McGorty, Ryan Hill, Marc Scott and Matt Hughes, and Japan's Hyuga Endo and Hiroki Matsueda — to chase the World Championship standard of 13:22.50. Things didn't go exactly to plan, however.
Article continues below player
While Thompson (who stepped off after hitting 2k in 5:21.95) and Lomong (who stepped off after 3200 in 8:35.17) did their jobs (13:22.50 pace is 8:33.60 at 3200), the racers were having trouble holding on. McGorty sensed this and made a move to the front as Lomong stepped off and the field quickly began to string out. McGorty would have to grind all the way to the finish and was rewarded for his work with a PR (he ran 13:21.35, an improvement of .58 on his previous best) and, more importantly, the Worlds standard. The Brit Scott, the only one who could come close to hanging with him, almost made up a three-second gap with 400 to go by closing in 59.77 but had to settle for second in 13:21.97; like McGorty, it was a very small PR (previous best: 13:22.37).
Hill, the 2015 US outdoor champ and 2016 World Indoor silver medalist, was not as fortunate as he struggled mightily over the final 2k and wound up 4th in 13:36.61, just ahead of Hughes (13:39.49). Endo did not manage the World standard, but the 20-year-old walked away with a Japanese indoor record as his 13:27.81 (an 11-second improvement on his outdoor pb) erased Suguru Osako's 13:28.00 from the books. It also marked the fastest time ever by an Asian-born man indoors.
Results (lap-by-lap splits)
 1 McGorty, Sean                Bowerman Tra          13:21.35       
 2 Scott, Mark                  Bowerman Tra          13:21.97       
 3 Endo, Hyuga                  Sumitomo Electri      13:27.81       
 4 Hill, Ryan                   Bowerman Tra          13:36.61       
 5 Hughes, Matt                 Bowerman Tra          13:39.49       
 6 Matsueda, Hiroki             Fujitsu-Japan         13:47.64       
-- Lomong, Lopez                Bowerman Tra               DNF       
-- Thompson, Joshua             Nike/Bowerma               DNF
Sean McGorty discusses his transition to BTC, going from idolizing Jerry Schumacher to training under him
I don't want to read too much into an indoor 5k at BU in February, but what McGorty did tonight was very impressive. As the rookie on the team, it would have been easy for him to switch off and let the time drift away, especially since the plan going in was for him and Hill to trade the lead once Lomong stepped off. But McGorty recognized immediately that he needed to lead this race and keep driving the pace once Lomong dropped, and he did a great job of that, clicking off 31s and 32s to keep the goal within reach before closing it out with a 29.98 final lap.
Today was McGorty's first race representing BTC, and for him this was a dream come true; ever since he headed to Stanford in the fall of 2013, he has admired Schumacher and his athletes.
"Before Payton Jordan my freshman year, [Stanford coach Chris] Milt[enberg] said that Jerry had asked how I was doing, and I think that just made my day, definitely," McGorty said. "And I think I just always looked up to how their athletes had competed at the highest level. Seemed like a good group of guys, and I really just wanted Jerry to be my coach."
Then last summer, McGorty headed to altitude camp with the group in St. Moritz, and he realized he had made it to the big leagues.
"I walk in and I'm rooming with Ryan Hill and Evan Jager and that was just the moment that it was like, okay, this is now the switch," McGorty said. "I've looked up to all these guys and now I'm roommates with them. I still look up to them, but now it's just, you want to put yourself on the same playing field. I know that they have a little more experience, they've obviously accomplished some amazing things. But those are all things that I want to accomplish, and what better way to try and do that by being in that situation with them on a daily basis and living with them?"
McGorty said he's enjoying every day with his new teammates, including new addition Matthew Centrowitz, whom McGorty calls "maybe one of the funniest guys I've ever met."
From here, the plan is to do USA indoors, but beyond that, it's up to Schumacher. When I asked McGorty what his plans were for the rest of the year, he smiled.
"Rest of the year? That's a good question, because I barely know a month in advance."
Schumacher is a planner, and part of the deal of joining BTC is ceding decision-making power to Schumacher when it comes to planning your racing schedule. While fans may not always approve — witness US champ Shelby Houlihan skipping World XC — McGorty said he's all right with that, as those who listen to Schumacher generally end up producing some pretty good results.
"He definitely has 51% of the vote [when it comes to choosing which races to run]," McGorty said. "From what I've heard — I'm very new — he'll listen if you want to do a certain race, but I think at the end of the day, he does kind of have this master plan, and then it's, does it fit into that plan? I'm sure there might be some races I'll really want to do that I won't do, but I think if I'm able to step back and come at it with the perspective that he's doing what he thinks is best for me, that makes it easy to listen."
McGorty wasn't the only new addition to the Bowerman TC crew, as his former Stanford teammate Elise Cranny was also in Boston representing BTC for the first time. She rabbitted teammate Vanessa Fraser in the 3k, which was won by Yolanda Ngarambe of Sweden and the Atlanta Track Club in 8:53.97 (Fraser, yet another Stanford alum, was second in 8:54.58).
I also caught up with Cranny about her professional transition — she was out of eligibility after the 2018 cross country season and will be relocating to Portland soon.