RRW: World and USA Bests for 600 Meters for Donavan Brazier and Teenager Athing Mu at Toyota USATF Indoor Championships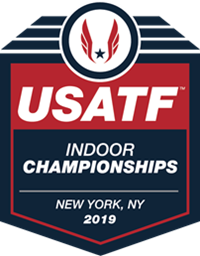 February 22, 2019 to February 24, 2019
By David Monti, @d9monti
(c) Race Results Weekly, all rights reserved
STATEN ISLAND, N.Y. (24-Feb) — Blistering 600-meter performances by Donavan Brazier and teenager Athing Mu were the highlights from today's third and final day of the Toyota USATF Indoor Championships at the Ocean Breeze Athletic Complex here.
Brazier, the Nike Oregon Project athlete who earlier this month set the national indoor record for 800m at the NYRR Millrose Games, blasted a world best 1:13.77 at 600m here today. He smashed the previous mark of 1:14.79 by Kenya's Michael Saruni set last January in Albuquerque, New Mexico, winning the third national title of his career. Brazier defeated the Boston Athletic Association's Sam Ellison (1:15:20) and the University of Maryland's Kameron Jones (1:15:32).
Article continues below player
"I was just really eager to start running again," said Brazier who had injury troubles last year. "I had no outdoor season, you know? I didn't get to compete once outdoors. So, it was a bummer."
Brazier, 21, was quick to point out that he did not plan to rest on his laurels. There was a lot of hard work to do to peak again for the USA Outdoor Championships in July and the IAAF World Championships in September, he said.
"Having a good, solid indoor season is a perfect set-up for outdoor," he explained. "Because if you just focus on indoor and that being your best, it can be like fool's gold. You can kind of live off that for a while, but I don't want to live off this. I just kind of want to use this as a stepping stone for something greater outdoors."
Sixteen year-old Athing Mu, a high school junior from Trenton, N.J., shocked the crowd by not only winning the 600m national title against a field of professionals, but by also breaking Alysia Montano's six year-old American record. Mu, who pronounces her last name "Moh," held off a last-lap challenge by five-time NCAA champion Raevyn Rogers to win in an eye-popping 1:23.57, 2/100ths of a second faster than Montano's mark set in 2013. Rogers finished more than a second behind in 1:24.88, a personal best.
"I'm super-shocked!" Mu told a clutch of reporters while still wearing her champion's medal around her neck. "At first, when I was taking a picture next to the timing I thought it was just another high school record. Then, when I looked back and it said "AR," and I also didn't see the time, 1:23, so I was like, oh my gosh, that's crazy. It literally brought me to tears."
Rogers, who tried to go around Mu with about 120 meters to go but was rebuffed, was generous with her praise for Mu.
"She's been having a really good year," said Rogers. "Like I said, I told her, 'you earned this.' It takes a lot of heart and it takes endurance. She definitely has the heart in the race, for sure."
As a national champion at just 16 (she turns 17 in June), Mu is re-calibrating her goals. Competing here this weekend has really opened her eyes to her own potential.
"Now I just know that I have so many things that I can do," she said. "All I have to do is come out here and execute like I did today."
Two of Brazier's Nike Oregon Project teammates Craig Engels and Clayton Murphy also came out victorious today, giving that club a sweep of the 600m, 1000m and mile titles on the men's side. Engels wasn't bothered by the slow, early pace in the mile and saved his best running for the final three laps. Along with Sam Prakel of adidas, Engels dropped the per-lap pace to 28.5 seconds through 1209 meters, then scorched the final two circuits in 27.9 and 26.2 seconds, respectively. He built a big enough cushion in the final lap so that he was well clear of the late charges of both Henry Wynne and Johnny Gregorek who had to settle for second and third, respectively. Engels was the only athlete to break four minutes today, clocking 3:59.69. It was his first national title.
"That was the exact race plan, so it worked out," Engels said, praising his coach, Pete Julian for getting him ready to race. "Finally, man. It's been too long, and hopefully I can repeat outdoors. Hopefully, this isn't my last one. It feels good to finally win a race, you know?"
Murphy won the 1000m in a similar fashion, successfully defending his title at the same distance from these championships in 2017. The 2016 Olympic 800m bronze medalist ran close behind Dylan Capwell of the Atlanta Track Club for the first four laps at a moderate pace before springing to the lead with lap to go. His final circuit of 26.3 seconds was simply too fast for his rivals, putting him over the finish line in 2:20.36. Abraham Alvarado of the Atlanta Track Club got second in 2:21.08 and Brannon Kidder of the Brooks Beasts Track Club got third in 2:21.23. Murphy was particularly pleased to share his success with Brazier and Engels.
"We sent a (group) text this morning that was, like, let's sweep today," he explained. "So, we were all pretty excited. We're all obviously running well this whole indoor season and it's nice to kind of cap it off."
In the women's 1000m, two-time IAAF World Indoor Championships 800m silver medalist Ajee' Wilson won her fifth national indoor title in 2:34.71 a championships record and a 2019 world leader. Wilson led from gun to tap, holding off credible challenges from Ce'Aira Brown of the Hoka New Jersey-New York Track Club and Hannah Green of the Nike Oregon Track Club. Green passed Brown in the final 20 meters to get second, 2:35.40 to 2:35.62.
"I think that the last 250 I really felt it," Wilson told Race Results Weekly. "You know, I still really had to push through. I definitely think I was still a little conservative the last two (laps) because everyone was still there." She continued: "I'm super happy with the win."
In the final distance event of the afternoon, Shelby Houlihan of the Nike Bowerman Track Club rallied from her defeat in the mile yesterday to win her third consecutive two-mile or 3000m national indoor title, pulling away from Elinor Purrier of New Balance and Katie Mackey of the Brooks Beasts, her only serious challengers in the second half of the race. Her time of 9:31.38 was a 2019 world leader. By winning here today, Houlihan became the first American woman in 26 years to win both the national cross country and indoor 3000m/two-mile title in the same year. The last athlete to do it was Olympic medalist Lynn Jennings in 1993 (Jennings also did it in 1993).
"I mean, I wanted to win it," said Houlihan who was openly disappointed by being beaten by Bowerman teammate Colleen Quigley in the mile yesterday. "Coming off of yesterday I was a little disappointed. I was a little more pumped up for this one, and I felt stronger." She continued: "That last 1200 meters definitely hurt more than I wanted it to, but I was kind of hoping it was hurting for everybody else as well, and I was trying to gap them. I really didn't trust my kick right now."
The 2020 Toyota USATF Indoor Championships will be held next February at the Ocean Breeze Athletic Complex here, and the top-2 finishers in each discipline (with relevant standard) will represent the USA at the IAAF World Indoor Championships in Nanjing, China.