Q&A with 2018 NXN Champion Liam Anderson: On His Steady Improvement, Indoor FOMO, & Why Centro Is His Favorite Runner
By Jonathan Gault
February 28, 2019
Yesterday, Liam Anderson of Redwood High School in Larkspur, Calif., was named the 2018-19 Gatorade National Boys Cross Country Runner of the Year. Anderson, who will attend Stanford in the fall, won Nike Cross Nationals in December, using a strong kick to set a course record of 14:57.6 at Glendoveer Golf Course in Portland — he is the only boy ever to break 15:00 on the course. On the track, he owns personal bests of 4:09 in the 1600 and 8:52 in the 3200, running the former time to win the California state meet last year.
On Wednesday, LRC spoke to Anderson over the phone, where we chatted about how he's been able to improve so consistently, why Matthew Centrowitz is his favorite runner, and what it's like as a Californian during the winter without indoor track.
Article continues below player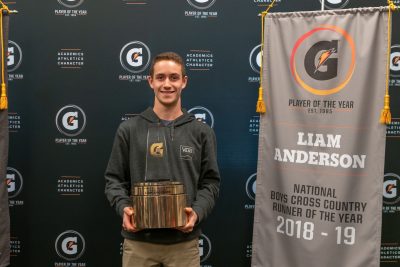 JG: Looking at your results, it's basically just consistent improvement across the board. You've dropped your PRs every year, you've gone from 22nd [as a sophomore at NXN] and 3rd [as a junior] and then you win NXN as a senior. You see a lot of people in high school, they might not be able to keep bringing that level of improvement, and you've done it year after year. I'm wondering how you think you've been able to accomplish that?
LA: I think a big part of it is my coaching. Laura [Schmitt] and Jake [Schmitt, Anderson's co-coaches at Redwood] really focus on development over time and there was never any pressure on me as a freshman or a sophomore to run some crazy fast time or win some big race. It was really just about building up and getting stronger and learning to love the sport and learning how to work hard and be consistent every single day.
So I think that really contributed to the gentle upward trajectory. And I think they really know how to make everything come together at the end. My junior year, I think we picked up the training a bit and things got a little more intense and that led to greater results. And same thing even more so this year.
How many miles were you running on average during the last cross country season?
It varied a little bit. We run by time as opposed to mileage, so I couldn't really tell you.
Was there anything you guys added this past season that you think made a difference? Anything you added on top of what you were doing in the past?
Going into my senior year, I really took a hard look at all the little things. I think I'd been pretty good and consistent about the bigger things in the sport, getting my mileage in and being able to run hard in practice and recover properly. But I took a hard look at things like rolling and stretching a lot more and being better about my core routine, what I'm eating, hydrating properly. Just making sure that all the little things that contribute to my success, making sure those are all in place properly.
You're in California, you guys don't have any indoor track out there. What are you doing now for training? How do you approach the winter in California?
We take the two or three months that we have off to really just get a lot of good, hard training in. While everybody on the East Coast is racing, and people are, obviously just this past week or two really, starting to run some fast times, we're out here working hard and preparing to run fast times when it counts at the end of the season.
Is it difficult to just train for two to three months, not having any races or anything in between like that?
I wouldn't call it difficult. Definitely gets me a little antsy, to see my a lot of my future teammates competitors all over the country getting to have a lot of fun getting out there and racing. I would say that without a doubt, my favorite part of running is racing. I love to compete, I love to get out there. So a little bit of FOMO, but it definitely just motivates me and gets me excited to get out there later.
What are your goals for the outdoor season?
Run fast.
Define "fast." What does fast mean to you?
The fastest that I can possibly do.
So does that mean that you don't have any times in mind? Or that you have times in mind and you just don't want to share them publicly?
Yeah, we keep the quantitative stuff private for now.
Do you follow professional running? Are you a fan of the sport at all?
Absolutely. I wouldn't say I'm an expert but I definitely love reading up and watching as many pro races as I can, especially having met a number of the American pros that are performing really well these past months, really. It's been a lot of fun to watch a lot of the big indoor races like Millrose and all that.
Are there any ones that you're particular fans of? Do you have a favorite runner or runners?
I'm a big Centro fan. I think I kind of speak for everybody when I say that his Instagram is definitely entertaining and it's a lot of fun to stay on top of what he's doing. I'd say Centro's definitely my main focus in terms of who I really enjoy following in pro running.
The whole Bowerman team too, really. I've met a lot of people on the team, so it's really cool to watch them go out and run fast.
Why do you like Centro so much? Is it just his Instagram? His running? What appeals to you about him?
I think he's very human. I think a lot of other pro runners are very guarded in what they present on social media and they try to create an image that is not necessarily as honest as it could be. And I think Centro really just puts out what he's seeing, what he's doing, what he's feeling. He's very personable and relatable and I think as a high school runner, I'm able to relate to some of his struggles a little more so than maybe I am to some other pro runners. And at the end of the day, he's just a funny guy and I enjoy some of his humor.
You're headed off to Stanford in the fall. Why did you choose there? What other schools were you looking at in terms of running next year?
For me, it was obvious that Stanford was the right choice just because of the combination of great academics, a great program with a history of strong performances and an excellent coaching staff with a lot of great guys on the team. I really enjoyed my visit, getting to meet all the guys, and I'm really excited to race with them in the future.
If you had to explain Liam Anderson in a few sentences, what should people know about you?
I'm dedicated. When I put my mind to something, it'll get done.
I guess NXN's probably a pretty good example of that, right?
Yeah, I think you could say so.
Video of Anderson being presented with his award