Sydney Masciarelli Arrives As A Star, Outkicking Katelynne Hart In One Of The Greatest Foot Locker Finals Ever
by LetsRun.com
December 8, 2018
What a way to cap off your first season of high school cross country running.
In one of the greatest (dare we say the greatest?) finishes in the 40-year history of the Foot Locker Cross Country championships, sophomore Sydney Masciarelli of Northbridge, Mass., outkicked the 2017 runner-up, junior Katelynne Hart (Glen Ellyn, Ill.), to win the 2018 national title, 17:00.3 to 17:01.0. Hart led almost the entire race on her own, taking the lead just before the half-mile mark and holding it until Masciarelli pulled up on Hart's shoulder just before the three-mile mark. But over the final tenth of a mile, there were three lead changes; the outcome wasn't settled until Masciarelli pulled away for good with just 15 meters remaining.
Do yourself a favor and watch the final 400 of the race now:
It wasn't just the epic final straight duel that will ensure that this one will live long in the memory. San Diego's Balboa Park has hosted 33 of the 40 Foot Locker national finals, and of all those races, no girl had ever run as fast as Katelynne Hart did today and lost. Masciarelli, for her part, recorded the fastest winning time since 2010 and was just 0.4 away from becoming the eighth girl to break 17:00 at Balboa Park.
Masciarelli, who played soccer and basketball last fall and winter, switched to cross country this fall following a strong freshman track campaign (4:58 mile/10:49 2-mile) and was rewarded for her decision by becoming the first athlete to win Foot Locker in their first year of HS cross country running since Jordan Hasay in 2005.
The race
With the defending champion, Claudia Lane, absent this year due to injury, Hart was the top returner and wasted little time taking control of the race, moving to the front during the first half mile before surging at the 800-meter mark to open up a gap on the field. She led by 10 meters at the mile (5:13.9), followed by five other girls from the Midwest and Masciarelli.
Article continues below player.
Masciarelli had moved into second by the time she hit the top of the course's one major hill (which is run twice), but Hart's lead would only grow as she hit two miles in 10:50.3, a full five seconds up on Masciarelli. That lead was still at 4.1 seconds at 2.5 miles, but Masciarelli pushed hard as they climbed the hill for the second time and by the top, she trailed by just seven meters. Hart continued to push, and as she came off the hill with 450 meters to go, she still had a lead of a few strides over Masciarelli.
But Masciarelli would draw level at three miles (both were clocked in an identical 16:27.0), setting the stage for a thrilling final straight. Masciarelli moved first, edging ahead just barely, but Hart came over the top and responded with what looked as if it would be the winning move, again putting a couple meters on Masciarelli. Now it was Masciarelli's turn to dig deep and was able to pull level with Hart with the finish line in sight under 100 meters away.
Both girls were all-out at that point, and it was Hart who finally broke, with Masciarelli finally creating some separating just 15 meters from the finish line.
Quick Take: A star is born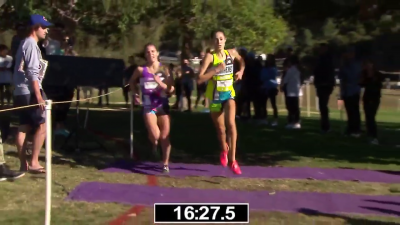 If it seems like a new girls' phenom arrives on the scene every year, that's because it has (at least for the last three years). In 2016, sophomore Claudia Lane won Foot Locker and repeated as champion last year. In 2017, sophomore Katelyn Tuohy won NXN and repeated as champion this year. And now in 2018, sophomore Sydney Masciarelli has won Foot Locker.
We'd rather not speculate right now about what Masciarelli may or may not do in the future as a lot can change. Suffice it to say that she is very, very talented, and her run today was extremely impressive, not only for how fast she ran but for the patience she displayed. Many girls running in their first season of HS XC would panic when gapped by as much as Masciarelli was (four seconds at 2.5 miles). But Masciarelli stuck to her plan, which was to attack the second time she ran the hill, and that put her in striking distance to take down Hart over the final quarter mile.
One more thing: it's a real shame that there are three national champions in the HS ranks right now — Lane, Tuohy, and Masciarelli — yet none of the three have raced against each other in XC because of injury and/or the postseason structure.
Quick Take: Katelynne Hart deserves a ton of respect
It took a two-time champ in Claudia Lane to defeat Hart last year, and she ran one of the gutsiest races in Foot Locker history today to take second behind Masciarelli. It's not uncommon for an athlete to make a big early move at Foot Locker, but when that happens, the move is often always made by the heavy pre-race favorite. And despite finishing 2nd at FL last year, Hart, who was only 3rd at Foot Locker Midwest this year 16th at NXN last week, was by no means a heavy favorite in this race.
Yet she ran tough the entire way, and even after Masciarelli pulled even and passed her after the three-mile mark, she battled back and made her work for it every step of the way. Her race today was worthy of a Foot Locker champion; she just happened to lose to another stud in Masciarelli.
Only a junior, Hart will have one more crack at the Foot Locker title next year.
---
Be a fan and talk about the race on our world famous messageboard / fan forum.
MB: Official 2018 Foot Locker XC Discussion Thread (Girls 12:15 east, Boys 1 east)
MB: Wow: Was that the greatest Foot Locker battle in history? Sydney Masciarelli edges Katelynne Hart for the title!!