An Examinaton of Kenenisa Bekele's Bizarre Day At the 2018 TCS Amsterdam Marathon
by LetsRun.com
October 21, 2018
By now you likely know that today Kenenisa Bekele, arguably the greatest distance runner in history, dropped out of the 2018 TCS Amsterdam Marathon. However, you may not know any more than that —  we doubt many of you were up at 3:30 a.m. ET to watch it live — so we thought we'd give you more details.
There were a number of unusual things about Bekele's performance, namely that he had the lead just moments before losing contact with the leaders and then when he finally dropped out there was less than a mile — maybe just one kilometer —  to go.
After running with the leaders from the start (hitting halfway in 62:12), Bekele went to the front of the lead pack after the final pacer stopped at 29 km. Here is a screenshot of Bekele (bib #2) in the lead at 29.5 k.
Article continues below player.
Bekele's lead didn't last long. Before the 31km mark, he had already lost contact with the lead pack. This happened just minutes after his agent Jos Hermens pulled up alongside him in a motorbike and gave him some instructions. Hermens, whose Global Sports Communication agency is in charge of the elite field in Amsterdam, said that he was letting Bekele and the rest of the field know what pace they were on and to keep pushing now that the rabbits were gone. See Hermens in action for yourself.
Bekele didn't drop out once he lost contact with the lead pack. At 35k (1:44:11), he was still on 2:05:36 pace. At 40k (2:00:37), Bekele was still on 2:07:14 pace.
At the 2:02:30 mark, Bekele still was running but a few minutes later he simply walked off the course. See it for yourself.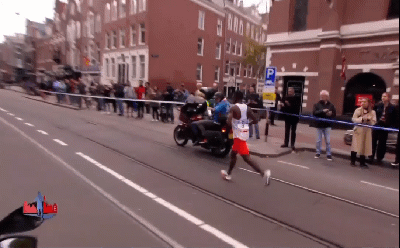 After the race, we spoke with Hermens, who explained that Bekele stepped on a stone in training about three weeks ago. Initially, Bekele didn't feel anything, but after a couple of days, he developed an injury to his sacrum (which Bekele believed stemmed from stepping on the stone). Ideally, Hermens said, Bekele would have taken two to three weeks off in order to rest up and get healthy, but with the race so close, he could not afford to do that. Instead, he pushed through in training, and the result was that he did not show up to the start line in Amsterdam at 100%.
Despite that, Bekele looked good for the first 30k or so, but Hermens said that when he went to the front and tried to increase the pace, he felt his hip begin to lock up.
"When he was starting to push, the right hip started to lock up more than it did before," Hermens said. "You try to hold back and hopefully it release again, but at 30k, with those guys pushing at his pace, it was impossible."
Indeed, the leaders ran the next 5k from 30k to 35k in 14:31 — the fastest 5k split of the day.
We also asked Hermens why Bekele chose not to finish when he was so close to the end of the race.
"Tell me why he would?" Hermens responded. "I know he was going to finish in 10th place probably, 2:10. And then push another 2k? It's no use. No, no. He was already slowing down from 35 to 40. It had no use. It was only getting worse and worse and worse."
Since running his 2:03:03 pb in Berlin in 2016, Bekele, now 36 years old, has dropped out of three of his five marathon starts. But Hermens, who also revealed that Bekele has been taking advisement from Renato Canova (with whom Bekele has worked in the past) in addition to his coach Mersha Asrat, believes that Bekele is not finished in the marathon — a notable reversal from this time last year, when Hermens questioned Bekele's commitment after he dropped out of the Berlin Marathon.
"He will be ready for a good spring marathon, I'm confident," Hermens said. "Looking for the preparation [before] the injury and what he showed, I'm convinced he's still ready to run fast times."
Talk about Bekele's day on our world famous fan forum / messageboard.
---
Note: This article was initally published without the Jos Hermens quotes.