The 5 Things We're Most Excited About For In The Men's Events At The 2018 USATF Outdoor Championships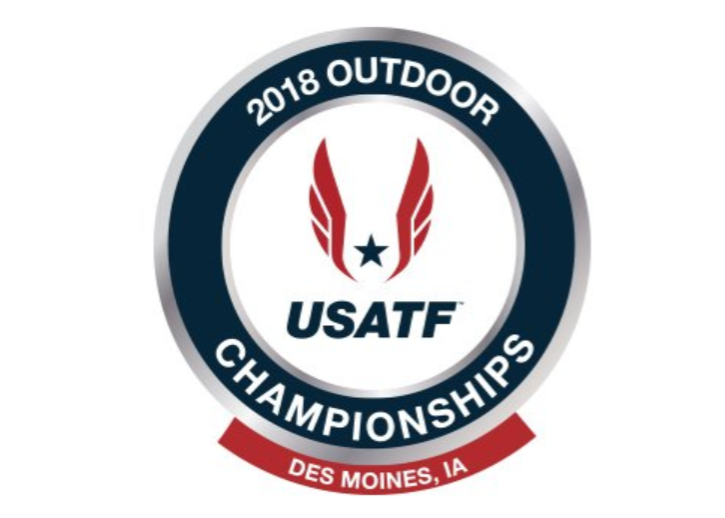 June 21, 2018 to June 24, 2018
Lyles & Norman Go for First US Titles, Centro Seeks Revenge in the 1500, a Stacked 800, & More
By LetsRun.com
June 19, 2018
The 2018 USATF Outdoor Championships begin on Thursday in Des Moines, and with no World or Olympic team to make, even us track and field diehards have to admit, the meet isn't as exciting as it is the other 75% of the time when spots on Team USA are on the line.
Technically there is a team to make, however — the top finisher in each event will be invited to compete for Team USA at the inaugural Athletics World Cup in London next month. But since the World Cup lacks the prestige of soccer event of the same name — whose final just so happens to be on the same weekend as the Athletics World Cup — it's unclear how many Americans will actually take USATF up on the offer. Sadly some of the sport's biggest names (Justin Gatlin, Allyson Felix) clearly don't care about the World Cup as they are skipping the meet.
Article continues below player
That being said, it's the freaking US championship. And we love meets that matter and for us a US title matters. And way more big names are competing in the meet than not, even if some of the rising starts — Noah Lyles (100), Michael Norman (200), and Sydney McLaughlin (400) — are choosing to compete in events other than their specialty.
So considering all of that, after taking a look at the fields, we've come up with five reasons for you to be excited for the men's meet; stay tuned later this week as we'll be doing the same thing for the women.
And here's one more reason: the LRC Running Warehouse Prediction Contest. It's totally free to enter, and the top three win a pair of HOKA One One Clifton 5's as well as a $100 Running Warehouse gift certificate.
*Schedule, entries, & results *TV & streaming information *All 2018 USATF Outdoors coverage
1) Can Noah Lyles win his first outdoor national title in the 100?
Lyles is entered in the 100 and 200, but he will only run the shorter event in Des Moines, per his agent Mark Wetmore. Lyles has been a stud in the 200 — he's the world leader at 19.69 and has not lost an outdoor race at that distance since turning pro after the 2016 Olympic Trials — and while it would be fun to see him match up in that event against fellow phenom Michael Norman, the 100 is definitely a bigger challenge. Even against Norman, Lyles would be a solid favorite in the 200. But in the 100, he's one of four Americans who have run 9.92 or 9.93 this year, which makes for a wide-open race. Surprisingly, none of the other three are named Justin Gatlin or Christian Coleman, who went 1-2 at Worlds last year and won't be running USAs. No, the others are 33-year-old Mike Rodgers (whose 9.92 in Prague on June 4 was his fastest time in three years), Isiah Young (who ran two PRs in one day to clock 9.92 in Montverde on June 9), and Ronnie Baker (9.93 in Rome on June 4).
Baker is the favorite based on his wins at the Pre Classic (a windy 9.78) and Rome (9.93 into a headwind). Ever since coming out of TCU in 2016, Baker was known as a 60 specialist, but he's worked hard to shed that reputation, breaking 10.00 for the first time last year before breaking out this year. This is his best chance yet to win a U.S. title, and if he's serious about contending for medals during the next Worlds/Olympics cycle, this is really a race he should win.
Lyles could play spoiler though. Baker has the better start, but there might not be anyone in the world right now capable of running with Lyles when he hits top gear. So the big question is whether Baker can build a big enough lead over the first 60 meters before Lyles inevitably closes the gap. We're betting that Baker can. Baker looked strong in the late stages of his wins at Pre and Rome and if he can do that again in Des Moines, it's his race to lose, even with the superstar Lyles in the fold.
Meanwhile, a win for Lyles would be proof that he's a force to be reckoned with across multiple distances, adding another feather to what is becoming a formidable cap. He would also be, at 20 years old, the youngest man to win a U.S. title in the 100 meters since Sam Graddy in 1984.
For more on Lyles, check out our profile of him published today: LRC Icon in the Making: Why Noah Lyles Could Be the Next Face of Track & Field
[gravityform action="polls" id="699″ mode="poll" cookie="1 month" show_results_link="false" display_results="true" percentages="true" counts="false" ajax="true"]
2) Brazier, Murphy, & Harris in a great 800
The U.S. has a great crop of young 800 runners right now, and all of them will be in action in Des Moines. 2016 World Indoor champ Boris Berian is entered, but he is still getting his fitness back after an Achilles injury that cost him all of 2017 — he hasn't broken 1:48 since the Olympics — and likely won't be a factor. However, the other young stars — Donavan Brazier, Isaiah Harris, Clayton Murphy, and Drew Windle, all 25 or younger — should battle it out in what figures to be a slugfest.
Brazier, 21, enters as the reigning U.S. indoor and outdoor champ, and while he was on fire indoors (running 1:45 three times), he hasn't raced at all outdoors and his training situation has been in flux because his coach, Alleyne Francique, was let go by Texas A&M after the indoor season. There are valid questions about what version of Brazier we'll see in Des Moines.
Windle was also brilliant this winter, earning a silver at World Indoors, and while he's only run 1:47 in his two 800s this year, he should not be discounted. Yes, he bombed in Shanghai (11th), but everyone's allowed a bad race from time to time. He looked much better in beating out Engels and Centrowitz at the Portland Track Festival on June 10 and will be a threat to win the whole thing at USAs.
Murphy, like Windle, ran 1:47 in his first two 800s this year, but he followed that up with a 1:45 in Shanghai. Murphy then finished 5th (top American) in the Bowerman Mile and handily won the 1500 at the Portland Track Festival, and in both cases, his finishing speed was on point (Murphy was 9th in the Bowerman Mile at 1500 to go and picked up four spots over the final 109 meters). His coach Alberto Salazar had Murphy doing a lot of strength work early in the year, but now that we're into the meat of the season, he should be sharper and ready to rock a fast 800 soon. Remember, this is a guy who ran 1:42 and medalled at the Olympics less than two years ago. Heck, even last year, people were picking him to make the US team in the 800 and the 1500. In tip-top shape, Murphy is a monster.
Penn State's Harris, the only American under 1:45 this year, is the hottest of them all right now. He upset NCAA record holder Michael Saruni to win NCAAs and has nothing to lose at USAs. And if he wins against this field? He'll have sponsors lining up to sign him.
While we don't doubt his talent, there are too many questions about Brazier right now for us to pick him.
One final note: while this event is stacked, the rounds in the 800 are always brutal. With only eight slots in the final, and young guns like Kansas' Bryce Hoppel (1:45.67 pb at NCAAs) and Drew Piazza (coming off 3:56 mile win at Adrian Martinez), one of the aforementioned stars could easily go home in the semis if they don't bring their A game.
Rojo's Stone Cold Lock:  Harris has been amazing but don't over think this one. Murphy is an Olympic medallist and he's run a 3:53 mile this year. Clearly, he's in shape so we expect him to win this.
[gravityform action="polls" id="701″ mode="poll" cookie="1 month" show_results_link="false" display_results="true" percentages="true" counts="false" ajax="true"]
3) Centro tries for #5 in the 1500
In the last 80 years, only one man has won five U.S. 1500 titles: Steve Scott. Matthew Centrowitz could join the list on Saturday if he reclaims the title he won in 2011, 2013, 2015, and 2016. Since his historic 2016 season, Centrowitz has had his share of ups and downs. But one constant throughout his career has been his ability to raise his game in championship races. Just look at his results at USAs since his first title in 2011:
2011: 1st   2012: 2nd   2013: 1st   2014: Did not compete   2015: 1st   2016: 1st   2017: 2nd
Even last year, when Centrowitz was not close to 100%, he gutted it out to finish second and make the team for Worlds. He continued to battle injuries that fall and winter, and while he hasn't been able to turn it over in the 800 this year as much as in the past (his pb is 1:44 but he hasn't broken 1:48 in four 800s this year), his last two 1500/miles have been solid: a 3:38 win doubling back at Oxy, and 3:53 for 7th in the Bowerman Mile.
In retrospect, the fact that Centrowitz was even competitive at USAs in 2017 was incredibly impressive. Remember, in between Oxy and USAs last year, Centrowitz checked himself into the hospital for pericarditis, missed almost three weeks of running, tore his adductor once he returned, assumed his season was over, dyed his hair, and bought a one-way ticket to Las Vegas. He started working out again 10 days before USAs and finished second.
So compared to this time last year, he looks to be in a better spot. And that's great news for track fans as we should get a terrific rematch between Centrowitz and 2017 champ Robby Andrews. While Andrews was excited to win his first outdoor title last year, he knew after the race that it came with a small asterisk.
"I'm not going to say it's a true battle," Andrews told us. "[Matthew] definitely said he's been banged up. But you know, it feels really good to win a race."
Andrews' consistency at USAs the last three years has rivaled that of Centrowitz — he's been 2nd, 2nd, and 1st — and he may be in even better shape this time around. Two weeks ago in Oslo, he ran a U.S. #1 3:36.05. In the process, he defeated 17-year-old Jakob Ingebrigtsen of Norway, a man (boy?) who has beaten Centrowitz twice already this year. Watching the big kicker Andrews try to take down the ace tactician Centrowitz should be some race.
Our money is on one of those two guys, but don't forget about World Championship finalist Johnny Gregorek. Gregorek ran 3:36 at Oxy but has been discounted by some since as he bombed at Pre, running a 4:02 mile. However, we were told his allergies were really acting up and a source reminded us that he was even worse at Pre last year (4:03). Other not to be discounted include Ben Blankenship (5th at World Indoors) and Craig Engels (7th at World Indoors). Just as in the 100, there's a 20-year-old Virginia native we'll be keeping an eye on: Drew Hunter, who made the final last year as a 19-year-old and has been either first or second in his six 1500/miles this year. And we may as well mention Leo Manzano. The 2012 Olympic silver medalist is 33 now and looked to be washed up, but he showed signs of life by running 3:57 at Adrian Martinez after 15 straight miles above 4:00 on the track. Never count that guy out.
[gravityform action="polls" id="700″ mode="poll" cookie="1 month" show_results_link="false" display_results="true" percentages="true" counts="false" ajax="true"]
4) Paul Chelimo & Shadrack Kipchirchir try for a WCAP/ADP sweep of the long distance events
Though Kipchirchir has left the Army WCAP program, he still trains with Chelimo in Colorado Springs under Scott Simmons and the two men will go off as heavy favorites in the 5,000 (Chelimo) and 10,000 (Kipchirchir). While Chelimo is better at 5,000 (two global medals) than Kipchirchir is at 10,000 (best finish of 9th at Worlds), the 5,000 is the more interesting event at USAs. In the 10k, Kipchirchir, who won Payton Jordan in May, is the top seed by 49 seconds thanks to his 27:07 pb. Next behind him is Garrett Heath at 27:56 (he finished 17 seconds behind Kipchirchir at PJ); no one else has broken 28:00, though Lopez Lomong, running just his second 10k ever (28:21 at the Stanford Invite in March), is a mildly intriguing prospect. But frankly, the 10k is not a great race (Kipchirchir is the only man from the top 9 at USAs last year who is returning in 2018) and we don't blame you if you skip it on Thursday night.
The 5k should be better. Chelimo can win this race any way he wants — either by soloing it from the front, as he did last year, or waiting to deploy his kick — but at least there is some realy quality behind him in Hassan Mead (2017 U.S. 10k champ, 2016 5k Olympian, 13:02 pb), Eric Jenkins (2nd last year), and Ryan Hill (made last 3 Worlds teams).
Okay, so maybe these races won't be as exciting as the more competitive 800 and 1500. But if either Chelimo or Kipchirchir gets upset, it would become one of the stories of the meet.
[gravityform action="polls" id="702″ mode="poll" cookie="1 month" show_results_link="false" display_results="true" percentages="true" counts="false" ajax="true"]
5) Odds & ends
We don't have time to take a detailed look at every event at USAs, but here are the other storylines that intrigue us heading into the meet.
How fast will Michael Norman go in the 200? (And whose jersey will he be wearing?) Norman, who turned pro after breaking the 400m collegiate record at NCAAs, has an official pb of 20.06, but he ran 19.84 (2.8 wind) to win Pac-12s last month. Given his 43.61 400, he should be capable of running well under 20 seconds. With defending champ Ameer Webb struggling, Norman will be favored to earn his first U.S. title.
Christian Taylor goes for an unorthodox double. Taylor is a double Olympic champion and an all-time great triple jumper, but he also enjoys the 400 and he's pretty fast — he ran 45.07 in Hengelo on June 3. He is entered in both events at USAs — can he earn that elusive sub-45?
Grant Holloway takes on the pros. As a freshman at Florida last year, Holloway missed a spot on the Worlds team by .05 of a second. This year, he's the world leader at 13.15, and the other two big names on the U.S. hurdle scene — Devon Allen and Aries Merritt — have SBs of 13.38 and 13.45. Can Holloway add the U.S. title to his NCAA crown?
Evan Jager goes for seven in a row. The outcome of the men's steeple isn't really in doubt — Jager is clearly the class of the field, and the #2 guy last year, Stanley Kebenei, has been hurt in 2018. If Jager can pull it off, he'd replicate the feat of Henry Marsh, who won seven straight U.S. titles in the steeple from 1981-87.
A stellar pole vault showdown. Normally in the battle of NCAA champ (Chris Nilsen) and world champ (Sam Kendricks), you'd side with the world champ, but this should be a close matchup. Nilsen, who set a meet record of 5.83 in winning NCAAs for South Dakota, has the superior SB (5.86 to Kendricks' 5.84), but Kendricks has DL wins in Eugene and Rome. Each man has cleared 5.80 four times this spring, and it will take at least that high to win in Des Moines.
---
Be a fan and talk about 2018 USAs on our world famous messageboard / fan forum: MB: Official 2018 USATF Outdoor Championshp Discussion Thread.