Schedule, Entries, & Results for 2018 USATF Outdoor Championships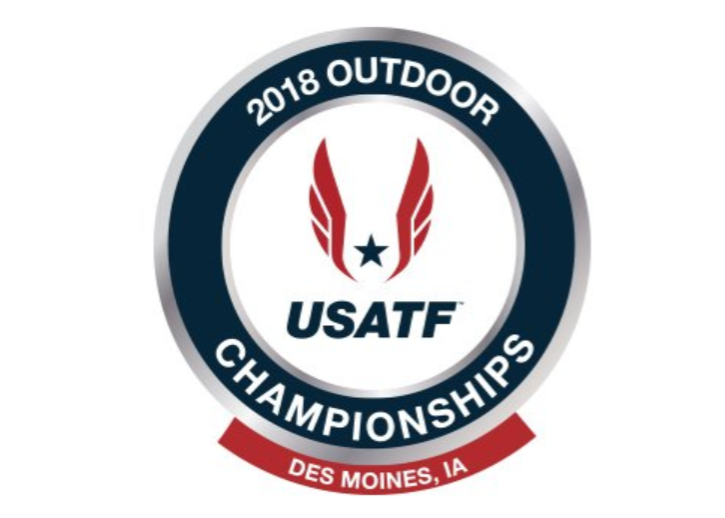 June 21, 2018 to June 24, 2018
By LetsRun.com
June 18, 2018
Below you will find the schedule and entries for the 2018 USATF Outdoor Championships, which will be held from Thursday through Sunday at Drake Stadium in Des Moines, Iowa. *Live results can be found here.
*Entries *TV/streaming information *Live results
Article continues below player
ALL TIMES BELOW ARE U.S. CENTRAL. ADD ONE HOUR FOR EASTERN TIME.
Finals in bold.
DAY ONE — THURSDAY, JUNE 21ST
NBC Sports Gold 1:00 CST
Time
Event
Division
Round
1:00pm
100m
Men
Decathlon
1:50pm
3,000m Steeple
Women
First Round
1:55pm
Long Jump
Men
Decathlon
2:00pm
Discus Throw
Women
Final
2:20pm
800m
Women
First Round
2:40pm
800m
Men
First Round
2:55pm
Shot Put
Men
Decathlon
3:05pm
400m Hurdles
Men
First Round
3:35pm
1500m
Women
First Round
3:55pm
1500m
Men
First Round
4:10pm
High Jump
Men
Decathlon
4:20pm
200m
Men 70+
Masters
4:40pm
400m
Women
First Round
5:00pm
Javelin Throw
Women
Final
5:05pm
400m
Men
First Round
5:15pm
Triple Jump
Women
Final
5:30pm
200m
Women 60+
Masters
5:45pm
100m
Women
First Round
6:10pm
100m
Men
First Round
6:40pm
400m
Men
Decathlon
7:00pm
10,000m
Women
Final
7:40pm
10,000m
Men
Final
8:40pm
20,000m Race Walk
Men
Final
END OF DAY ONE
DAY TWO — FRIDAY, JUNE 22ND
NBC Sports Gold 11:30am CST
NBCSN (delayed) 10:00pm – 12:00am CST
Time
Event
Division
Round
11:30am
110m Hurdles
Men
Decathlon
12:30pm
Discus Throw
Men
Decathlon
3:00pm
Pole Vault
Men
Decathlon
3:15pm
3,000m Steeple
Men
First Round
3:20pm
Hammer Throw
Men
Final
3:50pm
100m Hurdles
Women
First Round
4:30pm
Javelin Throw
Men
Decathlon
4:40pm
400m Hurdles
Women
First Round
5:10pm
400m Hurdles
Men
Semifinals
5:30pm
100m
Women
Semifinals
5:30pm
Triple Jump
Men
Final
5:45pm
Javelin Throw
Men
Decathlon
5:50pm
100m
Men
Semifinals
6:05pm
400m
Women
Semifinals
6:20pm
400m
Men
Semifinals
6:35pm
1500m
Men
Decathlon
6:50pm
800m
Women
Semifinals
7:05pm
800m
Men
Semifinals
7:22pm
100m
Women
Final
7:30pm
100m
Men
Final
7:40pm
20,000m Race Walk
Women
Final
END OF DAY TWO
DAY THREE — SATURDAY, JUNE 23RD
NBC Sports Gold 10:00am CST
NBC LIVE 3:00pm – 5:00pm CST
Time
Event
Division
Round
10:00am
100m Hurdles
Women
Heptathlon
11:00am
High Jump
Women
Heptathlon
12:40pm

NATIONAL ANTHEM

12:50pm
LEGEND COACH AWARD
1:05pm
Shot Put
Women
Heptathlon
1:10pm
200m
Men
First Round
1:30pm
Pole Vault
Men
Final
1:35pm
200m
Women
First Round
2:00pm
200m
Women
Heptathlon
2:10pm
Javelin Throw
Men
Final
2:15pm
Long Jump
Women
Final
2:20pm
Hammer Throw
Women
Final
2:20pm
100m Hurdles
Women
Semifinals
2:30pm
High Jump
Women
Final
2:35pm
110m Hurdles
Men
First Round
2:45pm
Shot Put
Men
Final
3:03pm
400m Hurdles
Women
Semifinals
3:20pm
3,000m Steeple
Women
Final
3:36pm
400m Hurdles
Men
Final
3:46pm
1,500m
Women
Final
4:08pm
400m
Women
Final
4:30pm
400 m
Men
Final
4:40pm
1,500m
Men
Final
4:52pm
100m Hurdles
DAY FOUR — SUNDAY, JUNE 24TH
NBC Sports Gold 11:30am CST
NBC LIVE 3:00pm – 5:00pm CST
Time
Event
Division
Round
11:30am
Long Jump
Women
Heptathlon
12:50pm
Javelin Throw
Women
Heptathlon
1:30pm
NATIONAL ANTHEM
1:45pm
High Jump
Men
Final
1:48pm
Exhibition 4×100
Mixed
Exhibition
1:55pm
Pole Vault
Women
Final
2:00pm
200m
Men
Semifinals
2:10pm
Shot Put
Women
Final
2:15pm
200m
Women
Semifinals
2:20pm
Discus Throw
Men
Final
2:25pm
Long Jump
Men
Final
2:30pm
110m Hurdles
Men
Semifinals
2:50pm
800m
Women
Heptathlon
3:04pm
800m
Women
Final
3:13pm
800m
Men
Final
3:22pm
5,000m
Women
Final
3:44pm
400m Hurdles
Women
Final
3:55pm
3,000m Steeple
Men
Final
4:10pm
200m
Men
Final
4:20pm
200m
Women
Final
4:30pm
5,000m
Men
Final
4:52pm
110m Hurdles
Men
Final
END OF DAY FOUR / END OF MEET