2018 Bislett Games Recap: Elijah Manangoi Wins a Tactical Mile, Jakob Ingebrigtsen Beaten in 1500, as Abderrahman Samba Amazes Again
By LetsRun.com
June 7, 2018
The 2018 Diamond League track and field season arrived in beautiful Oslo for the Bislett Games on Thursday on a picturesque, unseasonably warm evening. With the Ingebrigtsen brothers, hurdles world champ Karsten Warholm, and European marathon record holder Sondre Nordstad Moen, Norway is a rising power in the world of athletics, but none of its big stars would earn a victory tonight.
Instead, the headlines went to the women's steeplechase, where one of the barriers was incorrectly set to the men's height, throwing off the racers and causing several women to slam into it on the first race. We have a separate article on that race here: LRC Women's steeple barrier set at men's height at Oslo Bislett Games, chaos ensues
The other events went off without a hitch, however, and there were wins for Elijah Manangoi in a tactical Dream Mile, Caster Semenya (of course) in the 800, and Chris O'Hare (over favorite son Jakob Ingebrigtsen) in the "B" 1500 (where Robby Andrews ran 3:36.05).
In other action, Dina Asher-Smith broke the British record in the 100 meters but lost to Murielle Ahoure, world champ Ramil Guliyev returned to form with a 19.90 win in the 200, Abderrahman Samba kept rolling in the 400 hurdles, and pacemaker Dominic Kiptarus hung around to win the men's 10,000 in 28:05.34.
Full recap, results, and analysis below.
Article continues below player.
Men's Dream Mile: Elijah Manangoi impressively holds everyone off to win a tactical race
The rabbit came through 409 meters in 57.30 seconds, setting up the potential for a fast race. But nobody wanted to follow, as he was well ahead of the racers, led by Bahrain's Sadik Mikhou, with World Championship medalists Elijah Manangoi and Filip Ingebrigtsen (in his season debut) in second and third. Incredibly, they were even further back at 809 meters — 2:03 for the racers, five seconds behind rabbit Jamie Webb. Would Webb try to do what Tom Byers famously did in Oslo 37 years ago and try to steal the race?
Not quite. He dropped out, leaving Manangoi, who was at the front at halfway, to assume the lead. Manangoi picked it up slightly on the third lap, hitting the bell in 3:02.17, but it was still anyone's race with last year's winner in Oslo, Jake Wightman, moving up on his shoulder in second. Manangoi, known for his deadly kick, was trying to win this thing from the front.
Manangoi upped the pace on the back straight, and Henrik Ingebrigtsen, who had begun the race by lurking at the back of the pack, moved hard on the outside into third. His brother, Filip, was totally boxed on the inside behind Manangoi and fellow Kenyan Bethwell Birgen, but no one could get around Manangoi, who began to separate coming off the final turn.
As he pulled away, that created a gap for Filip to move up, but it was actually Mikhou — who had been even more boxed in, blocked off behind Filip — who needed the room. Finally free after fighting to get out around the final turn, Mikhou began closing rapidly on Manangoi, but Manangoi's lead proved to be insurmountable as he won in 3:56.95 thanks to a 54.68 final 400 (25.8 final 200). Mikhou finished just behind in 3:57.10 as those two were easily better than everyone else. Despite the slow start, all 11 men in the field still managed to break 4:00.
One Mile - Men  - Diamond Discipline
                                                             Pts
    1 Manangoi , Elijah Motonei        KEN    3:56.95          8
    2 Mikhou , Sadik                   BRN    3:57.10          7
    3 Tolosa , Taresa                  ETH    3:57.92          6
    4 Ingebrigtsen , Filip             NOR    3:57.97          5
    5 Essalhi , Younéss                MAR    3:58.00          4
    6 Ingebrigtsen , Henrik            NOR    3:58.46          3
    7 Gregson , Ryan                   AUS    3:58.47          2
    8 Birgen , Bethwell                KEN    3:59.10          1
    9 Wightman , Jake                  GBR    3:59.15           
   10 Taki , Kumari                    KEN    3:59.20           
   11 Andrè , Thiago                   BRA    3:59.87           
      Webb , Jamie                     GBR        DNF
Quick Take: The time wasn't fast, but this was a good opportunity for world champ Elijah Manangoi to work on his tactics
Manangoi and his coach Bernard Ouma love chasing fast times, but they shouldn't be disappointed that Manangoi only ran 3:56 today as he displayed strong racing instincts and held on well to win the race. Though many milers will shy away from the lead, if you're strong and confident, leading can actually be a good strategy when the pace is slow.
One example of why was the 2016 Olympic final; another came today in Oslo. By the end of the race, it was clear Manangoi and Mikhou were the two best guys on the day. But Manangoi was able to run the shortest possible distance over the final two laps and never had to worry about his positioning. Mikhou, meanwhile, had to spend the last lap trying to get in position to strike, and by the time he finally freed himself, it was too late to catch Manangoi.
Though Manangoi is already a decorated athlete, having medalled at the last two World Championships, it's always good to get experiences in races outside of your comfort zone, and tonight's slow first 800 is definitely not what Manangoi is used to. The more race scenarios you expose yourself to, the better prepared you are the next time you face that scenario.
"Special feeling to win the Dream Mile," Manangoi said after the race. "Next time I want to do it again. It was so nice and tough race, although it looks easy. I was ready for any pace and that we were slower was according to my needs. I wanted to attack in last 100 metres as it happened."
Quick Take: Do we need rabbits for every DL race?
This one wasn't super fast, but it was still fun to watch. These days, it seems about 50-50 as to whether the racers actually go with the rabbits (to be fair, sometimes that's because the rabbits go out way too hard for the first 200), which raises the question: does every single Diamond League race need a rabbit?
The answer is probably no. In some meets — such as Monaco — where everyone in the field is chasing a fast time, rabbits are essential. But often, rabbits don't add much to the race and it can be argued that they also stunt athletes' tactical development.
This is not a new debate, but the fact that almost no one went with any of the rabbits in Oslo (the steeple was the only race where the racers were close) reminded us of the issue.
Men's 1500: Chris O'Hare prevails in three-way kick over Robby Andrews and Jakob Ingebrigtsen
This non-DL race was geared around local phenom Jakob Ingebrigtsen, and when no one wanted to go with the rabbits, it was up to the 17-year-old to take on leading duties. By 400 meters (58 seconds for Ingebrigtsen, about 13 meters behind the rabbits), Ingebrigtsen was the first racer with the rest of the field strung out single-file behind him. Chris O'Hare, and Americans Pat Casey and Robby Andrews occupied positions 2-3-4.
The order remained the same at 800 (1:56) and at the bell, Ingebrigtsen was still in front, but seven men were lined up behind him ready to attack. The pace had slowed for the third 400 segment (59.92), but no one went around Ingebrigtsen and he still led with 200 to go. But O'Hare had moved up onto his shoulder, and at the end of the final turn, he struck and took over the lead.
But Ingebrigtsen was still there. And so was Robby Andrews, the American swinging wide and poised to unleash his famous kick. The three men would battle for the duration of the home straight, but Andrews could not close the slight gap that O'Hare owned coming off the final turn; neither could Ingebrigtsen, who found himself blocked in between his two rivals. In the end, O'Hare hung on for a narrow win, clocking 3:35.96 ahead of Andrews' 3:36.05 and Ingebrigtsen's 3:36.06, lowering his own age-17 world record.
1500 Metres - Men  - Promotional Event
                                                                
    1 O'Hare , Chris                   GBR    3:35.96           
    2 Andrews , Robby                  USA    3:36.05           
    3 Ingebrigtsen , Jakob             NOR    3:36.06           
    4 Akankam , Hicham                 MAR    3:36.94           
    5 Casey , Patrick                  USA    3:37.06           
    6 Elkaam , Fouad                   MAR    3:37.14           
    7 Berglund , Kalle                 SWE    3:37.40           
    8 Williamsz , Jordan               AUS    3:38.21           
    9 Heyward , Jake                   GBR    3:39.84           
   10 Rogestedt , Johan                SWE    3:40.81           
   11 Tiouali , Mohammed Ayoub         BRN    3:40.84           
   12 Weinans , Valentijn              NED    3:45.17           
      King-Clutterbuck , Dale          GBR        DNF           
      Koros , Bernard                  KEN        DNF
Quick Take: An impressive race from Chris O'Hare
Ingebrigtsen, given his impressive 4th-place run at Pre, was the favorite competing on home soil. And we'll admit, when we saw Andrews swinging wide off the final turn, we thought this one was all over — the US champ is very tough to beat when he gets a head of steam going. But instead, it was the Wanamaker Mile champion O'Hare who held up best over the final 100 meters, earning a victory over some quality opponents.
"I wasn't invited into the Dream Mile so I wanted to prove myself and I did," O'Hare said.
Quick Take: Andrews' coach Jason Vigilante was pleased with his pupil's run today
Andrews' last two races hadn't gone great — 1:47.78 for 6th at the adidas Boost Boston Games on May 19 and 1:49.27 for 5th in an 800 in Spain on June 1 — but coach Jason Vigilante knew his training had been going well and tonight's result reflected that.
"I thought it was a very good run," Vigilante told LetsRun.com. "He's had a very good last few months of training and is building up. I was really pleased. 3:36.0 early in the year — he's only going to get better."
Andrews still has a little more work to do if he is to lower his 3:34.78 pb from 2012, and while Andrews is looking to revise that mark at some point, Vigilante just wants to keep making progress.
"I think the big goal is just to keep improving," Vigilante said. "There are no championships so we want to be careful. We're just patiently moving around."
"I'm just happy that he's happy healthy and running well and really enjoying himself."
Women's 800: Semenya makes it 24 wins in a row
There are no questions about Caster Semenya on the track in 2018, as she powered away from the field over the final 100m to win in 1:57.25, her 24th straight 800m win. The last time Semenya lost an 800 was in September of 2015.
The big question surrounding Caster Semenya in 2018 is whether the IAAF's new rules on hyperandrogenism will actually go into effect on November 1. Until then, the only question is how many wins can she rack up, how fast can she run, and whether she can extend her dominance to the 1500.
Francine Niyonsaba, who has come closer than anyone to beating Semenya the last three years, was close to Semenya at 400 as they were 58.0 and 58.1, behind the rabbit who clocked 57.52. Semenya was running with black tape on her right leg, and if one wondered if she was 100%, that was answered the final 100m. Semenya had already a slight gap on Niyonsaba at that point, but then hit turbo and blew away the field the last 100, clocking an official 13.35 the final 100m to win by 1.32.
Niyonsaba held off a fast-closing Habitam Alemu to get second by .01 in 1:58.57. Brenda Martinez of the US ran a season's best of 2:00.74 in 6th.
800 Metres - Women  - Diamond Discipline
                                                             Pts
    1 Semenya , Caster                 RSA    1:57.25          8
    2 Niyonsaba , Francine             BDI    1:58.57          7
    3 Alemu , Habitam                  ETH    1:58.58          6
    4 Jepkosgei , Nelly                KEN    1:58.96          5
    5 Muir , Laura                     GBR    1:59.09          4
    6 Martinez , Brenda                USA    2:00.74          3
    7 Büchel , Selina                  SUI    2:00.78          2
    8 Hynne , Hedda                    NOR    2:01.46          1
    9 Elvemo , Yngvild                 NOR    2:01.65           
   10 Lindh , Lovisa                   SWE    2:02.49           
      Bibik , Olha                     UKR        DNF
QT: Unofficially, Alemu's final 100m was faster than Semenya's
We don't see how Semenya gets beat at 800 this year on the track, but if someone is looking for something, Alemu's final 100m was 12.8 to Semenya's 13.5. Semenya reiterated her goal is to keep winning saying, "I expected better pace, maybe at 55 level, so that we could be there easily at 57, but it did not happen. I was ready for faster time, but also 1:57 is not bad. Of course I'm enjoying winning all the races and times will come. I will have 800 in Paris, than Lausanne 1500 and again 800m. This year the main goal is to be on top in the Diamond League and win all the races."
Laura Muir was .40 off her 1:58.69 PR and said, "It was a really good field and I did well but I wanted to run a personal best, although it was still my second fastest ever 800m. I hoped to run 1:58 but the pace slowed on the second lap, I'm still happy with my run, though. It's still early season and Berlin is the main goal for the European Championships – the double (800m and 1500m) is not possible because of the timetable and I haven't decided which event I will do. Next, I will run the 1500m in Stockholm."
Men's 10,000m: The rabbit Kiptarus wins
Dominic Kiptarus, a 60:07 half marathoner/28:17 road 10k guy, was hired to be the rabbit in this one. After doing his duties for 8k, he decided he was feeling pretty good and he stayed in the race and would win it after a battle with Stewart McSweyn of Australia and Julien Wanders of Switzerland. It was the first 10k in Oslo since 1997 even though it was on before the main TV window began.
European record holder in the marathon Sondre Moen was also in this race, but was further back in 28:37 as coach Renato Canova predicted on LetsRun.com.
MB: Julien Wanders vs Sondre Moen, Olso Bislett Games 10,000m
10,000 Metres - Men  - Promotional Event
                                                                
    1 Kiptarus , Dominic Chemut        KEN   28:05.34           
    2 McSweyn , Stewart                AUS   28:05.37           
    3 Wanders , Julien                 SUI   28:07.15           
    4 Talbi , Zouhair                  MAR   28:31.73           
    5 Moen , Sondre Nordstad           NOR   28:37.92           
    6 Vedvik , Marius                  NOR   29:13.27           
    7 Negash , Weldu                   NOR   29:21.23           
      Gabius , Arne                    GER        DNF           
      Meucci , Daniele                 ITA        DNF           
      Nilsson , David                  SWE        DNF           
      Øygard , Eivind                  NOR        DNF           
      Petros , Amanal                  GER        DNF           
      Svela , Per                      NOR        DNF           
      Vernon , Andy                    GBR        DNF
Sprints
Men's 400m Hurdles: Abderrahman Samba turns back Karsten Warholm and the hopes of the home nation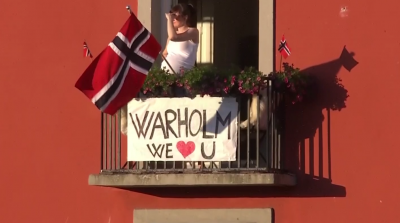 This was the sprint matchup the fans wanted. The world champion, Norwegian hero Karsten Warholm, taking on Abderrahman Samba who, has broken the Diamond League record twice in 2018.
Warholm slapped himself in the face before the start and tried to get the crowd even more behind him, but there was no stopping Samba today. Samba got out with Warholm today and this one wasn't in doubt down the homestretch as he got the win in 47.60 as Warholm settled for 2nd in 48.22.
400 Metres Hurdles - Men  - Diamond Discipline
                                                             Pts
    1 Samba , Abderrahman              QAT      47.60          8
    2 Warholm , Karsten                NOR      48.22          7
    3 Copello , Yasmani                TUR      48.54          6
    4 Holmes , TJ                      USA      48.64          5
    5 Clement , Kerron                 USA      49.30          4
    6 Mägi , Rasmus                    EST      49.35          3
    7 Hann , Mamadou Kasse             FRA      49.50          2
    8 Barr , Thomas                    IRL      49.53          1
Quick take: This one was still fast despite being only the 3rd fastest win of the year for Samba
Prior to this year the Diamond League record was 47.62 by Bershawn Jackson. Samba lowered that to 47.57 in Doha and then 47.48 in Rome, but today's run was still faster than any other athlete ever in the Diamond League.
Warholm's time was off his 47.82 PR from Rome, but was still faster than his 48.35 winning time at Worlds last year. It equalled the second fastest time of his life. Warholm is running better than ever in 2018, but Samba is a notch ahead.
Fans won't have to wait long for a rematch. They'll race again Sunday in Stockholm.
Samba said, "I'm enjoying life and hoping to continue to run fast next time in Stockholm. And you can be sure I can run faster, maybe even close to 47 seconds. And Samba dance, I need to learn that more."
Women's 100: Murielle Ahouré picks up first (outdoor) win of year as Dina Asher-Smith crushes the British record
The Ivory Coast's Murielle Ahouré, who went undefeated during the indoor campaign and captured World Indoor gold at 60m, picked up her first win of the outdoor season in 10.91, the first ever sub-11 clocking by a woman in Bislett Games history. Ahouré was just able to hold off a fast closing Dina Asher-Smith of Great Britain, who finished second in a British record of 10.92, knocking .07 off her own previous record of 10.99.
"I know this track very well, and for first time dipped under 11 seconds here. Important was that I executed well. Conditions were favorable for the sprint and I used it. Next race in Stockholm 100m where I want to defend my winning position, I think I'm in pretty good shape right now," said Ahoure who was just .01 off her seasonal best.
Asher-Smith was obviously thrilled with the big PB.
"I'm over the moon, I can't believe it! I'm so happy with how the race went and to get the British record is amazing. This year is all about focusing on the European Championships in Berlin in August, so I'll use the IAAF Diamond League circuit to prepare for that," said Asher-Smith. "I'm free from university now so I can really focus on my racing, and next I will go home to recover and compete in Stockholm."
100 Metres - Women  - Diamond Discipline               Wind: +1.6 m/s
                                                             Pts
    1 Ahouré , Murielle                CIV      10.91          8
    2 Asher-Smith , Dina               GBR      10.92          7
    3 Ahye , Michelle-Lee              TTO      11.06          6
    4 Okagbare-Ighoteguonor , Blessing NGR      11.12          5
    5 Lückenkemper , Gina              GER      11.16          4
    6 Horn , Carina                    RSA      11.22          3
    7 Okparaebo , Ezinne               NOR      11.24          2
    8 St Fort , Khalifa                TTO      11.28          1
Men's 200: World chap Ramil Guliyev nearly PRs at 19.90
Turkey's world champ Ramil Guliyev came on strong late to run down Canada's Aaron Brown and get the win in the men's 200. Guliyev, who has a 19.88 pb, just missed it today as he won in 19.90 with the help of a 1.0 m/s wind as Brown lowered his pb from 20.00 to 19.98.
For those of you that remember that Guliyev ran just 20.57 at Pre two weeks ago, you may be wondering how he ran so fast. Well, he actually opened up well in Doha on May 4 with a 20.11 – so his Prefontaine result should be viewed as an aberration.
Tonight's 19.90 is only the third time in his career that he's broken 20.00. Remember, he won Worlds last year in 20.09.
200 Metres - Men  - Diamond Discipline                 Wind: +1.0 m/s
                                                             Pts
    1 Guliyev , Ramil                  TUR      19.90          8
    2 Brown , Aaron                    CAN      19.98          7
    3 Richards , Jereem                TTO      20.19          6
    4 Gemili , Adam                    GBR      20.21          5
    5 Webb , Ameer                     USA      20.45          4
    6 Quarcoo , Jonathan               NOR      20.79          3
    7 Martina , Churandy               NED      20.86          2
      Dukes , Dedric                   USA         DQ
Women's 400 hurdles: Dalilah Muhammad prevails in a duel of Americans
Muhammad, who was third in Rome last week, earned her second DL win of the season, but it did not come easy. For 370 meters, she had company in the form of fellow American Shamier Little on her inside, but Muhammad pulled away coming off the final hurdle to win in a season's best of 53.65 to Little's 53.94.
400 Metres Hurdles - Women  - Diamond Discipline
                                                             Pts
    1 Muhammad , Dalilah               USA      53.65          8
    2 Little , Shamier                 USA      53.94          7
    3 Watson , Sage                    CAN      54.55          6
    4 Sprunger , Léa                   SUI      55.07          5
    5 Hejnová , Zuzana                 CZE      55.16          4
    6 Iuel , Amalie                    NOR      55.26          3
    7 Pedroso , Yadisleidis            ITA      55.47          2
    8 Kloster , Line                   NOR      56.48          1
Women's 100 hurdles: 2015 world champ Danielle Williams wins a tight one
With no Diamond League points on the line, American stars Brianna McNeal and Keni Harrison sat this one out. As a result, it came down to a battle between 2015 World Championship gold and silver medalists Danielle Williams of Jamaica and Alina Talay of Belarus, and though Talay held a slight edge most of the way, Williams threw in an extra burst off the final hurdle to win in 12.60 to Talay's 12.63.
100 Metres Hurdles - Women  - Promotional Event Wind: +1.1 m/s
                                                                
    1 Williams , Danielle              JAM      12.60           
    2 Talay , Alina                    BLR      12.63           
    3 Harrison , Queen                 USA      12.71           
    4 Pedersen , Isabelle              NOR      12.78           
    5 Roleder , Cindy                  GER      12.81           
    6 Berings , Eline                  BEL      12.89           
    7 Owens-Mitchell , Bridgette       USA      12.98           
    8 Stowers , Jasmin                 USA      12.99
Women's 400: Bahrain's Salwa Eid Naser wins again
Shaunae Miller-Uibo is the world's best 400 runner right now. But she was not in Oslo tonight, and that meant that World Champs silver medalist Salwa Eid Naser of Bahrain, who won in Rome last week, was free to run away with this race in the final 100, clocking a season's best of 49.98.
The time was much faster than her 50.51 in Rome, and just a tenth off her 49.88 pb from last year. And at only 20 years old, Naser could well go much faster later this summer and in the years to come.
400 Metres - Women  - Diamond Discipline
                                                             Pts
    1 Naser , Salwa Eid                BRN      49.98          8
    2 Francis , Phyllis                USA      50.47          7
    3 Wimbley , Shakima                USA      50.53          6
    4 Beard , Jessica                  USA      50.57          5
    5 Stepter , Jaide                  USA      50.78          4
    6 Okolo , Courtney                 USA      51.22          3
    7 Onuora , Anyika                  GBR      51.60          2
    8 Guei , Floria                    FRA      51.84          1
Field events
Men's shot put: Tom Walsh wins on his final attempt
World champ Tom Walsh of New Zealand had lost his first two matchups with Olympic champ Ryan Crouser this year, but that changed today as Walsh, who also won World Indoors in March, won with a meet-record toss of 22.29 meters.
The competition was a dramatic one. Walsh began with a big 21.91 in round 1, and that held up as the leader until Crouser's 22.21 in the penultimate round. But Walsh answered back with a huge 22.29 in round six to seal victory, his first 22-meter throw since the qualifying round of the Commonwealth Games on April 8.
Shot Put - Men  - Diamond Discipline
                                                             Pts
    1 Walsh , Tomas                    NZL      22.29          8
    2 Crouser , Ryan                   USA      22.21          7
    3 Hill , Darrell                   USA      21.20          6
    4 Storl , David                    GER      20.97          5
    5 Stanek , Tomáš                   CZE      20.82          4
    6 Whiting , Ryan                   USA      20.25          3
    7 Kovacs , Joe                     USA      20.13          2
    8 Thomsen , Marcus                 NOR      19.41          1
    9 Žunic , Stipe                    CRO      19.17
Women's pole vault: Sandi Morris gets DL win #2
Morris was only third at the Pre Classic two weeks ago, but she bounced back today to win as she was the only woman to clear 4.81 meters. Morris, who also win in Doha, now leads the DL standings with 22 points. World/Olympic champ Katerina Stefanidi continued to struggle in 2018 as she no-heighted, failing all three attempts at 4.41 meters.
Morris on the NBCSN broadcast sait it took her 37 hours to get to travel to Oslo. She said she wants to get back over 5 meters but decided to stop because of the wind and the travel.
Pole Vault - Women  - Diamond Discipline
                                                             Pts
    1 Morris , Sandi                   USA       4.81          8
    2 Sidorova , Anzhelika             ANA       4.71          7
    3 Bengtsson , Angelica             SWE       4.61          6
    4 Nageotte , Katie                 USA       4.61          5
    5 Bradshaw , Holly                 GBR       4.51          4
    6 Silva , Yarisley                 CUB       4.26          3
    7 Retzius , Lene Onsrud            NOR       4.26          2
      Stefanidi , Katerina             GRE         NM
Men's High Jump: Barshim remains perfect in Diamond League in 2018
Mutaz Essa Barshim was the only athlete to clear 2.36 and he made it 3 wins in 3 Diamond League meets this year. Up next is the Ostrava Grand Prix.
High Jump - Men  - Diamond Discipline
                                                             Pts
    1 Barshim , Mutaz Essa             QAT       2.36          8
    2 Lysenko , Danil                  ANA       2.33          7
    3 Thomas , Donald                  BAH       2.25          6
    4 Ghazal , Majd Eddin              SYR       2.25          5
    5 Fassinotti , Marco               ITA       2.25          4
    6 Delryd , Fabian                  SWE       2.20          3
    6 Nabokau , Dzmitry                BLR       2.20          3
    6 Starc , Brandon                  AUS       2.20          3
Women's javelin: Khaladovich wins it on her final throw
China's Huihui Lyu, the winner in Shanghai, went 65.11 meters on her first throw and led until the very last round, until Belarus' Tatsiana Khaladovich unleashed a national record of 67.47, her first DL win since last year's Pre Classic.
                         
Javelin Throw - Women  - Diamond Discipline
                                                             Pts
    1 Khaladovich , Tatsiana           BLR      67.47          8
    2 Lyu , Huihui                     CHN      65.11          7
    3 Ogrodníková , Nikola             CZE      61.56          6
    4 Borge , Sigrid                   NOR      61.11          5
    5 Winger , Kara                    USA      60.79          4
    6 Palameika , Madara               LAT      59.26          3
    7 Hussong , Christin               GER      58.53          2
    8 Gleadle , Elizabeth              CAN      55.93          1
    9 Roberts , Kelsey-Lee             AUS      54.61           

Women's triple jump: Caterine Ibarguen gets the win, American Tori Franklin takes second
American women have traditionally struggled in the triple jump, but Tori Franklin broke out with a huge 14.84 American record last month in Guadeloupe and showed that was no fluke by finishing an impressive second in Oslo. However, she was still no match for Olympic champ Caterine Ibarguen of Colombia, who won with a best mark of 14.89 (her five legal jumps were all better than Franklin's best of 14.57 tonight).
Triple Jump - Women  - Diamond Discipline
                                                             Pts    Wind
    1 Ibargüen , Caterine              COL      14.89          8    +2.5
    2 Franklin , Tori                  USA      14.57          7    +0.2
    3 Williams , Kimberly              JAM      14.50          6    -0.6
    4 Ricketts , Shanieka              JAM      14.44          5    +1.8
    5 Gierisch , Kristin               GER      14.37          4    +1.4
    6 Rypakova , Olga                  KAZ      14.12          3    +2.1
    7 Saladukha , Olga                 UKR      14.02          2    +0.7
    8 Onstad , Oda Utsi                NOR      13.23          1    +0.4
      Papachristou , Paraskevi         GRE         NM                NWI

Men's discus: Gudzius wins
World champ Andrius Gudžius of Lithuania picked up his first DL win of the year with a third-round throw of 69.04. Gudžius, who also threw 69.00 in round #5, was pleased with the win.
"My technique was at 85 percent and I still did 69 meters. That shows I'm ready. Of course great win today, no problems with the wind. I want to continue with winning that is clear. Lot of competitions still coming," said Gudžius.
                             
Discus Throw - Men  - Diamond Discipline
                                                             Pts
    1 Gudžius , Andrius                LTU      69.04          8
    2 Hadadi , Ehsan                   IRI      67.55          7
    3 Ståhl , Daniel                   SWE      67.04          6
    4 Harting , Christoph              GER      65.68          5
    5 Finley , Mason                   USA      65.16          4
    6 Milanov , Philip                 BEL      64.40          3
    7 Jasinski , Daniel                GER      63.94          2
    8 Dacres , Fedrick                 JAM      63.85          1
    9 Isene , Ola Stunes               NOR      62.01           
   10 Skagestad , Sven Martin          NOR      59.48