Shadrack Kipchirchir Runs 7:42 In Boston As The LetsRun.com Singlet Breaks 8:00 For The First Time
By Jonathan Gault
January 26, 2018
BOSTON — It wasn't quite what he wanted, but for his first indoor race in four years, Shadrack Kipchirchir acquitted himself pretty darn well on Friday night. Running the second half of the invitational men's 3,000 at the John Thomas Terrier Classic at Boston University by himself, Kipchirchir blasted a 14-second personal best of 7:42.71 to win the race over training partner Emmanuel Bor (7:44.93). Kipchirchir's time ranks #2 in the world since the start of 2017; only fellow WCAP member Paul Chelimo's 7:42.39 in Boston last year was faster.
"I was hoping for under 7:40…If I had someone to push [me], I would have run a little faster," Kipchirchir said.
Article continues below player
Prior to the race, Kipchirchir's coach Scott Simmons had arranged for rabbit Eliud Rutto to try to hit 60 seconds per lap to give Kipchirchir a chance to run as close to 7:30 as possible. But that was always going to be a tough task for Rutto, who ran 'just' 4:00 in an open mile last weekend. He did his best, leading Kipchirchir through 800 in 2:01.76 but he began to slow as they approached the mile and Kipchirchir passed him at 1500 meters. From there, Kipchirchir was on his own (with Bor trailing about 15 meters behind), hitting 1600 meters in 4:06, and though he managed to drop a 60-second quarter from 1600 to 2000, he could not keep grinding out 60-second laps — a tough enough feat, even with a rabbit.
"To run by myself in front, I want to learn that," Kipchirchir said.
Education is the reason Kipchirchir returned to the indoor track after a three-year absence. At Worlds last year, Kipchirchir was dropped with just over two laps to go in the 10,000-meter final. He wound up an admirable 9th (in a very quick 27:07), but Kipchirchir is shooting higher. If he is to one day challenge for a medal, he'll need to improve his endurance to hang with the very best in the world. But a fitness boost alone won't be enough; if Kipchirchir does find himself in the hunt in the final laps, he'll need racing chops to close out a medal. That's where this indoor season comes in.
"I want to learn how to compete, compete at people hard," Kipchirchir said. "Most people, they compete [the] last k of the race. That's where they left me last summer in London."
The idea is that by running shorter races (today's 3k, a mile tomorrow, and more 3ks at Millrose, USAs, and potentially World Indoors), Kipchirchir will be prepared for any scenario should he make it to the end of the race with the leaders at future Worlds or Olympics.
Kipchirchir's goal this season is to make it to World Indoors, though he knows it won't be easy — in his training group alone, he's got Bor (who ran a 12-second PR of 7:44 tonight) and Chelimo, the U.S.'s best distance runner right now. But his education has begun.
Interview with Kipchirchir
Ben de Haan Gets A Small PR (And The LetsRun.com Singlet Gets A Big One)
While the best performance of heat 2 undoubtedly belonged to Brown alum Jordan Mann, who cruised to victory in an impressive early-season 7:52.45, the headline (at least from the LetsRun.com perspective) was the return of the LetsRun.com singlet to the 200m oval, donned by Cornell alum Ben de Haan, who is trying to make the Netherlands' team for World Indoors. Ben, who has been training in Flagstaff under the tutelage of LRC guru John Kellogg, was hoping in an ideal world to hit the IAAF standard of 7:52.00 tonight, but knew that would be tough as this was his "rust buster." So his main goal was to run hard as he's already got a spot on the starting line at the New Balance Indoor Grand Prix in two weeks – the lone US stop on the IAAF indoor tour.
"Rust buster" is the way de Haan's race played out today as he was unable to stick with Mann and rabbit Robert Cheseret as they began to pull away at 1,600 meters (4:10 for Cheseret/Mann, 4:12 for de Haan).
Ben did an admirable job of leading the chase pack for a few laps, but neither he nor any of the chasers could pick it up over the second half of the race, with Ben ultimately finishing 4th in the heat in 7:58.52, a PR by .09.
"I've been doing altitude training and just not a lot of race-pace stuff," Ben said. "So I felt really strong, but I could not move any faster."
Ben will spend the next two weeks at sea level in Ithaca, N.Y., before racing the 3k at the NBIGP here in Boston on February 10. He's hoping that, with some extra sharpening, he'll be in better shape to hit the standard, though his situation shows the perils of being on the fringe. With the qualifying window for Worlds closing on February 19, there isn't much time left to hit the standard – "I just blew 50% of my chances today," Ben told me – and today's race may have been his best chance to do it.
"I'm hearing the rabbiting (at NBIGP) will be pretty fast," Ben said. "If I wanted to hit it, today was the day. It's too bad today was the first race. It's gonna be a lot faster in two weeks. But if I can hang on … it's scary."
In order to make the Dutch team, Ben will have to run under the standard and convince the Dutch selectors that he's able to make the final at Worlds, which may require an even faster time. But Ben is flying out to run the Dutch national championships on February 18 and is hoping he can make an impression with a big performance at that meet. At least he doesn't have to beat out Kipchirchir and Chelimo to make the team.
"It's certainly easier than the States. I'm a traitor, I guess," said de Haan, who was born and raised in California, made the final of US juniors in the 1,500 before going to Cornell (where he won the conference indoor 3k and outdoor 5k and 10k as a senior) and ran the 5,000 at USAs last summer, but speaks fluent Dutch, with a laugh.
One consolation for Ben: he did manage to run the fastest 3k ever (and first sub-8:00) in the LetsRun.com singlet. An impressive run, for sure.
If you want to follow Ben's attempt to qualify for World Indoors, he's been logging his training on the message board. Check it out here.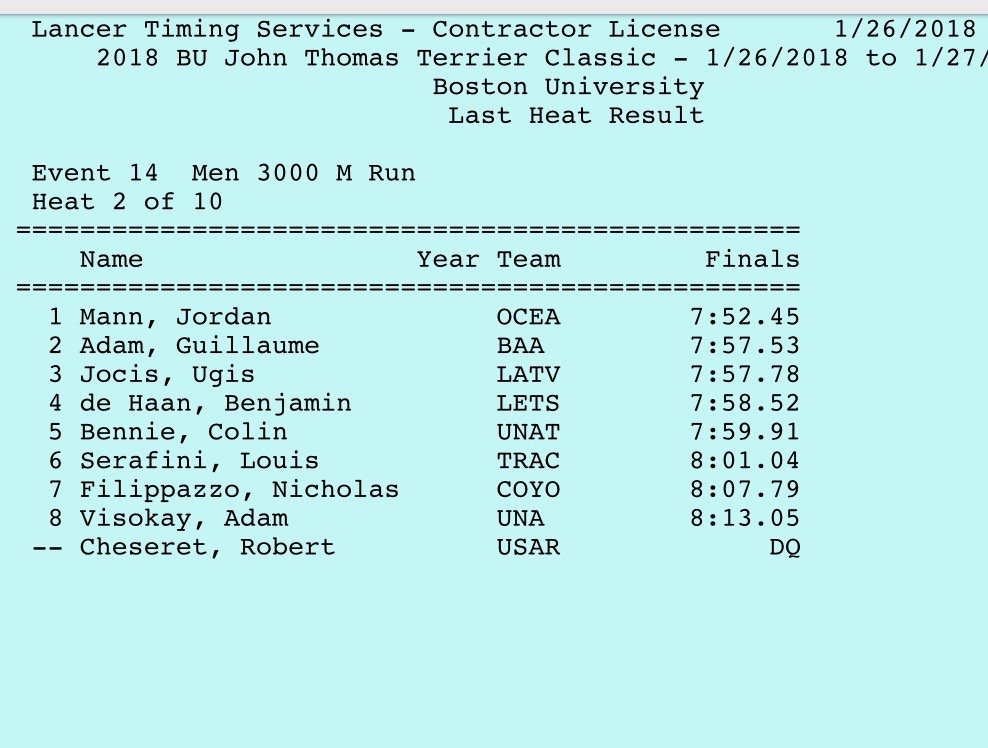 Talk about Kipchirchir's run here: Shadrack Kipchirchir – the 3rd fastest American ever at 10k – just ran the 2nd best indoor 3k since 2017