Meet the Winners of the Running Warehouse NYC Marathon Prediction Contest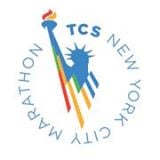 November 05, 2017
By LetsRun.com
November 14, 2017
One of the best things about LetsRun.com is announcing the winners of our Running Warehouse Prediction Contests as we get to highlight the interesting people who make up the LetsRun.com community. We've had pro runners, legends of the sport, rocket scientists, 13-year-olds, and even ourselves win the contests.
And speaking of contests, we have a new one for NCAAs this weekend. Be sure to get your picks in by Saturday morning.
Article continues below player
LRC $200,017 LetsRun.com Running Warehouse NCAA D1 Cross Country Prediction Contest
The winners of our NYC Marathon prediction contest have their own interesting stories, and continue the trend of a) being really smart and b) really into running.
Our overall winner of the contest is Jenna Goodrum from Salt Lake City. Jenna's super smart, as she's getting her Ph.D. in biochemistry at the University of Utah. Jenna is fairly new to running. She grew up playing softball, but once in grad school needed something to stay active and she discovered running. She said she first tried running because it was "cheap and super accessible for a graduate student," but once she tried it, she "ended up loving it." Being super smart, Jenna naturally soon discovered LetsRun.com and became a fan of our great sport. She said she was "actually really surprised at how fun following the sport of running was. I visit LetsRun almost everyday. I am always in awe at what the pro runners can do and it's super inspiring (Shalane!)."
No one in our contest picked the men's and women's winner correctly, but Jenna did a really good job with her picks. She nailed the men's top 3 perfectly and had Mary Keitany and Shalane Flanagan in her top 3 on the women's side.
For winning the contest, Jenna won a $100 Running Warehouse gift certificate and the shoe of her choice. She chose the Saucony Freedom ISO NYC. A good choice because it was a special edition color/make released for New York this year.
Our top 3 all had the same picks as Jenna, the only difference was how close they came to picking the winning times. All winners won a $100 gift certificate and the shoe of their choice from RunningWarehouse.com (you too can get the shoe of your choice with free shipping both ways here).
1:10/2:30 Guy Finishes 2nd
Brandon Messerly finished in second place. He's a 24-year-old student at Cal Poly getting a science teaching certificate. He's "only run" 1:10 for the half marathon, 2:30 for the marathon and is hoping to sneak into the 2020 Olympic Marathon Trials.
He ran at Great Oak High School in Temecula, California, (the 2015 NXN champions) then the University of Kansas and Cuesta College, and is a daily LetsRun visitor (that's the key to winning our contests ;)).
Brandon chose the Nike Zoom Elite 9 for his shoe.
Running Lifer is 3rd Placer
Mike Lundgren, another LetsRun.com regular, finished in 3rd place. Mike took up running at the age of 25 because it would help him quit smoking. Forty years later, he's still at it. He made a career in Exercise Physiology, and got a Master's from Ball State's Human Performance Lab. His wife, Jane, is a runner, and they've been married 35 years (congrats Mike and Jane). He now is semi-retired and that means working full-time at Garry Gribble's Running Shorts and is super active with the sport. This past weekend he went to the NCAA Midwest Regional meet to support the UMKC team (photo on the right). He's also a race director and has kept the Missouri road running records for 25 years. He's also been to three Olympic Trials and three World Champs and saw Kipchoge outkick Bekele at the World Champs in Paris.
For his shoe, he chose the Nike Zoom Speed Rival 6.
We Reward a Non-Homer Who Picked Shalane Flanagan to Win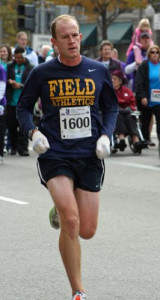 There wasn't supposed to be a 4th place prize, but we're giving one to Jesse Gaylord. Only six people in our contest picked Shalane Flanagan to win NY. Half of them were total homers and also picked an American man to win on the men's side. Of the pickers picking Shalane, Jesse had the best total score and was only one pick from cracking our top 3. We decided to reward Jesse with the shoe of his choice. He chose the Brooks Ravenna 8.
Jesse is another running lifer. He went to Staples High School in Connecticut and was coached by the Connecticut legend Laddie Lawrence. Jesse then ran at Hamilton College and after college, after a brief stint in Crested Butte (Emma Coburn's hometown), he moved to Washington, D.C., where he took a job teaching history and coaching track/XC at The Field School. The Field School shares a track with Georgetown which means Jesse has learned from Gtown coaches Chris Miltenberg, Pat Henner, and Mike Smith, while watching Emily Infeld run. The results have been successful as Jesse's teams have won 13 championships.
---
Thanks to RunningWarehouse.com for sponsoring our contest and all of our contests the last few years. RunningWarehouse.com is the leader in online running retail for a reason.
Congratulations to all of our winners and to everyone who played in our contest.
If you played in the contest and want to check your scores, use the form below. If you want to see the top 30 leaderboard, click here.