Scandal? Rigged!? LetsRun.com's Jonathan Gault Wins LetsRun.com Running Warehouse XC Prediction Contest
by: LetsRun.com
December 26, 2016
America, we have bad news for you.
With talk of "rigged" and "hacked" elections, you need something to restore confidence in the election process. Unfortunately, you're not going to get it from us.
Article continues below player
The winner of the 2016 Running Warehouse NCAA Cross Prediction Contest is LetsRun.com's Jonathan Gault. "How can that be?" you say. Well, the rules of our contest clearly say, "And yes, we can win our own contest. If we beat you, you'll hear about it for sure."
We will, however, spare you from having to hear much about it from us. For while Jon is super smart, the best writer at LetsRun.com, and meticulously spends hours breaking down the fields for nearly all of our LetsRun.com previews, he's not braggadocious. And it's way too much for the rest of us at LetsRun.com to stomach the fact that the low man on the totem pole – at least in terms of age and seniority – won the contest, so we won't say a bunch of great things about him either.
Plus, since it's possible that the Russian government is paying trolls to write pro-Russian things on the LetsRun.com messageboard threads related to the Russian doping scandal (we've received a couple of emails from people — including one from a Russian scholar — who believe this to be the case), then surely Russian hackers could have hacked the contest to undermine your confidence in the fairness of the LetsRun.com contests. After all, Jon somehow won the contest despite picking only one of the four winners (men's and women's individual and men's and women's teams) correctly (Northern Arizona). To his credit, he did pick the top 3 perfectly right in the men's team competitions and was pretty good with all his picks. His victory comes with a small asterisk, however, as LRC Co-founder Rojo insists he could have done way better, but forgot to enter.
But Jon has won and we always give a little biographical info on our winners – so here goes. Jon was born in England. His mom is American, and his dad British. A sports nut, unfortunately in England he became a fan of lowly soccer club Brighton & Hove Albion (the same club announcer Tim Hutchings roots for).
We didn't realize it until now, but Jon is the American success story. He moved to the United States in the fall of 2001 (just as Tom Brady was becoming quarterback of the New England Patriots) and he and his sports teams have been doing one thing since then – winning. The Patriots have been the best team in the NFL, the Red Sox broke the curse of Babe Ruth to win three World Series, and the Celtics won the NBA title. Now Jon has capped it all off by winning the LetsRun.com prediction contest.
Along, the way Jon even got educated in America. True story, Jon, a trivia nut, learned about the Revolutionary War for the first time after arriving Stateside. He used that knowledge to go to Dartmouth and then get a journalism degree from Syracuse.
That only leaves one unknown in this tale of American greatness – how did Jon get his love for the sport of running and reach the pinnacle by gaining employment with LetsRun.com? On the pudgy side as a kid, Jon discovered despite carrying a few extra pounds he was pretty good at running. He dropped the extra pounds, excelled in the high school ranks in Mass, and then ran collegiately at Dartmouth where he ran 29:43 for 10,000m.
We told you Jon is super smart, and with his journalism degree from Syracuse in hand he literally convinced LetsRun.com that we needed to hire and pay him as an intern one summer. Then, he did such a good job he convinced us to keep paying him as a writer. A great decision on our part, but Jon needs to know where to draw the line and stop embarrassing everyone else at LetsRun.com in our prediction contests.
For winning th

e contest Jon gets a $200 gift certificate from Running Warehouse and a pair of Saucony ISO shoes.
Guy Coached by Karissa Schweizer's Granddad Wins Individual Contest
29-year-old Evan Schwartz, who just moved to Nashville, Tennessee, won the individual prediction contest and wins a $100 gift certificate from Running Warehouse and a pair of  Saucony ISO shoes. After working in corporate retail in the Twin Cities, Evan now works for a small consulting firm in Nashville and is up for having beers with any LRCers in the Nashville area.
Evan won the contest because it too was "rigged" in his favor. He was the only person in the entire contest to pick the upset win of Karissa Schweizer of Missouri. Why did he do that? He threw a "hail mary that she (Schweizer) would shock the world" because Evan went to Dowling Catholic HS, the same high school Karissa went to, and where her grandfather Frank was Evan's coach. Pretty cool.
(Karissa comes from a running family. Not only were her grandfather and father both collegiate All-Americans, and her younger brother now a runner at Notre Dame, but her grandfather coached at Dowling Catholic for 42 years. She is very close to her granddad and calls him before every race. Click here to read a great profile on the family in the Columbia, Missouri, paper)
As for Evan's connection to the sport of running, he writes:
– I was an aggressively mediocre D3 middle distance runner at University of St. Thomas in St. Paul, MN and ran with some absolutely awesome people that are still friends today. I even became good friends with people from other schools in the conference including guys like Erik Diley who went to a far inferior school that was only for guys.
– People are saying that St. Thomas is like the Alabama football of the Minnesota Intercollegiate Athletic Conference indoor track and has won 30 straight conference championships.
– I complained regularly about mileage in college and now am living that post-grad lifestyle where I only workout (running, basketball) enough to maintain bad habits.
LRC Lifer Involved with Pro Sports Wins Team Contest
33-year-old Terry Kuhlmann won the team prediction contest. He's born and raised and lives in Chicago and now does advertising sales for CSN Chicago, the regional television station for the Chicago Cubs, White Sox, Bulls, and Blackhawks games. He grew up a few blocks from Wrigley Field, so he's still basking in the Cubs' World Series victory.
Terry's story is a cool one, not only because he is offering us free tickets to sporting events in Chicago and can dunk a basketball, but because he loves passionately the sport of running and LetsRun.com is the community where he can share that passion. His email was so good we're quoting it in its entirety:
"Unlike the majority of your visitors, I'm not, nor have I ever been a very good runner. However, I do love the sport.
I started running in HS with the sole purpose of getting in better shape for basketball. In HS, I was a 6'1, 140lb pg that could dunk, but that didn't translate well to distance running. I got to see the likes of Jorge Torres and Donald Sage compete in Illinois and fell in love with the sport. From a competition standpoint I was, and still am, an average runner with a 18:46 5k PR (today it's probably closer to 22 mins). I usually ran the open races. My HS basketball team was inducted into our schools Hall of Fame, but my fondest memories of HS were running XC. I ran sprints in track and my only notable track achievement was an 8th place finish in our conference meet in the high jump, locking up a pivotal 1pt.
I found LetsRun right around its inception in 2000 and was probably one of the original message board posters. I've been coming back pretty much daily ever since. I work in sports, but there's not one other person in my life that can name a professional runner. My co-workers, friends, and family all think I'm strange for following the sport so closely. My love of running is something that I really don't share with anyone else. Strange as it is to say, but I know a ton about ncaa/professional running (thanks to all the content on LetsRun), but have never really talked about it with anyone outside a message board.
I still run a few races each year. I have done a few half-marathons/marathons. I've also competed in triathlons. I finished one Ironman in a leisurely 16:35.
A tidbit that some LetsRun visitors might find interesting is that I competed against Flotracks Mark Floreani in grade school & high school. Not only in running, but in basketball as well. In 8th grade I put up 21pts against him in a tournament and hit a half-court shot at the buzzer to win the game. However, over the next 4 years, he obviously dusted me in xc.
 As far as how I won, pure luck. I've never cracked the top 30 in any other contest and have entered them all. I got help from the rankings on the ncaa website and then chose the teams I liked the best. It seems like I weathered the storm by getting 0 points in the women's team prediction. The majority of others got big negative numbers there.
Lastly, if you're ever in Chicago and want tickets to any sporting event, I'm your guy. Please let me know as I most definitely owe you for all the free content over that past 16+ years. You guys are the best!"
Congrats to the winners and everyone who played and to Running Warehouse for sponsoring this contest and all of our contests the last few years.
If you're looking for shoes to buy, Running Warehouse is your place. Thanks to Saucony for sponsoring the winning shoes everyone gets:
---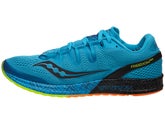 The Saucony Freedom ISO is the pinnacle of Saucony's footwear lineup.
Rarely does a shoe bring enough protection for long runs, maintain a light and responsive ride at fast paces, while still being a good choice for easy recovery runs.
The Freedom ISO¹s innovative full Everun midsole and ISO fit upper make this elusive experience possible. This shoe really does it all. Click here for more info
---
If you played in the contest and haven't checked your scores, do so here.
If you want to see the top pickers, click here.