77-Year-Old Legend Wins & The LetsRun.com Jinx Is Real: LRC $200,015 Running Warehouse Prediction Contest Recap
by LetsRun.com
October 1, 2015
The 2015 track season is behind us and that means it is time to recap the LRC $200,015 Running Warehouse World Championships Prediction Contest. The best thing about our contests are the winners each time show us the amazing people who come to LetsRun.com.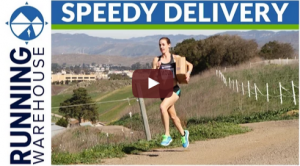 Before we get to the winners, the Worlds reaffirmed the LetsRun.com jinx. For the first time ever with one of our contests we had a US athlete, Molly Huddle, giving autographed posters to some of the winners. What happened at Worlds? Huddle went out and did the most boneheaded thing we've seen a US distance runner ever do at Worlds — celebrate too early — and cost herself the bronze medal.
Article continues below player
But maybe Huddle is the perfect poster child for LetsRun.com and its community as she showed us her humanity. Since then she's shown greatness, rebounding nicely to win the US 20k and 5k road titles.
Molly Huddle does have her own page on Running Warehouse and they made a video featuring her (see below) before Worlds hand delivering the speedy free-shipping available from Running Warehouse. So give her a little love.
77-Year-Old Athletics Legend – Mel Watman – Wins Contest
The winner of our contest is a living legend – 77-year-old Mel Watman of Great Britain.
Mel is not an Olympic champion, but he's been covering track and field for 60 years as an athletics journalist. As he wrote, "Impossible to prove, but I might just have written more words on athletics than anyone else in the world!"
Mel was on the staff of Athletics Weekly from 1961 to 1988 and was appointed editor in 1968. Then he was joint editor of "Athletics Today" and since 1993 has been publisher and co-editor of an emailed newsletter, Athletics International, which has subscribers in over 50 countries. He is a founding member (1963) and current president of the British Athletics' Writers Association and a longstanding member of the ATFS (Association of Track & Field Statisticians). He has attended nine Olympic Games between Rome 1960 and London 2012 and has written numerous books, the more recent ones including All-Time Greats of British Athletics and Official Histories of the Amateur Athletic Association (founded 1880) and Women's AAA (founded 1922). He edited the big centennial book by the IAAF, IAAF 1912-2012: 100 Years of Athletics Excellence and is currently updating his book, Olympic Track & Field History (last published in 2004).
Editor's note: As for Mel's publication Athletics International, which has subscribers in over 50 countries, there is no website for it. It comes via email and costs $120 per year. If you'd like a free sample copy, email him.
Mel also adds, "I have always taken a special interest in American track & field and since 1958 have attended several big meets/races in New York, Eugene, Indianapolis, Sacramento, Stanford, New Orleans, Boston etc as well as the Los Angeles and Atlanta Olympics." Mel also has run the NYC and London marathons and is undefeated in his steeplechase career – one race, one victory in 1961.
The most impressive thing to us about Mel is not his great accolades, but his grace. On winning a $250 Running Warehouse Gift Certificate and Saucony shoes he wrote, "I'm delighted to hear that I won your Beijing prediction contest but please don't worry about organising the Running Warehouse Gift Certificate and Saucony Shoes as I'm 77 and unfortunately my running days are behind me. May I suggest you offer the prize, with my compliments, to the runner-up."
Classy guy. So we're going to split the $250 gift certificate between our 2nd and 3rd place winners.
2nd Place: Rob Dods & 3rd Place: Colin Batchelor
2nd and 3rd get a $125 RunningWarehouse.com Gift Certificate + Pair of Saucony Shoes of Their Choice + Saucony T-shirt + Autographed Molly Huddle Poster
Our second place winner, Rob Dods, shows you don't have to be a lifetime athletics expert to win our contest, you just have to come to LRC regularly. Seriously. Rob writes, "As far as Letsrun goes, I enjoy reading a variety of posts on the message board, and am very thankful for Letsrun as it is my only source of elite running news, I frequent the site daily to stay up to date on what's going on in the world of athletics. (For the record, before stumbling onto the site I couldn't have named more than a handful of elite runners)."
Rob, like three of our top 10, is from Canada. He works in IT in Ottawa and gives a shout out to his running group: "I'm in my mid thirties but I never ran much when I was younger and have only been running seriously for a few years, and although I'm slower than the typical poster on the Letsrun boards (2016 goals are sub 40 10k and sub 90 minute half marathon). A shout out to the BS running group (that's Bridlewood-Stittsville 🙂 for the camaraderie and speedwork which has played a big part in my running gains as of late."
Our third placer is 26-year-old Colin Batchelor from New Jersey. Now a substitute teacher, he got his start in track and field when his geometry teacher at Bordentown Regional HS asked him to be the team manager for the track team in 2004. Colin became friends with Rob Novak (1:46.01 800 guy who made Olympic Trials 800 semis) and followed him to Seton Hall, where Colin served as the team manager from 2007-2011 under John Moon. Then he worked under Gags for the then start-up NJ*NY TC for the 2011 and 2012 seasons.
If anyone wants proof the US hurt its chances by not running its best 100m runner in the 4×100, Colin has it. He wrote, "If there were any picks I thought were close, I'd go with the less popular option to try and differentiate, also changed my W4x1 pick after knowing Tori Bowie wasn't running."
In addition to winning $125 RW gift certificates, and Saucony T-shirts, Rob and Colin both got to pick their Saucony shoe of choice. Believe it or not, they both picked the same shoe — the Saucony Triumph ISO — with Rob going for the color at the right and Colin going for the grey/black/slim color.
Two Former Winners in Our Top 10
Places four through ten in our contest all get signed Molly Huddle Saucony posters and we're throwing in LRC T-shirts (you can buy yours here).
Finishing in the top ten were two previous winners of contests.
Harrison Lakehomer from Lansing, Michigan, was the winner of our 2012 LRC Puma Marathon Trials Prediction Contest and our 2011 Puma NCAA XC Contest. Harrison had to take a break from winning our contests to go to medical school and is now a first-year orthopedic surgery resident. Born in Eugene, Ore., he started running in high school, ran in college, ran for the NYAC and still runs almost every day. Most importantly, he continues to be a regular LetsRun.com visitor.
Jamie Rindfuss, a 24-year-old living in Seattle, is another ringer who has won a previous contest, our 2008 Foot Locker prediction contest when Jamie was in high school. Everyone else is playing against a stacked deck. Look at the sense of entitlement Jamie has about winning our contests, "This is great news! I play in all the prediction contests but I haven't won anything since wayyy back with my overall win in the 2008 footlocker prediction contest (back when I was in high school)!! I'm currently 24 y/o and living in beautiful Seattle. I ran D3 xc/track when I wasn't injured, and my running interests have naturally shifted over the years (followed HS closely in high school, NCAA while in college, and now professional)."
Others of note in the top 10:
Ted Snavely – he's got the perfect job for an LRCer. He works for Johnson & Johnson and is a big track fan having attended every Olympic T&F Trials since 1984 and the World Champs in Seville (1999) and Helsinki (2005).
Patrick Burke – a recent graduate of Fordham (2014) and HUGE fan of LRC. He ran track and XC and was an All-East performer at the IC4A cross country meet in 2013. He currently lives in Manhattan and is running the TCS NYC Marathon on November 1 (his first marathon), of which he says, "I'm equally excited and terrified for." And you've got to like Patrick's picking strategy, "I kind of just went with my gut and did my best not to pick former drug cheats as winners haha."
Quentin Shipley-Mellon – D-III runner in Chicago area.
Thanks for playing and thanks to Running Warehouse for sponsoring our contest.
Top 30 below (Click to see their picks). If you played and want to check your scores, click here.
Two people in the top 10 had invalid email addresses. Email us if you are one of them.