Nick Willis (3:51.3) Wins His 4th Title & Jenny Simpson (4:16.6) Wins Her 6th at the 2017 5th Avenue Mile
By Jonathan Gault
September 10, 2017
Anyone watching today's 2017 New Balance 5th Avenue Mile could be forgiven if they thought they were experiencing a case of déjà vu as for the third time in five years, Nick Willis and Jenny Simpson swept the titles in New York. Just as they did in 2013 and 2015, Willis and Simpson broke the tape first, Willis winning his fourth title in 3:51.3 and Simpson claiming her sixth title — and fifth straight — in 4:16.6, tying PattiSue Plumer's 27-year-old event record in the process. Willis joins Spain's Isaac Viciosa as the only man with four 5th Avenue titles; Simpson holds the women's record with six.
The men's race was first and it was a thriller. The early battle was for the $1,000 prime for the leader at halfway, and both Craig Engels and 800-meter specialist Drew Windle went for it, hard. The two men quickly gapped the field and Engels wound up outleaning Windle for the prime as they hit halfway right around 2:00 (though because Windle failed to break 4:00, he would not have received the bonus anyway).
Engels found himself around 15 meters clear of the field as Windle quickly faded but he was swallowed up by a huge mass of bodies at 1200 meters as no fewer than 16 men were within a couple strides of the lead.
Chris O'Hare, who won the Hoka One One Long Island Mile on Wednesday, made the first big move during the final quarter, and this time Willis, who finished as runner-up to O'Hare in that race, responded immediately.
"He got away from me four days ago on Long Island on the track, so I knew I had no choice but to cover his [move]," Willis told NBC. "I couldn't let him go."
Willis not only followed O'Hare's move but made one of his own, and was able to create some separation just before the line, giving him time to celebrate his victory.
O'Hare was second in 3:52.0 as the places were flipped from four days ago, as Ben Blankenship, who won the Minnesota Mile on the roads on Thursday, took third in 3:52.3.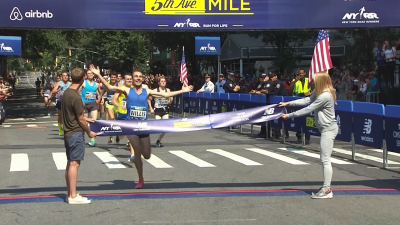 The 34-year-old Willis credited his experience for allowing him to come out on top today.
Article continues below player.
"It looked closer than it is to the finish, so if I wait and wait and wait and let them all make their moves, and hopefully I haven't gone to fifth gear by then, I can still go a little bit further," Willis said. "So I tried to use my old-man savvy today."
Simpson used a similarly patient approach in the women's race, though she ran near the front the entire way. Simpson battled 22-year-old Jessica Judd for the halfway bonus, though Judd took it at 2:10, and with 400 meters remaining, Judd still left.
But Simpson was right there, lying in wait, and with just over 200 to go, she launched into her kick with Judd and two other Brits, Laura Weightman and Eilish McColgan, trailing behind her. American Brenda Martinez did make a late move to close the gap, but no one could touch Simpson over the final 100 as she powered through the line without celebrating. That would turn out to be crucial as Simpson wound up tying the event record. Weightman held on for second and Judd took third as six women broke 4:20 (the course is a nine-meter net downhill).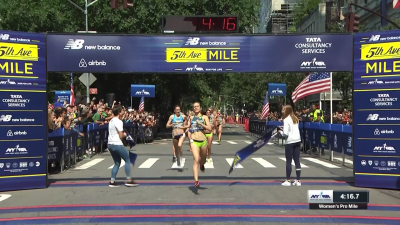 "You can't go too hard too early," Simpson told NBC, echoing Willis' comments. "You can see that finish line and you have to put it out of your mind."
Editor's note: Originally, this article reported that Simpson broke the course record by running 4:16.65 as Plumer's event record was 4:16.68. NYRR professional athletes consultant David Monti informed us that Simpson's official time will be recorded as 4:16.6, which means, according to Monti, she will be credited with tying Plumer's event record (the course has changed slightly over the years). Other times have been adjusted from what was shown on the NBC broadcast in accordance with the official results below.
You can re-live the races and discuss the results on the LRC messageboards:
MB: Official 2017 5th Avenue Mile Discussion Thread – Simpson v Coburn + King Ches makes his pro debut
MB: Jenny Simpson reigns supreme again, the Great Britain runners go home DEVASTATED!
Results (courtesy David Monti)
Men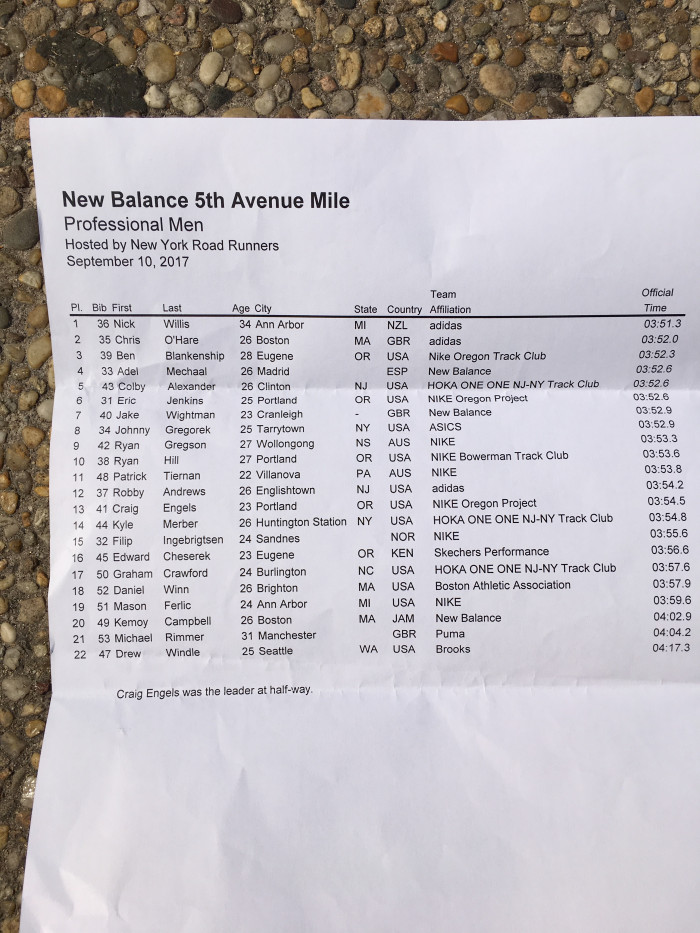 Women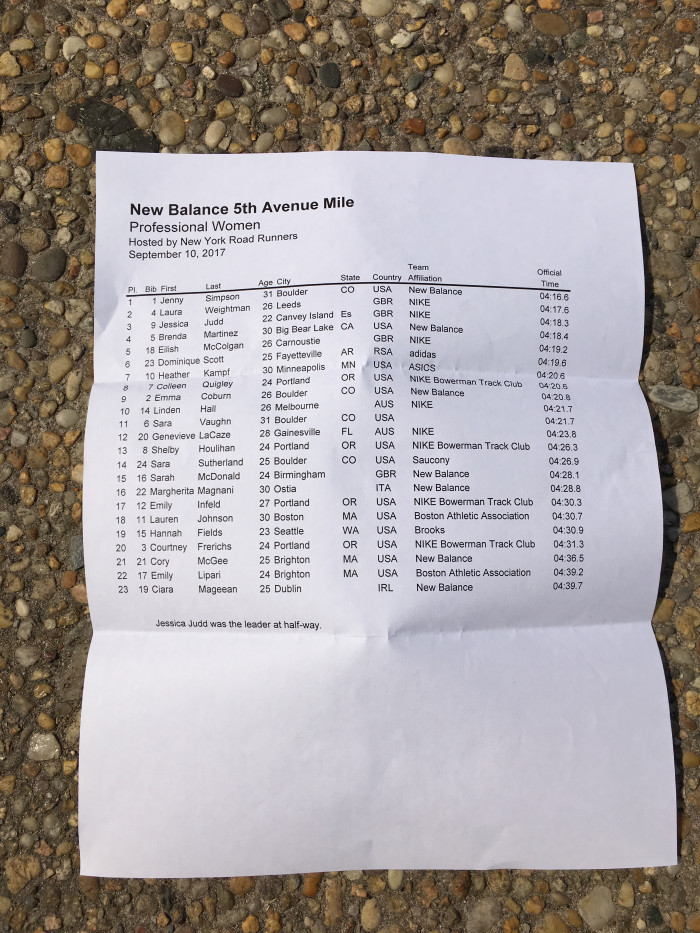 Quick Take: Experience helps…but talent is important too
Willis and Simpson had both won this race several times in the past, and as a result, they had extensive knowledge of the course and when to make their moves. But you know what else helps? Being better than everyone else. Simpson was clearly the class of this field and unless there are Africans involved — and 5th Avenue is usually light on Africans — she is going to be the class of any field she races. Considering Simpson has four global 1500 medals and the rest of this field, combined, had zero, Simpson was a commanding favorite on paper and would likely have won this race even if she had never raced here before.
The men's field was more even — Willis, O'Hare, Filip Ingebrigtsen, Adel Mechaal, and Johnny Gregorek all made the 1500 final in London (with Ingebrigtsen and Mechaal going 3-4), and Jake Wightman won a Diamond League this year. But Willis has had the most impressive career of this group, by far, and is still in midseason form considering he didn't start racing seriously until July after a shin injury. In this case, Willis' experience on the course definitely helped, but it also helped that he's a total stud.
Willis and Simpson are also two of the best tactical racers on the circuit; in fact, in a recent interview with LetsRun.com, Willis praised Simpson for her tactical ability, something she appreciated in speaking with the media before this race.
"Nick is someone I have an enormous amount of respect for," Simpson said. "I can't think of a higher compliment from someone to comment on my racing. He knows better than anyone what it takes."
Now they have even more in common as both are 2017 5th Avenue Mile champions.