Men's 800: Carnage in the Semifinals Sets Up a Wild Final on Tuesday; With Emmanuel Korir Out, Who Is the Favorite?
by LetsRun.com
August 6, 2017
LONDON – Tuesday's men's 800m final will be wide open for the taking as six of the nine fastest semifinalists (by season's best) saw their World Championships come to an end as they failed to make the final.
The casualties included #1 seed and 2017 world leader Emmanuel Korir of Kenya who revealed afterwards he suffered a hip flexor injury yesterday in round 1, #3 seed Donavan Brazier of the United States (got boxed in in heat #3 but didn't have it the final 100m finishing 7th), #4 seed Ferguson Cheruiyot Rotich of Kenya (3rd in heat #1 in 1:46.49, but didn't get a time qualifier), #7 seed Antoine Gakeme of Burundi (faded to last in 1:47.08 in heat #2) and the two other Americans, #8 Isaiah Harris (4th in heat #1 in 1:46.66) and #9 Drew Windle (5th in heat #2 in 1:46.33). For the second straight World Championships, there will be zero Americans in the final.
Article continues below player
Of course, eight men did move on, including Nijel Amos of Botswana, who ran 1:41 at the 2012 Olympics and has the #2 time in the world this year. However, Amos looked a little shaky today and didn't win his heat.

Below we quickly recap the heats results and give our analysis.
Heat 1:  The Credentialed Guys, Kszczot & Amos, Advance
Adam Kszczot powered to the win the final 100m and Nijel Amos did enough to get the final auto spot ahead of Ferguson Rotich, who was an Olympic finalist last year. Isaiah Harris of the US got fourth but there were no time qualifiers from heat #1.
Heat #2: McBride Goes Wire to Wire, Brit Langford Advances

Brandon McBride went wire to wire as Great Britain's Kyle Langford, the 21-year old who before today has broken 1:46 twice in his life, moved up late to get the final auto spot as the home crowd roared. Emmanuel Korir, the betting favorite, faded down the homestretch and revealed after he had suffered a hip flexor injury yesterday. Drew Windle tried to come from last to the top 2 the final 100 but didn't have it.
Heat #3: Youngster Bett and Veteran Aman Advance

Kipyegon Bett, the world junior champ last year, made sure this heat was fast enough to get the two time qualifiers, and he got the win as well, as Mo Aman, the 2013 world champ, ran a season's best to get the second auto qualifier. The US's Donavan Brazier was boxed in for much of the race but entered the final 100 in fourth and had he stayed there he'd be in the final, but he simply did not have it and faded to seventh. missing the final by .44 of a second.
Quick Take: Who is the favorite for the final? Someone has to be.
The 800 semifinals are always viewed as one of the more dangerous semifinals in the sport as the cutdown from 24 competitors to just 8 in the final in a race that often is impacted greatly by tactics is brutal. As mentioned above, there were a ton of casualties today.
The gold medal certainly is there for the taking. Consider this stat. There is only one man in the final who has broken 1:44 on the year – Nijel Amos of Botswana (1:43.18) and only three have broken 1:44.5 – Kenya's Kipyegon Bett (1:44.04) and Canada's Brandon McBride (1:44.41).
And Amos didn't win his heat today. Given Amos' struggles and the high number of casualties, two-time Olympic 1500m medallist Nick Willis of New Zealand summed up the 800 at the 2017 Worlds pretty well with the following tweet.
Amazing to think a 1962 Peter Snell would likely be a favorite against this #london2017 800m field

— Nick Willis (@nickwillis) August 6, 2017
Since the 78-year-old Snell won't be racing in Tuesday's final, the question is, 'Who is the favorite?'
Amos still has to be considered the favorite for the final mainly because poor tactics in heat #1 prevented him from winning. On the backstretch as the runners were approaching 600, Amos found himself getting cut off by Adam Kszczot, who was passing on the outside, and instead of waiting for things to open up (Kszczot was on his outside and Cheruiyot was ahead in the lead blocking things on the inside) Amos decided to basically put on the brakes, move back a little and jump out wide to make sure he didn't get boxed. It may have been an ok way to make sure he didn't get boxed in and somehow left out of the top 2 (although the 800 almost always opens up), but if he wastes that much energy in the final, he almost certainly won't be able to win it. But the point of today's race wasn't to win, it was simply to move on by finishing in the top 2.
And the final may be a much easier race for Amos to run tactically because Canada's McBride will be in it. McBride is a noted front-runner and today he went out and went wire to wire in his heat hitting 400 in 50.83, 600 in 1:17.49 before finishing in 1:45.53. If McBride runs from the front in the final, Amos can just sit behind him and not worry too much about tactics.
In terms of potential winners, the other two winners of the heats today both can't be ignored.
The winner of heat #3 in the fastest time of the night (1:45.02) was Kenya's Kipyegon Bett (1:44.04 pb) – the only guy in the final who has run within one second of Amos' best this year. What made that time more impressive is the fact that, at 600, Bett was way behind where McBride was at 600 in heat #2 (1:18.74 versus 1:17.49) and yet his finishing time ended up being more than half a second faster as he closed his final 200 in 26.28 versus McBride's 28.04.  
The pundits came into Worlds looking at Emmanuel Korir as being the future of the 800 in Kenya, but the 19-year-old Bett, not the 22-year-old Korir, is the lone Kenyan in the final. However, if Bett beats Amos in the final, it certainly will be an upset as Bett finished second to Amos in both Rabat and Paris before Worlds.
Another potential winner is the guy with the fastest close tonight – the heat one winner, Adam Kszczot of Poland. Kszczot, who won silver in 2015, closed in 25.69 to win that heat. A close like that could deliver him gold in the final. If the final is slow like today's semis were or like the 2015 final was (1:45.84 winning time), then Kszczot very well may end up the champion.
Really, any of the eight finalists, save Andre and Langford, have a shot. Below are the odds according to Paddy Power as of late Sunday night. For those able to make a bet, Bosse and Aman — two big talents who are rounding into form at the perfect time — could offer a very tasty payoff at 33/1.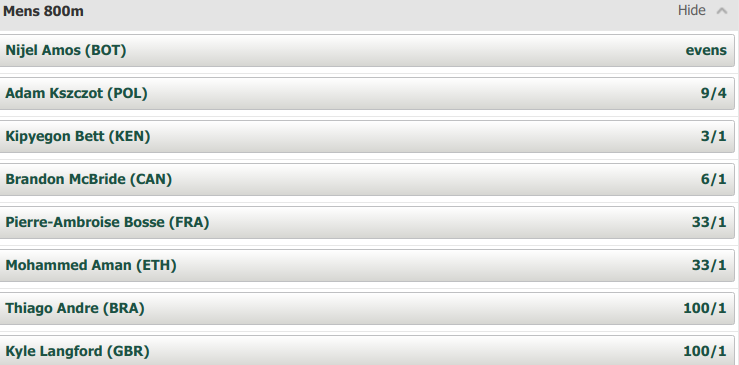 QT: 20-Year-Old Donavan Brazier Knows He Let an Opportunity Slip Away
Donavan Brazier may only be 20 years old, but his post-race comments show he's a student of the sport, and he knows a medal was there for the taking this year. The problem for him is, he won't be in the final. He said afterwards that may be because he got ahead of himself and started thinking about Tuesday's final after he saw what unfolded in the heats before him: Emmnauel Korir possibly (now definitely) being eliminated and Brandon McBride going wire-to-wire but in a time Brazier felt he was capable of bettering.
"I saw Korir might not be in the final. I was thinking about Tuesday's race instead of tonight's race, that's why I paid the ultimate price," he said.
"I didn't race right. I ran bad and I paid the price for it. I lost my opportunity to make the final and get a medal for the United States."
At the start of his talk with us, Brazier broke down the field very well saying, "I'm upset because I feel like I'm in the best shape of my life right now. I think I missed a very good opportunity to make the final. I think this isn't the steepest field it will be in a while so it will only get harder from here. It's a very young 800 field. We've got Bett, Amos is young, Korir is young. Clayton's (Murphy) not even here, Boris [Berian] is young. All the US guys are young. It's only going to get harder from here so I've just got to be better."
Brazier still wants to run a few more races and even jump in a mile for fun. He's confident about the future saying he's got a great setup in College Station with his former Texas A&M coaches. "There is no better place to train to be a great 800/400 meter runner," he said of coach Alleyne Francique. When asked what makes Francique such a good coach, Donavan said, "Just something about him. You can't explain greatness and that's what coach (Pat) Henry and Francique are."
QT: Emmanuel Korir Suffered an Injury Yesterday
We tracked down Emmanuel Korir in the mixed zone and he said picked up an injury yesterday that hampered him today. Korir's stride did appear to be strained the final 100m. When asked what his injury was, Korir said his back bothered him and we think he said "quads," but then off camera pointed at the area where his hip and back connect and said he had a hip flexor problem. No matter what the injury is, Korir said didn't want us to worry too much about it saying "But I'm good, I'll be ok." Brief clip below.
QT: Drew Windle Has Come a Long Way This Year But Has More to Go
Windle said he felt a bit outclassed tonight, just not having it when he had to make a move. He's not used to races going out in 50-second pace and at the international level that's the norm. Not a lot of guys would have expected him to make the Worlds team this year (heck, Windle said many wouldn't have picked him to even make the US final), so this was definitely a positive learning experience.
We didn't get to speak to Isaiah Harris in the mixed zone.
Talk about today's action on our fan forum / messageboard.