Clayton Murphy Anchors US to 4×800 Gold and Reaffirms His Status as the Current World #1
April 22, 2017 to April 23, 2017
David Rudisha, are you training hard? Clayton Murphy is in supreme form right now.
Join Our Supporters Club To Keep Reading
Sign up today to get 25% off and a free t-shirt.
by LetsRun.com
April 23, 2017
Clayton Murphy of the United States blasted Ferguson Rotich of Kenya over the final 100m to anchor the United States to 4×800 gold at the World Relays in Nassau, The Bahamas, as the US won in 7:13.16 to Kenya's 7:13.70. Poland was a distant third in 7:18.74.
Murphy, the 2016 Olympic bronze medallist at 800, was already the world leader in the 800m this year with his 1:43.60 opener at Mt. SAC last week and tonight he showed he can win a tactical race, as he got the baton side by side with Rotich and they played a game of cat-and-mouse on the anchor until the final 200m. In doing so, he showed he currently is the #1 800m runner in the world right now.
Article continues below player
We recap it all below.
Alfred Kipketer of Kenya took the opening leg out in a modest 53.6 and Brannon Kidder of the US, the US indoor 1000m runner-up this year, was right on his heels. Kidder would stay close to Kipketer throughout and close well the final 30 meters. Kipketer got to the exchange zone just before Kidder, but Kenya's second runner Kipyegon Bett was almost standing still and that meant that the US's #2 leg, Erik Sowinski actually had the lead when he started leg #2 after Kidder's unofficial 1:48.20 (the official splits on the IAAF website appear to be wrong and list the opening leg as 1:47.39).
Sowinski was content to let Bett take the lead and Bett ran his 400 in 54-point with Sowinski right on him. However, on the second lap Bett had something in reserve and pulled away from Sowinski on the second turn. Bett handed off in the lead in 3:35.16, having run 1:46.9, which, believe it or not, was the fastest split of the day from the first two teams. Most importantly, he had opened up a lead of a little over a second for Kenya. It was a two-team race for gold at this point.
Leg #3 was a battle of former World Junior silver medallists, Timothy Kitum for Kenya (World Junior silver 2012) and Cas Loxsom (World Junior silver 2010). Kitum also won the Olympic bronze in 2012, and has a PB 2.4 seconds faster than Loxsom, but Loxsom wasted no time in catching up to Kitum and getting the US right back in the Kenyan slipstream. The third leg was tactical as well as it went out around 53 seconds. Loxsom did more than hold his own down the stretch as he pulled up virtually even with Kitum, as Rotich and Murphy got the batons side by side in 5:24.91 (1:49.75 for Kitum and probably 1:48.5 for Loxsom).
It was now Rotich, the 5th placer at the Olympics, and 4th placer at the 2015 Worlds, versus Murphy, the bronze medallist in Rio. Murphy was content to let Rotich take the lead which Rotich did, but Rotich had no desire to push the pace, as they reached the bell in 6:20.5, which means they had run the first 400 in 55.6. This one was not about the time, it was about place and who could be first across the finish line.
Rotich and Murphy actually slowed the next 200m, running 28.1, which set us up for fireworks the final 200m. As they entered the final turn, Murphy decided he had had enough and upped the tempo. Rotich was ready to respond, and they flew around the final turn and hit the final straight side by side. Murphy had run extra distance around the turn, but now as they were on the straightaway he slowly began to pull away from Rotich. Rotich tried in vain to respond, but there was no stopping Murphy, who let out a yell and extended his arms out at the finish as the US won gold ahead of Kenya. Marcin Lewandowski of Poland had pulled away from Luke Mathews of Australia on the final leg to give Poland the bronze.
Clayton Murphy is a Beast

Murphy's split may have only shown 1:48.25 but make no mistake about it, this was an impressive performance. When Murphy won the surprise bronze at the Olympics it was in a very fast race. Today he showed his 800m skills extend to a slow one as well. We timed his final 200 in 24.09. He was made to run the 800.
When Murphy was asked post-race by Ato Boldon if he planned all along to set Rotich up so that he'd take him on the last 200 or if he was improvising all race, Murphy replied, "I had a plan [to go] the last 200 but I was kind of waiting for him to counter it a bit and for him to take off a little sooner but I knew he had good foot speed – it 's not the first time we've raced. So I wanted to respect his foot speed so I tried to go with 250 and then settle in (on the turn). I took a little risk on the corner but it turned out ok," said Murphy with a smile. Boldon then asked Murphy for confirmation that he wasn't surprised that Rotich was able to hold him off on the turn since Murphy was familiar with Rotich's speed. "I knew at that point, I knew it was like raw speed, whoever stayed relaxed all the way through (would win). I just tried to mimic all those times I'm tired in practice and put it to work in the race finally."
Nice Job by Murphy's Teammates
Murphy's teammates did what they needed to do: keep the United States in the race. As long as Murphy was close on the anchor they were going to have a good chance to win this one.
Unofficial US splits
Kidder 1:48.2
Sowinski 1:48.1
Loxsom 1:48.5
Murphy 1:48.3
Video with US Team after race:
In a relay, however, not all 1:48s are equal. Sowinski's leg was the fastest for the US but was the leg that put the US in a little hole, and Loxsom brought the US back into first despite having the slowest leg. And then there is Murphy, who ran the last 200 of his leg in 24 mid.
Results
Murphy, in a nice act of sportsmanship, clapped for the refugee team at the finish. The refugee team trains at the Tegla Loroupe/IAAF Camp in Kenya.
Other Sunday World Relays Action (Results here): US Women Fall in 4×100, Canada and De Grasse Pull Upset in 4×200, Bahamas Wins Mixed Relay Before Home Crowd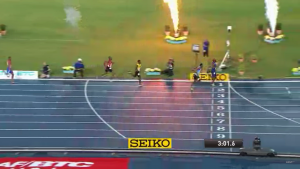 Men's 4×400 Is a 4-Way Battle but Merritt Pulls it Out
The US men and women won the 4×400's as expected, but the men's race was extremely exciting as 4 teams were in contention for gold on the final leg: the US, Botswana, Jamaica and Trinidad and Tobago. It came down to LaShawn Merritt and Karabo Sibanda of Botswana, who had the fastest leg in the prelims, on the anchor. Merritt was able to hold off Sibanda for the win.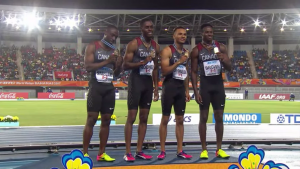 Men's 4×200: Andre De Grasse is a Beast
Canada won convincingly thanks to a great leg by Andre De Grasse. It's amazing how much he has improved their sprint corps almost overnight.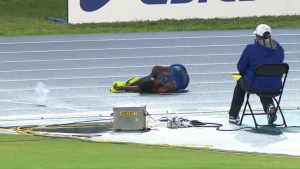 Women's 4×100: Tianna Bartoletta Suffers Nasty Fall
The US women were the favorites and didn't finish but there is no one to blame for this one as Tianna Bartoletta suffered a pretty scary fall on the first turn. It had rained earlier and she just lost her footing on the wet track. The US was out of it and the Germans pulled the upset over a weakened Jamaican team. Afterwards, Bartoletta said she was ok, and she was disappointed because the US was "ready to roll."
Mixed 4×400 Relay: Bahamas Brings Down the House
The Bahamian team got the win in the first mixed relay race at a World Relays in the final event of the night before a raucous crowd to end another exciting World Relays. The Bahamians stacked their team, running Steven Gardiner first and Olympic champ Shaunae Miller-Uibo second and opened a big lead on the US, who went with Michael Berry and Jaide Stepter. Every team led off with a man and then ran a woman, but teams could run male/female in whatever order they wanted and the Bahamians then ran a woman on the third leg, Anthonique Strachan, while the US ran a man, Paul Dedewo. So Dedewo flew by Strachan to get the lead but then on the anchor, the Bahamas' Michael Mathieu flew by the US's Claudia Francis to win convincingly. It definitely was more interesting than a normal blowout 4×400.