Leaked USADA Report From 2016 Says Alberto Salazar "almost certainly" Broke Anti-Doping Rules, Used Prescription Meds and Drug Infusions to Boost Performance
By LetsRun.com
February 25, 2017
2/27/17 Update: After publication of this story, The Sunday Times published a second piece that has more details on the USADA report. The report was a 269 page report for the Texas Medical Board. We have written a piece summarizing the second Sunday Times piece here: More From Leaked USADA Report- Alberto Salazar and Dr. Brown Used Risky "Procedures and Prescriptions Medications" to Increase Testosterone and Boost Performance"
The Sunday Times has published a story accusing Nike Oregon Project coach Alberto Salazar of abusing prescription medications and prohibited drug infusions to boost the testosterone levels and performance of several of his runners, including four-time Olympic champion Mo Farah. The story also shows Salazar wanting to keep now disgraced cyclist Lance Armstrong in the loop on his performance enhancing findings. The story relies upon a U.S. Anti-Doping Agency (USADA) report from March 2016 that was leaked by the Fancy Bears hacking group.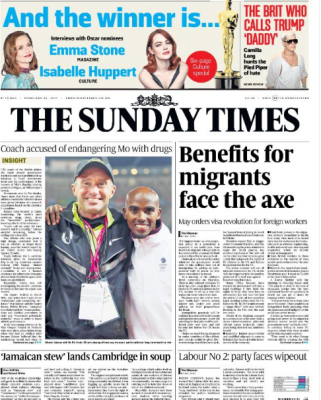 You can read the story in its entirety here (requires subscription).
Article continues below player.
The story reiterated much of what The Sunday Times already reported in 2015 — that Salazar was experimenting with a substance based on the chemical L-carnitine. L-carnitine is legal, but The Sunday Times reported USADA's report said Salazar "almost certainly" broke anti-doping rules by providing it to his athletes via an intravenous drip. According to the World Anti-Doping Agency (WADA), "intravenous infusions and/or injections of more than 50 mL per 6 hour period are prohibited except for those legitimately received in the course of hospital admissions or clinical investigations."
We recap what is new and what we think you need to know from the story below:
The USADA report stated that Farah was one of multiple athletes given prescription drugs with no medical need in order to boost performance. Salazar took what USADA called "egregious risks" by urging Farah to take dangerous doses of a legal vitamin D prescription drug.

The Sunday Times

says Farah's British doctors intervened after concern about Farah's health. 

Salazar reportedly emailed disgraced cyclist Lance Armstrong with excitement after testing out L-carnitine.

"Lance call me asap! We have tested it and it's amazing," Salazar wrote.

The USADA report according to The Sunday Times says that Salazar "almost certainly" broke anti-doping rules by providing six American runners with L-carnitine infusions. Longtime Salazar athlete Galen Rupp

admitted to taking L-carnitine in the past but it is not clear if he is among the six athletes referenced above. Salazar told the Times that L-carnitine was used by his athletes "exactly the way USADA directed." Farah has also admitted in the past to taking L-carnitine, but said that he tried it as part of a drink and not an infusion.

However,

The

Sunday Times

reported on Sunday that he received it via an infusion before the 2014 London Marathon. UK Athletics, whose medical staff administered the infusion said that, to its knowledge, the infusion was in accordance with WADA guidelines. (Editor's addition: L-Carnitine injections must be greater than 50ml/ per 6 hours to violate anti-doping rules)

The Sunday Times

reported that the USADA report "found 'substantial and compelling evidence' that Salazar and his team's doctor,

Jeffrey Brown

, 'conspired to collude together' to use medications and medical procedures in risky and 'sometimes potentially unlawful' ways in order to boost athletic performance." In 2015, Brown admitted to

The Sunday Times

that he carried out experiments involving L-carnitine injections, with USADA's permission.

Brown has also made headlines

for prescribing several of Salazar's athletes with thyroid medication.

It is important to consider the source of the most recent

Sunday Times

story.

The Sunday Times

is relying on a USADA report from one year ago leaked by Fancy Bears. USADA never published the report publicly and over one year later has never brought charges against Salazar. The report's findings could not have been final, could have been overruled by others at USADA, or maybe USADA felt it needed more evidence to bring anti-doping charges. Update: The report was a 269 page report for the Texas Medical Board. 
If you want more information about L-carnitine, Alberto Salazar and the Nike Oregon Project, we wrote about the topic extensively after the

Sunday Times

' initial report in 2015:

LRC

Good News, Bad News: Everything You Want to Know About the Nike Oregon Project and L-Carnitine Injections


Alberto Salazar admitted then to using L-carnitine and has always said he used it legally.
The 2015

Sunday Times

story stated that Salazar ordered 180 cartons of NutraMet Sport, a mixture of L-carnitine and carbohydrate, in two shipments, one in January 2011, another in March 2012. Later, he explained to his athletes about how to answer questions about IV infusions. This is what we wrote about that

at the time

:


"Coach Salazar appears to know that there seems to be nothing prima facie against the rules about injecting less than 50ml of L-carnitine. Thus, when according to the Sunday Times he wrote his athletes saying "When asked (by drug testers) about an [intravenous] infusion, you are to say no. L-carnitine and iron in the way we have it done is classified (technically) as an injection. So no TUEs [therapeutic use exemptions] and no declaration needed, not online and not when asked about infusions when getting drug tested in or out of competition," he was not instructing them to lie as a message board headline said (that we linked to on our homepage). He was telling them to follow the letter of USADA rules. Under normal circumstances, our reading of the rules is that an infusion of something less than 50ml, even via a drip, is not technically an infusion that needs to be reported to USADA. (At the Olympics and other events,

"there are specific no-needle policies requiring declarations of all injections/infusions"

)."
UPDATE: USADA has responded with a statement
Full USADA statement on the recently-published Sunday Times report. pic.twitter.com/gH6xGKsqDZ

— Ryan Madden (@Ry_Madden) February 26, 2017
2/27/17 LRC Update: After publication of this story, The Sunday Times published a second piece that has more details on the USADA report. The report was a 269 page report for the Texas Medical Board. We have written a piece summarizing the second Sunday Times piece here: More From Leaked USADA Report- Alberto Salazar and Dr. Brown Used Risky "Procedures and Prescriptions Medications" to Increase Testosterone and Boost Performance"
Discuss this breaking story: New Doping News on Alberto Salazar in Sunday Times
Previous LRC Nike-Oregon Anti-Doping Coverage: LRC Good News, Bad News: Everything You Want to Know About the Nike Oregon Project and L-Carnitine Injections
The story today references only a little from the BBC-ProPublica Report from 2015 on the Nike Oregon Project, but some of that discussed allegations of prescription drug abuse by Alberto Salazar and his athletes:
LRC Five Quick Thoughts On David Epstein's Nike Oregon Project Investigation
LRC Everything You Want to Know About the BBC Nike Oregon Project Doping Documentary If You Didn't See It
LRC A Mini Week That Was – Reactions From A Variety of Sources Around The Globe To the Alberto Salazar / Nike Oregon Project Doping Allegations
LRC WADA Rules Update II: WADA Has A 10-Year Statute of Limitations, So Alberto Salazar and Galen Rupp Would Face No WADA Ban If They Doped When Rupp Was In High School
*All LRC links on the 2015 NOP doping investigation