Centro Isn't Dodging Anyone, Kate Grace Talks About Her Switch to Nike & More From the 2017 Millrose Games Press Conference
By LetsRun.com
February 10, 2017
NEW YORK — The 110th Millrose Games are upon us, and today's pre-meet press conference was full of Olympic gold medallists — six of them, to be exact. We were on hand at the NYRR Run Center in Midtown Manhattan to hear from Olympic champions Matthew Centrowitz, Tianna Bartoletta, Dalilah Muhammad plus several of the elites running tomorrow's Wanamaker Miles including Kate Grace, Shannon Rowbury and Robby Andrews.
If you want to know what the rabbits will run in the distance races, go this article: The Inside Scoop: How Fast Will The Races At the 2017 Millrose Games Be? Here Are The Times The Rabbits Are Shooting For
Article continues below player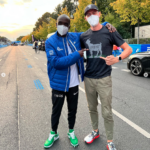 Kipchoge loves the 1:59:40 Shirt Get Yours Today
What a legend!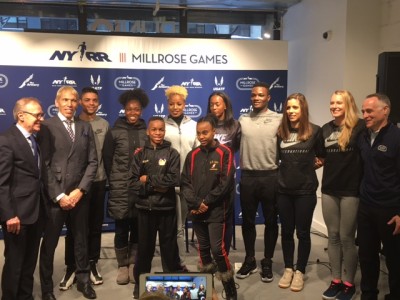 If you want to hear America's first-ever women's Olympic 400 hurdle champ, Dalilah Muhammad, who is Muslim, react to Donald Trump's executive order on immigration go here: America's Muslim Olympic Champion Dalilah Muhammad Reacts to Donald Trump's Executive Order on Immigration – "It's Just Unfortunate"
Matthew Centrowitz: "I'm not sure if you are dodging them if you've already beaten them before. I'm kind of looking for new challenges."
Centrowitz, the two-time defending Wanamaker Mile champion, was asked about the suggestion that he dodged guys like Robby Andrews and Clayton Murphy by running the 2-mile as opposed to the mile at Millrose.
Centrowitz responded that, with all due respect, he's raced (and beaten) most of the Wanamaker Mile field, Murphy being the exception.
"I'm not sure if you are dodging them if you've already beaten them before. I'm kind of looking for new challenges," said Centrowitz.
We totally agree with Centro on this one. If you compare the fields, Centrowitz has a better chance of losing the 2-mile than the mile. Too often, athletes are afraid to step out of their comfort zone and get beat, so kudos to Centrowitz for embracing the challenge.
Centrowitz also said that last year he trained as more of a 3k runner indoors and he felt that really benefitted him outdoors, so he's sticking with that approach again in 2017. He's also excited to face a star-studded field at the longer distance.
"Not everyday I get to race Ryan Hill, Moh Ahmed, [Andrew] Butchart — who is running unbelievable right now — Donn Cabral, Ben True, all these guys that are primarily 5k guys, steeplers, other events where we all kind of come together and it's kind of like meeting halfway. It's just an exciting race. Kind of like some of the athletes said earlier, after Rio it's kind of a letdown. This is something that made me excited training for and excited to put on the schedule."
Centrowitz said that one key factor that led him to race the 2-mile was the absence of Nick Willis. The two men have staged some epic duels in recent years (including the last two years at Millrose) but Willis told Centrowitz as far back as Rio that he wouldn't be running indoors this year. Once Centro found that out, he started looking for a real challenge in the 2-mile. Centrowitz said that he's long admired Willis and was inspired by his Olympic silver medal in the 1500 in 2008.
"That was kind of the first white guy I remember medalling in a distance event," Centrowitz said.  "It kind of gave me hope that you don't have to be an Ethiopian or a Kenyan to be medalling in the distance, middle-distance events."
Shannon Rowbury had to be rebooked "five or six" times to fly from Tallahassee to New York on Thursday, but she's here and ready to attack the American record
Rowbury didn't get into New York until 12:30 last night, and it took even longer for her bags to arrive as they were coming on a separate flight, which meant her husband had to head to the airport at 2 a.m. to retrieve them. But she's in the city now and has her sights set on her third straight Wanamaker Mile title and Mary Decker's American record of 4:20.5. Rowbury, who already owns the U.S. outdoor records at 1500 and 5000 meters, is hoping this is the year the indoor mile record falls after running 4:24 here the past two years.
"I think I have the preparation for it," Rowbury said. "It seems like a great race setup. I know from experience that it takes a lot of things to go right for that to happen so I'm hoping that the things that went wrong are behind me since this has been such a challenge to get here."
Rowbury ran 8:41 for 3k two weeks ago in her 2017 opener after coming down from a tough training block at altitude. She noted, however, that she ran 8:30 pace for her final 2k there and feels that she's ready to go in New York now that she's been able to do some sharpening workouts.
Rowbury hasn't been working out with teammate Sifan Hassan (whom she'll face tomorrow) as the two are on different schedules, but she anticipates that they'll start running workouts together once the indoor season is over.
Oklahoma State's Kaela Edwards is dreaming big in 2017
The 2016 NCAA mile champ raised heads when it came out earlier this week that she is shooting for the collegiate record of 4:25.91 since her pr is just 4:32.14.

"It's just one of those things I put in my mind. In my mind, I think I could have run faster last year," said Edwards. "I like to think I was maybe in sub-4:30 shape so given that 4:25 doesn't seem as far away."
"I think you have to get out of your comfort zone and go for big things in order to do big things and go to the next level," added Edwards who said she's really been training hard, and doing more mileage than ever. She said she's even asked coach Dave Smith for harder workouts.
Edwards' big dreams extend beyond this weekend. She said her dream goal for the year is to make the US World Championship team for London. She knows that soon she'll be a professional so getting to that high of a level is important.
Kate Grace explains her switch from Oiselle to Nike
Grace is excited to see what she can do tomorrow as she knows she's fit but hasn't gotten a chance to race many miles. Her PR is 4:28.30 from last year (though she ran 4:22 on the roads last year), and with the rabbit scheduled to come through halfway in 2:09 tomorrow, she could shave several seconds off that time.
"I'm not afraid of going with the group and looking at it as a chance to compete with the top athletes," Grace said.
Grace is still with Drew Wartenburg's NorCal Distance Project, though she changed both agents (from Josh Cox to Paul Doyle) and sponsors (from Oiselle to Nike) after last season.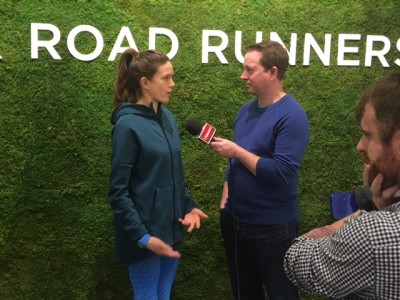 Grace, whose Oiselle contract expired at the end of 2016, said that going through contract negotiations this offseason was a new experience for her. Coming out of Yale in 2011, she was unsponsored, and when she did sign with Oiselle, she was in nowhere near as high demand as she was after making the Olympic final last year.
Grace likened the process to picking a grad school — she could stay at the program where she went for undergrad (in this scenario, Oiselle) or look elsewhere at programs that offered different things. Though money was one of the factors Grace considered, it was not the only one.
"I don't know if it's fair if people say it's only a financial decision. Nike's a great company…Their legacy within the track world in the US is storied and the values the company stands for, with building up all of their athletes…I align with those values."
Specifically, she liked how Nike promoted strong female athletes such as Serena Williams and supported the letter by Nike CEO Mark Parker condemning President Trump's immigration ban.
Clayton Murphy Is Excited For His First Wanamaker Mile and His Struggle in the 3000 At Boston Hasn't Hurt His Confidence at All

"[My 3k at the New Balance Indoor Games – 8:16.70] has nothing to do with the training that has been going on – it's been all about getting ready for this. I'm excited to run in the Armory for the first time and New York for the second time," said the Olympic bronze medallist at 800.
When asked if his race in Boston had hurt his confidence, Murphy said absolutely not. "A fast time will come with the win. I always say go for the win and the time will come," said Murphy.  "I'm going to put myself in a good position at 1200."
Near the end of our interview with Murphy, we asked him for a comment about the fact that US women's 800 star Alysia Montano finally received a world championship medal – two of them actually – thanks to the fact that Russia's Mariya Savinova was banned for doping (Breaking: Alysia Montaño Just Won Two World Championship Medals At 800 Meters)
"You've got to run clean otherwise it shouldn't count," said Murphy. "It's good for her. It's awesome for Alysia and I'm glad she finally got what she should get."
As for his own medal, Murphy says it's at home but he doesn't take it out to look at it very often (only if a friend asks) as he doesn't want to get complacent or satisfied – he's hoping to get a gold medal next time.
Robby Andrews is looking to bounce back from a disappointing race last weekend
Last weekend, Andrews anchored a 4×800 against Sam Penzenstadler and lost. Though Andrews did split faster than Penzenstadler (1:48.43 to 1:49.05), when he pulled up on Penzenstadler's shoulder at the end of the race, his legs didn't respond and his team had to settle for second.
Millrose will be Andrews' fourth race in five weeks, and sometimes when you race that frequently, it can be hard to fit workouts in to continue gaining fitness. But Andrews isn't panicking.
"[Coach Jason Vigilante] is confident in my fitness right now, so that says something to me," Andrews said. Andrews says that Vig reminded him that in 2012 he didn't do great in an 800 before running his 1500 pb of 3:34.
Olympic Long Jump Champ Tianna Bartoletta: "A good way to extend a career is to do nothing for almost a decade"
31-year-old Tianna Bartoletta was asked how she's stayed in the sport for so long as her 2016 Olympic gold came 11 years after her first World Championships gold (2005). She said it was pretty easy to stay in the sport as she "lost my way a little bit after that" 2005 Worlds gold (she didn't win another outdoor individual medal until 2015 as she felt she "had seen the top of the mountain").
"A good way to extend a career is to do nothing for almost a decade," quipped Bartoletta. "The enemy of great is good and I settled into mediocrity."
After Rio, Bartoletta dabbled a little bit with the bobsled, which she said was a way for her to stay active without having that intensity and that pressure to deliver.
"There's a little bit of a letdown after you bring home a gold medal or any medal from the Olympic Games and you kind of have that moment like, 'What now?'" Bartoletta said.
Natasha Hastings plans on sticking around for another Olympics
4 x 400 gold medallist Natasha Hastings, who was 4th individually in Rio at age 30 and is running the 300 here, said that even though there have been some rumors that Rio would be her last Olympics that it's definitely not true. She says going to be in the sport for another four-year cycle.
What is true is that Hastings will not be moving up to 800. When asked if she'd ever move up, she immediately said, "No," and said she'd move down to the 200 way before she ever contemplated the two laps of pain in the 800.