Can Ches Get the NCAA Mile Record, How Fast Will the 5Ks Go, and What About the Sport? 3 Storylines at the 2017 BU Last Chance Meet
By LetsRun.com February 24, 2017 BOSTON — The indoor track season is drawing to a close as we're just one week away from the last major meets of the professional indoor circuit: the USATF Indoor Championships in Albuquerque and the European Indoor Championships in Belgrade and two weeks away from the NCAA Championships at Texas […]
Join Our Supporters Club To Keep Reading
Sign up today to get a free 12-week training program and t-shirt.
By LetsRun.com
February 24, 2017
BOSTON — The indoor track season is drawing to a close as we're just one week away from the last major meets of the professional indoor circuit: the USATF Indoor Championships in Albuquerque and the European Indoor Championships in Belgrade and two weeks away from the NCAA Championships at Texas A&M. With that in mind, many of the country's top distance runners are headed to Boston this weekend to chase one last fast time before shifting focus to USA Indoors or the outdoor season. The most stacked event is the men's 5k, which includes Evan Jager, Eric Jenkins, Ben True, Ryan Hill, Lopez Lomong, Chris Derrick and Dan Huling, but the men's mile (Edward Cheserek, Kyle Merber) and women's 5k (Molly Huddle, Emily Sisson) could both produce fireworks.
We'll be providing on-site coverage from Boston on Sunday. Below, you will find meet details, followed by five key storylines to follow.
Article continues below player
What: 2017 Boston University Last Chance Meet
When: Sunday, February 26
Where: Boston University Track & Tennis Center
How to watch: Live on Flotrack (requires subscription)
Men's entries
Women's entries
Schedule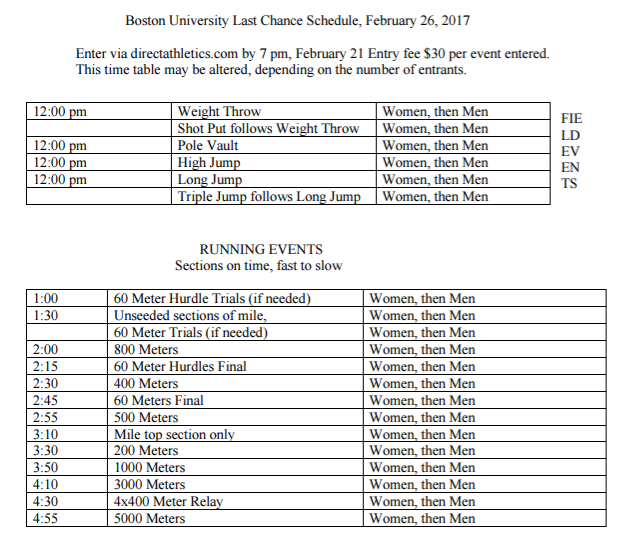 1) Will Edward Cheserek Break the NCAA Indoor Mile Record?
In his four years at Oregon, Edward Cheserek has amassed impressive PRs of 3:36, 3:56, 7:40, 13:18 and 28:30. But as great as those marks are, we very rarely get to see Cheserek go all-out for a fast time as in-season meets are generally used for NCAA qualification purposes only; post-season meets are for team points, making the times irrelevant. In fact, three of his PRs – 1500s, 5k and 10k – all date from his freshman year, and all three were achieved in championship settings.
But in his senior year, that approach may be changing, which makes sense as faster pbs can only help increase the value of Cheserek's eventual pro contract.
"I think the next thing [Cheserek] really would like to do is run some fast times," Oregon coach Andy Powell told the Oregonian's Ken Goe this week. "That's something he is excited about."
Running fast seems to be the purpose of this Boston trip. Cheserek already has NCAA qualifiers in the 3k and 5k, his two best events. You could argue that getting Cheserek a mile qualifier gives the Ducks extra flexibility heading into NCAAs, but at this point Powell and UO head coach Robert Johnson have a good idea of how they want to deploy Cheserek at NCAAs, and it would make sense to either do the 3k/5k double or DMR/3k double. It's possible that they could line him up for the DMR/3k/5k triple that he pulled off last year or an ambitious mile/3k/5k triple. We'd be surprised if Oregon tries that again, however. After pulling off the triple last year, Cheserek looked horrible in his first few outdoor races. Part of that was due to a calf injury, but a distance triple at NCAA Indoors is a lot to ask of an athlete, even one as great as Cheserek. It's not easy to recover from. Plus Cheserek has carried the Ducks for 3+ years and he needs to worry about his future pro contract a little bit.
As of Friday morning, Oregon doesn't have any other guys qualified in the 3k or 5k apart from Cheserek, but their DMR is in and they have two guys in the mile. If you only want to run Cheserek in two events, it would make sense to put him in the 3k and 5k at NCAAs, take the 20 points and hope that the milers and the DMR could scrape together a few more.
All of which is a roundabout way of saying that we think Cheserek is flying to Boston for a fast time, not an NCAA qualifier, which he could easily get at the MPSF meet in Seattle. He may not be 100% fresh (he's listed on Oregon's DMR at MPSF on Friday night), but compared to the 30 minutes' rest he had for his 3:52 split on the DMR last year at NCAAs, a day and a half of rest and a cross-country flight should be a breeze.
The NCAA indoor record is 3:52.88 by Lawi Lalang in 2014 (another reason for Cheserek to avoid the mile at NCAAs: of the last three guys to set the NCAA mile record, none of them won NCAAs that year). That's a very tough mark — in the last three years, the only men in the world to have run faster indoors are Matthew Centrowitz and Nick Willis, last year's Olympic gold and bronze medallists. But Cheserek beat 3:53 miler Izaic Yorks (running fresh) last year on the anchor of the DMR, with a split of 3:52.84. That was for 1600 with a running start, but without a 5k immediately beforehand, we think Cheserek can shave off a couple of seconds. Cheserek also ran 3:36.50 for 1500 in 2014 (worth around 3:53/3:54 for the mile). He's looked strong in winning his two individual races this year (7:46 3k, 13:32 5k) and it's far from a stretch to think he's faster now than he was as a freshman.
Rabbit Guillaume Adam is scheduled to take the field through 1k in 2:24 (3:51.7 pace), so if Cheserek can stick on him, he'll be within striking distance. He won't be the only guy gunning for a fast time, however. Kyle Merber looked good in pushing Eric Jenkins in the Wanamaker mile and ran 3:54.67 there. Cheserek's former Oregon teammates Johnny Gregorek and Colby Alexander are also entered, and the pair went 6-7 at the Olympic Trials and finished together at Millrose, Alexander nipping Gregorek, 3:55.99 to 3:56.00.
[gravityform action="

polls

" id="492″ mode="

poll

" cookie="1 month" show_results_link="false" display_results="true" percentages="true" counts="false" ajax="true"]
*MB: Ches Mile Record Attempt This Weekend?
2) How Fast Do the 5Ks Go?
The men's 5k is totally loaded. You've got Jager, True, Hill, Lomong, Jenkins and Derrick, and none of those guys are even the fastest man in the field. That would be Olympic fourth placer Moh Ahmed of Canada, who owns a PR of 13:01.74. Flotrack says the field is going to be rabbitted at 13:20 pace, but we wouldn't be surprised to see a faster time at BU, the same track where Galen Rupp set the American indoor record of 13:01.26 in 2014. True, Hill and Ahmed all showed they're in great shape right now, running 8:11-8:13 at Millrose for two miles, while Jenkins won the mile at that same meet in a world-leading 3:53.23. All four of those men (plus Jager, Lomong and Derrick) have run 13:0x before.
So why would the pacemaking be set for 13:20? Because it's probably being set up to ensure everyone gets the IAAF World Championships standard of 13:22.60. You can run 13:10 by going out in 13:20 pace and it's a way easier way to do it as compared to going for a low-13:00 time and blowing up.
Here's the current all-time U.S. top 10 for the indoor 5k.
Looking at those stats, predicting a slew of sub-13:20s on Sunday seems bold, but the fact is that indoor 5ks are rare at the professional level, and an indoor 5k field of this quality is rarer still. As long as they don't ignore the rabbits (and in a race like this, why would you?), we should get a fast winning time. Throw together this many good guys, and someone is bound to run fast, right?
Remember, four years ago a bunch of Bowerman Track Club guys showed up and went for a fast indoor 5k and Lopez Lomong set an American record of 13:07.00 (since broken), Chris Derrick ran 13:12.00 and Andrew Bumbalough rna 13:23. That was on March 1, 2013, in New York. Two years later, BTC sent a group to Millrose to do the same thing, but they didn't go with the rabbit and no one wound up getting the standard (Lomong won again in 13:27.60). We'd expect them to learn from that mistake and run times closer to what we saw in 2013.
[gravityform action="

polls

" id="493″ mode="

poll

" cookie="1 month" show_results_link="false" display_results="true" percentages="true" counts="false" ajax="true"]
The women's field is not as stacked. In fact, there are only seven entrants, but two of them are Molly Huddle and Emily Sisson. Huddle is #2 all-time among U.S. women indoors by virtue of the 14:57 she ran at Millrose last year (Shalane Flanagan's American record is 14:47.62). Sisson, the 2015 NCAA 5k champ indoors and outdoors, is #7 on the U.S. indoor list at 15:12 and showed good progress late last year, taking second at the US 5k and 20k road champs before posting a dominant victory at the US 10k road champs. The lack of competition doesn't mean much as Huddle is great at grinding the pace from the front. We don't know anything about her fitness but Huddle is always in good shape when she races, and both she and Sisson will be prepping for next month's NYC Half. Anything close to 15:00 would be a solid run for Huddle and a fantastic run for Sisson. Actually, we'd be shocked with anything over 15:00 for Huddle as 15:06.6 is her 10k pb pace.
3) What About the Sport?
As good as the men's 5k field is, and as great as it is to see Cheserek chase the NCAA mile record, we're having a hard time getting super excited for this meet (although we'll be there to cover it for you in person). "Come on everyone, it's time to get excited on two days' notice as a bunch of guys chase their 5k qualifiers."
One of the most compelling things about team sports is that there's a winner and there's a loser, and we've long said that one of the biggest problems with track and field is that the winning and losing only truly matters at the championships: NCAAs, USAs and the Olympics/World Championships. But even among the non-championship events, there can be some prestige attached to a victory or high place. Wins mean something when they come at the Millrose Games, or the Pre Classic, or on the Diamond League circuit.
That is not the case at the Boston University Last Chance Meet. All too often in professional races, a victory means nothing as you basically are watching practice. Quick, tell us who won the 5k at Payton Jordan last year. You can't do it, and we don't blame you (it was Shadrack Kipchirchir). But we bet you can tell us who won the Wanamaker Mile in 2016 (Matthew Centrowitz). Unfortunately, there's no quick fix to this problem. Races like BU or Payton Jordan only matter if the athletes and fans think they matter. And the way our sport is currently constructed, they never will.
Ideally, everyone would come together in one important meet at the same time (this is what makes USA Outdoorss so great), and this was largely the case at Millrose, which made that 2-mile an exciting race. But there were a few notable absences: Paul Chelimo, who had won 3ks in Boston and Camel City the last three weeks, and Evan Jager, to name two.
Why would a high-profile guy and an Olympic medalist like Jager skip the marquee 2-mile at Millrose and race a low-key mile in Seattle instead (he was one of several Bowerman Track Club athletes to skip Millrose for a smaller meet)? Well Jager would have been making his season debut at Millrose and maybe he was a little behind in his training. In agreeing to run Millrose, you're making a big commitment weeks ahead of time. If something comes up, or workouts don't go as well as you want them to, you either have to show up and run poorly or scratch, which doesn't look great for the athlete or the meet. Plus there is a lot more pressure. And financially, when you make six figures plus as Jager does, the amount of money you'd make at Millrose really is of no impact. So you start to understand why running a smaller meet at BU or UW happens – it gives an athlete more flexibility, is way less pressure and the shoe companies don't care. Remember, Alan Webb ran the American record in the mile in Europe in front of a handful of fans.
As usual, it's a matter of incentives. Nike isn't paying Jager to run the Millrose Games; they're paying him to win US titles and global medals which, not coincidentally, are the races that athletes build their seasons around. And if Jager and Jerry Schumacher believe running a mile in Seattle is going to give Jager a better chance of peaking at USAs and Worlds, that's what they're going to do.
But it's that incentive system that makes things crappy for fans as it causes guys like Chris Derrick, who is a fantastic XC runner, to skip World Cross Country. And it wouldn't surprise us at all if a number of the guys in these races this weekend end up skipping USAs next week (Jager, Hill and Lomong are all entered, Ben True and Chris Derrick are not) as there is nothing to qualify for and it's at altitude.