Casey Clinger Repeats As Nike Cross National Champion But His American Fork Team Is Upset by Bozeman In Team Battle
by LetsRun.com
December 3, 2016
Casey Clinger of Utah became the first boy to ever repeat as individual champion at the 2016 Nike Cross Nationals in Portland today. The individual race was still close for the first two miles (4:52/10:00) but right after two miles Clinger gapped the field and cruised to a dominant victory in 15:28.4 as FL South champ Sam Worley of Texas (1:50, 4:04, 8:51 at 8, 16 and 3200) grabbed runner-up honors in 15:35.1 with Brentwood, Tennessee's Brodey Hasty (7th last year, #2 returner, 4:09 mile, 9:01 3200) third in 15:37.1. Northeast Regional champ David Principe, Jr. of Rhode Island, who was expected to contend for the individual title, had an off day (the announcers said he appeared congested on Thursday) and was just 21st.
Article continues below player
Clinger's individual win wasn't enough to lead his American Fork team to the team title as American Fork, which had been ranked #1 all season long, had to settle for its second-straight runner-up finish and third in five years (2012, 2015, 2016) as Bozeman of Montana got the win with 105 points to American Fork's 141.
American Fork had the lead at 2 miles (134 to 154) thanks to some dominant front running by their top 3 but ultimately the gap between their #3 and #4 proved to be too much to overcome. American Fork's top three of senior Clinger (8:50 3200), McKay Johns (9:05 3200) and Patrick Parker (9:04 3200) are one of the best leading trios in US high school history and those three all crossed the finish line before Bozeman's #1 as Johns was 9th overall (4th team scoring) and Parker was 2oth overall (7th team scoring), but the 59-second gap between their #3 and #5 ultimately proved to be too much to overcome as Bozeman only had a 28-second gap between its entire top 5. Bozeman was led by senior Chase Equall (4:13/9:13) who was 26th overall (8th in the team scoring). Their winning point total of 105 was the fourth-lowest in meet's 13-year history and the lowest since 2011.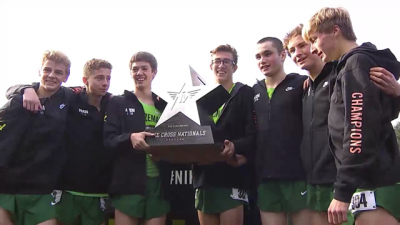 Clinger was only the second boy to attempt to repeat as champion. Craig Lutz won the title in 2009 as a junior but lost to Lukas Verzbicas the next year.
BOYS TEAM SCORING SUMMARY
Final Standings
Score
Scoring Order
Total
Avg.
Spread
1
BOZEMAN
105
8-19-22-24-32(132)
1:22:11
16:27
0:28.2
2
AMERICAN FORK XC
141
1-4-7-58-71(121)(134)
1:21:12
16:15
1:31.7
3
BRENTWOOD
163
2-13-17-20-111(125)(151)
1:22:23
16:29
1:58.2
4
DAVIS/UT XC
180
11-36-40-43-50(57)(90)
1:23:02
16:37
0:35.1
5
NAPERVILLE XC
181
29-31-34-41-46(65)(113)
1:23:13
16:39
0:10.2
6
TEMECULA
224
28-35-38-44-79(139)(144)
1:23:44
16:45
0:34.6
7
LINCROFT
235
33-45-47-51-59(61)(105)
1:23:51
16:47
0:19.4
8
THE WOODLANDS XC
236
16-21-42-53-104(106)(130)
1:23:50
16:46
1:00.8
9
LIVERPOOL
275
5-6-14-114-136(137)(147)
1:23:53
16:47
2:17.3
10
WAYZATA XC
280
10-63-66-67-74(92)(100)
1:24:10
16:50
0:54.4
11
CARROLL XC
297
3-27-70-95-102(126)(146)
1:24:00
16:48
1:38.7
12
DOWNERS NORTH
316
30-55-75-76-80(91)(109)
1:24:47
16:58
0:34.8
13
LOUISVILLE
332
49-54-68-77-84(131)
1:24:53
16:59
0:24.6
14
DANA POINT XC
338
23-26-83-98-108(116)(122)
1:25:05
17:01
1:01.2
15
SPRINGVILLE XC
348
15-37-88-101-107(119)(120)
1:25:09
17:02
1:05.6
16
SAN DIEGO XC
362
39-56-69-86-112(148)(150)
1:25:17
17:04
0:56.5
17
MAHOMET XC
382
62-73-78-82-87(93)(103)
1:25:29
17:06
0:14.2
18
EDINA XC
394
12-60-89-115-118(138)(145)
1:25:42
17:09
1:24.0
19
MANLIUS
399
18-52-64-124-141(142)
1:26:12
17:15
1:44.1
20
CENTRAL OREGON XC
416
25-81-94-99-117(128)(149)
1:26:00
17:12
1:07.3
21
PARK XC
423
9-48-110-127-129(135)(143)
1:26:15
17:15
1:44.6
22
WESTPORT
473
72-85-96-97-123(133)(140)
1:26:41
17:21
0:44.9
INDIVIDUAL RESULTS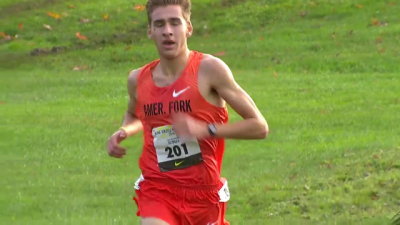 Athlete
Yr.
#
Team
Score
Time
Gap
Avg. Mile
Avg. KM
1
CLINGER, CASEY
SR
201
AMERICAN FORK XC
1
15:28.4
—
4:58.5
3:05.7
2
WORLEY, SAM
SR
244
SOUTH-1
—
15:35.1
0:07.2
5:00.7
3:07.0
3
HASTY, BRODEY
JR
330
BRENTWOOD
2
15:37.1
0:09.1
5:01.3
3:07.4
4
HIRSCH, SETH
SR
218
HEARTLAND-5
—
15:37.9
0:10.0
5:01.6
3:07.6
5
MAIER, ALEX
SO
246
SOUTH-3
—
15:38.8
0:10.8
5:01.9
3:07.8
6
BROWN, REED
SR
350
CARROLL XC
3
15:44.9
0:16.9
5:03.8
3:09.0
7
BENSON, JOE
SR
249
SOUTHWEST-1
—
15:45.2
0:17.2
5:03.9
3:09.0
8
NORMAN, TANNER
SR
252
SOUTHWEST-4
—
15:46.3
0:18.3
5:04.3
3:09.3
9
JOHNS, McKAY
SR
362
AMERICAN FORK XC
4
15:46.9
0:18.9
5:04.4
3:09.4
10
BERNAL, DANIEL
SR
245
SOUTH-2
—
15:47.3
0:19.4
5:04.6
3:09.5
11
OLIVO-QUINONES, MANNY
SR
253
SOUTHWEST-5
—
15:48.4
0:20.4
5:04.9
3:09.7
12
SCHULZ, STEVE
SR
325
LIVERPOOL
5
15:49.4
0:21.4
5:05.3
3:09.9
13
KILREA, DANNY
JR
223
MIDWEST-5
—
15:50.5
0:22.5
5:05.6
3:10.1
14
BROWNLOW, TY
SR
326
LIVERPOOL
6
15:55.9
0:27.9
5:07.4
3:11.2
15
MILEY, ALEX
SR
217
HEARTLAND-4
—
15:56.1
0:28.1
5:07.4
3:11.2
16
TEARE, COOPER
SR
210
CALIFORNIA-2
—
15:58.0
0:30.0
5:08.0
3:11.6
17
AHO, JACK
SR
219
MIDWEST-1
—
15:58.6
0:30.6
5:08.2
3:11.7
18
MWAURA, JAMES
JR
232
NORTHWEST-4
—
15:59.3
0:31.3
5:08.4
3:11.9
19
JACOBS, DYLAN
JR
222
MIDWEST-4
—
16:00.1
0:32.2
5:08.7
3:12.0
20
PARKER, PATRICK
SR
358
AMERICAN FORK XC
7
16:01.0
0:33.1
5:09.0
3:12.2
21
PRINCIPE, DJ
SR
224
NORTHEAST-1
—
16:01.5
0:33.5
5:09.1
3:12.3
22
ANDERSON, LIAM
SO
212
CALIFORNIA-4
—
16:02.9
0:34.9
5:09.6
3:12.6
23
VERNAU, MICHAEL
SR
209
CALIFORNIA-1
—
16:04.3
0:36.3
5:10.0
3:12.8
24
O'NEILL, CONNOR
SR
248
SOUTH-5
—
16:05.0
0:37.0
5:10.3
3:13.0
25
BRANNAN, JORDAN
SR
225
NORTHEAST-2
—
16:06.6
0:38.6
5:10.8
3:13.3
26
EQUALL, CHASE
SR
307
BOZEMAN
8
16:08.4
0:40.4
5:11.4
3:13.7
27
QUIGLEY, BRYCE
SR
355
PARK XC
9
16:09.3
0:41.3
5:11.7
3:13.9
28
FENDEL, GABE
JR
220
MIDWEST-2
—
16:10.0
0:42.0
5:11.9
3:14.0
29
HUSSEIN, KHALID
JR
264
WAYZATA XC
10
16:10.3
0:42.3
5:12.0
3:14.0
30
HORTER, DUSTIN
JR
221
MIDWEST-3
—
16:11.3
0:43.3
5:12.3
3:14.2
31
SILVA, EVERT
SR
213
CALIFORNIA-5
—
16:11.3
0:43.3
5:12.3
3:14.3
32
GREDER, MILO
SR
216
HEARTLAND-3
—
16:12.0
0:44.0
5:12.5
3:14.4
33
TODD, CAMREN
SR
366
DAVIS/UT XC
11
16:12.2
0:44.2
5:12.6
3:14.4
34
VARGHESE, Ben
SR
239
SOUTHEAST-1
—
16:13.1
0:45.2
5:12.9
3:14.6
35
MONROE, ANDREW
JR
231
NORTHWEST-3
—
16:14.1
0:46.1
5:13.2
3:14.8
36
MARSHALL, TYLER
SR
226
NORTHEAST-3
—
16:14.5
0:46.5
5:13.3
3:14.9
37
ELIASON, SETH
SR
214
HEARTLAND-1
—
16:14.6
0:46.6
5:13.4
3:14.9
38
ROOS, PATRICK
SR
274
EDINA XC
12
16:15.2
0:47.2
5:13.5
3:15.0
39
TULLOS, Hayden
SR
242
SOUTHEAST-4
—
16:15.7
0:47.7
5:13.7
3:15.1
40
LAWLER, NATHAN
JR
234
NEW YORK-1
—
16:17.0
0:49.1
5:14.2
3:15.4
41
GREEN, ISAAC
SR
250
SOUTHWEST-2
—
16:17.2
0:49.2
5:14.2
3:15.4
42
VROON, TAYLOR
SR
331
BRENTWOOD
13
16:17.4
0:49.4
5:14.3
3:15.5
43
BOSLEY, DREW
SO
215
HEARTLAND-2
—
16:18.1
0:50.1
5:14.5
3:15.6
44
GUERMALI, YACINE
SR
230
NORTHWEST-2
—
16:21.5
0:53.5
5:15.6
3:16.3
45
LESANSEE, JORDAN
SR
251
SOUTHWEST-3
—
16:23.5
0:55.5
5:16.2
3:16.7
46
HICKMOTT, JOSH
SR
323
LIVERPOOL
14
16:24.3
0:56.3
5:16.5
3:16.9
47
GARDNER, GRANT
SO
381
SPRINGVILLE XC
15
16:24.7
0:56.7
5:16.6
3:16.9
48
HUNSDALE, WILLY
SR
371
THE WOODLANDS XC
16
16:25.1
0:57.1
5:16.7
3:17.0
49
THOMPSON, SCOTT
JR
332
BRENTWOOD
17
16:25.3
0:57.3
5:16.8
3:17.0
50
CAREY, NOAH
SR
237
NEW YORK-4
—
16:25.5
0:57.5
5:16.9
3:17.1
51
PERRY, PATRICK
SR
318
MANLIUS
18
16:26.2
0:58.2
5:17.1
3:17.2
52
HAMILTON, DUNCAN
JR
303
BOZEMAN
19
16:26.6
0:58.6
5:17.2
3:17.3
53
VROON, JACKSON
SR
333
BRENTWOOD
20
16:27.7
0:59.7
5:17.6
3:17.5
54
HOFFPAUIR, GAVIN
JR
372
THE WOODLANDS XC
21
16:27.8
0:59.8
5:17.6
3:17.6
55
MORRIS, Peter
JR
243
SOTHEAST-5
—
16:28.1
1:00.1
5:17.7
3:17.6
56
COLLINS, RILEY
SR
305
BOZEMAN
22
16:28.5
1:00.5
5:17.8
3:17.7
57
HOUGH, BRANDON
SR
393
DANA POINT XC
23
16:29.8
1:01.8
5:18.3
3:18.0
58
CLARK, ORRIN
SR
308
BOZEMAN
24
16:30.9
1:02.9
5:18.6
3:18.2
59
KINKADE, SCOTTY
SR
314
CENTRAL OREGON XC
25
16:31.0
1:03.0
5:18.6
3:18.2
60
DERFEL, SILAS
JR
238
NEW YORK-5
—
16:31.8
1:03.9
5:18.9
3:18.4
61
LANDGRAF, JACK
JR
392
DANA POINT XC
26
16:32.1
1:04.1
5:19.0
3:18.4
62
GARDNER, CHARLIE
SR
346
CARROLL XC
27
16:32.4
1:04.4
5:19.1
3:18.5
63
MELVILLE, Dave
JR
240
SOUTHEAST-2
—
16:33.3
1:05.3
5:19.4
3:18.7
64
KORGAN, JACOB
JR
204
TEMECULA
28
16:33.9
1:05.9
5:19.6
3:18.8
65
JETT, JACKSON
SR
280
NAPERVILLE XC
29
16:34.2
1:06.2
5:19.7
3:18.8
66
RIDDERHOFF, JACOB
JR
286
DOWNERS NORTH
30
16:34.6
1:06.6
5:19.8
3:18.9
67
KINNE, ZACH
SO
281
NAPERVILLE XC
31
16:35.2
1:07.2
5:20.0
3:19.0
68
MCCOMAS, LEONARD
JR
304
BOZEMAN
32
16:36.6
1:08.6
5:20.4
3:19.3
69
KILCOOLEY, PATRICK
SO
293
LINCROFT
33
16:37.0
1:09.0
5:20.6
3:19.4
70
MCENEANEY, JAKE
SR
278
NAPERVILLE XC
34
16:37.8
1:09.8
5:20.8
3:19.5
71
CARVAJAL, CARLOS
JR
202
TEMECULA
35
16:38.1
1:10.2
5:20.9
3:19.6
72
VAUGHAN, JACOB
SR
368
DAVIS/UT XC
36
16:38.4
1:10.4
5:21.0
3:19.7
73
GARNICA, BRANDON
JR
383
SPRINGVILLE XC
37
16:38.7
1:10.7
5:21.1
3:19.7
74
FOUNTAIN, SOLOMON
SR
203
TEMECULA
38
16:39.1
1:11.1
5:21.2
3:19.8
75
MARTINEZ DE PINILLOS, JOAQUIN
JR
254
SAN DIEGO XC
39
16:39.1
1:11.1
5:21.2
3:19.8
76
WARD, MATTHEW
SR
367
DAVIS/UT XC
40
16:40.9
1:12.9
5:21.8
3:20.2
77
MILOSTAN, MATT
SR
279
NAPERVILLE XC
41
16:41.2
1:13.2
5:21.9
3:20.2
78
WELLS, NOAH
SR
375
THE WOODLANDS XC
42
16:41.3
1:13.3
5:21.9
3:20.2
79
JASTER, DEVIN
SR
369
DAVIS/UT XC
43
16:42.8
1:14.8
5:22.4
3:20.6
80
EIPP, JUSTIN
SR
205
TEMECULA
44
16:43.7
1:15.7
5:22.7
3:20.7
81
ANZALONE, GENARO
SR
289
LINCROFT
45
16:44.3
1:16.3
5:22.9
3:20.9
82
ANDERSON, SCOTT
SR
275
NAPERVILLE XC
46
16:44.3
1:16.3
5:22.9
3:20.9
83
FODGE, ZANE
SO
229
NORTHWEST-1
—
16:44.4
1:16.4
5:22.9
3:20.9
84
HILL, BRIAN
JR
294
LINCROFT
47
16:44.7
1:16.7
5:23.0
3:20.9
85
TOPINI, ALESSANDRO
SR
356
PARK XC
48
16:44.7
1:16.8
5:23.1
3:20.9
86
GUENTHNER, RYAN
SR
338
LOUISVILLE
49
16:46.4
1:18.4
5:23.6
3:21.3
87
MOSHIER, KEVIN
SR
235
NEW YORK-2
—
16:46.8
1:18.8
5:23.7
3:21.4
88
PENDLETON, NATE
JR
233
NORTHWEST-5
—
16:47.0
1:19.0
5:23.8
3:21.4
89
HALVERSON, BRIGHAM
SR
364
DAVIS/UT XC
50
16:47.2
1:19.2
5:23.9
3:21.4
90
CAVALLARO, MATT
SR
291
LINCROFT
51
16:48.8
1:20.8
5:24.4
3:21.8
91
WALTERS, JOSEPH
SR
319
MANLIUS
52
16:49.1
1:21.1
5:24.5
3:21.8
92
BAKER, DANIEL
JR
377
THE WOODLANDS XC
53
16:49.8
1:21.8
5:24.7
3:22.0
93
LARKIN, ZACHARY
SO
339
LOUISVILLE
54
16:50.2
1:22.2
5:24.8
3:22.0
94
ASFAW, Rohann
SR
241
SOUTHEAST-3
—
16:50.8
1:22.8
5:25.0
3:22.2
95
DANNER, ALEC
SR
288
DOWNERS NORTH
55
16:51.0
1:23.0
5:25.1
3:22.2
96
TADEUSIAK, HANK
SR
256
SAN DIEGO XC
56
16:51.8
1:23.8
5:25.3
3:22.4
97
DELLINGER, PAUL
SR
236
NEW YORK-3
—
16:52.8
1:24.8
5:25.7
3:22.6
98
PETERS, JOSH
SR
365
DAVIS/UT XC
57
16:54.5
1:26.5
5:26.2
3:22.9
99
CLINGER, CARSON
SO
361
AMERICAN FORK XC
58
16:55.8
1:27.8
5:26.6
3:23.2
100
ROSAS, DAVE
SR
228
NORTHEAST-5
—
16:56.1
1:28.1
5:26.7
3:23.2
101
TRIGANI, COLIN
SR
292
LINCROFT
59
16:56.3
1:28.4
5:26.8
3:23.3
102
MANLEY, MAXWELL
SO
269
EDINA XC
60
16:57.1
1:29.1
5:27.0
3:23.4
103
BOYLE, JOE
SR
295
LINCROFT
61
16:57.2
1:29.2
5:27.1
3:23.4
104
FORTUNE, RILEY
JR
387
MAHOMET XC
62
16:57.3
1:29.3
5:27.1
3:23.5
105
PRICE, GRANT
SO
261
WAYZATA XC
63
16:58.0
1:30.0
5:27.3
3:23.6
106
OTIS, BEN
JR
322
MANLIUS
64
16:58.0
1:30.0
5:27.3
3:23.6
107
MOLLWAY, JOSH
SR
276
NAPERVILLE XC
65
16:58.1
1:30.1
5:27.3
3:23.6
108
GILBERTSON, JEREMY
SR
263
WAYZATA XC
66
16:58.2
1:30.2
5:27.4
3:23.6
109
MATTHEWS, GRANT
JR
262
WAYZATA XC
67
16:58.9
1:30.9
5:27.6
3:23.8
110
SHIFLET, GRADY
SO
341
LOUISVILLE
68
16:59.3
1:31.3
5:27.7
3:23.8
111
WATERS, FINN
JR
257
SAN DIEGO XC
69
16:59.3
1:31.3
5:27.7
3:23.9
112
FERNANDES, NICK
SR
345
CARROLL XC
70
16:59.3
1:31.3
5:27.7
3:23.9
113
BREMS, DALTON
SO
363
AMERICAN FORK XC
71
17:00.0
1:32.0
5:28.0
3:24.0
114
ROTH, ALEX
SR
227
NORTHEAST-4
—
17:01.4
1:33.4
5:28.4
3:24.3
115
SEIPLE, BEN
JR
296
WESTPORT
72
17:01.8
1:33.8
5:28.5
3:24.3
116
HODGE, RYAN
JR
385
MAHOMET XC
73
17:02.9
1:34.9
5:28.9
3:24.6
117
JAMA, LIBAN
SR
265
WAYZATA XC
74
17:04.7
1:36.7
5:29.5
3:24.9
118
MAREK, ANDREW
SR
284
DOWNERS NORTH
75
17:05.6
1:37.6
5:29.8
3:25.1
119
BIRKMEIER, RYAN
JR
283
DOWNERS NORTH
76
17:06.0
1:38.0
5:29.9
3:25.2
120
KNEPSHIELD, THOMAS
JR
342
LOUISVILLE
77
17:06.5
1:38.5
5:30.0
3:25.3
121
CRAW, BEN
SR
390
MAHOMET XC
78
17:07.0
1:39.0
5:30.2
3:25.4
122
GONZALEZ, ERIK
SR
211
CALIFORNIA-3
—
17:08.3
1:40.3
5:30.6
3:25.7
123
KORBY, GAVIN
JR
206
TEMECULA
79
17:08.4
1:40.5
5:30.7
3:25.7
124
CHUDZIK, NICK
JR
287
DOWNERS NORTH
80
17:09.3
1:41.3
5:31.0
3:25.9
125
SCHODERBEK, TOM
SR
316
CENTRAL OREGON XC
81
17:09.7
1:41.7
5:31.1
3:25.9
126
POMMIER, GABE
SR
388
MAHOMET XC
82
17:10.4
1:42.4
5:31.3
3:26.1
127
WAGENSELLER, EDDIE
SO
395
DANA POINT XC
83
17:10.4
1:42.4
5:31.3
3:26.1
128
SCHAEFER, PATRICK
JR
337
LOUISVILLE
84
17:10.9
1:42.9
5:31.5
3:26.2
129
LANDOWNE, WILL
JR
299
WESTPORT
85
17:11.2
1:43.2
5:31.5
3:26.2
130
ROBINSON, DANIEL
SR
255
SAN DIEGO XC
86
17:11.3
1:43.3
5:31.6
3:26.2
131
WALMER, ANDREW
SR
389
MAHOMET XC
87
17:11.5
1:43.5
5:31.6
3:26.3
132
PENROD, HADEN
SR
380
SPRINGVILLE XC
88
17:11.7
1:43.7
5:31.7
3:26.3
133
SCHAUERMAN, THOMAS
SR
273
EDINA XC
89
17:13.2
1:45.2
5:32.2
3:26.6
134
STROMBERG, SETH
JR
370
DAVIS/UT XC
90
17:13.7
1:45.7
5:32.4
3:26.7
135
MCCOOL, SAM
JR
285
DOWNERS NORTH
91
17:14.9
1:46.9
5:32.8
3:27.0
136
MESKELE, GEMECHU
SR
267
WAYZATA XC
92
17:15.3
1:47.3
5:32.9
3:27.1
137
POWELL, MATHIAS
SO
391
MAHOMET XC
93
17:16.2
1:48.2
5:33.2
3:27.2
138
BALLANTYNE, JETT
JR
311
CENTRAL OREGON XC
94
17:17.9
1:49.9
5:33.7
3:27.6
139
DUNKEL, EVAN
SR
344
CARROLL XC
95
17:20.0
1:52.0
5:34.4
3:28.0
140
AHMAD, ZAK
SR
297
WESTPORT
96
17:20.4
1:52.4
5:34.5
3:28.1
141
GREEN, SUNIL
JR
301
WESTPORT
97
17:20.8
1:52.8
5:34.7
3:28.2
142
FULLER, SIMON
SO
396
DANA POINT XC
98
17:21.7
1:53.7
5:34.9
3:28.3
143
SJOGREN, NIK
SR
310
CENTRAL OREGON XC
99
17:22.7
1:54.7
5:35.3
3:28.5
144
BUYSSE, BLAKE
JR
266
WAYZATA XC
100
17:23.1
1:55.1
5:35.4
3:28.6
145
KRIEGER, ADAM
SO
379
SPRINGVILLE XC
101
17:23.6
1:55.6
5:35.5
3:28.7
146
RUTLEDGE, CONNOR
JR
348
CARROLL XC
102
17:23.6
1:55.6
5:35.5
3:28.7
147
BUTCHER, BRIAN
SR
386
MAHOMET XC
103
17:23.7
1:55.7
5:35.6
3:28.7
148
CHILDREE, AUSTIN
JR
373
THE WOODLANDS XC
104
17:25.9
1:57.9
5:36.3
3:29.2
149
MIELE, RYAN
JR
290
LINCROFT
105
17:26.3
1:58.3
5:36.4
3:29.3
150
RAIFORD, JACOB
SR
376
THE WOODLANDS XC
106
17:30.0
2:02.0
5:37.6
3:30.0
151
GARNICA, CALEB
JR
382
SPRINGVILLE XC
107
17:30.2
2:02.2
5:37.7
3:30.0
152
WILFERT, THOMAS
SR
394
DANA POINT XC
108
17:31.0
2:03.0
5:37.9
3:30.2
153
MORAVEC, MATT
SO
282
DOWNERS NORTH
109
17:33.9
2:05.9
5:38.9
3:30.8
154
KRAUS, ROB
JR
351
PARK XC
110
17:35.0
2:07.0
5:39.2
3:31.0
155
HEITHCOCK, QUINN
SO
335
BRENTWOOD
111
17:35.3
2:07.3
5:39.3
3:31.0
156
ROBINSON, MICHAEL
SR
259
SAN DIEGO XC
112
17:35.6
2:07.6
5:39.4
3:31.1
157
HAYHURST, JEREMY
SR
277
NAPERVILLE XC
113
17:36.1
2:08.2
5:39.6
3:31.2
158
VIDEMAN, EMIL
JR
327
LIVERPOOL
114
17:36.4
2:08.4
5:39.7
3:31.3
159
MILLER, ZAC
SR
270
EDINA XC
115
17:36.7
2:08.7
5:39.8
3:31.3
160
DENKER, CARRICK
FR
397
DANA POINT XC
116
17:36.9
2:08.9
5:39.8
3:31.4
161
FORD, CHAD
JR
312
CENTRAL OREGON XC
117
17:38.2
2:10.3
5:40.3
3:31.6
162
SMALLEY, OWEN
SR
271
EDINA XC
118
17:39.2
2:11.2
5:40.6
3:31.8
163
YOUNG, PAUL
SR
378
SPRINGVILLE XC
119
17:43.1
2:15.1
5:41.8
3:32.6
164
DALLEY, ZACK
JR
384
SPRINGVILLE XC
120
17:43.4
2:15.4
5:41.9
3:32.7
165
PHILLIPPI, COLE
JR
359
AMERICAN FORK XC
121
17:43.8
2:15.8
5:42.0
3:32.8
166
STEIN, HAYDEN
SO
398
DANA POINT XC
122
17:45.1
2:17.1
5:42.5
3:33.0
167
MYERS, CHRISTIAN
JR
298
WESTPORT
123
17:46.7
2:18.7
5:43.0
3:33.3
168
TRIPP, MATTHEW
SO
317
MANLIUS
124
17:48.2
2:20.2
5:43.4
3:33.6
169
BASHIR, RAYAAN
SR
334
BRENTWOOD
125
17:49.0
2:21.1
5:43.7
3:33.8
170
MORTIMER, ENZO
JR
347
CARROLL XC
126
17:51.2
2:23.2
5:44.4
3:34.2
171
WILLIAMS, ZACKERY
JR
354
PARK XC
127
17:51.3
2:23.3
5:44.5
3:34.3
172
HAMMER, CAMDEN
SR
313
CENTRAL OREGON XC
128
17:52.7
2:24.7
5:44.9
3:34.5
173
SWARTLEY, BRIAN
SO
357
PARK XC
129
17:53.9
2:25.9
5:45.3
3:34.8
174
MERCADO, ETHAN
JR
374
THE WOODLANDS XC
130
17:54.1
2:26.2
5:45.4
3:34.8
175
PORTARO, ERIC
JR
343
LOUISVILLE
131
17:54.9
2:26.9
5:45.6
3:35.0
176
ROSENZWEIG, SIMON
JR
309
BOZEMAN
132
17:58.9
2:30.9
5:46.9
3:35.8
177
MACCORDY, BRIAN
SR
302
WESTPORT
133
18:00.5
2:32.6
5:47.4
3:36.1
178
CARSON, BEN
SR
360
AMERICAN FORK XC
134
18:02.1
2:34.1
5:47.9
3:36.4
179
ROWELL, BYRRON
SR
352
PARK XC
135
18:06.5
2:38.5
5:49.3
3:37.3
180
MCLAUGHLIN, CULLEN
JR
324
LIVERPOOL
136
18:06.7
2:38.7
5:49.4
3:37.3
181
NEWBERN, DAWSON
SO
328
LIVERPOOL
137
18:07.2
2:39.2
5:49.6
3:37.4
182
KUHS, MAX
SR
268
EDINA XC
138
18:07.4
2:39.4
5:49.6
3:37.5
183
RUIZ, ANTHONY
SR
208
TEMECULA
139
18:08.0
2:40.1
5:49.8
3:37.6
184
TERAN, CONNOR
SR
300
WESTPORT
140
18:08.3
2:40.3
5:49.9
3:37.7
185
BOLTMAN, JACK
SR
320
MANLIUS
141
18:10.2
2:42.2
5:50.5
3:38.0
186
CAPRI, ELI
SO
321
MANLIUS
142
18:10.7
2:42.7
5:50.7
3:38.1
187
PEASE, BRAD
JR
353
PARK XC
143
18:14.6
2:46.6
5:51.9
3:38.9
188
TICKNER, TYLER
SO
207
TEMECULA
144
18:16.4
2:48.4
5:52.5
3:39.3
189
LEFEBVRE, LOUIS
SR
272
EDINA XC
145
18:21.7
2:53.7
5:54.2
3:40.3
190
ARCILA, JUAN
JR
349
CARROLL XC
146
18:24.0
2:56.0
5:55.0
3:40.8
191
REEVES, NATHAN
SO
329
LIVERPOOL
147
18:24.5
2:56.5
5:55.1
3:40.9
192
WILSON, MAX
FR
260
SAN DIEGO XC
148
18:25.2
2:57.2
5:55.3
3:41.0
193
SCHODERBEK, SAM
JR
315
CENTRAL OREGON XC
149
18:26.7
2:58.7
5:55.8
3:41.3
194
CATANZARO, DOMINIC
SR
258
SAN DIEGO XC
150
18:59.3
3:31.3
6:06.3
3:47.8
195
CATE, ANDREW
SR
336
BRENTWOOD
151
19:19.8
3:51.8
6:12.9
3:52.0