Week That Was: Usain Bolt Races Celebrities, Callum Hawkins Impresses, So Does Iona, Arizona XC Team Chases a Knife-Wielding Thief & Pick Your Parents Wisely
The Week That Was In Running – September 26 – October 2, 2016
by LetsRun.com
October 4, 2016
After a one-week hiatus (hey we all deserve a vacation, don't we?), the Week That Was is back. Below we recap the goings-on in the world of elite distance running, not elite race cheating. If you want to read about Robert Young, do so here: LRC It's Official: Robert Young An Ultramarathon Cheat.
Past editions of The Week That Was can be found here. Questions or comments? Please email us or post them on our fan forum.
****
Stat of the Week I
Article continues below player
231 – number of men that have run faster than 60:24 for the half-marathon in history (according to tilastopaja.net).
That being said, we were incredibly impressed by the 60:24 half marathon that 24-year-old Brit Callum Hawkins ran last weekend at the Great Scottish Run to move to #2 all-time in the Britain. In the process, Hawkins, who was 26th at NCAA cross in 2011 for Butler and 9th in the Olympic marathon this summer, broke the Scottish record by more than two minutes.
60:24 is indeed very fast – at least for someone not born in Africa. Only 13 12 men not born in African have run faster.
The All-Time Half-Marathon List For Men Not Born in Africa (via tilastopaja.net)
59:33 Marílson dos Santos Brazil
59:43 António Pinto Portugal
59:43 Ryan Hall USA
59:47 Zane Robertson New Zealand
59:52 Fabián Roncero Spain
60:00 Dathan Ritzenhein USA
60:02 Darren Wilson Australia
60:06 Steve Moneghetti Australia
60:11 Todd Williams USA
60:14 Juan Armando Quintanilla Mexico
60:17 Dionicio Cerón Mexico
60:20 Rachid Berradi Italy – born in Morocco
60:23 Vincent Rousseau Belgium
60:24 Callum Hawkins GBR
There was some disappointing news at the Great Scottish Run. Tirunesh Dibaba pulled out pre-race with an injury.
The fastest half-marathon last week came at the AMGEN Bredase Singegloop Half-Marathon in the Netherlands where Kenya's Nicholas Kipchirchir Korir broke 60 for the 1st time (59:50).
More Half Marathon News:
****
Pick Your Parents Wisely
The collegiate college cross country careers of Oregon's Katie Rainsberger and Stanford's Thomas Ratcliffe started quite well over the weekend. Rainsberger, the daughter of 1985 Boston Marathon winner Lisa Rainsberger, finished second at the Washington Invitational on Saturday in 19:42.9 in her first race as an Oregon Duck.
In California at the Stanford Invitational, Stanford frosh Thomas Ratcliffe, the son of 2:14 marathoner Tom Ratcliffe (now agent to Evan Jager and others), won the men's race in 23:17.0. Ratcliffe wasn't representing Stanford however as he ran unattached. He hasn't worn a school uniform in a cross country race since middle school — in high school he managed to run 4:01.50 in the mile as a part-time runner, as he played soccer in the fall.
More: MB: Stanford Frosh Thomas Ratcliffe Runs 23:17 Unattached – Wins Stanford Invite
MB: Ok.. this time Stanford was actually short
****
Stat of the Week II
34 – number of points scored by the 16th-ranked Iona men at the Paul Short Invite.
When you are scoring only 34 points in a field of 336 runners, you are totally dominating. The field wasn't loaded with nationally-ranked teams, yet the race included #8 Georgetown (115), #25 Columbia and #26 Penn as well as the #3 ranked D2 team, Adams State. Iona should vault up in the rankings as they had five in before any other team except for Adams State even had two.
Iona 34; 2. Georgetown, 115; 3. Adams State, 142; 4. Penn, 146; 5. Columbia, 167
More: *All Weekend NCAA Results
*MB: Iona men and Yale women win Paul Short Invites
*MB: King Cheserek crushes field at UW by nearly 20 seconds, Oregon men put 3 in top 4
****
Video of the Week: Usain Bolt Races James Corden and The Wrong Wilson Brother
Last week, Usain Bolt visited CBS and raced James Corden, the host of The Late Late Show and his entire staff. Also in the race was Owen Wilson. LetsRun.com was a little disappointed that Owen's brother, Luke, wasn't flown in for the race as he's got a real track resume. Little-known fact – Luke went to the same high school as LetsRun.com co-founders Robert and Weldon Johnson and was on the track team with Robert during Robert's freshman year. Wilson, not the Johnson brothers, was the star as Wilson set the 800 meters school record (1:54.99) and ran sub-50 in the 400 (49.86), which was his main event.
More: MB: Luke Wilson (the actor) 400 and 800 pr's??
MB: Luke Wilson's Records
****
Table Of the Week
The last few weeks haven't been good from an administrative standpoint. Last week, Kenyan officials charged Kenya's team leader at the Rio Olympics of stealing $256,000 meant for the athletes and officials, including $234,000 of which he took with him to Rio in cash (but didn't declare).
In the rest of the world, the corruption seems to be less obvious.
Check out the following table from our friends at the New Zealand Herald: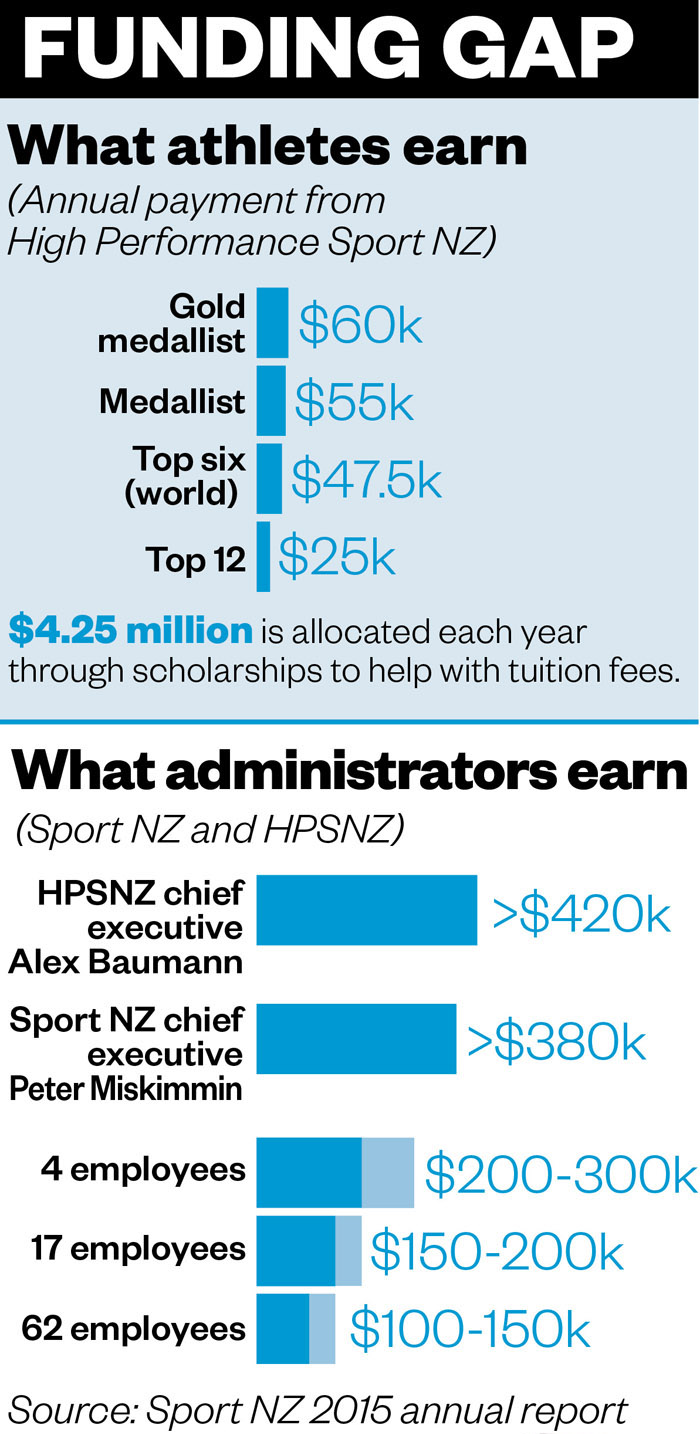 More: *In New Zealand, More Than 85 Sports Bureaucrats Earn More Than $100,000 A Year, Yet Gold Medalists Only Get $60,000
*Kenya's Olympic team leader allegedly stole $256K meant for use at Rio Games
*Three NOCK Officials Deny Charges Of Stealing And Abuse Of Office After As They Are Released On Bail
*NOCK Treasurer Has Charges Against Her Dropped And She is Expected To Testify Against The Other Three NOCK Officials
****
Instagram Of The Last Two Weeks
Here is a reminder – don't try to steal a wallet from the University of Arizona XC team.
The Minneapolis Star Tribune has a great recap of the incident where Collins Kibet chased the knife-wielding thief and then teammate Bailey Roth chased him over a fence until the police arrested him.
More: MB: Arizona Cross-Country Team Chase down Thief (who had a knife) SWEET!!!!
MB: Every LRCer's Fantasy: Thief Steals from XC runner, and tries to run away…lolo
****
Photo of The Week
Sent to us by an LRC fan who spotted this van on the streets of New York.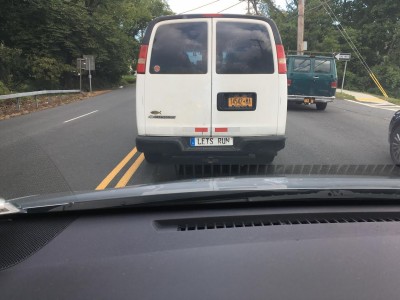 ****
Quotes of the Week (that weren't quote of the day)
#1 You Know You've Run Fast When You Surprise Yourself
"I was hoping for closer to 62 but I didn't think I could get anywhere near 61, let alone break it. When I looked up at the clock, I probably slowed down because I was in shock. I just saw 60-something, I started looking around because I thought it was the wrong clock. But the crowd were unbelievable. It was just fantastic."
-Brit Callum Hawkins talking to Athletics Weekly about his 60:24 half-marathon last week.
#2 When It Comes To Doping, The Administrators Need To Think About The Sport's Long-Term Health and Not Worry About The Short-Term PR Hit
"Do we want to focus on Russia just as cycling focused only on Festina? Do we want to give them a draconian punishment to prove we are tough on doping? Or do we want to actually clean things up and fix the underlying issues of corruption, uneven application of rules, and rampant conflict of interests? Do we want to create a system that punishes equal offenders equally and everyone plays by the same rules? That would be the right path to choose. But the Olympic movement rarely takes that path as they focus on the short-term impact of the scandal and not the long-term health of the sport."
–Martin Bingisser writing about doping on his blog hmmrmedia.com.
More: What Can The IAAF Learn From Cycling's Doping Mistakes?
#3 The Meldonium Inventor Makes His Case
"I hope that WADA would finally take into account the opinion of experts and agree that meldonium is not a doping substance.
"I have explained in detail the mechanism of the preparation's work on the body system and it undoubtedly leads to the conclusion that mildronate cannot be viewed as doping.
"Moreover, I have also put as an example an expert article, which was not written by us and was published in 2016, with experts saying that there were no as of yet scientific proof that meldonium is a doping drug.
"We [Kalviņš and WADA] have parted hoping that the truth, in my opinion, would prevail."
–Ivars Kalviņš, inventor of meldonium, taking to the Russian news agency TASS according to insidethegames.biz. The drug remained on the banned list for 2017 which was released by WADA last week.
#4 It's Not Easy To Do Your Rotations When You Are A World-Famous Athlete
"I've worked at my local vet practice a few times and I've got my name badge on my scrub top saying 'Laura Muir, veterinary student' and some people have clocked on," she says. "I've had to take it off a few times because we weren't getting any of the consultations done. It was quite funny.
"I've had a lot of support from the vet community. It's been really good."
-British 1500 record holder Laura Muir talking to Athletics Weekly about how she's struggled to do her clinical rotations in vet school after her great success this summer on the track.
#5 The 400m WR Holder Hates The 400
"I hate the 400m. I hate it because I know what it does to my body, but I love it for what it does for my life."
-400m world record holder Wayde van Niekerk talking about his feelings for the 400 as told by Jamaica's The Gleaner. Van Niekerk now is setting his sights on the 200m world record.
#6 Is Usain Bolt The Most Famous Athlete Since Muhammad Ali?
"I don't think I can remember in my lifetime – not since Muhammad Ali – a sportsman or sportswoman that has so grabbed the global consciousness as Usain Bolt.
"I guess the best analogy I can probably use is when we were all going into schools in 2004/05, trying to excite colleges and schools to get behind the bid for London (2012 Olympics). I would sort of break the ice if I was sitting with a group of kids, saying 'are you into sport? Who are your great heroes?' And they all said 'David Beckham, Roger Federer' etc. From roughly 2008 in Beijing onwards they all wanted to be Usain Bolt."
– Seb Coe talking to Athletics Weekly about the impact of Usain Bolt for track and field.
More: Usain Bolt will leave a hole in global sport but it will be filled, says Seb Coe
****
Recommended Read
Toni Reavis wrote a great piece on the role of drugs in both sports and society entitled "Knowing when to say when." Here's an excerpt:
When you look at the larger world around, it makes you wonder why athletes wouldn't give into the drug culture that exists. After all, 'Ask your doctor if (insert any one of a hundred brand name drugs here) is right for you.' And consider how much of popular culture, our music, art, books and movies, has been created via thought enhancement.
In literary circles one easily recalls the list of boozy writers: Hemingway, Faulkner, Bukowski, Fitzgerald, Raymond Chandler, etc. Yes, alcohol is a legal product, but the only question is whether it enhanced their writing, or just made the writer's life tolerable. In either case, the pattern is clear. And there's no secret that the kaleidoscopic words of Hunter S. Thompson were informed by heavy drug and alcohol use.
How much music from the 20th century alone, from blues to jazz to rock to hip-hop, was created free from drugs or alcohol? And when did the Beatles fully expand into true pop music greatness? After they began experimenting with pot and LSD.
Today, students and parents alike look to "study drugs" to enhance their children's concentration and focus, hoping to better their chances at getting into college. And once in college, about 1 in 5 students reports using study drugs to get them through those punishing all-nighters.
It makes you wonder if this widespread tolerance of drug use in the wider society will finally do in the prohibition against it in sport, when enough people just can't prop up the hypocrisy any longer.
You can read other columns by Toni at ToniReavis.com.
To read our favorite reads from previous weeks, go here.
****
Quotes Of The Day And Last Week's Home Pages
To see the actual quotes of the day from last week or last week's home page or any home page, go to our archive page.
Past editions of The Week That Was can be found here. Questions or comments? Please email us or post them in our running fan forum.