Womens 100m: What a Final This Could Be, Shelly-Ann Fraser-Pryce Goes for History vs Five Others with a Shot for Gold
by LetsRun.com
August 10, 2016
Staying atop the world is not easy.
Jamaica's Shelly-Ann Fraser-Pryce (SAFP) will try and make history in Rio by being the first person to win three straight Olympic 100m titles, but she will have her hands full as last year's runner-up Dafne Schippers and this year's Jamaican Trials champ Elaine Thompson are both betting favorites over SAFP.
The "pocket rocket," as Fraser-Pryce is nicknamed, enters with only the seventh fastest time on the year of the 100m entrants. She has been battling a toe injury all season that until recently prevented her from training in spikes.
Since Fraser-Pryce burst on the scene in 2008 and won the Olympic 100m title, every year since then when she has had multiple sub-11.00 100m clockings before Worlds or the Olympics, she has walked away as the Olympic or World Champion (2009, 2012, 2013, 2015). In 2011, she was limited by injuries and only had one sub-11.00 before Worlds and only finished 4th.
This year SAFP has only run under 11.00 once, and her fastest clocking is the 10.93 she ran at the Jamaican Trials. Since then she has regressed, running 11.25 and 11.06. Her coach Stephen Francis was disappointed with the 11.06 run in London (she also ran 11.03 in the prelims in London and got a great start in the final and faded) as he told the Jamaica Gleaner, "The improvements in her training have been massive to the point where I was a little disappointed in London, even though we were only supposed to work on her start."
Article continues below player.
Even if SAFP was 100% this year, she might have a tough time winning the Olympics because her competitors are on fire in 2016. Five of her competitors have set personal bests this year, all running marks that put them in the top 15 all-time: Jamaican Elaine Thompson (10.70 to win Jamaican Trials), English Gardner of the US (10.74 to win US Trials), Tianna Bartoletta (10.78 for 2nd at US Trials), Tori Bowie (10.78 for 3rd at the US Trials), and the Ivory Coast's Murielle Ahouré (10.78 at a low-key meet in Florida).
Of the five women who have set personal bests this year, you can give the least credence to Ahouré's mark as it is very suspect to run that fast at a low-key meet. There could be problems with the timing or the wind gauge. Ahouré's second best mark this year is a 10.99 to win the African champs. The three US competitors are all strong medal contenders with Bowie having nabbed the bronze last year at Worlds, but Gardner being the best of the three this year. Bartoletta won the gold at Worlds last year, but that was in the long jump. A gold in the 100 at the Olympics would take her to another stratosphere in terms of recognition.
Thompson's 10.70 to win the Jamaican Trials puts her in rarefied company. Only Florence Griffith-Joyner, Carmelita Jeter, and Marion Jones have run faster (SAFP has run 10.70 as well). Thompson would be the favorite, as she also won a silver in the 200m last year at Worlds, and is undefeated in the 100m this year, but there are question marks around her health as she pulled out of the 200m at the Jamaican Trials with a hamstring injury and has not raced since. She had to pass a Jamaican fitness test to be entered in the 100m at the Olympics. Is she 100%? We'll find out this weekend.
That leaves us the only main contender who has not PR'd this year, and that is the betting favorite Dafne Schippers of the Netherlands, who won the silver at Worlds last year in a PR of 10.81.
| | |
| --- | --- |
| Overall | |
| Comfort | |
| Cushioning | |
| Durability | |
| Appearance | |
| Value | |
Schippers was beaten by Bowie in Doha and Gardner in Birmingham this year, but her record of success at Worlds last year (she also won the 200 in a blazing 21.63) might make her the favorite with the Jamaicans health statuses uncertain.
LetsRun.com Prediction: Shelly-Ann Fraser-Pryce's greatness comes to an end. We said above she is trying to become the first woman to win the 100m at three Olympics, but she also is trying to become the first woman to win the same individual track or field event at 3 Olympics. Interestingly four other women are attempting that this year as well – Tirunesh Dibaba in the 10,000m, Barbora Špotáková (javelin), Valerie Adams (shot put) and Veronica Campbell-Brown (200). There's a reason it's never been done before: it's very hard to do.
This should be a great race with in theory six women with a good shot at gold. That is what our sport needs. We think Schippers and the Americans will take the medals but we're not sure in what order.
More stats and betting odds below.
Event Time and Date:
Preliminary round – 10:55 a.m. ET Friday, August 12
Quarterfinals – 9:40 p.m. ET Friday, August 12
Semis – 8:00 p.m. ET Saturday, August 12
Final – 9:37 p.m. ET Saturday, August 12
2016 World Top 10
2015 Worlds Final

Betting Favorites as of  Aug 9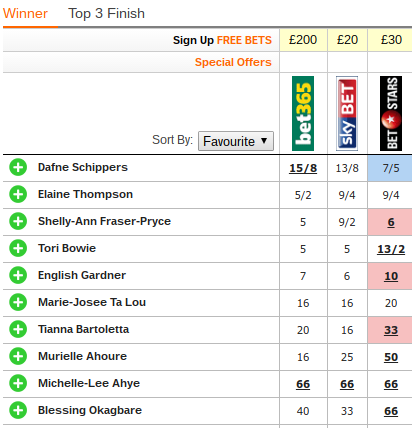 Track and field News Top 3 Picks:
| | |
| --- | --- |
| 1. Elaine Thompson (Jamaica) | 10.70 ('16) |
| 2. Dafne Schippers (Holland) | 10.81 ('15) |
| 3. Shelly-Ann Fraser-Pryce (Jamaica) | 10.70 ('12) |
LRC Prediction Contest Votes as of  8/10
(Want to play Fantasy Track and field- enter the LetsRun.com Running Warehouse $200,016 Rio Prediction Contest)
Who will win the
Women's 100m?

Elaine Thompson

57%

English Gardner

18.1%

Shelly-Ann Fraser-Pryce

9.3%

Dafne Schippers

9%

Tori Bowie

5.9%

Tianna Bartoletta

0.7%

Other

0.2%