Russian Ban Remains: 9 Takeaways From IAAF Press Conference
by LetsRun.com
June 18, 2016
Yesterday at a council meeting in Vienna, Austria, the IAAF voted unanimously to maintain Russia's ban from international track and field competition ahead of the 2016 Rio Olympic Games. Following the meeting, there was a live streamed press conference where Seb Coe and the independent task force leader, Rune Andersen, took questions from the media. The full video is embedded below, but to save you the time, we've pulled out some key points that were most important and/or interesting.
1) Culture Of Doping: Rune Andersen emphasized that a big problem that remains in Russia is the "deep-seated culture of tolerance or worse for doping." Adding to that, he said even the coaches and athletes who aren't blatantly breaking anti-doping rules are unwilling to acknowledge the extent of Russia's doping problem. He specifically mentioned the Russian head coach as falling in this category.
Article continues below player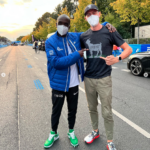 Kipchoge loves the 1:59:40 Shirt Get Yours Today
What a legend!
2) "Politics Was Not Playing A Part": The decision to maintain the ban was unanimous with all 26 or 27 people at the IAAF council meeting agreeing Russia had not met the reinstatement conditions put in place back in November. Seb Coe pointed out this fact when asked by a member from the Russian media if politics played a role in the decision. Coe said the council comes from "all four corners of the globe" and the criteria was "clear and unambiguous" so global politics wasn't a factor.
3) A Long Way To Go: Reportedly, RUSADA is still 18 to 24 months away from "returning to full operational compliance with the WADA Code." Andersen noted that testers still encounter many obstacles to testing athletes in Russia and the Russian federation fails to effectively enforce bans.
4) "A Very Tiny Crack In The Door": One of the task force's approved recommendations was that "individual athletes who can clearly and convincingly show they are not tainted by the Russian system" can apply to compete internationally as a "neutral athlete." (So no Russian flag/uniform in Rio.)
While some fear this is just a loophole to allow any non-banned Russian into Rio, both Coe and Andersen were adamant that it is not as very few athletes would fall under this exception. Asked how clean athletes would be determined Andersen said, "It's a difficult question. Because the system in Russia has been tainted by doping from top level and down, we cannot trust what people might call 'clean' athletes really are clean. … One or two or five or a hundred negative tests does not mean an athlete is clean."
He went on to explain that athletes who might get through the "very tiny crack in the door" have to prove they've been subject to a reliable drug testing system "outside of Russia." Assumedly, only athletes who live and train in other countries for most of the year would be eligible for this exception. (For those wondering, pole vault WR holder Yelena Isinbayeva lives and trains in Russia.)
5) Battling The Lawyers: Andersen also admitted that they added the "neutral athlete" exception so that the Russian ban would have a greater chance of holding up against any legal challenges. Andersen stated, "The easiest way would have been to say RUSAF will not be reinstated and there are no exceptions. That would have been the easy way, but we have been advised by outside counsel that in order for this to stand up there should be a 'way out.'"
Russian athletes can and almost certainly will appeal the IAAF ban in the Court of Arbitration for Sport (CAS). Coe wouldn't be pressed on the issue saying simply that athletes "have the right."
6) The Whistleblower Rule: The task force's final recommendation was that athletes who have made "an extraordinary contribution to the fight against doping" should also be able to apply to compete internationally. This is the "whistleblower/Yulia Stepanova rule" and Andersen noted that Stepanova's case "should be considered favorably."
Former WADA president and leader of the original WADA Independent Commission report Dick Pound commented on this in an outside interview:
"I think, frankly, recognizing her courage and her contribution to all of this has taken them much longer than it should. My guess is that that is a recommendation that came out of their taskforce, rather than the goodness of the council's heart. That was good. Without that information, we would have been nowhere."
*NOTE: For a good read about the Stepanovs and whistleblowers in general, check out our Quote of the Day from Thursday.
7) Will The IOC Overrule The IAAF? It has been reported that even if the IAAF did maintain Russia's ban, the IOC was discussing the possibility of overruling them. The Telegraph writes that the IOC is "thought be keen on allowing athletes who have never failed a drugs test" to compete in Rio. They meet on Tuesday to "to address the difficult decision between collective responsibility and individual justice." Those happy about Russia's ban should be concerned.
However, Seb Coe dismissed the possibility of an IOC overrule as he stated, "I think we need to be clear here. The eligibility of athletes to compete in international competition is entirely a matter for the IAAF." Coe said he would be at the IOC meeting on Tuesday to represent the IAAF.
Whether it's the IOC or CAS, the ban from Rio is going to face challenges. Some fear that the whole process was a "political play" where the IAAF gets credit for banning Russia, but the IOC lets them compete anyway. We guess we'll have to wait and see.
8) Russian Public Enemy #1: German journalist Hajo Seppelt was present in Vienna and asked a couple of questions (37:59 in the video). He inquired about a specific quote from the task force's report referencing the latest Russian allegations in the NY Times. Seppelt also asked if Stepanova would be in Rio, but Andersen couldn't give a definitive answer saying it would be up to an IAAF committee.
9) The British Media Loves To Grill Seb Coe: While the press conference was about the Russian doping ban, probably a third of the questions were in reference to the recent allegations and leaked emails surrounding Seb Coe (BBC Panorama Alleges Seb Coe was indifferent to corruption and worked with Papa Diack to get IAAF Presidency). Coe denied any wrong doing and at times became visibly agitated and cut media members off mid-sentence.
*MB: A great day for the sport. Russia remains banned for Rio