Rome DL Recap: Almaz Ayana Just Misses the World Record, Caster Semenya and Conseslus Kipruto Continue To Dominate and Elijah Manangoi Breaks His Maiden
by LetsRun.com
June 2, 2016
The 2016 IAAF Diamond League circuit almost began its European leg in sensational session as Ethiopian Almaz Ayana just missed the world record in the women's 5000 at the  2016 Rome Golden Gala track and field meet today.
We recap the full meet, which included wins by Justin Gatlin, Caster Semenya, Elijah Manangoi, Ameer Webb and many others, for you event by event below, starting with the mid-d and distance action.
Talk about the meet on our fan forum: *MB: Official 2016 Rome Golden Gala Diamond League Discussion Thread.
Women's 5000: Almaz Ayana Just Misses The World Record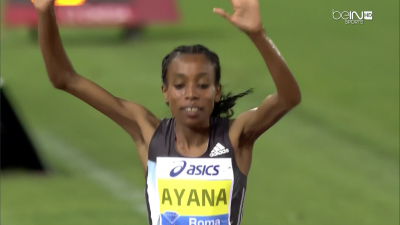 World record pace is 68.09 per lap or 2:50.23 per 1k. Ayana knew the rabbit likely wouldn't make it very far so requested an opening 1k of 2:48. Instead, the first kilometer was reached in 2:50.75. The rabbit only made it 2200 as they hit 2k in 5:41.61 (2:50.76).
Looking at things positively, the rabbit set an incredibly even pace but Ayana now had the task of having to run 2800 meters alone and she needed to run faster than she had with the rabbit. Ayana's first two laps without the rabbit were faster (unofficially 67.2 and 67.9) as she hit 3k in 8:30.43, just ahead of WR pace which is 8:30.69.
Article continues below player.
The 4th kilometer is often viewed as the hardest and that was the case for Ayana as her 5th, 4th and 3rd to last laps were all over 69 (69.04, 69.31, 69.17). With two laps to go, Ayana would get the world record if she closed in 2:13.24. She ran her penultimate lap in 68.57 and at the bell the world record was hers if she could summon a 64.67. But it wasn't to be as Ayana is a human metronome, not a ferocious kicker.
Results and quick take analysis appear below.
5000 Metres - Women                                           
                                                            Pts
    1 Ayana , Almaz                    ETH   14:12.59         10        
    2 Cherono , Mercy                  KEN   14:33.95          6        
    3 Kibiwot , Viola Jelagat          KEN   14:34.39          4        
    4 Teferi , Senbere                 ETH   14:37.19          3        
    5 Diro , Etenesh                   ETH   14:37.51          2        
    6 Can , Yasemin                    TUR   14:37.61          1        
    7 Kisa , Janet                     KEN   14:42.61                   
    8 Dida , Dera                      ETH   14:42.84                   
    9 Yalew , Genet                    ETH   14:51.04                   
   10 Grøvdal , Karoline Bjerkeli      NOR   14:57.77                   
   11 Twell , Stephanie                GBR   14:59.00                   
   12 Burka , Gelete                   ETH   14:59.78                   
   13 Gebreslase , Gotytom             ETH   15:00.21
   14 Gidey , Letesenbet               ETH   15:09.45
   15 Chekwel , Juliet                 UGA   15:20.15
   16 Akda , Meryem                    TUR   15:24.60
      Chepkoech , Beatrice             KEN        DNF                   
      Tverdostup , Tamara              UKR        DNF                   
      Woldu , Etagegn                  ETH        DNS
Quick Thought #1: What a performance. Coming into the race, we thought Ayana was in WR shape and we still think that.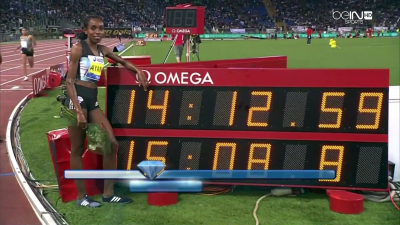 We said in our preview that we thought Ayana would get the WR if the rabbit could make it 3k in 8:30. The rabbit only lasted 2200. That being said, Ayana gets a nice consolation prize.
She's now the most prolific sub-14:20 performer in history.
Most Sub-14:20s in history
Almaz Ayana – 3
Meseret Defar – 2
Genzebe Dibaba – 2
Tirunesh Dibaba – 1
No one else in history has run more than two sub-14:20s and Ayana has now done it twice in the span of 11 days. Before tonight, the shortest gap between two sub-14:20s belonged to Genzebe Dibaba, who did it twice last summer in the span of 35 days.
Here are Ayana's lap by lap splits after a first 200 of under 32 seconds.
Lap / Time
1 01:10.84
2 01:08.16
3 01:08.90
4 01:07.61
5 01:08.20
6 01:07.11
7 01:07.90
8 01:09.04
9 01:09.31
10 01:09.17
11 01:08.57
12 01:06.11
Women's 800: Semenya Wins Again in Rabat Re-Run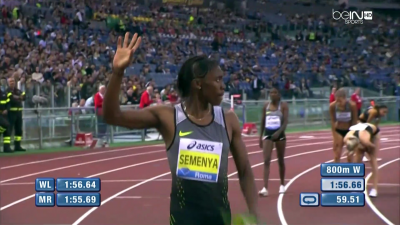 In a carbon copy of the race in Rabat, Caster Semenya destroyed the field again, running 1:56.64, the exact same time as her world leader from Rabat. And just as in that race on May 22, it was Francine Niyonsaba, the world indoor champ, who wound up second after separating from the field with Semenya over the final 200.
Semenya was content to sit in the middle of the pack for the first 500 meters as Belarus' world champ Marina Arzamasova led through 200 (27.x) and 400 (57.15 for the rabbit). France's Renelle Lamote was right with with her at the bell, with Great Britain's Lynsey Sharp on their tail in third. Semenya was not well-positioned back in seventh place, but that would prove to be completely irrelevant.
Niyonsaba began to move up coming off the first turn of the final lap and midway down the back straight, she had seized the lead from Lamote as Semenya followed effortlessly, reaching 600 in 1:28.57. As they hit the home straight, Semenya simply exploded and within a couple seconds, she was gone, closing in a ridiculous 27.9 seconds for her final 200. Niyonsaba held on for second in 1:58.20, while Sharp ran a fine race of her own to take third in 1:59.03. American Ajee Wilson was never a factor and wound up last in 2:03.33.
Results
800 Metres - Women Race 2                                     
                                                            Pts
    1 Semenya , Caster                 RSA    1:56.64         10        
    2 Niyonsaba , Francine             BDI    1:58.20          6        
    3 Sharp , Lynsey                   GBR    1:59.03          4        
    4 Lamote , Renelle                 FRA    1:59.23          3        
    5 Arzamasova , Marina              BLR    1:59.65          2        
    6 Alemu , Habitam                  ETH    1:59.79          1        
    7 Bishop , Melissa                 CAN    1:59.97                   
    8 Józwik , Joanna                  POL    2:00.72                   
    9 Büchel , Selina                  SUI    2:01.00
   10 Sum , Eunice Jepkoech            KEN    2:02.03
   11 Wilson , Ajee                    USA    2:03.33
      Usovich , Ilona                  BLR        DNF
Quick Take #1: Could Caster Semenya break the world record right now?
Semenya's dominance has sucked all of the drama from her races. She waits and waits and waits and once she decides it's time to go, she shifts into a gear no other woman can match and it's game over.
The fact that Semenya is running 1:56 in the 800 by sitting and kicking suggests that she's capable of much, much faster than that right now. A good rule of thumb is to run half a second slower for each 200 split. But Semenya's fastest 200 this year has usually been her last one as she closed tonight in 27.9 and ran perhaps the fastest final 100 ever in an 800 when she ran 1:58.26 in Doha.
Semenya has shown no desire to chase the world record this year, which may be a good idea as it would increase the already heavy levels of scrutiny she faces every time she competes. But she certainly has the fitness to give it a scare if not break it. The mark is 1:53.28 by Jarmila Kratochvilova from 1983. A good way to run 1:53 would be 55.5/57.5. If Semenya went out in 55.5, would she still be able to close that quickly? Well she came through in 57.x in Rabat and 58.x today (essentially even-splitting it) and still had a ton left, running 1:56 in both races despite not going all-out until the final 100. There's little doubt that Semenya could run 1:54 right now. It's definitely possible that she could go a lot, lot faster than that but we won't know unless she decides to make a concerted WR attempt because no one else is going to be crazy enough to go out in 55 seconds.
After the race, Semenya said she purposely ran in the middle of the pack as she wanted to work on her tactics and shifting gears. "I try to improve more in tactical races. We worked more on speed because coming from behind like in this race it is not easy to adjust to the pace, you are not sure to execute well on the home straight," said Semenya according to the IAAF.
Semenya knows she doesn't need to get in better shape, she just needs to maintain her current fitness as she also said, "Now I need to be consistent, to maintain this shape until the Olympics. My dream, my main goal is of course Olympic gold. I am very pleased with the time.
Quick Take #2: Not an encouraging effort for Ajee Wilson
Wilson wasn't expected to challenge for the win here, but finishing dead last tonight was certainly a letdown after her stellar indoor campaign. Wilson ran even slower than she did in her outdoor opener (2:02.60) at Swarthmore on May 16.
The only good news for Wilson is that no Americans have looked amazing at 800 meters this year. Laura Roesler fared even worse than Wilson today, DNFing in the B heat. Alysia Montano ran a decent race to win at Pre last week, but we're now into June and no U.S. women have broken 2:00.
If things stay that way, the Trials could be epic. The 800 is already one of the most unpredictable events in running — surviving two rounds of prelims just to make the final is no easy challenge. Montano should probably be the favorite right now given her track record and win at Pre, but we could see some major upsets in this event at the Trials if no one separates themselves over the next month.
B Heat: Assefa Wins, Roesler DNF's
The B heat, which was not shown on the beIN Sports broadcast, was won by Ethiopia's Tigist Assefa in 2:00.84. The U.S.'s Chanelle Price was fifth in 2:02.07 while Laura Roesler wound up a DNF. Per fellow pro Phoebe Wright, Roesler fell 300 meters into the race. That makes two disappointing races in a row for the 24-year-old following her 2:02 7th place finish at the Pre Classic last week.
800 Metres - Women Race 1                                     

    1 Assefa , Tigst                   ETH    2:00.84
    2 Cichocka , Angelika              POL    2:01.30
    3 Akkaoui , Malika                 MAR    2:01.45
    4 Santiusty , Yuneisy              ITA    2:01.82
    5 Price , Chanelle                 USA    2:02.07
    6 Oskan-Clarke , Shelayna          GBR    2:02.15
    7 Baldessari , Irene               ITA    2:04.46
    8 Imali , Maximila                 KEN    2:07.10
    9 Hering , Christina               GER    2:07.33
      Zenoni , Marta                   ITA        DNF                   
      Roesler , Laura                  USA        DNF                   
      da Silva , Jessica               BRA        DNF
Men's 1500: Ryan Gregson Makes A Bid For Flory As Elijah Manangoi Goes Wire-to-Wire And Earns First Career DL Win
Kenya's World Championship silver medallist Elijah Manangoi was favored to take the win here with no Asbel Kiprop in the field and he did just that, winning in wire-to-wire fashion.
The rabbits proved to be useless in this one, hitting 400 in 53.94 and 800 in 1:51.82 as the entire field ignored them. Manangoi led the tightly-bunched pack several meters behind the rabbits as he passed those markers in 55 and 1:53-high at 800. Ethiopia's Aman Wote sat on his shoulder at that point with the rest of the field in tow.
Things were the same at the bell and 1200 meters (2:53.03); it wasn't until the final turn that anyone made a move to challenge Manangoi and that move was made by Australia's Ryan Gregson. With 200 to go, Gregson didn't look to be in any position to attack as he was in seventh place and boxed in. But he found a gap at the start of the turn and took it, speeding by runner after runner before drawing level with Manangoi coming off the turn. The two men ran stride for stride for about 40 meters before Manangoi found another gear and pulled away to win in 3:33.96. Gregsonended up third as he was was nipped by Kenya's Robert Biwott just before the end, 3:34.21 to 3:34.27.
Results and quick take analysis.
1500 Metres - Men                                             
                                                            Pts
    1 Manangoi , Elijah Motonei        KEN    3:33.96         10        
    2 Biwott , Robert Kiptoo           KEN    3:34.21          6        
    3 Gregson , Ryan                   AUS    3:34.27          4        
    4 Kiplagat , Silas                 KEN    3:34.49          3        
    5 Wote , Aman                      ETH    3:35.10          2        
    6 Birgen , Bethwell                KEN    3:35.36          1        
    7 O'Hare , Chris                   GBR    3:35.37                   
    8 Carvalho , Florian               FRA    3:35.39                   
    9 Tesfaye , Homiyu                 GER    3:35.44                   
   10 Amdouni , Morhad                 FRA    3:35.58                   
   11 Philibert-Thiboutot , Charles    CAN    3:36.00                   
   12 Ingebrigtsen , Henrik            NOR    3:36.07                   
   13 Wolde , Dawit                    ETH    3:37.41
   14 Cheboi , Collins                 KEN    3:38.29
   15 Abdikadar Sheik Ali , Mohad      ITA    3:38.74
      Kipkoech , Nicholas Kiplangat    KEN        DNF                   
      Rotich , Andrew Kiptoo           KEN        DNF
Quick Take #1: Note to Diamond League organizers: you don't need rabbits for every single distance race
It's been said many times by many people, but a race like this underscores it: rabbits are far too common on the Diamond League circuit. Rabbits certainly have their place, such as when an athlete is chasing a world record or an Olympic standard (indeed, Almaz Ayana could have done with an extra rabbit in the 5k tonight). But in many Diamond League races, they're superfluous. Most athletes running a DL race will have the Olympic/World Champs standard so there's really no reason to put a rabbit in in a race like tonight's. Especially if the rabbit is tasked with coming through 800 in 1:50.5, as they were tonight according to commentators Steve Cram and Tim Hutchings. Even though they didn't hit that suicidal pace, they still came through way too fast (53.94 and 1:51.82) for a field without Kiprop and had zero impact on the race as Manangoi controlled it from the front, going wire to wire.
The meet directors should have saved the money and had no rabbit here and used to get someone to last 3k for Ayana.
Quick Take #2: Ryan Gregson's stellar season continues
Gregson ran 3:34.27 tonight and 3:34.43 in his last race in Rabat — the third- and fourth-fastest times of his career and best since 2012. More encouraging than the time, however, was the way he ran it. Gregson showed a tremendous ability to change gears — critical for a championship 1500 — and gave Manangoi, one of the very best in the world right now, a brief run for his money.
The only worry for Gregson is holding his form through the Olympics. The Australian Olympic Trials were held on the first weekend in April, and as a result, most Aussies had to get into top shape a lot earlier than most of the rest of the world. That obviously has helped Gregson run well in May and June, but will he run out of steam by August?
Men's 3000 Steeplechase: Conseslus Kipruto Wins (Again) As Ezekiel Kemboi Struggles (Again)
The men's steeplechase was the same as it's been all season long – the Conseslus Kipruto and Jairus Birech show. The first kilometer was very fast – 2:35.82, which is well under WR pace – and Kipruto and Birech, who had gone 1-2 in both Doha and Rabat, were already clear of the field. The pace would slow over the remaining laps (2k was 5:20.32). Coming into the bell, a sub-8:00 was slipping away as they'd need a sub-60.
There was no doubt who was the best on the final lap as once again Kipruto got the win – with tonight being his fastest race of the season as he ran 8:05.13 in Doha, 8:02.77 in Rabat and 8:01.41 tonight. On the final lap, as Birech approached the steeple barrier at the start of the backstretch, Birech fell down face forward but he got up and still held off Paul Kipsiele Koech for second as Birech ran 8:11.39 to Koech's 8:14.46.
Six-time global champion Ezekiel Kemboi, who has an 8:14 seasonal best, was a complete non-factor once again as he ended up just 11th in 8:24.26, beaten by Americans Stanley Kebenei, who ran a new pb of 8:18.52 (previous pb of 8:22.85) to place 5th, and Cory Leslie, who was 9th in 8:20.43 – just off his personal and seasonal best of 8:19.12.
Despite the win, Kipruto wasn't happy as it looks like he wanted to run under 7:57 as the IAAF quotes him as saying the following, "Despite the victory, I am very very disappointed. I did not achieve my target, I wanted to run under 57 (sic). I tried to push it too hard but it did not work. I will get back to Kenya and work on the speed much more. I only plan two races before Olympics – (Olympic) trials and the Monaco Diamond League."
Results and quick take analysis.
3000 Metres Steeplechase - Men                                
                                                            Pts
    1 Kipruto , Conseslus              KEN    8:01.41         10        
    2 Birech , Jairus Kipchoge         KEN    8:11.39          6        
    3 Koech , Paul Kipsiele            KEN    8:14.46          4        
    4 Kowal , Yoann                    FRA    8:17.83          3        
    5 Kebenei , Stanley Kipkoech       USA    8:18.52          2        
    6 Yego , Hillary Kipsang           KEN    8:19.01          1        
    7 Zalewski , Krystian              POL    8:19.91                   
    8 Tabti , Bilal                    ALG    8:20.26                   
    9 Leslie , Cory                    USA    8:20.43                   
   10 Tolosa , Jiksa                   ETH    8:21.33                   
   11 Kemboi , Ezekiel                 KEN    8:24.26                   
   12 Koech , John Kibet               BRN    8:24.81                   
   13 Kipsang , Lawrence Kemboi        KEN    8:26.06
   14 Kipruto , Brimin Kiprop          KEN    8:29.54
   15 Milne , Taylor                   CAN    8:30.04
      Amare , Hailemariyam             ETH        DNF                   
      Bett , Nicholas Kiptonui         KEN        DNF                   
      Ndiku , Jonathan Muia            KEN        DNS
Quick Thought #1: Evan Jager has to be getting more and more confident about his medal chances.
Only one guy broke 8:10 in a DL steeple? That has to make Evan Jager feel great about his medal chances.
Quick Thought #2: Is it time to worry about Ezekiel Kemboi?
We think it might be. Yes, we know he's won the last 5 global titles dating to 2009. Yes, we know he often doesn't dominate the DL circuit. But he normally runs much better than this.
This year, Kemboi has a seasonal best of 8:14. Here are his seasonal best heading into Worlds or Olympics dating to 2009: 8:01, 7:59, 8:10, 7:55, 7:58.
Plus, Kipruto is looking really, really good right now. Kipruto can win in a variety of styles, taking it fast from the front (like he has on the circuit this year) or closing hard over the last lap (remember, he earned silver at Worlds in 2013 and 2015). In fact, he was closing on Kemboi off the final water jump in Beijing last year and was just two meters down before chopping his steps because his shoe was starting to come off. Kipruto's hurdle form isn't pretty, but it hasn't posed much of a problem for him and he's entering his prime at 21 years old while Kemboi, 34, is on the decline.
Quick Thought #3: Whoever was in charge of the television production tonight should be fired.
They consistently failed to show the leaders of the distance races hitting the finish line so any fan that was trying to figure out what Ayana needed to get the WR or Kipruto needed to break 8:00 had to guess. It was truly awful tv production.
Sprint Action
Men's 200: American Ameer Webb Picks Up Second DL Win of 2016
Trayvon Bromell thundered out of the blocks and had the lead entering the home straight, but he faded badly over the final 100 and wound up only seventh in 20.80. Instead, it was fellow American Webb who took the glory, following up his sub-20 victories at Mt. SAC and Doha with another DL win in 20.05.
With the 200 fairly up in the air beyond Usain Bolt, Webb, the 2013 NCAA champ at Texas A&M, is quickly becoming an Olympic medal threat. He has the #2 and #3 times in the world this year, behind only LaShawn Merritt's 19.78 from April.
200 Metres - Men                                              Wind: +0.6 m/s
                                                            Pts
    1 Webb , Ameer                     USA      20.04         10        
    2 Brown , Aaron                    CAN      20.24          6        
    3 Edward , Alonso                  PAN      20.25          4        
    4 Lemaitre , Christophe            FRA      20.27          3        
    5 Guliyev , Ramil                  TUR      20.42          2        
    6 Skyers , Roberto                 CUB      20.54          1        
    7 Bromell , Trayvon                USA      20.80                   
    8 Desalu , Eseosa                  ITA      20.86                   
    9 Smellie , Gavin                  CAN      20.88
Men's 100: Justin Gatlin Holds off Ameer Webb, Who Finishes Off An Amazing Double
Justin Gatlin got off to a great start but surprisingly he wasn't able to run away from everyone over the final 60. He did manage to hold on to the win but the best man by far in this race over the final 50 was Ameer Webb. Webb, who won the 200 which started just 80 minutes before this race, closed like a rocket and just missed the win as Gatlin won in 9.93 to Webb's new pb of 9.94 (previous pb of 10.03 but he has run a windy 9.90). France's Jimmy Vicaut was third in 9.99.
100 Metres - Men Race 2                                       Wind: +1.0 m/s

    1 Gatlin , Justin                  USA       9.93                   
    2 Webb , Ameer                     USA       9.94                   
    3 Vicaut , Jimmy                   FRA       9.99                   
    4 Ogunode , Femi                   QAT      10.09                   
    5 Simbine , Akani                  RSA      10.13                   
    6 Ujah , Chijindu                  GBR      10.15                   
    7 Martina , Churandy               NED      10.16                   
    8 Young , Isiah                    USA      10.26
      Brown , Aaron                    CAN        DNS
100 Metres - Men Race 1                                       Wind: +0.4 m/s

    1 Dasaolu , James                  GBR      10.11                   
    2 Bockarie , Solomon               NED      10.40
    3 van Luijk , Patrick              NED      10.41
    4 Dutamby , Stuart                 FRA      10.41
    5 Zézé , Mickaël-Méba              FRA      10.45
    6 Slowikowski , Przemyslaw         POL      10.49
    7 Mancini , Pascal                 SUI      10.53
    8 Paulina , Hensley                NED      10.55
      Smellie , Gavin                  CAN        DNS                   

Men's 400: The World Champ Wins
2015 World champion Wayde van Niekerk of South Africa was victorious in his first race on the Diamond League circuit this year as he pulled away from Botswana's  Isaac Makwala over the final 100 to win in 44.19. Former Texas A&M sprinter Bralon Taplin of Grenada ran a nice final 100 as he stayed about 5 meters behind van Niekerk throughout and moved up to second from third as he ran 44.43. Makwala ended up third in 44.85.
400 Metres - Men                                              
                                                            Pts
    1 van Niekerk , Wayde              RSA      44.19         10        
    2 Taplin , Bralon                  GRN      44.43          6        
    3 Makwala , Isaac                  BOT      44.85          4        
    4 Haroun , Abdalelah               QAT      45.05          3        
    5 Norwood , Vernon                 USA      45.17          2        
    6 Borlée , Kévin                   BEL      45.35          1        
    7 Lendore , Deon                   TTO      45.51                   
    8 McDonald , Rusheen               JAM      46.05                   
    9 Galvan , Matteo                  ITA      46.06
Men's 110 Hurdles: Orlando Ortega Finishes Well
World indoor silver medallist Pascal Martinot-Lagarde of France got off to a good star but former Cuban and now Spaniard Orlando Ortega came on late to get the win in 13.22, far off his 13.12 seasonal best or 12.94 pb.
110 Metres Hurdles - Men                                      Wind: +0.6 m/s
                                                            Pts
    1 Ortega , Orlando                 ESP      13.22         10        
    2 Martinot-Lagarde , Pascal        FRA      13.29          6        
    3 Pozzi , Andrew                   GBR      13.37          4        
    4 Brathwaite , Shane               BAR      13.64          3        
    5 Belocian , Wilhem                FRA      13.73          2        
    6 Abate , Emanuele                 ITA      13.83          1        
    7 Perini , Lorenzo                 ITA      13.90                   
      Bascou , Dimitri                 FRA        DNF                   
      O'Farrill , Yordan L.            CUB        DNF
Women's 100: Elaine Thompson over English Gardner
Gardner, who won at Pre on Saturday in 10.81, looked as if she had this one in the bag as well but Thompson, whose best event is the 200, came on like a freight train in the final 20 meters and blew Gardner away to win, 10.87 to 10.91.
100 Metres - Women Race 2                                     Wind: +0.8 m/s
                                                            Pts
    1 Thompson , Elaine                JAM      10.87         10        
    2 Gardner , English                USA      10.92          6        
    3 Pierre , Barbara                 USA      11.13          4        
    4 Lalova-Collio , Ivet             BUL      11.15          3        
    5 Henry , Desiree                  GBR      11.15          2        
    6 Ahye , Michelle-Lee              TTO      11.23          1        
    7 Swoboda , Ewa                    POL      11.28                   
    8 Kambundji , Mujinga              SUI      11.36                   
    9 Tenorio , Ángela                 ECU      11.39

100 Metres - Women Race 1                                     Wind: +1.0 m/s

    1 Hooper , Gloria                  ITA      11.38
    2 Samuel , Jamile                  NED      11.45
    3 Hyacinthe , Kimberly             CAN      11.54
    4 Siragusa , Irene                 ITA      11.56
    5 Popowicz-Drapala , Marika        POL      11.59
    6 Sedney , Naomi                   NED      11.61
    7 Alloh , Audrey                   ITA      11.68
    8 Amidei , Martina                 ITA      11.73
    9 van Agt , Sacha                  NED      11.85
Women's 400 Hurdles: Janeive Russell Picks Up World Leader and 2nd Straight DL Win
Jamaica's Russell was clearly the best in a loaded field, moving to the lead with a strong final turn and destroying the competition over the final 100 to run a world-leading 53.96, well ahead of Wenda Theron Nel in second (54.61). American Georganne Moline, who entered with the world lead at 53.97, really struggled and finished last in 57.64.
400 Metres Hurdles - Women                                    
                                                            Pts
    1 Russell , Janieve                JAM      53.96         10        
    2 Nel , Wenda                      RSA      54.61          6        
    3 Doyle , Eilidh                   GBR      54.81          4        
    4 Tate , Cassandra                 USA      55.35          3        
    5 Adekoya , Oluwakemi              BRN      55.48          2        
    6 Spencer , Kaliese                JAM      55.51          1        
    7 Folorunso , Ayomide              ITA      57.24                   
    8 Moline , Georganne               USA      57.64                   
      Caravelli , Marzia               ITA        DNF
Men's Field Events
Men's Discus: Robert Urbanek Halts Piotr Malachowski's Win Streak as Robert Harting Returns
World champ Malachowski won the first two DL discus events in Doha and Rabat but had an off night and finished sixth, meaning he didn't even get a chance to take his final three throws due to the new DL rules. Fellow Pole Urbanek took advantage of Malachowski's hiccup to take the win as his 65.00-meter second-round toss held up.
"I wanted to throw further so I cannot say it was a good competition for me today," Urbanek said. "I had a very good week with very long throws in the training. So I do not know why it did not work for me today."
Germany's Robert Harting, who won every global gold from 2009-2013, was third here after missing all of 2015 due to injury.
Discus Throw - Men                                            
                                                            Pts
    1 Urbanek , Robert                 POL      65.00         10        
    2 Hogan , Victor                   RSA      64.03          6        
    3 Harting , Robert                 GER      63.96          4        
    4 Dacres , Fedrick                 JAM      63.50          3        
    5 Ståhl , Daniel                   SWE      63.25          2        
    6 Malachowski , Piotr              POL      63.23          1        
    7 Harradine , Benn                 AUS      61.64                   
    8 Kupper , Martin                  EST      61.10                   
    9 Kövágó , Zoltán                  HUN      60.51
   10 Milanov , Philip                 BEL      60.13
   11 Apolloni , Federico              ITA      57.51

Men's High Jump: Bohdan Bondarenko Tops Strong Field, Wins 3rd Straight DL Event
There was plenty of quality on display tonight, but only 2013 world champ Bohdan Bondarenko of Ukraine could clear 2.33 — Olympic bronze medallist Robbie Grabarz, World Indoor champ Gianmarco Tamberi and Worlds silver medallist Guowei Zhang all missed all three of their attempts at that height. Bondarenko took two unsuccessful jumps at 2.37 before retiring; he's now a perfect three-for-three in 2016, winning the DL events in Shanghai, Rabat and Rome and going higher each time (2.28, 2.31, 2.33).
High Jump - Men                                               
                                                            Pts
    1 Bondarenko , Bohdan              UKR       2.33         10        
    2 Grabarz , Robert                 GBR       2.30          6        
    3 Tamberi , Gianmarco              ITA       2.30          4        
    4 Zhang , Guowei                   CHN       2.30          3        
    5 Fassinotti , Marco               ITA       2.27          2        
    6 Barshim , Mutaz Essa             QAT       2.27          1        
    7 Baniótis , Konstadínos           GRE       2.24                   
    8 Baker , Chris                    GBR       2.24                   
    9 Chondrokoukis , Dimitrios        CYP       2.20
   10 Yun , Seunghyun                  KOR       2.20
   11 Krimarenko , Yuriy               UKR       2.15
Men's Long Jump: Olympic Champ Greg Rutherford Wins DL Opener
Rutherford produces his best against the best competition and did that today as his 8.31 season best was enough to top a stiff field. It was very tight behind him for second as five men leaped between 8.08 and 8.19 but today proved that Rutherford is very much the man to beat as he looks to join Carl Lewis as the only men to win two Olympic LJ titles.
Long Jump - Men                                               
                                                            Pts               Wind
    1 Rutherford , Greg                GBR       8.31         10              -0.3
    2 Goodwin , Marquise               USA       8.19          6               0.0
    3 Lapierre , Fabrice               AUS       8.18          4              -0.2
    4 Samaai , Rushwal                 RSA       8.16          3              -0.3
    5 Hartfield , Mike                 USA       8.11          2              -0.1
    6 Wang , Jianan                    CHN       8.08          1              -0.2
    7 Manyonga , Luvo                  RSA       8.03                         +0.9
    8 Juška , Radek                    CZE       7.77                         -0.5
    9 Camara , Alyn                    GER       7.61      -0.6
   10 Gotch , Jarvis                   USA       7.48      -0.7
   11 Huang , Changzhou                CHN       7.40       0.0
Women's Field Events
Women's Shot Put: Valerie Adams Keeps Her Perfect Outdoor Season Intact
Adams improved on her 19.68 winning mark from Rabat two weeks ago by one centimeter, going 19.69 on her third attempt to make it five wins in five starts in 2016 outdoors for the two-time Olympic gold medallist.
Adams told the IAAF afterwards that she is "more motivated than ever" this year following an injury-shortened 2015 campaign that saw her miss Worlds — the first time since 2005 that someone other than Adams won a global shot put title.
Shot Put - Women                                              
                                                            Pts
    1 Adams , Valerie                  NZL      19.69         10        
    2 Márton , Anita                   HUN      18.98          6        
    3 Dubitskaya , Aliona              BLR      18.38          4        
    4 Borel , Cleopatra                TTO      18.36          3        
    5 Brooks , Tia                     USA      18.24          2        
    6 Camarena-Williams , Jillian      USA      18.06          1        
    7 Guba , Paulina                   POL      17.40                   
    8 Leantsiuk , Yuliya               BLR      17.31                   
    9 Smith , Brittany                 USA      16.82
   10 Rosa , Chiara                    ITA      16.61

Women's Triple Jump: Caterine Ibarguen Runs Win Streak to 34
World Indoor champ Yulimar Rojas, who challenged Ibarguen in Doha, didn't even make the final round here as she recorded a best of just 14.09 meters in her first three attempts. Ibarguen was in danger of missing out too, but she went 14.64 in the third round to grant herself three more tries. She wouldn't need them to win (no one else bettered 14.51) but took them anyway, improving to 14.78 on her final attempt after fouling in rounds 4 and 5. It was her 34th straigh win (she hasn't loss since 2012 Olympics).
Triple Jump - Women                                           
                                                            Pts               Wind
    1 Ibargüen , Caterine              COL      14.78         10              -0.1
    2 Rypakova , Olga                  KAZ      14.51          6              +0.7
    3 Thomas , Shanieka                JAM      14.46          4              +1.5
    4 Williams , Kimberly              JAM      14.38          3              -0.3
    5 Povea , Liadagmis                CUB      14.33          2              +2.2
    6 Saladukha , Olga                 UKR      14.18          1               0.0
    7 Rojas , Yulimar                  VEN      14.09                          0.0
    8 Papahrístou , Paraskeví          GRE      14.01                         -0.3
    9 Derkach , Dariya                 ITA      13.69      -0.7
   10 La Mantia , Simona               ITA      13.54      +1.5
   11 Assani Issouf , Jeanine          FRA      13.07      -0.5
   12 Gierisch , Kristin               GER      12.19      -0.5
Women's Pole Vault: Katerina Stefanidi Ties Her PB as Greeks Go 1-2
Stefanidi and countrywoman Nikoleta Kiriakopoulou both cleared 4.75 on their second attempts, but Stefanidi was in the driver's seat as she had no misses before that whereas Kiriakopoulou had misses at 4.45 and 4.55. So Kiriakopoulou skipped 4.80 entirely (where Stefanidi missed once) and took three attempts at 4.85. Neither she nor Stefanidi (who missed both attempts) could clear 4.85, handing the victory to Stefanidi.
Pole Vault - Women                                            
                                                            Pts
    1 Stefanídi , Ekateríni            GRE       4.75         10        
    2 Kyriakopoúlou , Nikoléta         GRE       4.75          6        
    3 Silva , Yarisley                 CUB       4.60          4        
    4 Büchler , Nicole                 SUI       4.50          3        
    5 Nageotte , Katie                 USA       4.50          2        
    6 Li , Ling                        CHN       4.45          1        
    7 Nikkanen , Minna                 FIN       4.45                   
    8 Murto , Wilma                    FIN       4.35                   
    9 Malavisi , Sonia                 ITA       4.25
      Ryzih , Lisa                     GER         NM                   
      Murer , Fabiana                  BRA         NM
Women's Javelin: Sunette Viljoen Wins by Three Centimeters
The performances weren't particularly impressive in the women's jav tonight, but that made for a close competition as three women threw 61.xx. The winner was World Champs bronze medallist Viljoen of South Africa, who also won the DL opener in Doha, as her 61.95 from the third round held up (barely) for the win. Latvia's Madara Palameika, who won in Rabat, almost made it two straight, but her final-round toss of 61.92 was just short of what was required for victory.
Javelin Throw - Women                                         
                                                            Pts
    1 Viljoen , Sunette                RSA      61.95         10        
    2 Palameika , Madara               LAT      61.92          6        
    3 Hussong , Christin               GER      61.21          4        
    4 Obergföll , Christina            GER      59.98          3        
    5 Khaladovich , Tatsiana           BLR      59.86          2        
    6 Špotáková , Barbora              CZE      59.82          1        
    7 Molitor , Kathrina               GER      58.43                   
    8 Muze , Lina                      LAT      57.47                   
    9 Gleadle , Elizabeth              CAN      56.16
   10 Laasma , Liina                   EST      55.82
   11 Borman , Brittany                USA      54.63
   12 Bani , Zahra                     ITA      51.75
Relay Results
4x100 Metres Relay - Women                                    

    1 Ukraine                          UKR      43.64                   
    2 Poland                           POL      43.82                   
    3 Italy                            ITA      44.05                   
    4 Spain                            ESP      44.34                   
    5 Netherlands                      NED      44.72                   
    6 Italy Junior                     ITA      44.95  


4x100 Metres Relay - Men                                      

    1 Netherlands                      NED      38.44                   
    2 Italy                            ITA      38.81                   
    3 France                           FRA      38.87                   
    4 Poland                           POL      39.18                   
    5 Spain                            ESP      39.65                   
    6 Italy U20                        ITA      40.19                   
      Switzerland                      SUI        DNF                   
      Thailand                         THA        DNS