Nike Is Granted Temporary Restraining Order in Its Lawsuit Against Boris Berian
by LetsRun.com
June 8, 2016
Update: Read the full restraining order here, all the latest Berian-Nike lawsuit news here.
The first court hearing of Nike's lawsuit against US 800-meter star Boris Berian was held yesterday in U.S. District Court in Portland. As first reported by Scott Reid of the Orange County Register, Nike was granted the temporary restraining order (TRO) it was seeking. The details of the TRO haven't been posted online (and it's possible it doesn't actually get issued formally until today) but Reid's source is Carlos Handler – Berian's coach. We also spoke to Handler last night but had decided to wait to publish anything until the TRO was filed electronically. But since Reid has published that the TRO was granted, we'll give you what we know from talking to multiple sources, one of whom was Handler.
The TRO is a 14-day temporary restraining order. During that time, Berian won't be allowed to compete in New Balance gear or support them on social media. Basically, he'll have to act like he's a Nike athlete, but since Berian has canceled his remaining pre-Olympic Trials races that doesn't mean too much in practical terms.
Article continues below player.
In two weeks, after some discovery has been done, another hearing will be held to determine if a preliminary injunction should be issued for the remainder of the litigation, assuming there is litigation as the parties could always reach an agreement. It's also conceivable that the judge could decide the case right then and there as the facts of the case are pretty well known.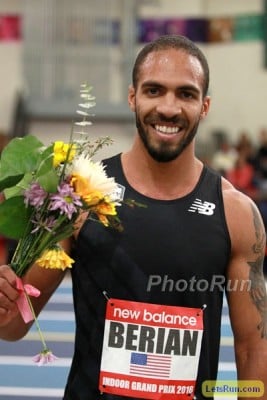 We also wanted to share with you some of the documents that were filed yesterday. Berian's defense team filed a sworn declaration from John Evans, General Manager of Running Sports Marketing for New Balance. Under the penalty of perjury, Evans stated his contract offer to Berian didn't have a reduction clause in it:
The list did not include a "reduction" provision – a provision allowing New Balance to reduce Mr. Berian's compensation in the event he did not meet a specified level of performance – because New Balance had no intention of including one.
Evans also stated that he disagreed with the assessment of Nike's Ben Cesar that reduction clauses are "industry-standard." From the filing:
Mr. Cesar attests that reduction provisions are "industry-standard." I do not believe that to be the case and can affirm that they are not "standard" at New Balance. To the contrary, endorsement agreements such as the one New Balance plans to enter into with Mr. Berian are individually negotiated. New Balance does not, as a standard business practice, demand reduction provisions in its contracts with runners. I declare under penalty of perjury that the foregoing is true and correct.
You can read Evans declaration in its entirety below.
Yesterday, Nike also filed a response to Berian' defense team's first filing as well as Evans' sworn affidavit.
A few highlights.
Nike's lawyers were not convinced by Evans' statement that there weren't reductions in his offer to Berian. They want to be allowed to conduct discovery as they think there might have been non-performance-related reductions – perhaps based on how often he competed.
From the filing:
The June 7, 2016 Declaration of John Evans ("Evans Declaration") (Dkt. No. 17) indicates that the New Balance term sheet did not include a provision allowing New Balance to reduce Mr. Berian's compensation in the event he did not meet a specified level of performance. Putting aside the fact that this is the first time Defendant has provided any information on this issue, the declaration is nonetheless factually vague in that it does not address whether New Balance intended to apply reductions based on other factors (e.g., frequency of performance). 
Nike also spent a lot of time saying that while they agreed to let Berian wear the Big Bear singlet in US competitions, they only did so when it wasn't sponsored by New Balance. They don't feel like he should be allowed to compete in a singlet with New Balance on it if he ends up being a Nike athlete.
From the filing:
The affiliation clause merely provided that Defendant would be permitted to "wear the official uniform and footwear of the Big Bear Track Club in all domestic competitions." And at the time the New Balance Offer was made, the only official element of the Big Bear Track Club uniform was a Big Bear Track Club badge. Nike was not provided any information suggesting that New Balance was an official sponsor of Big Bear Track Club at that time…..
Second, to the extent Defendant is arguing that, in order to match the New Balance Offer, Nike had to allow Defendant to compete in New Balance apparel and footwear at the Olympics and Olympic Trials, Defendant's argument is wrong as a matter of law. Interpreted in this way, the affiliation provision of the New Balance Offer would have clearly been inserted to undermine the very purpose of Nike's endorsement relationship with Defendant, and thus would have been an unenforceable "poison pill."
You can read Nike's response in its entirety here.
LetsRun.com's Analysis:  We want to see the TRO issued by the judge before we comment too much but Handler clearly wasn't pleased with yesterday's ruling, so it's definitely a positive for Nike.
Berian had already withdrawn from all competitions before the Trials (he was scheduled to run a 400 and a 600), so in practical terms it doesn't mean much to Berian. But it had to be a jolt to him and show him a) this could go on for a while and b) he could lose in federal court. The pressure for Berian to settle with Nike has increased a little for sure. At the same time, his team hasn't even filed its initial response to the Nike complaint. Does this now start to affect his preparations for the Trials?
Nike may actually want this to continue for the short term and to use discovery to try to get its hands on some of its competitors' contracts and see how New Balance conducts its negotiations (by reading emails between Berian's agent, Merhawi Keflezighi, and New Balance).
Talk about the lawsuit on our world famous fan forum / messageboard: Official Discussion Thread For Boris Berian's Contract Dispute.