Full Stockholm DL Recap: Upsets Galore – David Rudisha And Many Favorites Get Beaten As Ibrahim Jeilan, Ferguson Rotich And Angelika Cichocka Pull Off Stunners
by LetsRun.com
June 16, 2016
On a cool (mid to high 50s) and drizzly evening, the second half of the 2016 Diamond League season got underway today as the 2016 Stockholm BAUHAUS Athletics track and field meeting was held at the historic Olympic Stadium. Many of the winning marks weren't of high quality as a result but that doesn't mean there wasn't a lot of drama as there were plenty of upsets: mid-d stars David Rudisha, Hellen Obiri and Dawit Seyaum were all beaten. We recap the entire meet for you below, starting with the mid-d and distance events.
Talk about the meet on our world famous fan forum / messageboard: MB: Official 2016 Stockholm DL Live Discussion Thread
Article continues below player
Men's 800m: Ferguson Rotich Wins, David Rudisha Fades to 4th
For 700m, this looked like a rerun of the Birmingham 600m where David Rudisha and Pierre-Ambroise Bosse went 1-2 (and gave the world record a scare). Rudisha had led the field throughout as the pack hit 400m in just over 52 seconds, electing not to go with rabbit Bram Som (50.82). Rudisha led at the bell, but Bosse was right on him and on the backstretch Bosse tried to get the lead before 600 (1:18.52) but Rudisha sped up to make sure Bosse had to run the final turn on his outside.
As the hit the homestretch it was Rudisha in lane 1 with Bosse on his shoulder, Adam Kszczot right behind them, and Shanghai winner Ferguson Rotich a further step back in 4th. Rudisha was the first to crack and just when it looked like Bosse might take it, Rotich closed best, passing Bosse roughly 20 meters before the finish to get the win as he put up a #1 at the finish.
Rudisha faded to 4th.
QT #1: Rudisha is Beatable But Don't Read Too Much Into This
The 800 is arguably the most exciting of the mid-distance races because the favorite often can be beat. Rudisha's dominance for a few years obscured that fact. Rudisha with his 600m in Birmingham showed he is very fit this year, so we wouldn't make too much of him getting 4th here. Remember, his kryptonite used to be cool and rainy conditions (which was the case tonight – 50s and drizzle). It just shows how hard it is to control a moderately paced 800m from start to finish. Rudisha and Bosse both used a lot of energy fighting for the lead on the backstretch and that might have cost both of them here. A better plan for Rudisha in a race with a modest first 400m would be to start winding it up on the backstretch himself so no one can make a huge move like Bosse did that requires a ton of energy to respond to. Rotich was biding his time at that point in the race and had a little more energy at the end.
As mentioned above, Rudisha is known for not running well in wet weather and said as much afterwards, "I am a bit disappointed. I came here to run fast but the weather today was not so great, these are not my conditions. I am really in good form so I am a bit sad I can't run far in these conditions. I still have one race and I know I am in in 1:43-1:42 shape."
Ferguson Rotich won the Kenyan Champs last year and was 4th at Worlds so it's not like he is some slouch.
QT #2: Euros x 2  are next
The European runners have their national champs and the Euro champs before the Olympics if they choose to run them. But on the mind of many of them are the Euro soccer champs as Bosse said, "Normally I'm at the bar with a guinness in my hand, watching the games!"
Women's 1500: Angelika Cichocka Wins In Huge Upset
Talk about an upset.
Poland's Angelika Cichocka, a woman who garnered zero mention in our pre-race preview, pulled off the biggest upset of the night as she won the women's 1500 tonight in a seasonal best time of 4:03.25.
The 2014 world indoor silver medallist at 800, Cichoka never left the rail on the final lap, but it's not as if saving ground is the only reason why she won. She was miles better than everyone else over the final 80 meters of the final lap which was run in a modest 63ish (her final 200 was 30.3 ish however) and won by more than a second.
"[It was a] season best for me and very good preparation for the Olympics. [The] conditions were hard but I managed to break through in the final lap," said Cichocka.
The Race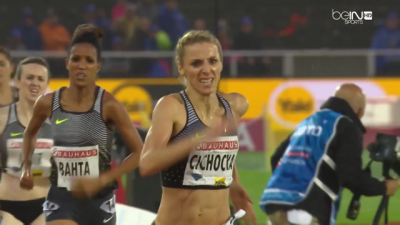 After the rabbit took the field through 400 in 63.19, things slowed down a great deal on the second lap (800 in 2:10.23), but that wasn't entirely the rabbit's fault as the field didn't seem interested in going right with her on what was supposed to be a 2:07 pace. Given the modest pace, things were very bunched up behind the rabbit. After the rabbit stopped at 900, the two Brits and the two Lauras in the field, Laura Weightman and Laura Muir, had the lead. At the bell, Muir still led as the pace actually slowed even more as she hit 1200 in 3:16.78. Midway through the backstretch, 20-year-old Ethiopian Besu Sado, who ran 4:00.08 in Shanghai, took the lead but the one moving the fastest on the backstretch was 19-year-old Dawit Seyaum of Ethiopia, who used up a lot of energy to move into second after starting the lap somewhere in the 8th to 10th position.
As they came off the final turn, the two Ethiopians both moved wide as they prepared to battle each other for the win. In actuality, neither had anything left as Sado would fade to 4th (4:04.89) and Seyaum to 8th (4:06.07) as Cichocka crushed everyone over the final 80 meters. Meraf Bahta, an Eritrean-born athlete who now runs for Sweden and has a 4:01 pb, ended up second in 4:04.37 – the same time recorded by world indoor bronze medallist Gudaf Tsegay, who finished third here as she did at the Pre Classic.
Results and our quick take analysis appear below.
1500 Metres - Women                                           
                                                            Pts
    1 Cichocka , Angelika              POL    4:03.25         10        
    2 Bahta , Meraf                    SWE    4:04.37          6        
    3 Tsegay , Gudaf                   ETH    4:04.37          4        
    4 Sado , Besu                      ETH    4:04.89          3        
    5 Muir , Laura                     GBR    4:05.40          2        
    6 Obiri , Hellen Onsando           KEN    4:05.88          1        
    7 Weightman , Laura                GBR    4:05.94                   
    8 Seyaum , Dawit                   ETH    4:06.07                   
    9 Krause , Gesa Felicitas          GER    4:06.99                   
   10 Koster , Maureen                 NED    4:07.24                   
   11 Blundell , Jenny                 AUS    4:07.84                   
   12 Ennaoui , Sofia                  POL    4:07.87                   
   13 Embaye , Axumawit                ETH    4:11.77
   14 Desalegn , Betlhem               UAE    4:13.86
   15 Arafi , Rababe                   MAR    4:17.42
      Wafula , Lydia Nasimiyu          KEN        DNF
400 – Wafula 63.19
800 – Wafula 2:10.23
1200 – Muir 3:16.78
Quick Thought #1: Talk about a stunner
Cichocka crushed everyone, but it's not like what she did was superhuman.
None of the big names ran well here today. We didn't even mention Hellen Obiri above – she was just sixth in 4:05.88.
Quick Thought #2: Jenny Simpson (and Shannon Rowbury) Has To Be Feeling Quite Good Right Now
Coming into the year, an Olympic medal seemed like a long shot for either Jenny Simpson or the American record holder Shannon Rowbury but now both have hope.
For starters, three of the top six 1500 runners at Worlds last year haven't raced at all this year outdoors- gold medallist Genzebe Dibaba, bronze medallist Sifan Hassan and sixth-placer Abeba Aregawi. Then today, five of the six women in the world who have run faster than Simpson this year at 1500 (Seyaum, Obiri, Sado, Tsegay and Muir are the #2-6 fastest women in the world this year) all looked not so great. Everyone but 2016 world #1 Faith Kipyegon was here.
Now, this race may have been a bit of anomaly. Many African runners aren't used to racing in 50 degrees and drizzle. But Simpson is likely energized by the result. Leader to leader, the last 300 was covered in  46.57 today and Cichocka blew everyone way. In 2011, Simpson won a world title in a 4:05 race where the last 300 leader to leader was 46.51.
Men's 5000: Ibrahim Jeilan, The Mo Farah Slayer, Wins In A New Pb
Ethiopia's Ibrahim Jeilan, the last man to defeat Mo Farah at a global championship on the track (2011 10,000), appears to be rounding into form at the right time of year as he used a 55 flat last lap (55.17 leader to leader but Jeilan was in second at the bell) to take the men's 5000 tonight in a new personal best of 13:03.22 (previous best of 13:09.16) as world indoor 3000 champ Yomif Kejelcha was second in 13:03.66 with 2016 Diamond League points leader Muktar Edris a well-beaten third in 13:05.54. Ethiopian junior 10,000 record holder Yigrem Demelash was fourth in 13:05.64.
"I'm very pleased with tonight," said Jeilan after the race. "We started preparation early to beat Mo Farah this summer. It's going very well, I think we are ready. But I respect Mo Farah.
"We will run as a team, I hope we will do good. We have the Ethiopian trials on the 28th June in Ethiopia," added Jeilan.
The Race
Any thought that the runners would try to take advantage of the high 50-degree temps and chase the 12:55 schedule the rabbits were supposed to hit (2:35 per km) soon evaporated, as after a quick opening 200 (28.95 for the rabbit) the next two 1600s were run in 4:13.86 and 4:15.99 as the field hit 1k in 2:35.73, 2k in 5:14.30, and 3k in 7:54.43. With 4 laps to go, the lead pack was down to 9 and was being led by Demelash, who set the Ethiopian junior record in the 10,000 in 2012 at 26:57.56, with Kejelcha right behind him. Two laps later, the lead pack was down to five. With about 650 to go Kejelcha went into the lead. On the last lap, it became clear that either Kejelcha or Jeilan was going to be the winner. Coming off the final turn, Kejelcha still led but he showed a sign of vulnerability as he glanced over his shoulder to see how close Jeilan was. Jeilan was right behind and soon pulled away to get the win.
Results and then our quick take analysis appear below.
Results
| Pl. | Athlete | Nat. | Birth | Result |
| --- | --- | --- | --- | --- |
| 1. | Ibrahim JEILAN | ETH | 89 | 13:03.22 |
| 2. | Yomif KEJELCHA | ETH | 97 | 13:03.66 |
| 3. | Muktar EDRIS | ETH | 94 | 13:05.54 |
| 4. | Yigrem DEMELASH | ETH | 94 | 13:05.64 |
| 5. | Yenew ALAMIREW | ETH | 90 | 13:11.88 |
| 6. | Solomon BERIHU | ETH | 99 | 13:12.67 |
| 7. | Hayle IBRAHIMOV | AZE | 90 | 13:16.69 |
| 8. | Getaneh TAMIRE | ETH | 94 | 13:20.38 |
| 9. | Morhad AMDOUNI | FRA | 88 | 13:22.64 |
| 10. | Zersenay TADESE | ERI | 82 | 13:26.23 |
| 11. | Zelalem BACHA REGASA | BRN | 88 | 13:28.53 |
| 12. | Yoann KOWAL | FRA | 87 | 13:34.29 |
| 13. | Jeroen D'HOEDT | BEL | 90 | 13:52.11 |
| 14. | Brett ROBINSON | AUS | 91 | 13:58.84 |
| – | Mukhtar MOHAMMED | GBR | 90 | DNF |
| – | Vincent RONO | KEN | 90 | DNF |
| – | Imane MERGA | ETH | 88 | DNF |
| – | Sindre BURAAS | NOR | 89 | DNF |
Quick Thought #1: A 55.12 Final Lap Won't Scare Farah But Jeilan Is Rounding Into Form
In 2011, Jeilan won gold in the 10,000. In 2013, he won the silver in the 10,000. Last year, however, he didn't even compete at Worlds as the only track race he finished all year was a 13:20 at Pre.
In March, when Jeilan ran a 13:58 in a 13:43 race in Djibouti, we doubt many were predicting he'd be a factor in Rio, but it certainly looks like he's going to be a medal contender in the 10,000 now. At Pre, Jeilan was 5th in the 10,000 in 26:58 and this was another big step in the right direction.
MB: Jeilan is back! 
Leader Splits
1st 200 28.95
1 01:02.46
2 01:04.28
3 01:03.39
4 01:03.74
5 01:03.24
6 01:03.96
7 01:04.39
8 01:04.40
9 01:02.94
10 01:02.85
11 01:03.46
12 55.17
Quick Thought #2: Edris Seems To Be Headed In The Other Direction
We'd much rather be Jeilan right now than Muktar Edris, who ran 12:59 to win the 5000s on May 14th and 28th in Shanghai and Eugene before finishing 2nd in Stockholm a week ago and 4th today.
Quick Thought #3: Given how rampant age cheating is in Africa, we don't want to mention this but will
The 5th placer today was Solomon Berihum of Ethiopia who ran 13:12.67. He allegedly doesn't turn 17 until October.
Women's Steeple: The Ruth Jebet Show Continues
Ruth Jebet of Bahrain via Kenya has been the steeplechase find this year. The former world junior champion had never run under 9:20 before this year, but now she has done it three times thanks to her 9:08.37 win here. Caroline Tuigong rabbited Jebet out in 2:58.07 for the first 1km and the only question left was could Jebet go sub-9:00 and even challenge the world record (8:58.81). By 2km (6:01) the pace had slowed as the second rabbit could not keep up. Jebet didn't have a lot left but got the dominant victory as Beatrice Chepkoech was a distant second. Former Florida Gator Genevieve LaCaze of Australia was originally third in a huge PR of 9:23.91 (previous best of 9:30.52 last week in Oslo) but DQ'd for running inside of the line. (LaCaze was later reinstated.) Olympic champion Habiba Ghribi was a nonfactor in 9:31. Before you write her off though, realize in 2012 when she won the Olympics she opened in Paris with only a 9:28, however she did get the win there.
Stephanie Garcia of the US, a contender for the US Olympic team ran her first steeple of the year and opened with a somewhat disappointing 9:35.89.
3000 Metres Steeplechase - Women                              
                                                            Pts
    1 Jebet , Ruth                     BRN    9:08.37         10        
    2 Chepkoech , Beatrice             KEN    9:22.56          6        
    3 LaCaze , Genevieve               AUS    9:23.19          4        
    4 Assefa , Sofia                   ETH    9:27.73          3        
    5 Heiner Hills , Madeline          AUS    9:28.75          2        
    6 Ghribi , Habiba                  TUN    9:31.22          1        
    7 Kirui , Purity Cherotich         KEN    9:31.26                   
    8 Getnet , Tigist                  BRN    9:31.84                   
    9 Eriksson , Sandra                FIN    9:31.88                   
   10 Garcia , Stephanie               USA    9:35.89                   
   11 Chepkurui , Lidya                KEN    9:37.89                   
   12 Martín , Diana                   ESP    9:41.23                   
   13 Fougberg , Charlotta             SWE    9:46.72
   14 Cherotich , Fancy                KEN    9:59.61
   15 Bettiche , Amina                 ALG   10:07.39
      Tuigong , Caroline Chepkurui     KEN        DNF
QT #1: The Medal is There in Rio for Coburn to Go After
Jebet and world champ Hyvin Kiyeng are the women to beat but the run today of Ghribi bodes well for Emma Coburn in Rio. Only 12 women have gone sub-9:10 ever, and Coburn is next on the list at 9:10.76. Kiyeng and Jebet have pushed the event to a new level this year, but Coburn has raised her game.
QT #2: Should LaCaze Really Be DQ'd for Being Pushed Off the Track? (UPDATE: LaCaze was later reinstated to third.)
We're not positive the push LaCaze talks about is what she was DQ'd for, but here's what she said right after the race before she was DQ'd, "A huge PB! I did 9:30 last week and that was a 2-second PB but I knew there was more in me. I knew there was a big jump there somewhere and it took today to be pushed around early on and stay conservative but I made my last km so much stronger than normal. I've given myself the confidence I needed for Rio. After 1500m, I got pushed into the inside of the track and nearly fell off so I had a negative mindset at halfway thinking today's not the day. But I just looked at the clock at 1km to go and I was slower than I was at Oslo but I knew it meant I had more in the tank so use it, use it. So at 600m to go I just went for it at the water jump. I'm so happy! I'm off to Finland now to get the 5km qualifier on Sunday I've got 3 seconds to cut off."
MB: Gen La Caze – 9.23 – 7 sec PR – and DQ? 
The DQ cost her some money but LaCaze is running well:
@GenGen_LaCaze
1 May to 16 June 2016

47 Days

6 races

6 personal bests

(800 x1, 5000 x 2, 3k steeple x 3) pic.twitter.com/FXLTO3fggN

— David Tarbotton (@David_Tarbotton) June 16, 2016
QT #3: Onto the Trials For Garcia
Garcia's 9:35 wasn't a great opener but she opened up in 9:37 last year only ran under 9:30 once before USAs last year and she got second in 9:23.48. Making the Olympic team will be more difficult but Garcia is one of five US women to have broken 9:25 this year or last. She had been running pretty well on the flat coming in as she's run 4:06.80 this year for 1500, not too far off of her 4:05.39 pb.
Men's 100m Jak Ali Harvey Wins in Slowest DL 100m Since 2011
Jak Ali Harvey of Turkey (formerly Jacquest Harvey of Jamaica, 9.92 pb) got the win here in 10.18 what was the slowest Diamond League winning time since Steve Mullings won the 100m in 10.26 in atrocious conditions in New York in 2011 (3.4 m/s headwind). In the 100m race before that NYC race, Mullings had run 9.80 to win at Pre. Talk about a wind! Mullings tested positive that summer and the 10.26 is his last mark on the books.
It wasn't as windy here but it was cold.
Final, wind: -0.8
Women's 100m Hurdles: Kendra Harrison Keeps Winning
This one was tight for the first 7 hurdles as 2-time world indoor champ Nia Ali and former European champ Susanna Kallur (running her first outdoor hurdle race since 2010) were out well with Kendra Harrison. Then Harrison, who just missed the world record at Pre, showed why she's the best in the world right now as she dominated the final 3 hurdles to get the comfortable win in 12.66. Ali held on for second while Queen Harrison moved up for 3rd.
Not a fast time, but it was run into a headwind on a wet track. Good preparation in case there is inclement weather at the Trials.
Wind: -0.4
Men's 400m Hurdles: A Bad Day for the Americans as Jackson DQ'd, Michael Tinsley Pulls Up
There was some intrigue and controversy in this one. Bershawn Jackson was DQ'd for a false start. He definitely false-started but the starter took forever to fire the gun in this race and several others. Once the race was underway, Javier Culson was clearly best winning in a modest 49.43 in less than ideal conditions. It was Culson's first DL win of the year after getting second in Oslo.
Michael Tinsley, the winner at Pre, put in a full effort until the final bend where he slowed and stopped. Not sure exactly what was going on with him.
Here's the US list heading into the Trials from all-athletics.com
Women's 200m: Dina Asher-Smith Wins Her First 200 of the Year
Asher-Smith, the former world junior 100m champ who ran 22.07 to get 5th at Worlds last year, started off her 2016 200m campaign with a win in 22.72. Asher-Smith led throughout as Simone Facey of Jamaica closed the best to get second.
Afterwards Asher-Smith said, "Yeah it was OK, it was my first 200m of the year, the first one since Beijing. I would have liked to execute it a bit better down the home straight but in these conditions for the first outing of the year, I can't complain." The British Trials are next for her.
Final, wind: -0.8
Women's 400m: Novlene Williams Mills Wins in Slowest Diamond League Winning Time Ever
The cool and drizzly conditions certainly weren't ideal but in the end Jamaica's Novlene Williams-Mills (50.87 sb) was the winner in a modest 52.29, the slowest Diamond League winning time ever (previous slowest was 52.14 from last year in Birmingham). Williams-Mills blitzed the first 200 and had the lead and then coasted a bit on the next 100 as she trailed Britain's Seren Bundy-Davies at 300, but Wiliams-Mills managed to get the win convincingly. Bundy-Davies faded to 4th in 52.71 as another Brit, Anyika Onuora, moved up for second in 52.46 on the outermost lane.
Men's Shot Put: Walsh Gets The Win
The shot was held Thursday and World indoor champ Tom Walsh of New Zealand got the win with a 21.13m (69′ 4″) second-round throw, defeating 24-year-old Michael Haratyk of Poland, who put up a 20.54m in the last round to move from 4th to 2nd. Haratyk came in with a better seasonal best than Walsh (21.23m versus 21.20m).
Men's Shot Put Results *Results with all throws listed
Pl. Athlete Nat. Birth Result
1. Tom WALSH NZL 92 21.13
2. Michał HARATYK POL 92 20.54
3. Tim NEDOW CAN 90 20.44
4. Konrad BUKOWIECKI POL 97 20.29
5. Mesud PEZER BIH 94 20.20
6. Franck Dannique ELEMBA OWAKA CGO 90 20.17
7. Stipe ŽUNIĆ CRO 90 19.64
8. Leif ARRHENIUS SWE 86 19.43
9. Damien BIRKINHEAD AUS 93 17.38
Women's High Jump: Beitia Wins Again
A week ago in Oslo, 37-year-old Ruth Beitia of Spain won the women's high jump with the lowest winning mark (1.90m) in the seven-year history of the Diamond League (the previous lowest winning mark was Chaunte Lowe's 1.92m at the 2012 Shanghai meet). Tonight in Sweden, she continued her winning ways with another modest mark of 1.93m.
High Jump - Women                                             
                                                            Pts
    1 Beitia , Ruth                    ESP       1.93         10        
    2 Trost , Alessia                  ITA       1.90          6        
    3 Licwinko , Kamila                POL       1.90          4        
    4 Šimic , Ana                      CRO       1.86          3        
    5 Skoog , Sofie                    SWE       1.86          2        
    6 Spencer , Levern                 LCA       1.81          1        
      Kinsey , Erika                   SWE         NM                   
      Rossit , Desiree                 ITA         NM
Men's Pole Vault: Lavillenie Wins as Field Almost Doesn't Clear 5.50
The weather was the story in this one, as it was in a lot of events, as no one cleared 5.65 until Renaud Lavillenie and Shawn Barber did it on their final attempts. Lavillenie would clear 5.73 and get the win as Barber went no higher.
Lavillenie explained how the weather affected things, "It wasn't the worst conditions I have competed in but it was one of the worst. The only good thing today is that there was no wind so at least we could try to manage the wet conditions. But it was cold and for us we need grip and it is really complicated for us with the rain. But it is important to be able to manage it and try to be as good as possible. I am happy with the win and that is the most important for the Diamond League. In the coming weeks I am just hoping for good conditions. This was the 5th competition of the year and the 4th time I am jumping on 16 steps instead of 20 because of the bad conditions."
Women's Long Jump: Brittney Reese Finishes 2nd and Throws Some Love to CLE
World champs bronze medallist Ivana Spanovic made up for her only loss of the season to Brittney Reese at the Pre Classic. Reese had more important things on her mind, the NBA Finals, as she said, "It took a bit longer for my body to get ready [as] it's cold. But I'm [in] good shape and ready for the trials. I hope to go over 7m there again. Cleveland are going to win tonight, for sure! I'm going to stay up to 3 a.m. to watch it!"
Although there is no rooting in the press box, LetsRun.com is not in the press box at the NBA Finals. Its official position is Golden State in 6.
Last year's world champ Tianna Bartoletta continued to struggle to regain her 2015 form.
Men's Triple Jump: Christian Taylor Dominates
All 5 of Christian Taylor's jumps were good enough to win this competition but he saved his best for last despite the poor conditions. Full series here.
Taylor, who is dominant in the US, said this of the Trials, "Now all the focus is on to the Trials which is in the beginning of July. I'm a bit nervous but now I can relax a little bit, recharge and get ready to go again." And that is why we love the Olympic Trials – even a world-beater like Taylor has to produce.
Men's Javelin: Egypt's Abdelrahman Wins
The top 4 all had their best throws in the third round, with the best coming from Egypt's Ihab Abdelrahman, the 2015 silver medallist at Worlds. He got the win over Diamond Lague winner Rohler and World Champ Yego. *Series here
Women's Discus: Sandra Perkovic Stays Undefeated
No surprise here as the Olympic and World champ Perkovic stayed undefeated in 2016. Any of her 4 legal throws would have won the competition.
Detailed results here.
Talk about the meet on our world famous fan forum / messageboard: MB: Official 2016 Stockholm DL Live Discussion Thread