Molly Huddle (15:14) Wins Third Straight B.A.A. 5K Title; Dejen Gebremeskel (13:39) Takes Down Ben True (13:41) In Men's Race
By Jonathan Gault
April 16, 2016
BOSTON — Ethiopian Olympic silver medallist Dejen Gebremeskel prevented Ben True and Molly Huddle pulling off an American sweep at the B.A.A. 5K for the second consecutive year early Saturday morning on Boston Common. Huddle did her duty, breaking the women's field early to cruise to her third consecutive victory in 15:14. But True, who has been battling a hip injury recently, came up two seconds short of a fourth title as Gebremeskel edged him out, 13:39 to 13:41. This marks the fourth consecutive year that Gebremeskel has won in Boston on marathon weekend; he also earned 5K titles in 2013 and 2014 and won the B.A.A. Invitational Mile last year.
Times were not as fast as 2015, when both True (13:22) and Huddle (14:50) set American road records on the flat course. That was largely due to 20+ mph winds, which slowed the competitors considerably. The men's race went out with 10 men still in contention in the mile (4:25), but the lead pack dwindled to five at two miles (8:54) as former Arizona runner Stephen Sambu of Kenya began to push the pace. Sambu remained in front until around 200 meters to go, when Gebremeskel made his move. No one could match the Ethiopian — who ran a world-leading 7:38.03 3000 indoors — but True did move up to take second. Sambu wound up third in 13:44.
Article continues below player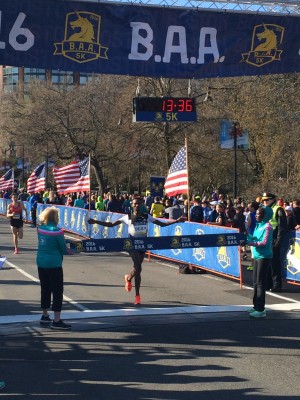 On the women's side, Huddle and a pack of six other women came through in 4:52. Huddle noticed the pack beginning to break apart and made the decision to up the tempo slightly in order to draft off some of the sub-elite men ahead of her. That created a gap that she would never relinquish, hitting two miles in 9:45 before coasting to the $7,500 first place prize.
Men's top five results (full elite results here)
1. Dejen Gebremeskel, Ethiopia 13:39
2. Ben True, Hanover NH 13:41
3. Stephen Sambu, Kenya 13:44
4. Philip Langat, Kenya 13:54
5. Diego Estrada, Flagstaff AZ 13:54
Women's top six results (full elite results here)
1. Molly Huddle, Providence RI 15:14
2. Buze Diriba, Ethiopia 15:28
3. Caroline Chepkoech, Kenya 15:35
4. Diane Nukuri, Burundi 15:43
5. Emily Sisson, Providence RI 15:45
6. Kim Smith, Providence RI 15:55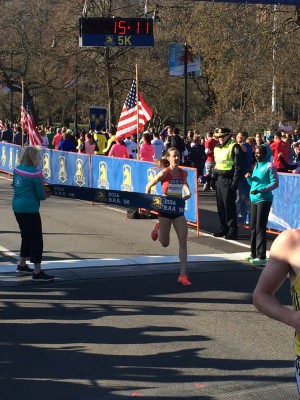 Quick Take #1: Molly Huddle was pleased with her effort but would have liked to have gone a little faster; she'll run the Pre Classic next month
As is her custom, Huddle got in a hard, front-running effort and she was rewarded with her third consecutive title here. On paper, Huddle was the class of this field so it was no surprise that she won handily. But she'll tested at next month's Pre Classic, where she'll run the 5k against some of the world's top talent.
Huddle is going up to altitude in Flagstaff for a hard training stint next month. She didn't rule out a run at her American record of 14:40 at Pre, but said it will be tough to get sharp enough to run that fast between now and then. Huddle hopes to do well though as she said it's the only time she'll face a top international field between now and the Olympics.
Our interview with Huddle appears below:
Quick Take #2: Dejen Gebremeskel said there shouldn't be any confusion about Ethiopia's Olympic selection process…we hope he's right
Gebremeskel ran a world-leading 7:38.03 in the 3000 this year indoors but he wasn't selected by the Ethiopian federation to run at World Indoors in March. Gebremeskel ran his time on February 28 in Boston, which Gebrmeskel and his coach believed to be in the qualification window. But the Ethiopian federation told him it was too late and selected Yenew Alamirew instead (Ethiopia picks its team strictly on time so Gebremeskel would have gone had he run his time earlier).
We asked Gebremeskel if he was worried the same thing would happen this summer for the Olympics. He said he wasn't as the federation has already fixed a date. But when we asked him what the date was, he said he thought it was August 14 — which is day three of the Olympic track & field competition. We hope everything gets clarified before then as it would be a shame for one of the world's top athletes to miss the Olympics due to a miscommunication.
Quick Take #3: Ben True was happy to get back to racing but will have to wait a day or two to see how his body handled it
True, who has been battling a hip injury this winter/spring, said that his hip didn't feel great during his warmup, but admitted that he is usually hypersensitive before a race and that he didn't feel anything during the race itself. True added that he'll have to wait to see how his body recovers from this one to see if he aggravated anything by racing hard today.
It was a bit of an adjustment for True to return to racing as the only person he's run with since last fall was Wellesley High School runner Thomas D'Anieri. D'Anieri, the Massachusetts state cross country champion who ran the high school portion of the B.A.A. mile today, is also coached by Tim Broe (Broe coaches Wellesley High) and he and True ran a workout together last fall.
True always wants to win, so he wasn't thrilled by finishing second, but he said he felt strong until the final 800 meters, which is a good sign considering he hadn't touched 5k pace in a workout until Tuesday.
True said his outdoor schedule is still up in the air but the one race he knows he'll do before the Trials is the Pre Classic, where he'll run the 5k.