EPO Cheat Wilson Loyanane Erupe Wins $180,000 At Seoul Marathon as Patick Makau Drops Out And European Record Barely Survives
by LetsRun.com
March 20, 2016
Doper Wilson Loyanane Erupe of Kenya won the 87th Seoul International Marathon yet again today, by running 2:05:13, a time which broke his own 2:05:37 course record. Erupe was popped for EPO in 2013. Erupe has now won in Seoul on three different occasions – 2012 (2:05:37), 2015 (2:06:11) and today.
Today's win was very lucrative for Erupe as it netted him $180,000 as Seoul offers a ton of prize money – $80,000 for the win and $100,000 for a course record.
Article continues below player
The pre-race hype for the race talked up the race as a battle between Erupe and former world record holder Patrick Makau. Makau, however, was ill and had to drop out shortly after 10k. We've received a lengthy press release from the management team of Makau explaining his DNF which you can read below the results.
It's worth noting that the European marathon record of 2:06:36, held jointly by Portugal's António Pinto and France's Benoît Zwierzchiewski, barely survived today as Switzerland's Tadesse Abraham (Eritrean born) ran 2:06:40.
Kenya's Rose Chelimo won the women's race in a new personal best of 2:24:14.
Top Results Courtesy of Race Results Weekly
MEN (gun times) –
1. Wilson Loyanae Erupe, KEN 2:05:13 PB/CR* USD 80,000 + 100,000i
2. Evans Kiplagat Chebet, KEN 2:05:33 PB 40,000 + 50,000i
3. Mike Kipruto Kigen, KEN 2:06:10 20,000 + 20,000i
4. Tadesse Abraham, SUI 2:06:40 NR 10,000 + 20,000i
5. Frankline Chepkwony, KEN 2:06:51 7,000 + 20,000i
6. Asbel Kipsang, KEN 2:07:30 PB 5,000 + 10,000i
7. Jacob Kibet Ch?, KEN 2:08:56 3,000 + 5,000i
8. Peter Kimeli Some, KEN 2:10:01 2,000
9. Afewerk Mesfin, ETH 2:11:08
10. Paul Kipkemoi, KEN 2:11:27
11. Mustapha El Aziz, MAR 2:12:47
12. Sim Joung-Seub KOR 2:13:47
13. Asefa Legese, ETH 2:14:01
14. Eliud Kipkosgei, KEN 2:14:39
15. Tseveenravdan, MGL 2:16:26
16. Kim Jiho, KOR 2:17:00
17. Nehemiah Misat, KEN 2:17:35
18. Yu Seung-Yeup, KOR 2:17:41
19. Park Yohan, KOR 2:18:55
20. Jeong Jin-Hyeon, KOR 2:19:55
Patrick Makau, KEN DNF
*Course record; previous 2:06:03, James Kwambai (KEN), 2012
WOMEN (gun times) –
1. Rose Chelimo, KEN 2:24:14 PB USD 80,000 + 7,000i
2. Melkaw Gizaw, ETH 2:24:28 PB 40,000 + 7,000i
3. Agnes Jeruto Barsosio, KEN 2:24:59 20,000 + 7,000i
4. Janet Jelagat Rono, KEN 2:27:23 10,000 + 5,000i
5. Abebech Afewerk, ETH 2:30:26 7,000
6. Agnes Jepkemboi, KEN 2:31:48 5,000
7. Ahn Seul-Ki, KOR 2:32:15 3,000
8. Zheng Zhiling, CHN 2:33:50 2,000
9. Gladys Jerotich, KEN 2:34:23
10. Sun Weiwei, CHN 2:36:29
11. Yeum Goeun, KOR 2:37:02
12. Kim Doyoun, KOR 2:37:18
13. Choi Kyung-Sun, KOR 2:37:53
14. Nancy Jepkosgei, KEN 2:42:03
Parki Ho-Sun, KOR DNF
Merima Mohammed, BRN DNF
Talk about the race on our fan forum / messageboard: MB: Doping pays: Doper Wilson Loyanane Erupe wins $180,000 At 2016 Seoul International Marathon
Statement from Davor Savija on Patrick Makau and Tadesse Abraham
Former marathon World record holder, Patrick Makau of Kenya, has recorded an unfortunate DNF in 2016 DongA-Ilbo Seoul Marathon due to illness.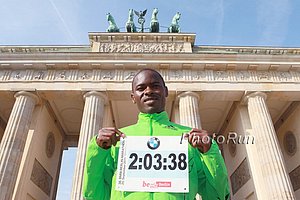 On Monday, March 14th, 2016, Patrick needed medical care due to loss of liquids and electrolytes and severe abdominal pain and he was diagnosed to be suffering from amoeba (Amoebiasis).
Due to illness, his travel from Nairobi to Seoul was delayed and after further consultations and assessment, he has decided to travel and compete in Seoul and do his best for himself and this fine IAAF Gold Label Road Race.
In final couple of days preceding 2016 Dong-A Ilbo Seoul Marathon, Patrick started to feel better, while still being on medication that was to halt loss of liquids and electrolytes and that was to assist with pain management.
Unfortunately, performance-related demands on the body have proven to be to much at this stage and Patrick was forced to abandon the race at around 10km mark.
Patrick has busy road racing schedule ahead of him and he is to take current setback in stride and continue to build his legacy on-and-off the roads.
**
At the same time, we are pleased to report that Tadesse Abraham (Editor's note: Abraham was born in Eritrea) of Switzerland has set Swiss marathon national record with 2:06:40 (jut 4 seconds slower than European record), finishing fourth after fine display of committed marathon running and racing, with impressive 6:43 split for final 2,195 meters after difficulties encountered between 35km and 40km marks (15:15).
Tadesse is truly upbeat about upcoming challenges on the roads over 10K and half marathon distances and with his eyes being firmly set on Rio 2016 and its marathon race.
**
Quote, Tadesse Abraham — "This one is for my wife, my son and my friends in Switzerland who have helped me to make Switzerland home, who have helped me to integrate. 2:06 level and national record are for my wife, as she sacrifices so much for me, as she gives me time and space to dream."
Quote, Patrick Makau — "Of course that I am disappointed to have such a bad luck and get sick from amoeba less than a week before the race. I really wanted to be in Seoul, I had several marathon racing options, but I wanted to be here and race well and dip under 2:06 / 2:05 for the first time after several years of injuries and conservative racing at 2:08 level."